A customized print-friendly version of this recipe is available by clicking the "Print Recipe" button on this page.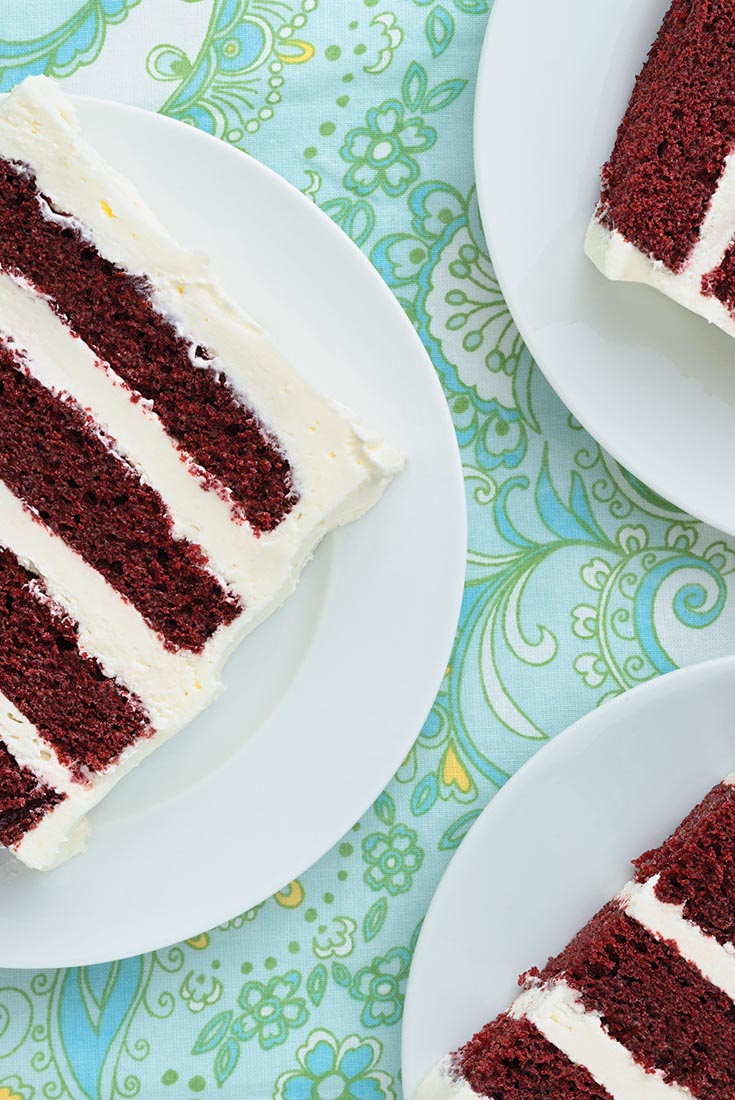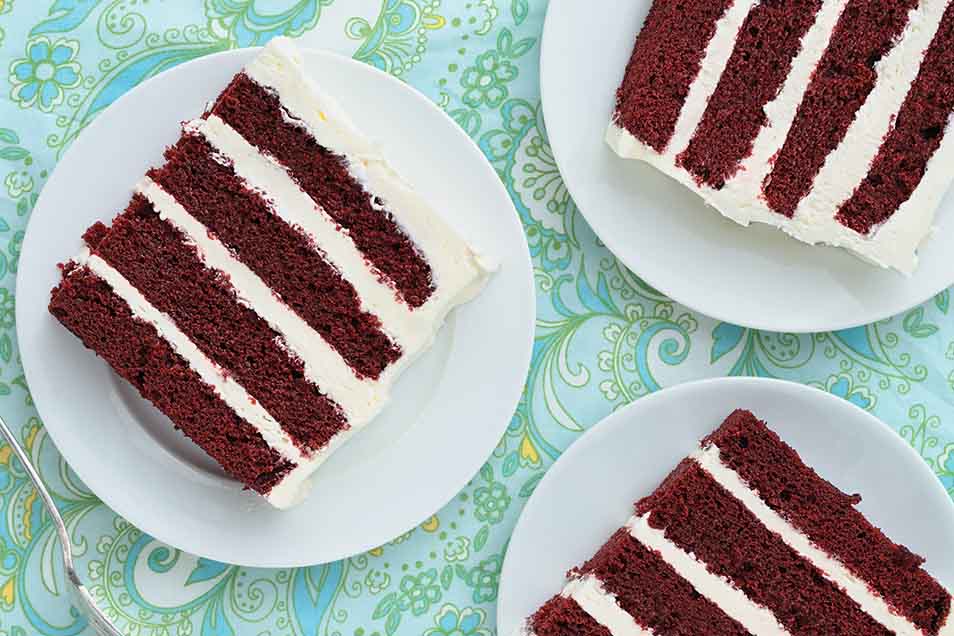 This moist, mildly chocolate cake, much in demand from the 1940s through the 1960s, has had a resurgence in popularity in the past few years. The history of this burgundy-colored cake is "shrouded in the mists of time," as they say. Urban legend has it that the Waldorf-Astoria Hotel in New York City charged a customer an outrageous fee when she requested the recipe, and she then typed it into a chain letter (for those of you younger readers, the years-ago equivalent of a mass email), and shared it with a wide audience. Like the $250 Neiman-Marcus chocolate chip cookie recipe, there's apparently no truth to this — though it does make a good story!
Ingredients
Cake Layers
1/2 cup (8 tablespoons) butter, softened
1 1/3 cups sugar
2 large eggs
1 teaspoon gel paste red food color; or 1/4 cup liquid red food color; or 2 tablespoons red velvet cake flavor
3 tablespoons Dutch-process cocoa
1 teaspoon salt
1 teaspoon baking soda
1 teaspoon vinegar
2 1/4 cups King Arthur Unbleached All-Purpose Flour
1 cup buttermilk or low-fat plain (not Greek) yogurt
Quick Buttercream Frosting
1/2 cup butter, softened*
1/2 cup shortening*
a scant 1/4 teaspoon salt
2 tablespoons meringue powder; optional, for a smoother icing that holds its shape a bit better
6 cups confectioners' sugar or glazing sugar
3 tablespoons milk, or enough to make a spreadable frosting
2 teaspoons vanilla extract or 1/4 teaspoon cream cheese flavor
*Or substitute an additional 1/2 cup butter for the shortening.
Instructions
To make the cake: Preheat the oven to 350°F. Lightly grease two 8" pans, then line the bottom with parchment rounds, and lightly grease the parchment, too.

Beat the butter and sugar until well combined. Add the eggs one at a time, beating after each addition.

Stir in the food color, cocoa, salt, baking soda, and vinegar.

Beat in the flour alternately with the buttermilk or yogurt, beginning and ending with the flour. The point is to keep the mixture smooth, which is more easily accomplished if you add the flour and yogurt in portions.

Scoop the stiff batter into the pans; wet your fingers or a rubber spatula, and spread it to cover the bottom of the pans, smoothing the top a bit in the process.

Bake the cakes for 25 to 30 minutes, until the tops feel set and a cake tester inserted into the center comes out clean.

Remove the cakes from the oven, and allow them to cool for 10 minutes before turning them out of the pans onto a rack to cool completely.

To make the frosting: Beat together the butter and shortening until fluffy. Stir in the salt, meringue powder, and vanilla.

Add the confectioners' or glazing sugar and milk, and beat thoroughly.

Scrape the sides and bottom of the bowl. Adjust the consistency of the frosting as needed by adding more sugar or milk. If you're not going to use the frosting right away, keep it at room temperature, covered, to prevent it from developing a crust.

When the cake is cool, slice each layer horizontally, to make a total of four layers. Spread each layer with frosting, stacking them as you go.
Tips from our bakers
We like to show off the lovely contrasting colors of this cake by frosting only the top, not the sides.
While most agree on the recipe for the cake itself — yes, red food coloring is a key element — red velvet cake's frosting is another matter. Some say the traditional frosting was based on a cooked flour-and-water paste, to which sugar and butter are added. Some say only cream cheese frosting will do. Since this is such a '50s cake, we've chosen to offer it with good old-fashioned buttercream icing, the type supermarket cakes are frosted with. If none of these three icing suggestions floats your boat, select your own favorite.
Reviews
I followed the instructions plus used suggestions that other guys in the comment section had made and my cake turned out amazing! I used 3/4 oil and 1/4 butter ratio for the amount called for and because I was using small free-range eggs, I used 4. My measurements were done in weight and everything turned out alright. I used 1 8inch and 1 6inch pan and the cake rose pretty well. I was able to cut them in half. I generally cover my batter with aluminium foil to reduce the size of domes and that works for me.
Okay! So I think this was a pretty good recipe, overall. The cake wasn't best red velvet I've ever had but quite good, and I did make several adjustments, based on comments from others. Overall, it turned out well, and I think these adjustments were good. I'd add: some of the folks here complaining that the cakes weren't thick enough to cut may be using 9-inch cake pans. That's what I used, and mine were relatively hard to split, but I managed to they were just quite thin layers once cut (roughly an inch each). The recipe here actually calls for an 8-inch pan. That might not sound like a big difference, but assuming the same volume, it amounts to roughly another 2/3 of an inch of height, which can make a major difference in how easy it is to cut the baked cakes in half. Anyway, adjustments I made were: I used all-oil, as I don't like dense cake I like moist, tender cake. I also took Jim from Ny's advice, and beat eggs/sugar to ribbon first, then streamed in oil, then alternated dry/buttermilk, then mixed baking soda, vinegar (apple cider) and color, which was added to the batter. My batter, though, wasn't particularly stiff. It was a thickish pour/scrape into the pans. This didn't turn out to be a problem though, as mentioned. They rose fine, and I managed to cut them in half. Not sure if it was my varying methodology from the recipe or if the oil that prevented them from thickening more but it didn't really matter as they came great. I also used cream cheese frosting, because I don't understand the point of red velvet cake without it. It required a ton of icing I did 2 packages of cream cheese, a stick of butter, a tablespoon of vanilla and 8 cups of confectioners' sugar and it was BARELY enough. Luckily, I also did a ganache drip topping, which helped scant icing. 4 layers requires a ton of icing, I guess! Anyway, I'll probably use this recipe going forward for red velvet maybe with some more tweaks if I research further, but will try to beat it a little harder next time just for fun to see if I can get slightly stiffer batter and higher layers.
Followed the recipe as is, no modifications. I was a bit nervous making this cake after reading the reviews, but it turned out wonderful. I did everything I could to add more volume: cream the butter and sugar until light and fluffy, sift the dry ingredients. I used a bit too large of a pan and the cakes were too thin to split, so I ended up make a double batch of the recipe and having a towering 4 layer cake. I made a full batch of cream cheese frosting for the filling and the whole batch of buttercream for the outside; used up every last bit of each. The cake was tender, moist, with the perfect amount of frosting and great flavor.
For greater texture sub oil for butter Whisk eggs and sugar to ribbon, stream in oil Alternate dries and liquid. At the very end. Mix red color, baking soda, and vinegar and add to cake batter. This keeps the red in solution and doesn't dye your lips tongue etc. makes a much better cake
Baked a 3 tiered Red velvet sheet cake for a friend's 60th birthday using this recipe. Used buttercream icing. After reading the reviews, I did add 2 egg yolks (in addition to what's in the recipe) and 1.5 tsp of vanilla essence to each tier of the sheet cake (9x13). Used a stand mixer, which made things easier. Each of the 3 tiers did dome, so had some wastage of cake when I levelled it. The texture of the cake was light. Everyone loved it! This recipe is a keeper!
This is so delicious! Just baked it with the cream cheese frosting recipe you have and it came out nearly as pictured. I love it, the perfect birthday present to myself. My husband also likes it which is saying something because he normally dislikes cake.
I felt the cake was dry. My husband felt it was not sweet enough. Basically not what you expect from a red velvet cake.

Elena, we're sorry to hear you didn't get the results you were hoping for with this recipe. Often times cakes turn out too dry because too much flour is added to the batter. To ensure you're using the right amount, we recommend either measuring your flour by weight using a scale, or fluffing and sprinkling the flour gently into your measuring cup one spoonful at a time before leveling off with a knife. This will help you measure light cups of flour that weigh about 4 1/4 ounces per cup. Hope that helps with your future cake baking! Kye@KAF
To add an additional note to my 8/26/16 review, this cake kept fresh, covered in a cake carrier, for two weeks. Came home after being out of town and there was one piece left. Thought what the heck, let's just see how it tastes. Still very moist and tasty. Will definitely make this recipe again. KAF, I'll ask the question again. Do you have any measurements for how much icing you should (realistically) include in between cake layers? And, how much icing is needed to cover top and sides of this cake? Tks.

In general, you'll need about 3/4 cup of frosting for between the layers of an 8" round cake and about 1 3/4 cups for the sides and another 1 1/4 cup for the top. In sum, you'll want about 3 cups of frosting for a generous coating. We tend to overestimate the amount of frosting that will be needed, as it's better to have extra left over rather than run out. I hope this helps! Kye@KAF
Baked this cake for a special person's birthday. Red velvet's her favorite so the pressure was on. When I noted it had buttermilk as one of the ingredients, I knew I couldn't go wrong. It always helps to read previous baker's reviews, too. I included two tsp of vegetable oil as recommended by several others. I bake at least one day ahead and freeze my cake layers. Let the layers sit out for approximately 30 min. before attempting to slice through each one. Using a long serrated bread knife I was able to gently cut in half. I always frost in between each layer and then a thin layer to cover up crumbs on the outside and top. After storing in fridge for at least 30 min., I apply the final coat of frosting. Great method for a smooth finish. Because I love to bake and eat cake, I wish KAF would include suggested amount of frosting it takes in between layers, the light coat and then to finish it off. (i.e., 1/2 c. Frosting in between layers, 1 cup to finish, etc.). I'm always praying I won't run out. I used three cups total but I could have used at least a 1/2 cup more. This cake was delicious. Will definitely make again. Cupcakes would be good, too. Fortunately, I wore gloves otherwise I would have had red fingers. Tks KAF for another great recipe.
Easy recipe and tasty cake if you like red velvet. It was tender and moist, but not as velvety as I'd have liked. I made this for a bridal shower, using whatever cocoa I had on hand and the red velvet color/flavor from KAF. There were more holes than I expected, so I guess I had too much air beaten in. I topped it with a cream cheese frosting. Now I just need to figure out my dome problem, as there was about an inch difference between the sides and the middle of the cake.