A customized print-friendly version of this recipe is available by clicking the "Print Recipe" button on this page.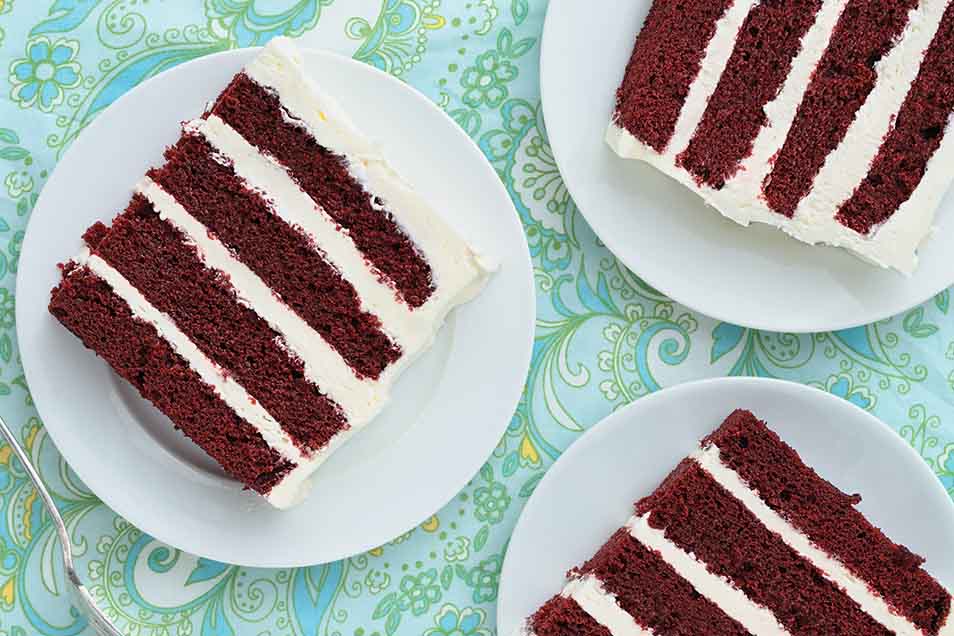 This moist, mildly chocolate cake, much in demand from the 1940s through the 1960s, has made a 21st-century comeback. The history of this burgundy-colored cake is "shrouded in the mists of time," as they say. Urban legend has it that the Waldorf-Astoria Hotel in New York City charged a customer an outrageous fee when she requested the recipe, and she then typed it into a chain letter (the years-ago equivalent of a mass email) and shared it with a wide audience. Like the $250 Neiman-Marcus chocolate chip cookie recipe, there's apparently no truth to this — though it does make a good story!

Baking gluten-free? For great results, substitute King Arthur Gluten-Free Measure for Measure Flour for the all-purpose flour in this recipe; no other changes needed.
Ingredients
Cake Layers
1/2 cup (8 tablespoons) butter, softened
1 1/3 cups sugar
2 large eggs
2 tablespoons liquid red food color
3 tablespoons Dutch-process cocoa
1 teaspoon salt
1 teaspoon baking soda
1 teaspoon vinegar
2 1/4 cups King Arthur Unbleached All-Purpose Flour or King Arthur Gluten-Free Measure for Measure Flour
1 cup buttermilk or low-fat plain (not Greek) yogurt
Quick Buttercream Frosting
1/2 cup butter, softened*
1/2 cup shortening*
a scant 1/4 teaspoon salt
2 tablespoons meringue powder; optional, for a smoother icing that holds its shape a bit better
6 cups confectioners' sugar or glazing sugar
3 tablespoons milk, or enough to make a spreadable frosting
2 teaspoons vanilla extract or 1/4 teaspoon cream cheese flavor
*Or substitute an additional 1/2 cup butter for the shortening.
Instructions
To make the cake: Preheat the oven to 350°F. Lightly grease two 8" pans, then line the bottom with parchment rounds, and lightly grease the parchment, too.

Beat the butter and sugar until well combined. Add the eggs one at a time, beating after each addition.

Stir in the food color, cocoa, salt, baking soda, and vinegar.

Beat in the flour alternately with the buttermilk or yogurt, beginning and ending with the flour. The point is to keep the mixture smooth, which is more easily accomplished if you add the flour and yogurt in portions.

Scoop the stiff batter into the pans; wet your fingers or a rubber spatula, and spread it to cover the bottom of the pans, smoothing the top a bit in the process.

Bake the cakes for 25 to 30 minutes, until the tops feel set and a cake tester inserted into the center comes out clean.

Remove the cakes from the oven, and allow them to cool for 10 minutes before turning them out of the pans onto a rack to cool completely.

To make the frosting: Beat together the butter and shortening until fluffy. Stir in the salt, meringue powder, and vanilla.

Add the confectioners' or glazing sugar and milk, and beat thoroughly.

Scrape the sides and bottom of the bowl. Adjust the consistency of the frosting as needed by adding more sugar or milk. If you're not going to use the frosting right away, keep it at room temperature, covered, to prevent it from developing a crust.

When the cake is cool, slice each layer horizontally, to make a total of four layers. Spread each layer with frosting, stacking them as you go. We like to show off the lovely contrasting colors of this cake by frosting only the top, not the sides.

Serve cake in wedges. Store any leftovers, well wrapped, at room temperature for a day or two; freeze for longer storage.
Tips from our bakers
While most agree on the recipe for the cake itself — yes, red food coloring is a key element — red velvet cake's frosting is another matter. Some say the traditional frosting was based on a cooked flour-and-water paste, to which sugar and butter are added. Some say only cream cheese frosting will do. Since this is such a '50s cake, we've chosen to offer it with good old-fashioned buttercream icing, the type supermarket cakes are frosted with. If none of these three icing suggestions floats your boat, select your own favorite.