A customized print-friendly version of this recipe is available by clicking the "Print Recipe" button on this page.
Golden Vanilla Pound Cake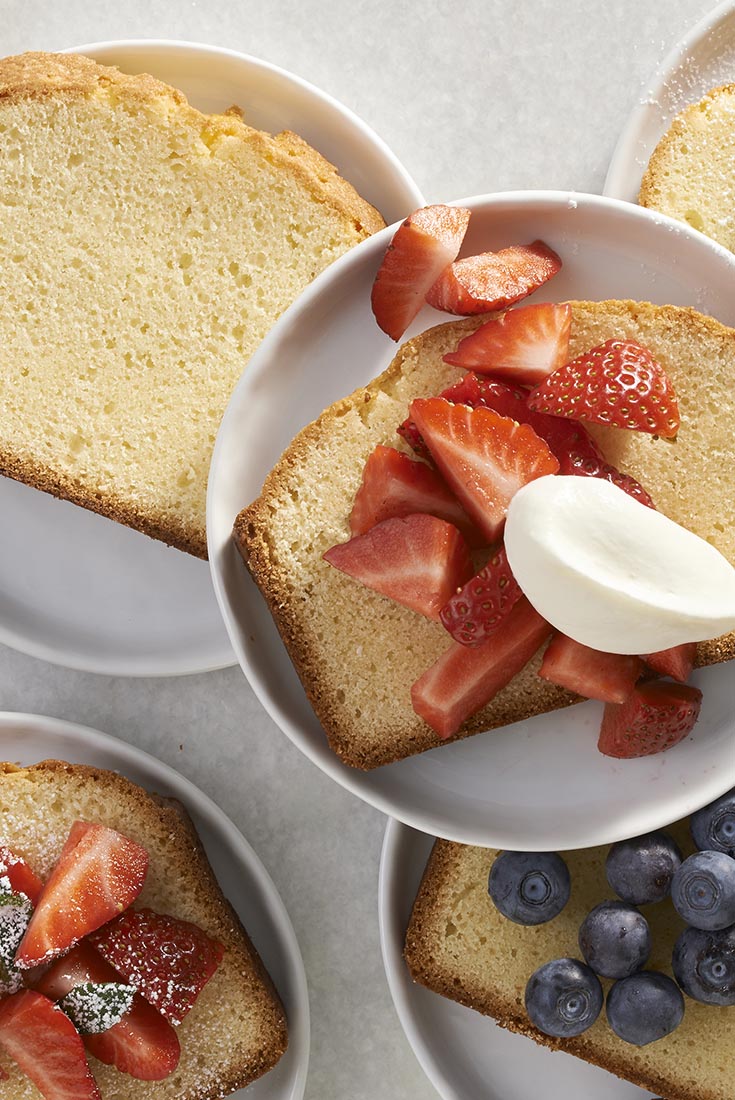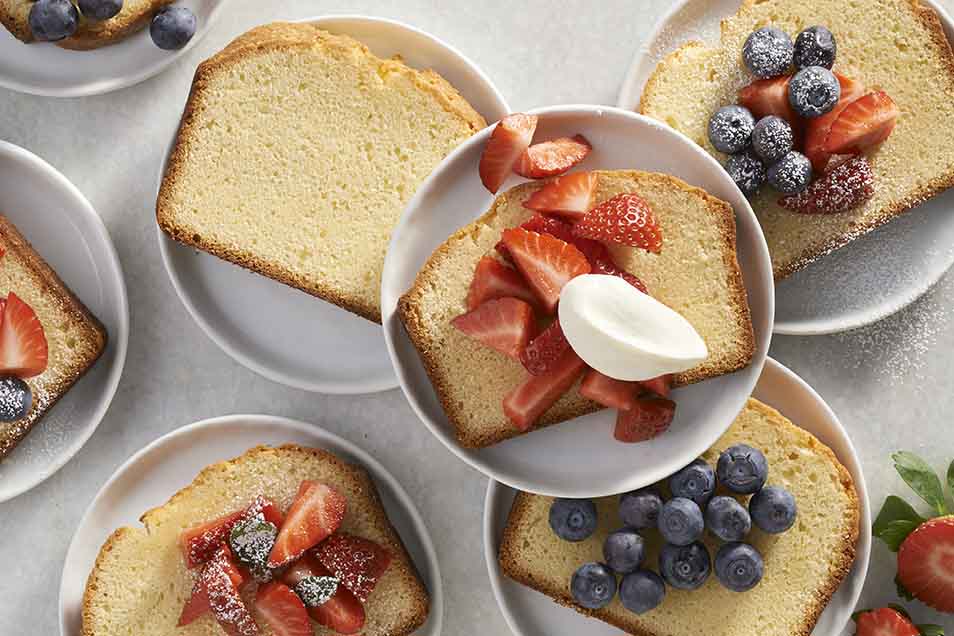 This pound cake is a rich, dark brown outside, with an ultra-fine, golden crumb. It's mimics closely the original proportions that define pound cake: a pound each of sugar, eggs, butter (we use a combo of butter and cream cheese), and flour. If you like a dense, firm, loaf-shaped classic pound cake, then this one's for you. One non-traditional touch: the vanilla-sugar glaze brushed atop the cake towards the end of the baking time, which gives it a crackly-crunchy top crust.

Baking gluten-free? For great results, substitute King Arthur Gluten-Free Measure for Measure Flour for the all-purpose flour in this recipe; no other changes needed.
Instructions
Preheat the oven to 350°F. Lightly grease a 9" x 5" x 2 3/4" loaf pan, or a 12" x 4" x 4" tea loaf pan. To avoid overflow, be SURE to use the correct size pan!

In a medium-sized mixing bowl, beat together the butter, cream cheese, salt, sugar, baking powder, vanilla extract, and almond extract until well combined.

Add the eggs one at a time, beating well after each addition; the mixture may look slightly curdled/grainy. After you've added the final egg, beat at high speed for 3 minutes. Once all the eggs are added, stir in the milk.

Add the cake enhancer, then sprinkle in the flour gradually, with the mixer going at low speed. Mix just until combined. The batter will be smooth and thick, but still pourable. Pour and scrape the batter into the prepared pan.

To make the topping, combine the sugar, vanilla, and water. Stir until the mixture is syrupy. At first it'll seem very stiff, but will become "drizzlable" as you stir. Set the topping aside.

Set the cake on a baking sheet, for easiest handling and as a precaution against potential overflow (which shouldn't happen if you use the correct size pan). Bake it for 55 minutes (for either size pan).

Remove the cake from the oven, and brush/drizzle with the sugar mixture. Return the cake to the oven for an additional 15 to 20 minutes. Remove the cake from the oven, and set it on a rack. Insert a toothpick into the center; it should come out clean. If you use an instant-read thermometer, the center should register about 200°F to 205°F. The very top, right under the crust, will still be kind of soggy; don't worry about it.

After 5 minutes loosen the cake's edges and turn it out of the pan to cool completely on a rack.
Nutrition Information
Serving Size

1 slice (65g)

Servings Per Batch

18
Amount Per Serving:
Calories

230

Calories from Fat

100

Total Fat

11g

Saturated Fat

7g

Trans Fat

0g

Cholesterol

75mg
Sodium

160mg

Total Carbohydrate

29g

Dietary Fiber

0g

Sugars

20g

Protein

4g
* The nutrition information provided for this recipe is determined by the ESHA Genesis R&D software program. Substituting any ingredients may change the posted nutrition information.
Tips from our bakers
If desired, substitute 1 tablespoon lemon zest + 1/4 teaspoon lemon oil, OR 1/8 teaspoon Fiori di Sicilia flavoring, for the vanilla and almond extracts.
For a different look, bake the cake in a 9-cup tube or Bundt® pan. You'll need to bake it a shorter amount of time than in the loaf pan, so start checking at 55 minutes.
Since this cake is so dense, the baking time can be tricky. You want it thoroughly baked, but not dried out. When the cake is done, a cake tester inserted into the center will come out clean, and the internal temperature at the center will be at least 200°F. The top 1/4" or so of the top crust may still be moist and sticky; but it shouldn't be batter-like. The finished cake may have some moist streaks near the top crust; that's OK.
You'll find bringing the butter and cream cheese to room temperature makes them easier to beat without lumps forming. And room-temperature eggs help keep the batter lump-free, too. It takes about 2 to 3 hours to bring these ingredients to room temperature, so plan ahead.
This cake is wonderful sliced, warmed, and served with ice cream and berries, or hot fudge or caramel sauce. Lightly butter individual 1"-thick slices of cake, and toast (both sides) on a clean outdoor grill over low heat until just a tiny bit crispy. Alternatively, fry gently (like a grilled cheese sandwich) in a skillet. Serve immediately, topped with ice cream and the garnishes of your choice.
Our Gluten Free Measure for Measure Flour makes it easy to make many of your favorite traditional recipes (like this one) gluten-free. Simply substitute Measure for Measure flour 1:1 for the flour called for in your recipe; no additional ingredients or other changes needed.
Reviews
Delicious pound cake! I baked it today without the Cake Enhancer and substituting 1:1 the all-purpose flour for freshly milled wheat flour. It was a hit! Between my husband, my kids and some friends that came over today it it almost all gone already! They all loved it and me too!
This is an excellent recipe. I made it today to serve with fresh peaches and whipped cream and it was so good. After reading the reviews I decided to sift the flour so I did not add too much and I am glad I did. The texture of the cake is firm but certainly not dry. It would be excellent with just a glass of milk or coffee. The only change I made was to omit the almond favoring and add 1/8th tsp of fiori di sicilia to the 2 tsp of vanilla, the smell is amazing and the you can just taste a hint of orange. Have to admit I just received the fiori di sicila in my order from KA this week so I had to add it. I think I will add it every time.
SO DELICIOUS. Definitely far and away the best pound cake I've ever had, read, or seen in a movie. I bake all the time and can't stand those blechy-tasting store bought pound cakes, and am so very happy to have found a fabulous pound cake recipe. I'm planning to spoon some bourbon-macerated nectarine slices over a piece or two very shortly (as long as I manage to not eat the entire cake first!). Thank you, King Arthur Flour!
I have been GF for several years and in that time I have never had GF pound cake that lived up to my granny's! After baking lots of amazing things with the measure for measure flour, I decided to give this a whirl. I am so glad that I did! It is amazing! So good! Just like my granny's! Once again, thank you to the staff at King Arthur flour. Your recipes and flour blends never fail!
I truly do love this recipe. I have made several times (without Cake Enhancer) and loved it every time. I am not the kind of person that needs guests to gush about the food I serve, but I like this pound cake so much that I can't believe anyone leaves without asking for the recipe. This easy recipe make a very tasty pound cake.
Initially got this recipe off a KA bag of flour several years ago. This is hands down the best pound cake recipe out there. Delightful in flavor, moisture, texture, crumb...you name it. Great for shortcake, trifle etc. Delicious just as is. Go for it!
I loved this cake! I bake a good amount and my children always ask for home made cakes for their birthday parties. I wanted to do something with no frosting (can't stand the overly sweet feeling from even home made frostings). A pound cake was the perfect answer. Everyone enjoyed the cake. I followed the recipe precisely (omitted the almond essence) and baked in a bundt pan. Great color, texture and taste! My only critique would be the baking soda taste that was a little strong for my taste buds. Next time I might try it with a little lemon juice to offset that. Will definitely make again.
I've made this recipe MANY times with good success, but today it just got so over browned it was horrible. Inside registered 119 so it wasn't overdone inside. I used a food processor to mix it for the first time - could it have been this? Also using a different oven but that shouldn't have made a difference. Help???

Mary, we're wondering if your new oven was using the convection setting, which runs about 25°F hotter than regular ovens. We also recommend using a stand mixer fitted with the paddle attachment or a handheld electric mixer for creaming the butter, sugar, and other ingredients together for best results. A food processor might not incorporate the right amount of air, which will in turn impact the structure of the cake. Lastly, be sure you're baking in medium colored metal pans, as other materials (like glass or ceramic) bake differently and tend to brown the outside before the inside has finished baking. I hope that helps! Kye@KAF
Something went wrong...the crumb of the cake when sliced resembled a regular cake. Not the texture I usually get with a pound cake where the crumb is tight/dense. The taste was great, it's appearance before sliced was great too but I was not comfortable passing it off as a "pound cake". Instead, I whipped up a batch of whipped cream, sliced a few strawberries and served it as "just cake".
A go-to pound cake. I have to add that I always wonder why people will complain about poor results and blame the recipe/KAF when they have made their own changes to the recipe. Sour cream and cream cheese are totally different in consistency and acidity, so why would you expect a perfect result making that substitution? Sorry, just a pet peeve of mine.