A customized print-friendly version of this recipe is available by clicking the "Print Recipe" button on this page.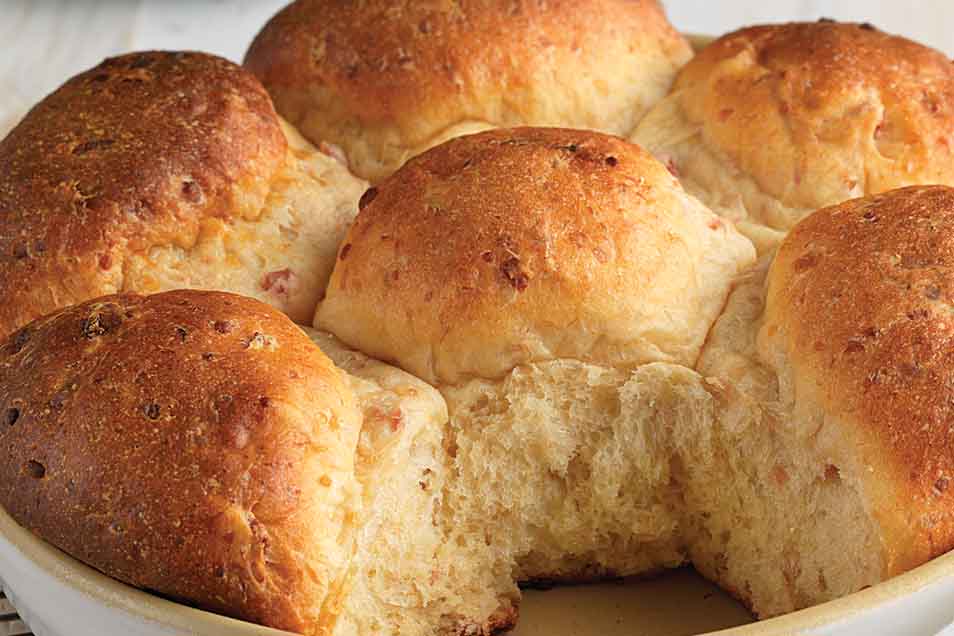 A hearty, savory treat with soup, salad, or on its own. These buns disappeared from our kitchen as quickly as warm chocolate chip cookies!
Instructions
Mix, then knead together all of the ingredients except the ham and cheese, making a dough that's smooth and resilient.

Knead in the ham and cheese.

Gather the dough into a ball and place it in a greased bowl. Cover the bowl and let the dough rise for 1 hour, or until it's noticeably puffy.

Gently deflate the dough and divide it into 7 pieces. Shape each piece into a ball.

Place the dough balls in a lightly greased 1 ½-quart baker or 9" round cake pan.

Cover the pan and allow the dough to rise until puffy, 30 minutes to 1 hour. Near the end of the rising time, preheat the oven to 325°F.

Bake the buns for 35 to 40 minutes, tenting after 20 minutes to prevent over-browning. Remove them from the oven, turn them out of the pan, cool completely, and serve.

Yield: 7 buns.
Reviews
These are so good. I have been looking for a cheese bread recipe that really tastes like cheese. This is it. I used the KAF cheese powder and a sharp cheddar. I did not add ham since I wanted to have these with homemade chicken noodle soup. I made the dough in my bread machine (dough setting) including the cheddar. At first the dough seemed very stiff, but it did softened up. I made 8 rolls and baked in a 10" pan lined with parchment and sprayed with non-stick. Exactly 37 minutes (tented after 20) and have really pretty, tasty rolls.
Was gifted with a Honey-Baked Ham around Thanksgiving. I was searching for a bread recipe to go with split pea soup (made with the ham bone) as a thank-you. I had all the ingredients for this recipe, didn't change a thing and was delighted with the result. A hearty bun, full of great cheese flavor with flecks of ham. With a bowl of bean or pea soup, it is just the thing. I made a second batch in a muffin tin to freeze along with single-servings of soup for workplace lunches later this winter.
I wanted to make a savory recipe for a potluck, so I doubled the recipe and used the KAF Bread Flour variation, but otherwise made it as written, complete with the Vermont cheese powder. It was a bit too much for my 5 quart KitchenAid to handle but one of the heavy duty mixers would probably do fine. The initial rise also took well over an hour, but the rest of the recipe went off without a hitch. The results were excellent. Good savory cheese flavor throughout, with a tender fluffy interior. I probably didn't need to double the recipe since each bun was HUGE -- easily the size of a softball!
great! i doubled the recipe on this and made them in a muffin tin , yielding 12 mushroom cap shaped buns. so savory and well balanced. good for a snack or smeared with jalapeno cream cheese >.< thanks for another hit with the family
My eight-year-old son hummed "Ode to Joy" while eating these for Easter dinner - 'nuff said!
We were having friends over for Christmas dinner and I wanted to make rolls. I happened upon this recipe and decided it looked promising. Since dinner was to include ham and cheesy scalloped taters, I omitted the ham and cheese from the rolls. I substituted "green can" Parmesan (I know, I know) for the Vermont Cheese powder ( whatever THAT is), and I doubled the modified recipe. I used SAF Gold yeast due to the egg content. The proofing took longer than expected, almost 2 hours. I had started early enough that time was not an issue. From the risen dough, I weighed out 14 portions, each about 114g. After deflating and rolling, they were slightly larger than golf balls. I placed them on a parchment paper lined cookie sheet with as much room between the balls as possible (I figured they would expand a bit). Into the 400º oven they went, and I set the timer for 20 minutes, planning on rotating the pan after that (my oven is a small apartment-sized wall unit; I can just fit a half sheet pan inside). The timer went off and I peeked into the oven. I shouted, "Holy Moses!" That got everyone's attention ;-) They figured I had burned myself, or something in the oven was aflame. But it was all good - the dough balls had expanded into dinner rolls the size of softballs! I opened the oven and rotated the pan, setting the timer for another 20 minutes. As I closed the door, I grinned from ear to ear. I thought of the Dickens novel: Great Expectations. After another 20 minutes, the rolls had developed a deep brown crust, and they were welded together into a block that covered the pan. I let them cool a bit, then pulled them apart. The aroma was exquisite! They were tender, golden on the inside, chestnut on the outside - absolutely fantastic! My son, who tastes everything I bake, exclaimed, "You made these? Wow, dad, I'm impressed!" As was I. You can be sure that I will make these again, shaping for hot dog buns, hamburger buns, etc. The only thing I would change is the portion size. If I got mammoth rolls from 114g of dough, then my next batch will be about 88 - 90g. Trust me: there is no wrong way to make these beauties. There were leftovers, and we cut them into thirds (!) and served pulled pork B-B-Q over them. OMG - heavenly. These rolls stand up to sauces; they are simply delicious cut into slices and toasted; spread with butter and honey, well, you will eat the entire recipe! These are better than cake or cookies in my book. All I can say is, ""Make them! Make them! Make them!"
I made these without ham and used the bread maker on "Dough" setting. Outstanding!
I made this with some leftover Xmas ham and I was surprised at how light and delicious this bread is. I made about 10 balls, and instead of cheese powder I added a grated oz of Parmesan. I highly recommend this recipe.
How much flour would I need using bread flour instead of all-purpose?
The bread flour will give these buns a chewier texture. Use the same amount of bread flour as the all purpose - and adjust the liquid a tablespoon at a time to get a soft, supple dough. Irene @ KAF
We recently baked a ham, the prices are so good on it right now, so I decided to try this with the leftovers. I used the full amount of diced ham per the recipe plus sharp cheddar cheese, but I didn't have the Cheese poweder. I made it i a 1 1/2 qt casserole, a wider pan or bowl would have been better. It rose really high and took a little longer to bake, but it was delicious. We pulled off chunks with scrambled eggs/green pepper/onion for dinner, then with a hearty split pea soup the next day. Great cold weather meal. Next time I'd use a wider bowl or pan, and probably divide into 9 or 10 rolls.