A customized print-friendly version of this recipe is available by clicking the "Print Recipe" button on this page.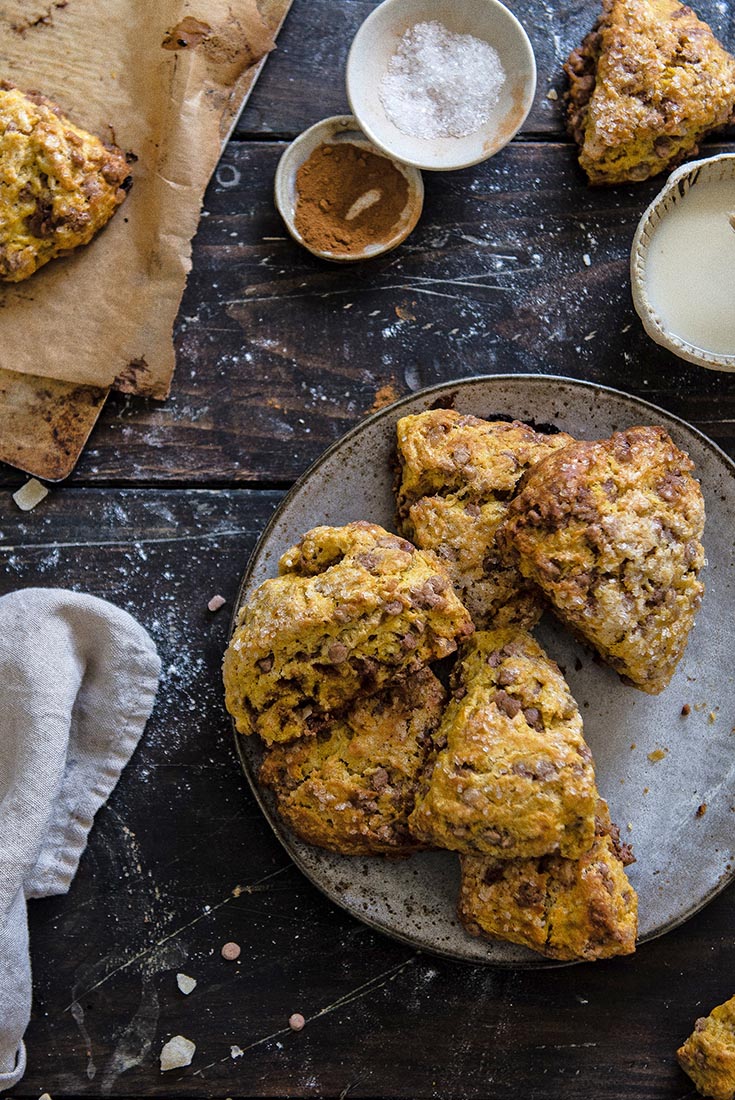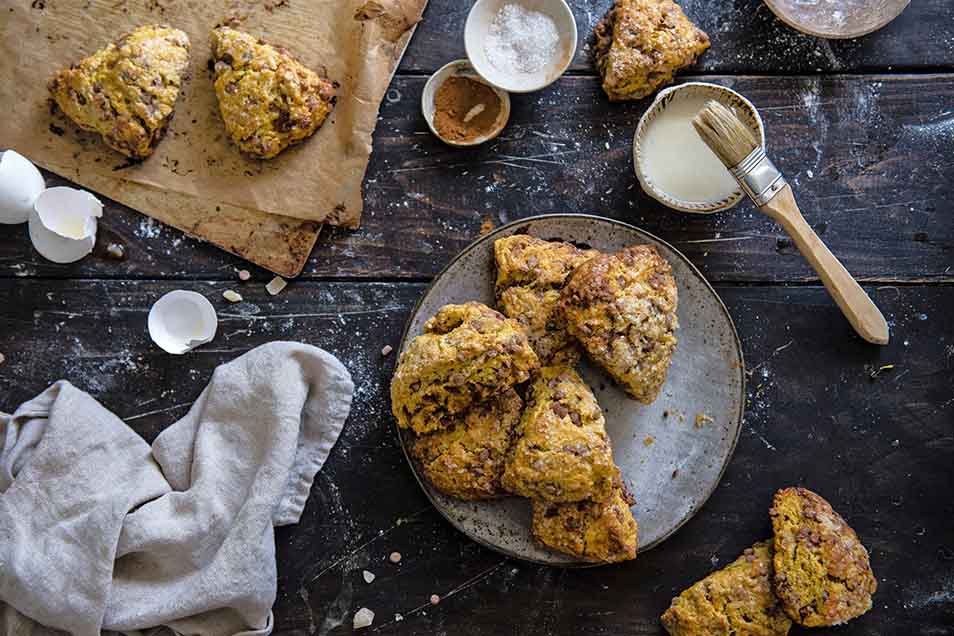 These deep-gold scones are as tasty as they are pretty. Cinnamon, ginger, allspice, and nutmeg spice the dough; diced crystallized ginger and cinnamon chips take their flavor over the top.

Baking gluten-free? For great results, substitute King Arthur Gluten-Free Measure for Measure Flour for the all-purpose flour in this recipe; no other changes needed.
Ingredients
2 3/4 cups King Arthur Unbleached All-Purpose Flour
1/3 cup sugar
1 tablespoon baking powder
3/4 teaspoon salt
1 1/2 teaspoons pumpkin pie spice OR 3/4 teaspoon ground cinnamon + 1/4 teaspoon each ground ginger, nutmeg, and allspice
1/2 cup cold butter
1 cup to 2 cups minced crystallized ginger, cinnamon chips, or cinnamon sweet bits
2/3 cup canned pumpkin
2 large eggs
coarse white sparkling sugar, for topping
Instructions
In a large mixing bowl, whisk together the flour, sugar, baking powder, salt, and spices.

Work in the butter just until the mixture is unevenly crumbly; it's OK for some larger chunks of butter to remain unincorporated.

Stir in the ginger and/or chips/bits, if you're using them.

In a separate mixing bowl, whisk together the pumpkin and eggs till smooth.

Add the pumpkin/egg to the dry ingredients and stir until all is moistened and holds together.

Line a baking sheet with parchment; if you don't have parchment, just use it without greasing it. Sprinkle a bit of flour atop the parchment or pan.

Scrape the dough onto the floured parchment or pan, and divide it in half. Round each half into a 5" circle (if you haven't incorporated any add-ins); or a 6" circle (if you've added 2 cups of fruit, nuts, etc.). The circles should be about 3/4" thick.

Brush each circle with milk, and sprinkle with coarse white sparkling sugar or cinnamon sugar, if desired.

Using a knife or bench knife that you've run under cold water, slice each circle into 6 wedges.

Carefully pull the wedges away from the center to separate them just a bit; there should be about 1/2" space between them, at their outer edges.

For best texture and highest rise, place the pan of scones in the freezer for 30 minutes, uncovered. While the scones are chilling, preheat the oven to 425°F.

Bake the scones for 22 to 25 minutes, or until they're golden brown and a toothpick inserted into the center of one comes out clean, with no wet crumbs. If you pull one of the scones away from the others, the edges should look baked through, not wet or doughy.

Remove the scones from the oven, and serve warm. Wrap any leftovers airtight, and store at room temperature. Reheat very briefly in the microwave, if desired.
Nutrition Information
Serving Size

1 scone

Servings Per Batch

12
Amount Per Serving:
Calories

270

Calories from Fat

80

Total Fat

9g

Saturated Fat

5g

Trans Fat

0g

Cholesterol

50mg
Sodium

270mg

Total Carbohydrate

44g

Dietary Fiber

2g

Sugars

23g

Protein

4g
* The nutrition information provided for this recipe is determined by the ESHA Genesis R&D software program. Substituting any ingredients may change the posted nutrition information.
Tips from our bakers
Wondering what to do with the rest of the canned pumpkin? Scoop onto plastic wrap or into a small container, and freeze. It'll be ready and waiting next time you want to make these scones. If you're really serious about using your ingredients most effectively, use a scant 2/3 cup pumpkin (a scant 5 1/4 ounces), rather than the full 2/3 cup called for. You'll find a typical 15 1/2-ounce can of pumpkin will then be enough for three batches of scones.
Our Gluten-Free Measure for Measure Flour makes it easy to make many of your favorite traditional recipes (like this one) gluten-free. Simply substitute Measure for Measure flour 1:1 for the flour called for in your recipe; no additional ingredients or other changes needed.
Reviews
This recipe is so easy and delicious! I made a batch last night for putting in the freezer but my partner already ate a few and i'm going to give some away so i think i'll just make another batch today. Notes: I added 3/4 cup minced crystallized ginger + 1 cup pepitas instead of the 1-2 cups of add ins suggested. I also added 3/4 cup rolled oats and reduced the flour to 2 1/4 ish cups. Lastly I added 1/2 tsp vanilla in with the eggs and used some pureed hubbard squash i had in the freezer instead of canned pumpkin. Next time i want to try swapping 1/4 of the flour for whole wheat and these will be easy to pull out of the freezer for breakfast in a hurry.
These have to be my favorite scone recipe and I always get complements on them. I use the recipe in grams to make sure I have the correct weight of flour and sugar. I agree that the amount of liquid doesn't seem like enough but it is. I stir it together and let is set for a couple of minutes and then turn on the counter for 2-4 folds and it is perfect. The pumpkin adds moistness just not in scones with cream/buttermilk. I use a lot of different add-ins but the cinnamon/ginger is my favorite.
Ugh -- Like the previous reviewer, my delicious scones came out burnt on the bottom. I think my pan was the culprit. My good cookie sheets and half sheet pans don't fit in my side-by-side freezer, and the only pan I had that would fit was a cheap, thin, very dark cookie sheet. So next time I bake these, I'll move them onto a good cookie sheet before I pop them in the oven. Also, like another reviewer, I was initially concerned that the dough was way too dry to stick together, thought perhaps I was missing a liquid ingredient from the recipe or something, but I stepped away for a cup of coffee and when i came back to the mixing bowl, most of the flour had been soaked up by the dough and it all came out just fine. Did I mention my home smelled HEAVENLY from baking these scones?
Delicious with the crystallized ginger and butterscotch chips! But is the 425 oven temperature correct?? I checked mine well before the 20 min mark and the scones were blackened on the bottom. They were okay on top - just on the edge of overcooked. They tasted so good it was a shame to have to slice off the burnt bottom portion. I baked them on the parchment paper as recommended. (I also found that the dough residue from when I shifted the portions then also made a blackened mess, but it was just on the parchment and not a big problem.) Anyone else have this problem?

Patricia, we're both surprised and sorry to hear that this baking temperature and time didn't produce nicely browned scones. Usually this combination produces a golden brown bottom and an interior crumb that's soft but still moist. If you're using a convection setting, try turning the temperature down by 25°F. It may also be worth checking the temperature of your oven with an independent thermometer, as ovens are notorious for running off temp. Last tip? Try doubling up on your baking sheets to protect the bottom from any direct heat that may over bake the bottoms. Thin, dark colored metal pans will accelerate the browning. We hope this helps improve your next scone bake. Kye@KAF
I tweaked this recipe a little; I was baking all day, and this was the last recipe to go, so I was getting tired out, and I tried to streamline some things so I could be done faster. XD I also love to mix alllll kinds of stuff into recipes. :P --melted the butter and mixed it with the wet ingredients --1 cup of ginger and cinnamon chips combined --added 1/4 cup of flax seeds --added a pinch of ground clove --portioned them into 20 slightly smaller scones --did not freeze --did not brush the tops with milk or sprinkle sugar --baked them for only 10 minutes And they turned out great! They are wonderfully light and fluffy, and just dry enough that you'd really want a cup of tea or coffee with them. Like others have said, the actual pumpkin flavor is quite mild, but the rest of the spices and mix-in's give it enough flavor and texture to make up for it. I particularly like the extra little crunch of the flax seeds I added. I am definitely planning on making these again! :D
These were good but I have to agree with other reviewers that the pumpkin taste was very mild. They were moist (although I was concerned because I had to work the mixture a lot to get it all to incorporate with very little liquid) and the cinnamon chips helped to give the scones flavor. I think I would bump up the spices if I were to make these again.
OH MY!!! These were incredibly simple to make and oh sooooo delicious!!! My husband & I enjoyed them for breakfast throughout the week. They were super moist, didn't have an overwhelming pumpkin flavor, and they tasted like chocolate chip (I used chocolate chunks) pumpkin pie. I'm making two more batches this Friday for my women's Bible study group & I'm going to leave printed copies of the recipe next to them on the table as I'm sure they'll be an instant favorite. Yummylicoius!! Thanks King Arthur Flour for this little gem of a recipe!!
These are wonderful. I used homemade pumpkin puree so there are little pumpkin bits, and added chopped candied ginger and pumpkin seeds. I also used 100% white whole wheat flour and they are still nice and tender. The candied ginger keeps them plenty sweet but they are still going to get a nice maple glaze once they cool. One note for future bakers is that at first I was worried that the wet ingredients would not be enough to moisten all the flour, but it came together perfectly with a few more stirs, to a cookie dough like consistency. Tip: I always grate my frozen butter into the flour in applications like this. Happy baking y'all!
The recipe works great. They are a perfect texture and delicious. I see a few complaints of not enough pumpkin flavor. I substitute all spices with pumpkin pie spice. And I don't measure the amount. I just add it until they smell the way I want them to smell. I also add chocolate chips and pecans. I triple the recipe so I can use up the whole can of pumpkin and so we have more scones. I pat the whole thing into a big circle then cut out wedges. I freeze them before baking, then brush w heavy cream and top w raw sugar. I don't use ginger at all. They're very very good.
I have been making these pumpkin scones and others for a couple of years, but I always come back to this recipe. My family loves the addition of crystallized ginger and when I bake these scones they don't last long at all. I now roast pumpkin and puree it and then freeze it for the winter months. Thanks for the great recipe!