A customized print-friendly version of this recipe is available by clicking the "Print Recipe" button on this page.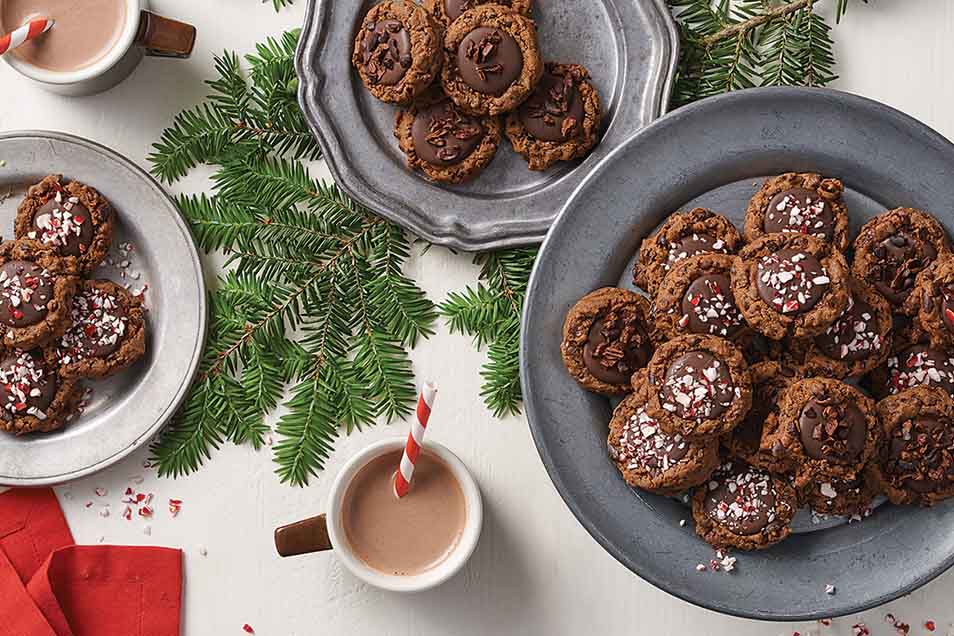 The holidays are for family, giving, and chocolate. At least that's what I've always known them to be. This recipe, made with premium hot chocolate mix, studded with semisweet mini chips, and topped off with a bittersweet disk, is a tribute to those indulgent traditions.
— Charlotte Rutledge, King Arthur Flour recipe developer
Ingredients
Topping
about 5 1/2 dozen Belcolade bittersweet disks, or other high-quality chocolate wafer
peppermint crunch, cocoa nibs, or chopped nuts, for garnish
Instructions
Preheat the oven to 375°F. Lightly grease two baking sheets, or line with parchment.

To make the cookies: Combine the butter, hot chocolate mix, brown sugar, baking powder, salt, and espresso powder in a mixing bowl. Beat until the mixture is smooth.

Add the egg and vanilla, and beat until thoroughly combined.

Weigh out your flour; you'll find its weight by toggling to "ounces" at the top of the ingredient section above. Or measure it by gently spooning it into a cup, then sweeping off any excess. Add the flour to the cookie mixture, stirring to combine.

Mix in the chips and cocoa nibs.

Drop the dough by teaspoonfuls onto the prepared baking sheets - a teaspoon cookie scoop works well here. Space the cookies at least 2" apart.

Bake the cookies for 8 to 9 minutes, until the surface is set, but the cookies aren't quite fully baked.

Take the cookies out of the oven and press a chocolate disk into the center of each cookie.

Return the cookies to the oven for 1 to 2 minutes longer, until the chocolate begins to turn shiny and softens.

Remove the cookies from the oven once again, and sprinkle the melted chocolate disk with your garnish of choice.

Allow the cookies to cool right on the baking sheet until the chocolate disks are set.

Store well-wrapped cookies at room temperature for a week or so; freeze for longer storage.
Tips from our bakers
Our hot chocolate mix is a proprietary blend of sugar, ground chocolate, dry milk, and cocoa powder. If you'd like to use a store-bought hot chocolate mix, we recommend trying to find one with a similar list of ingredients.
Reviews
Love love these cookies!!!
Perfect cookies however I only had 3 dozen cookies ( 2 bite size). I was hoping for a more as recipe states.
I previously rated this recipe as 4 stars. On my second time baking these delicious cookies, I have to increase my rating to 5 stars. The first time I beat the first mixture 'until the mixture is smooth'. I failed to aerate the butter sufficiently and ended up with a thinner batter than what I believe was intended by the recipe. On my second attempt, I beat the butter until almost fluffy with my KitchenAid mixer which resulted in a thicker almost fudge-like batter. The cookies turned out much better and look exactly like the recipe photo (with less peppermint garnish). I still shaved at least one minute off the baking time with an excellent outcome. I doubled the batch and weighed each dough ball - 18-20 grams - yielding 80 cookies.
great and decorative christmas cookies! i used nonpariels for tor the the top and they looked so Christmasy!. definitely a keeper.
Absolutely fabulous rich chocolate cookie. A little more labor-intensive with the wafers on top, but that makes them more special for gift-giving. I found that I like them best with no sprinkles on top, but that's just me. I'm not a big fan of peppermint, and I didn't think the nibs on top added anything. Nibs inside are enough. To the previous reviewer who had them in the oven for a much shorter time, I recommend using an oven thermometer to check your oven. I had some problems with overbaking and burning until I checked my oven and found that it was indeed overheating. With my oven temp at 375 as the recipe directs, the recipe times worked perfectly.
While the nibs add a nice crumbly texture in the cookie dough, I prefer the peppermint for the garnish. Easy to make. I weighed each cookie (13-14 grams) and yielded 63 cookies. Mine were craggy/jagged around the edges; not rounded like the photo (not sure why). Cooked for maximum 7 minutes and about 40 seconds to melt the wafer; otherwise they burned. Definitely use parchment paper with this recipe. I let the cookies cool off the pan; on the paper to keep them intact. Regarding taste: I just took them out of the oven so I'll have a better assessment tomorrow when they are thoroughly cooled. I also gave some to neighbors and donating some to the local support group center. I'm sure I'll hear their opinions. One thing I discovered is that I really like the King Arthur hot chocolate mix - not too sugary like another brand I have in my cabinet. This is an expensive cookie to make with all of the special ingredients. They are good; not yet sure if the taste justifies the expense.
I bake, I love to bake and Christmas cookies are a favorite. I have some old ones from relatives from Austria that are great. This one is great. I live way out in the middle of nowhere so I use what I have. I did use the hot chocolate from the LDS cannery, a full cup of mini chocolate chips and no nibs.- don't have nibs and the local walmart (70 miles 1 way) doesn't carry them. Also I am not a fan of peppermint crushed candies. I used ground pecans and toasted coconut on top and regular instant coffee instead of espresso. The balance between the chocolate flavor and the coffee flavor was perfect. I wonder with espresso powder and nibs if the coffee taste might overwhelm the chocolate? Anyway I have a new cookie recipe for Christmas. Thanks
I made these this morning and as I'm writing this review, I'm finishing up the last bit of cookie. Yum!!! I used Guittard Bittersweet Chocolate Baking Wafers (74%), Trader Joe's Cocoa Nibs, KAF Hot Chocolate Mix and Vanilla Bean paste (instead of the extract). I topped a few with chocolate sprinkles, some with peppermint crunchies, others with Vintage Christmas sugar (gold, red, green and white sugar crystals) and I left some without any extra topping - they all look lovely! One thing though - I only was able to get 36 cookies - I guess I used a bigger scoop that I had intended - but the baking time was spot on. Looking forward to making these gems again and next time I'll top with a bit of marshmallow cream. I think it'll work when I'm serving them at home, but I'm not sure how to do this for those cookies I'm giving away as gifts. Any ideas would be welcome. These cookies are really delicious - a true push of high quality chocolate flavor - just the way my family and friends like them. I made these to give as gifts to a few friends (along with the vanilla polka dots) and I'm sure they'll be well received. Thank you again for another winner!

Frances, toasting the marshmallow cream will help stabilize the mixture and make it easier to share the cookies as gifts. Plus you'll get a delicious toasty flavor and pretty presentation. Wins all around! Kye@KAF
I made these cookies as written. FABULOUS!!! The chocolate flavor is incredibly intense and there are so many layers to it with the cocoa nibs, all of the mini chocolate chips, the hot cocoa mix, the chocolate on top, the espresso powder which really makes the chocolate flavor pop, and the peppermint crunch... not to mention the surprising and delightful crunch of the nibs. The only thing I had to do differently was with the chocolate on top as I didn't have the wafers, but the end result was nearly the same. Instead of a wafer, I put 4 bittersweet chocolate chips in the center on top of each one, and after having them in the oven for about 2 minutes per recipe directions, I used the back of a spoon to swirl them into a smooth circle so they still looked the same on the top as in the original recipe. Really, these are incredible. They will be the center of attention on the cookie plates I give as gifts this year. Thank you, Charlotte!
I blame myself for the lack of chocolate flavor, because I used white chocolate chips and I did not have the coco nibs. I also used the lemon wafer instead of chocolate, because that's what I had. My testers (grandson, daughter, etc.) truly enjoyed the cookies and gave it high marks. Personally I wanted a richer chocolate flavor in the basic cookie that is why 4 stars instead of 5. Overall this is a good cookie and I think would go well with a cup of hot cocoa.