A customized print-friendly version of this recipe is available by clicking the "Print Recipe" button on this page.
Irish Buttermilk Brown Bread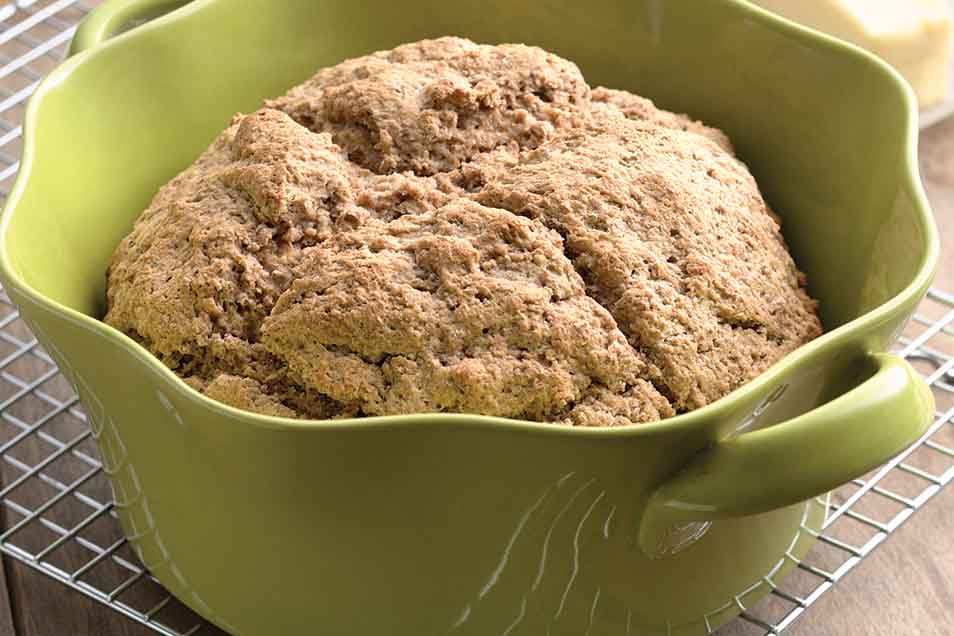 This 100% whole wheat, craggy "everyday" loaf is enriched with a touch of sugar and a butter-brushed crust.
Ingredients
Bread
4 cups King Arthur Irish-Style Wholemeal Flour or King Arthur Premium 100% Whole Wheat Flour
3 tablespoons sugar
1/2 cup buttermilk powder*
1 teaspoon salt
1/2 teaspoon baking soda
1 teaspoon baking powder
1 1/2 cups water*
1 large egg
1/4 cup melted butter or vegetable oil
*Or substitute 1 1/2 cups buttermilk in place of the water and buttermilk powder.
Topping
1 tablespoon melted butter
Instructions
Preheat the oven to 375°F. Grease a 1 1/2 to 2-quart baking dish, or an 8" or 9" cast-iron skillet or cake pan that's at least 1 1/2" deep.

In a large bowl, stir together the flour, sugar, buttermilk powder, salt, baking soda, and baking powder.

In a smaller bowl, whisk together the water (or buttermilk), egg, and melted butter or oil.

Make a well in the dry ingredients and pour in the liquids. Stir together until blended and no dry spots remain; the dough will be soft and sticky. In fact, it's probably more of a stiff batter than a soft dough.

Scoop the dough into the prepared pan, mounding it in the center. Brush the top with the melted butter. Wait 5 minutes for liquid to be absorbed by the flour before baking.

Bake the bread for 35 to 45 minutes, or until it tests done (a cake tester inserted into the center will come out clean.) Remove it from the oven, and serve warm.

Yield: One loaf, about 8 to 10 servings.
Reviews
I baked two "test loaves" of this bread (1/2 recipes each). In the first test I followed the recipe exactly, local premium 100% ww flour and oil. I took it to a friend's house for dinner and we all pronounced it delicious. However, as I like to tweak things sometimes, I decided to see if I could up that lovely flavor and crumb just a bit more. In the second loaf, I used 2/3 ww flour and 1/3 AP. I also reduced the flour a bit to accommodate the addition of 1/4 cup oats, and I used melted butter instead of oil. I also added molasses to the wet mix. The difference was subtle but noticeable. Using the combined flour gave the bread a bit softer texture, the butter made the flavor richer, and the molasses added a touch of sweet warmth though I could have used a bit more (Since I was doing a 1/2 recipe I only added 1 1/2 t.). For as quick and easy as this bread is it is truly amazing and I will make it again and again. I can see it being absolutely delicious with chili, hearty soups, and stews; I love it just warm out of the oven (bread you can eat warm!) and slathered with sweet cream butter. I actually had to freeze the rest of the loaf (baked these in a loaf pan) or I probably would have finished it in one day.
A delicious bread. My husband loves it. Couples perfectly with chili tonight. As always KAF receipe spot on. Thank you.
made this with my 2 yr old granddaughter for St Patrick's Day, slight alteration by using 2 cups whole wheat and 2 cups AP flour, increasing sugar to 1/4 cup, did oil option in the recipe but did do the melted butter on top before baking, it came out really well, everyone enjoyed it.
This is a delicious simply quick bread to whip up. Always a hit!.
Great flavor, and the smell of it baking is to die for.
Loved this bread. Since it said you could use irish flour or whole wheat, I used 3 c irish + 1 c whole wheat. I baked it in a terra-cotta bread baker. I added some expresso powder and caramel color to get a dark color and served it with King Arthur Spicy Honey mixed with cream cheese for a spread. Delicious!!! My husband liked the crunchy/crispy outside, with slightly sweet inside. Definitely will be added to my "successful " recipe list !!!
I made this exactly as written and it was wonderful. I did have to bake it 55 minutes. My family loves it. They asked me to make another loaf for the next week. They ate it with butter, butter and honey, or jam. My daughter said she loves it because one slice is so satisfying and kept her full for a long time so she could eat less during the day. I will definitely add the Irish wholemeal flour to all my future orders. And it was so easy to make!
Made this for a St.Patricks party. Used KA Irish flour, real buttermilk (about an ounce more than called for based on prior reviews) and vegetable oil to save on some fat and for added moistness. I used a 1 1\2 round casserole dish to bake, so it was more rounded than flat. I'm not sure if it was because of the thickness of the dough or the A keeperextra buttermilk/ veggie oil combo, but it took a little longer to bake. Then to add the butter flavor, I brushed with melted butter as soon as it came out of oven. Fabulous results. Moist, tender crumb, great flavor. Already received a request to make with homemade baked beans. A keeper!
This is an easy, quick and delicious recipe. I halved it and changed it a bit according to others reviews. I used walnut oil, 1 1/2 C whole wheat flour, 1/4 C white flour, 2 T wheat germ and 1/4 C oatmeal roughly ground (measured dry ingredients to equal 227 grams). Added a bit more buttermilk, didn't put any butter on the top but did generously butter a small Dutch oven to bake it in. So good, thank you!