A customized print-friendly version of this recipe is available by clicking the "Print Recipe" button on this page.
Irish Buttermilk Brown Bread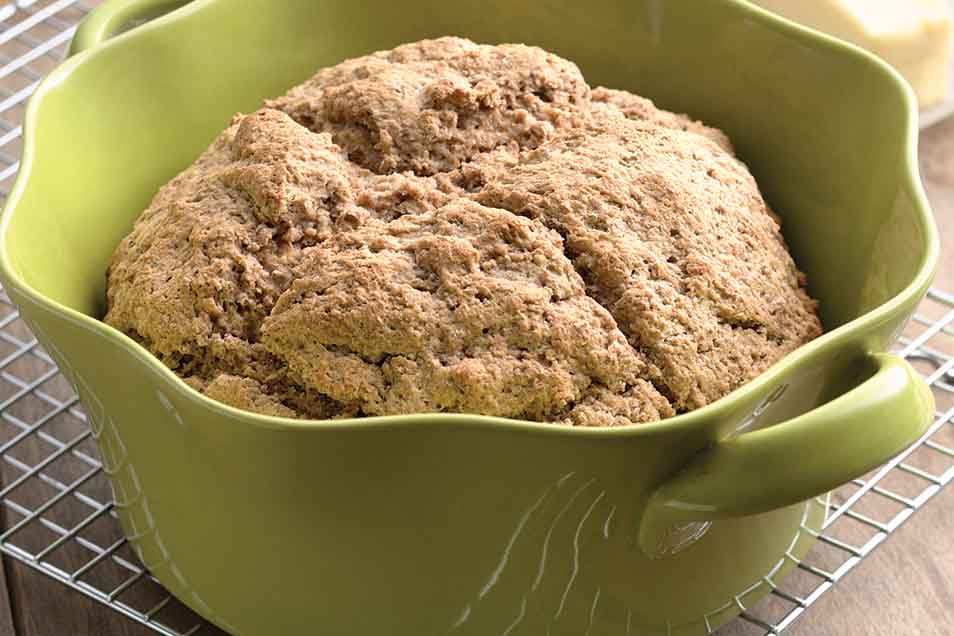 This 100% whole wheat, craggy "everyday" loaf is enriched with a touch of sugar and a butter-brushed crust.
Ingredients
Bread
4 cups King Arthur Irish-Style Wholemeal Flour or King Arthur Premium 100% Whole Wheat Flour
3 tablespoons sugar
1/2 cup buttermilk powder*
1 teaspoon salt
1/2 teaspoon baking soda
1 teaspoon baking powder
1 1/2 cups water*
1 large egg
1/4 cup melted butter or vegetable oil
*Or substitute 1 1/2 cups buttermilk in place of the water and buttermilk powder.
Topping
1 tablespoon melted butter
Instructions
Preheat the oven to 375°F. Grease a 1 1/2 to 2-quart baking dish, or an 8" or 9" cast-iron skillet or cake pan that's at least 1 1/2" deep.

In a large bowl, stir together the flour, sugar, buttermilk powder, salt, baking soda, and baking powder.

In a smaller bowl, whisk together the water (or buttermilk), egg, and melted butter or oil.

Make a well in the dry ingredients and pour in the liquids. Stir together until blended and no dry spots remain; the dough will be soft and sticky. In fact, it's probably more of a stiff batter than a soft dough.

Scoop the dough into the prepared pan, mounding it in the center. Brush the top with the melted butter. Wait 5 minutes for liquid to be absorbed by the flour before baking.

Bake the bread for 35 to 45 minutes, or until it tests done (a cake tester inserted into the center will come out clean.) Remove it from the oven, and serve warm.

Yield: One loaf, about 8 to 10 servings.