A customized print-friendly version of this recipe is available by clicking the "Print Recipe" button on this page.
Rosemary Cheddar Cheese Bread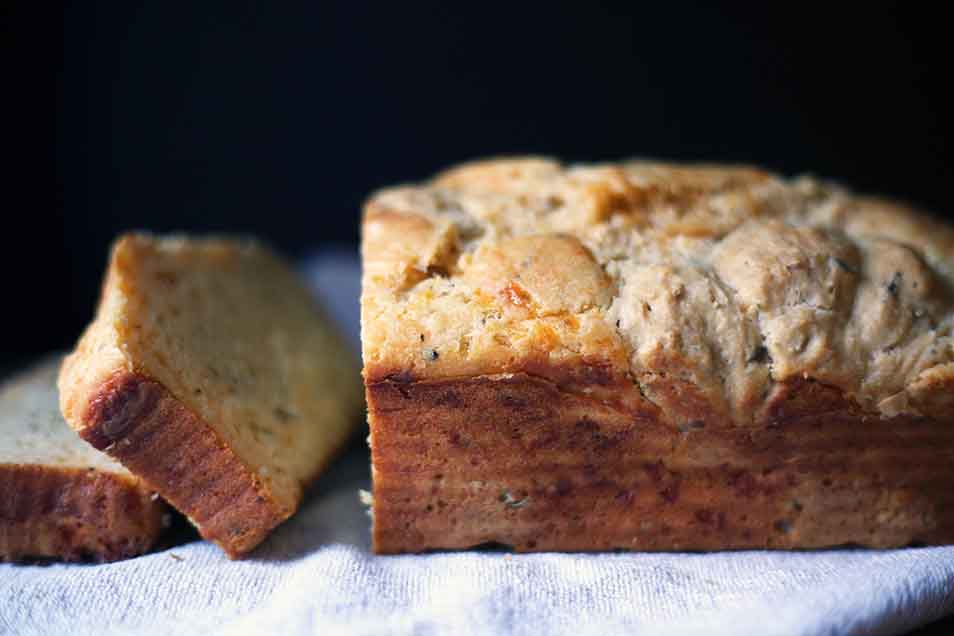 We love the combination of rosemary and cheddar cheese, and the two come together nicely in this quick bread.
Ingredients
Rosemary White Whole Wheat Batter
1 1/2 cups King Arthur White Whole Wheat Flour
2 teaspoons baking powder
1 tablespoon dried rosemary
1/2 teaspoon ground sage
1/4 teaspoon salt
1 large egg
1/2 cup milk
3 tablespoons melted butter
Cheddar Cheese Batter
1 1/2 cups King Arthur Unbleached All-Purpose Flour
1/4 cup Vermont cheese powder
2 teaspoons baking powder
1/2 teaspoon salt
1/8 to 1/4 teaspoon cayenne pepper, depending on your heat preference
1/2 teaspoon ground black pepper
1 large egg
3/4 cup milk
3 tablespoons melted butter
1 cup grated or shredded cheddar cheese
Instructions
Preheat the oven to 350°F. Grease a 9" x 5" loaf pan.

To make the rosemary batter: Whisk together the flour, baking powder, rosemary, sage, and salt; set aside.

Beat the egg, then add the milk and melted butter. Gradually add the wet mixture to the dry and mix until just combined; the batter will be stiff.

To make the cheese batter: Whisk together the flour, cheese powder, baking powder, salt, cayenne, and black pepper; set aside.

Beat the egg, and add the milk and the butter. Gradually add the dry mixture and the shredded cheese, stirring to combine.

To assemble the loaf: Scoop ping pong-ball sized dollops of the cheese batter into the bottom of the prepared pan, leaving space between in a checkerboard pattern. Scoop the rosemary batter into the bottom of the pan, filling in the bare spaces. Repeat, layering the batter in the pan until it's used up.

Bake the bread for 45 to 50 minutes, until it's nicely browned and a cake tester or toothpick inserted into the center comes out clean.

Remove the loaf from the pan, and cool it in the pan for 30 minutes before carefully turning it out onto a rack.

Store well-wrapped for several days at room temperature; freeze for longer storage.
Reviews
I've baked this twice now, and I'm disappointed in the results. I hardly rises at all, despite the baking powder (and yes, the baking powder I used was fresh) and the taste is just blah. The dough is stiff and heavy and it's hard to marble it correctly. I baked in in two 8.5 x4" pans and it barely rose to half the height of the pan. While I understand batter bread doesn't rise like yeast bread, it was still disappointing. Maybe baking it all in one pan, adding more rosemary and a sharper, more aggressive cheese would help. I find I prefer a yeast loaf with cheese and rosemary to this recipe.

We're sorry to hear that this loaf was a disappointment for you, DeeDee. It may be worth noting that we do recommend making this in one 9" x 5" pan, rather than two 8.5" x 4.5" pans. While using just one pan shouldn't have drastically affected the texture, there's not enough batter to fill two pans, which would account for the shorter loaves you ended up with. If you're interested at all in troubleshooting any of the rest, please feel free to give our Baker's Hotline a call at 855-371-BAKE. We'd be happy to chat! Mollie@KAF
Just tried this and thought it tasted disgusting. It tasted like baking powder...there's a ton of it in there...and it tasted like there should have been at least a little bit of sugar in there...are you sure it didn't get left out of the recipe? Yuck!! We love rosemary and cheddar cheese but there was something missing in this one...

We're sorry this one didn't work for you! Try adding a bit of sugar to the rosemary portion, instead. Happy baking! Laurie@KAF
I found the rosemary flavor to be quite over powering. The recipe worked just fine, I just didn't enjoy the taste.
Was looking for a savory gift loaf as an alternative to all the sugary treats at Christmas. Found this in the Baking Sheet Holiday 2013 & made it in the tea loaf pan. Turned out beautifully on the first try! I substituted 4oz of parm for the cheese powder and it is wonderful. Everyone should try this recipe!!
Absolutely delicious. I made this exactly according to recipe and it came out perfect. It is a flavorful and moist loaf. I recommend this recipe and I will be making it again.
I am giving this recipe 5 stars for speed of preparation and for taste. Marbling--eh, not so much. My brother-in-law called me to say he was coming over for a visit this afternoon, and I had nothing tasty to give him, so I whipped up the two loaves this recipe makes, and served it with a pot of fresh mint tea. I used fresh rosemary and coarsely cracked black peppercorns crushed in a mortar, with a nice sharp cheese--and yes, it did taste a bit like sausage, as another reviewer mentioned. I'm vegetarian, but didn't find it obnoxious, while my sausage-and-cheese loving relative declared it awesome; he went home happily with the extra loaf under his arm. (My sister doesn't bake.) My one complaint is that this bread didn't mix up into anything nearly wet enough to be marbled, even though I measured carefully on this extremely humid day, and even added extra milk into the white bread portion after seeing the consistency the whole wheat part, mixed up first, turned out to have. In the end I dumped both loaf pans back into the mixer and gave it 2 or 3 turns, then divided the dough back into the pans. The effect was mixed, not marbled, but the taste was delicious! These doughs were both very very sticky, and since I have a hand tremor I ended up slinging little bits of it irritatingly around as I scraped, attempted to marble, etc. But as I licked my fingers, it was all just good. This goes on the Sunday afternoon tea menu for sure.
Quick and easy, the perfect amount of cayenne. I used Cabot's Seriously Sharp White Cheddar...love it! This time I used whole wheat for the rosemary batter, but next time I'll try the white whole wheat. For the rosemary, I had a Rosemary Herb Seasoning Mix which is quite tasty in the bread. And, maybe it's the herb mixture, but it almost taste like there's a hint of sausage in it...really good.
I just tasted this bread for the very first time at a potluck at a gardeners meeting. I ABSOLUTELY LOVED IT!!! Very artisan-y! The gentleman whom made this and brought it told us about KAF and that we could go to the website. I had never even heard of KAF or the website, but I immediately got on the website when I got home that evening. I have been looking for this recipe and now can't wait to make it!! I am going to order the flour today, as my local grocers do not carry it. By the way, the gentleman who brought this had also attended one of the baking classes at KAF, and now that I have read into it, that is my next goal!!
Everyone needs to make this bread. It is so good, we all loved it.
We enjoyed this bread very much. Unique look and savory flavors. My marbling technique needs some work. I'm thinking the batters should have been a little wetter to marble properly. Will definitely make often. Have already shared the recipe with a friend.