A customized print-friendly version of this recipe is available by clicking the "Print Recipe" button on this page.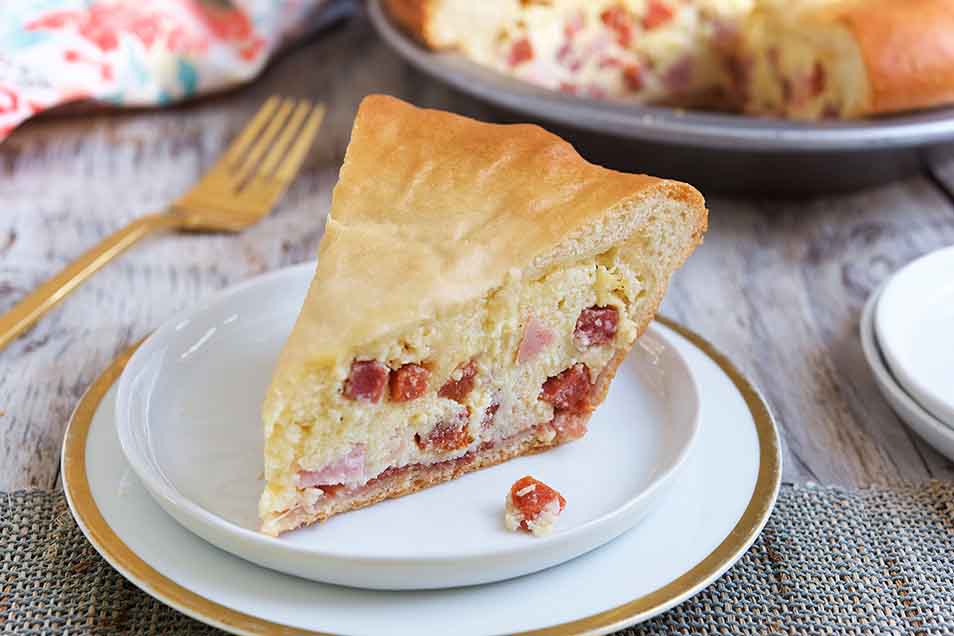 This bountiful meat and cheese pie is based on a recipe in Cucina Classica II, a wonderful Italian community cookbook produced by the Sons of Italy New York Grand Lodge Formation. Lent, the season preceding Easter, is a time of penance; this pie, chock full of all kinds of rich ingredients, is the sign that Lent is over and Easter has arrived at last. Traditionally made on Good Friday but not enjoyed until Sunday, Easter pie is always a richly anticipated treat.
Ingredients
Filling
6 large eggs
4 cups part-skim ricotta cheese
2 cups shredded mozzarella cheese
1 cup freshly grated Parmesan cheese
1/4 teaspoon salt
1/2 teaspoon coarsely ground black pepper
2 cups ham, diced into 1/2" cubes
2 cups Genoa salami, diced into 1/2" cubes
2 cups pepperoni, diced into 1/2" cubes
8 to 10 slices very thinly sliced prosciutto
olive oil, for brushing on the crust
Instructions
To make the dough: Mix and knead together all of the dough ingredients — by hand, in a mixer, or in a bread machine — until you've made a soft, smooth dough.

Place the dough in a lightly greased bowl, cover, and allow it to rise for 1 to 2 hours, until it's not quite doubled in bulk.

To make the filling: While the dough is rising, stir together the eggs, ricotta, mozzarella, Parmesan, salt, and pepper.

Stir in the ham, salami, and pepperoni.

Divide the filling in half (each about 4 1/2 cups, 36 ounces, 1020g), and refrigerate.

Preheat the oven to 325°F. Have ready two 9" pie pans.

Gently deflate the dough, and divide it into four pieces. Two of the pieces will be bottom crusts, and should be just slightly larger than the other two pieces.

Place one of the larger pieces of dough on a lightly greased silicone rolling mat, or lightly greased work surface. Roll it into a circle that's about 16" in diameter; go away for 5 minutes, then come back; the circle will probably have shrunk.

Roll it out again, and drape it into the pie plate, anchoring the edges to the pan by folding them underneath the rim; you don't want it shrinking down the sides of the pan while you're rolling the other crust.

Roll one of the smaller pieces of dough the same way you did the larger, giving it time to shrink and then rolling again, if necessary.

Line the bottom crust with half the prosciutto slices. Spoon half the filing on top.

Drape the top crust over the filling, and bring the edge of the bottom crust up over the edge of the top crust, sealing the two together and smoothing them as best you can.

Cut a 1" circle in the center of the top crust, to allow steam to escape. Make another pie with the remaining dough and filling.

Place both pies on a large, parchment-lined baking sheet; if you don't have a big enough sheet, use two. The baking sheet makes it easier to transport pies in and out of the oven, and parchment will catch any spills.

Bake the pies for 80 minutes, until they're a light golden brown.

Five minutes before the end of the baking time, remove them from the oven, brush or spray with olive oil, and return to the oven; this will give the crust a nice glow.

Remove the pies from the oven, and let them rest for at least 1 hour (preferably 2 hours) before cutting. Serve warm, or at room temperature. Don't serve until Easter Saturday!

Refrigerate any leftovers for up to 4 days.
Reviews
I just made this , couldn't wait to try. I found it to be very salty. Also pizza flavoring not impressed by it. If I made again would make adjustments.
I bake Easter Pizza using my husband's family recipe. The dough includes egg. We use mozzarella, diced ham, sliced pepperoni, eggs, and grated romano in our filling. The dough is thinly rolled onto cookie sheets, filled, and topped with another crust. The edges are crimped before baking. We eat long slices of it after Mass on Easter Sunday morning. It is incredible!
This is actually called Pizza Gain, and this is a variation of the recipe I learned years ago in New York from an Italian neighbor. The main difference is that rather than dicing up the meats she got them sliced very thin and then layered them in the pie plate alternating with the cheeses. She used Pepperoni, hard salami, ham and sweet Italian sausage -- alternating a layer of meat with a layer of the cheeses. MMMMMmmm. Either way, it's a fantastic recipe for Easter morning.
Oh my, oh my! I've never had anything like this before, but it is fantastic! That savory blend of meats and cheeses wrapped in a bready crust.....mmm! I used sliced deli meat instead of chunks, and I used a little less than the recipe called for (I was afraid it would be too salty). Next time I will use the entire amount of meat. This is a keeper recipe for sure. I'm already planning to make it again for guests next week.
Only one correction to the story... Since most Italians were Roman Catholic, they were required to abstain from meat during Lent. This pie would have been served on Easter morning after Mass; NOT on Holy Saturday which is still Lent. The Italian name for this recipe is either Pizza Rustica, or Pizza Carne (pronounced "cane") depending upon what province you hail from. The recipe is even more decadent than my Nana's. I will be trying it this Easter

Mike, we beg your forgiveness for this, and will have it updated! Laurie@KAF
So good! I am not usually a fan of all the meats in this pie, and in the past any time I have had this recipe made by my husbands family did not impress me...to heavy, too dry, just not my thing I guess. So I was reluctant to try this, but I am so glad I did! So flavorful. Crust is perfect! Not to chewy, not to flaky. The salty-strong flavored meat along with the creamy filling is a terrific combination! Another wonderful recipe I got from King Arthur... Nothing I try from King Arthur turns out anything but delicious! A party for our mouths yes! A tragedy for our waistline...yeah that too...
Can pie crust or store-bought pizza crust be used?

This crust is more similar to a pizza crust than a pie crust, so if you are looking for a store-bought option that's the way to go. The homemade version using the Italian-style flour would be more tender and soft, so if you find the store-bought crust a bit chewy, you will know it will be worth it to make from scratch in the future. Enjoy! Kye@KAF
this was great. Made for Easter morning. Everyone loved. I added cake enhancer from KA, did not have dough improver, used dry milk. Might try with spinach next time.
Live this recipe have made it twice and each time a winner-the 2nd time added some cooked -drained and cooled hot sauage to the mix. Awesome. Thanks again. Kat!!