A customized print-friendly version of this recipe is available by clicking the "Print Recipe" button on this page.
King Arthur Flour's Original Cake Pan Cake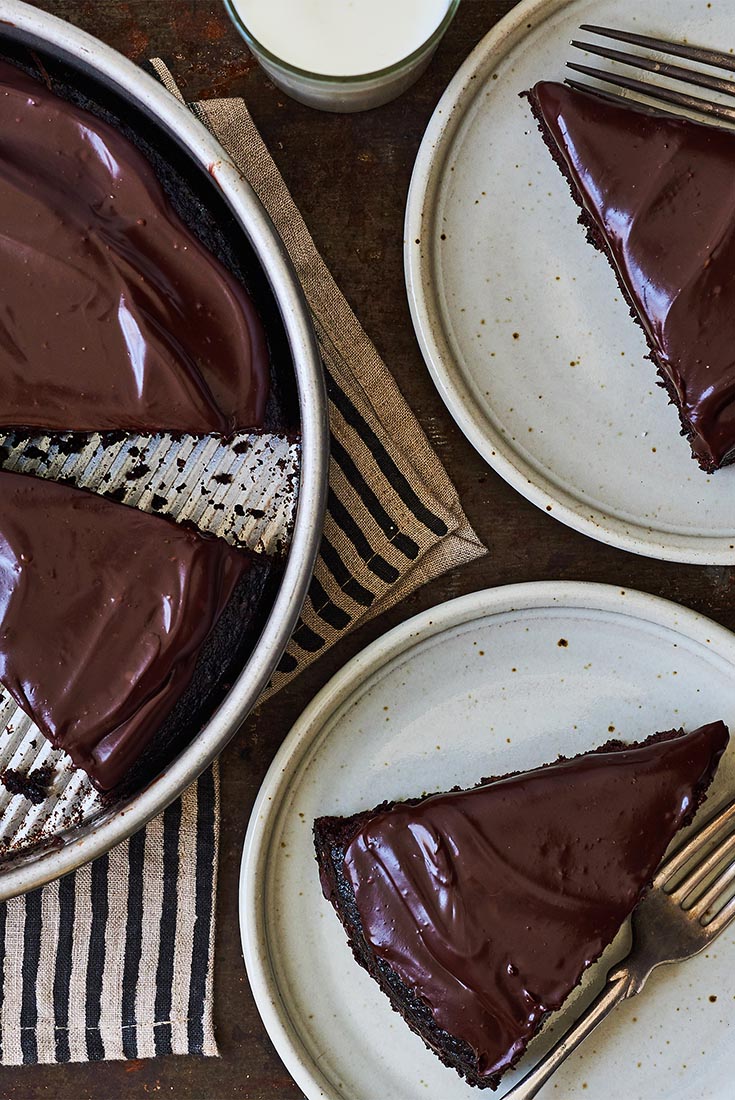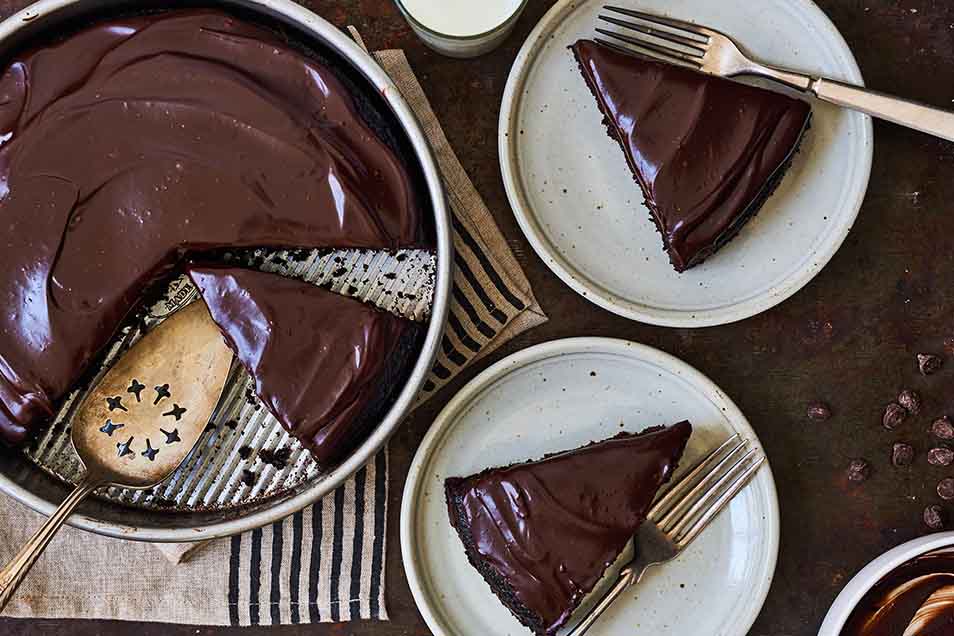 Over the years, Cake Pan Cake has been one of King Arthur Flour's most requested recipes. And now we're proud to name this our King Arthur Flour 225th Anniversary Recipe of the Centuries. Dark, moist, delicious, and CHOCOLATE, the cake is egg- and dairy-free, making it perfect for vegans and those with egg/dairy allergies. Truly, this is a cake for all reasons, all seasons — and for bakers (and their family and friends) everywhere.

Baking gluten-free? For great results, substitute King Arthur Gluten-Free Measure for Measure Flour for the all-purpose flour in this recipe; no other changes needed.
Instructions
Preheat your oven to 350°F. Lightly grease an 8" square or 9" round pan that's at least 2" deep.

Traditional method: Measure all the dry ingredients into the prepared pan. Blend the ingredients together thoroughly with a fork or whisk and scoop out three holes, or indentations. Pour the vanilla into the first hole, the vinegar into the second, and the vegetable oil into the third. Take the cup of water and pour it directly over everything in the pan. Stir all the ingredients together with your fork until well blended.
Updated method: Whisk the dry ingredients together in a medium-sized bowl. Whisk the vanilla, vinegar, vegetable oil, and water in a separate bowl. Pour the wet ingredients into the bowl of dry ingredients, stirring until thoroughly combined. Pour the batter into the prepared pan.

Bake the cake for 30 to 35 minutes, until a toothpick inserted into the center comes out clean, or with a few moist crumbs clinging to it.

Serve the cake right from the pan; warm from the oven, it's wonderful with a big glass of milk.

Or, once cool, frost the cake with this simple chocolate frosting: Heat the chocolate chips with the half & half until the chips melt. Stir until smooth, and pour/spread over the cake. For a non-dairy icing, substitute 1/3 cup cold brewed coffee (or water) for the half & half.

Yield: about 16 servings.
Nutrition Information
Serving Size

1 2" piece (70g)

Servings Per Batch

about 16
Amount Per Serving:
Calories

220

Calories from Fat

90

Total Fat

10g

Saturated Fat

4g

Trans Fat

0g

Cholesterol

0mg
Sodium

160mg

Total Carbohydrate

33g

Dietary Fiber

2g

Sugars

21g

Protein

3g
* The nutrition information provided for this recipe is determined by the ESHA Genesis R&D software program. Substituting any ingredients may change the posted nutrition information.
Tips from our bakers
While the original, non-dairy version of this recipe calls for water as the liquid, feel free to substitute milk, for a slightly richer cake. Or try cold coffee, for a mocha version; or even 3/4 cup water mixed with 1/4 cup rum, for an "adults only" cake!
Note that the picture above shows the cake cut into 9 servings, instead of the 16 frosted servings noted in the nutritional information. We thought it simply looked better cut that way; but we encourage you to serve it in 2" squares, which yields 16 servings.
Want to make this cake into cupcakes? Portion the batter into a standard (12-cup) muffin pan lined with lightly greased papers; you'll use a scant 1/4 cup batter (about 58g) in each. Bake for 18 to 20 minutes (22 minutes if you're baking with Gluten-Free Measure for Measure Flour) in a preheated 375°F oven, until a toothpick inserted into one of the center cupcakes comes out clean. Remove from the oven and cool on a rack. Frost with the frosting in step #6 above, if desired.
Reviews
I wish every recipe was this easy and delicious. THANK YOU KING ARTHUR!!!!
This is my most-baked KAF recipe by far. So easy and delicious! I like to serve it warm from the oven with a warm chocolate glaze. Ice cream on top isn't a bad idea either. Quick question - can you omit the cocoa powder and end up with a white cake? Would love a white or yellow version of this cake!

We're glad this cake is such a hit, Carrie! Switching a cake from chocolate to vanilla is a lot harder than switching a vanilla cake to chocolate, simply because much of a chocolate cake recipe revolves around cocoa powder for flavor, dryness, and leavening. However! We have a lovely cake-pan style cake that's already vanilla called Lazy Daisy Cake. It calls for a topping but it's optional — if you leave it off, you'll have a lovely vanilla cake pan cake. Happy baking! Annabelle@KAF
I lessened the sugar to 3/4 Cup, but otherwise followed the directions exactly. This cake is quick, easy, and lovely.
I was looking for a simple, smaller cake for our daughter's 2nd birthday and this one fit the bill for both size and ease. I didn't have vegetable oil so I subbed 4 tbsp. of melted butter and 1 tbsp of olive oil. Cake had a beautiful close textured crumb and rose nicely. I used the updated method and measured my dry ingredients with a scale and everything came together in under 10 minutes. I used a square of parchment paper to line the bottom of the pan and lightly greased the whole thing (no flouring) and it came out with no issues. I made a cream cheese frosting with a splash of bailey's for flavoring to top it and it was delicious. All in all a simple, adaptable, moist and yummy chocolate cake recipe.
Delicious. I used coconut oil and took a hint from the Tips section, adding alcohol. I inherited a bottle of Cherry Kijafa when a friend moved away. It's not fit to drink but I subbed half of the water in this recipe for the Kijafa. The first day it was quite tasty with a bit of a cherry undertone. But by the second day the cherry flavor had dissipated. Still a very good, easy fix for my must-have-cake craving.
My mom use to make this cake. I remember her calling it wartime cake. I also made it for my children as a go to snack. As adults now they make it for their families. Forever a family favorite and can be dressed up for company. Always a hit at picnics, too.
I've made this cake for over 50 years. This time I tried the updated version, doubled the recipe and added two eggs. The result? A nice, moist cake that looked great and tasted even better! To a cooled cake I added cream cheese frosting and shaved good, dark chocolate over the top. All with no mixer, no muss and no fuss! I also sprayed my pan and nothing stuck. If you choose not to spray or flour your pan, try dusting it with cocoa powder. It works.
I am not even all that much of a chocolate cake fan, but am testing a bunch of recipes this week before making a cake for my boyfriend's birthday next week. This looked very quick, and the 500+ comments swayed me into baking it last night for a quick taste-test with friends and it was WONDERFUL. I made it the "updated" way, and while I meant to use milk instead of water, I forgot and didn't even think about it until the cake was GONE. Thanks to all who commented, and also to KAF for responding to the comment a couple of days ago about how to make this as a layer cake; I will be making it again tomorrow as a layer cake for one final round of taste tests! The smell is wonderful when it comes out of the oven and another bonus is not having to use a mixer; clean up was simple.
I have been making this cake since my children were little. Now I'm 80 years old and showing my grandchildren how to make it , it's the best cake for children to cook and you can mix it in the pan. We called it 3 hole cake when the kids were small. Mix the dry ingredients, make 3 holes add oil,water and vinegar!! Mix together and pop in the oven. Best part no egg or milk!
Gonna make this again for a birthday party and the birthday girl wants me to make a two-tier cake; how can I do this with this cake recipe? This is the one she wants; Help! Any ideas? Thanks.

If you'd like to make a two-tier cake, simply double all of the ingredients and divide it evenly between two 9" cake rounds. Bake the cakes as directed and then let them cool completely on cooling racks. Putting the cake layers in the fridge overnight might help the layers to firm up slightly, so consider baking the layers a day in advance.

The next day, trim the top of the cakes if they've domed slightly and then fill the layers with the jam or frosting of your choice. You might want to use our Quick Buttercream Frosting recipe, which is delightful paired with this cake. The Cake Pan Cake tends to be slightly delicate, so make sure the frosting is room temperature and easily spreadable. Putting the cake in the freezer periodically during frosting can make it sturdier and easy to work with. Good luck and happy baking! Kye@KAF