A customized print-friendly version of this recipe is available by clicking the "Print Recipe" button on this page.
King Arthur's Detroit-Style Pizza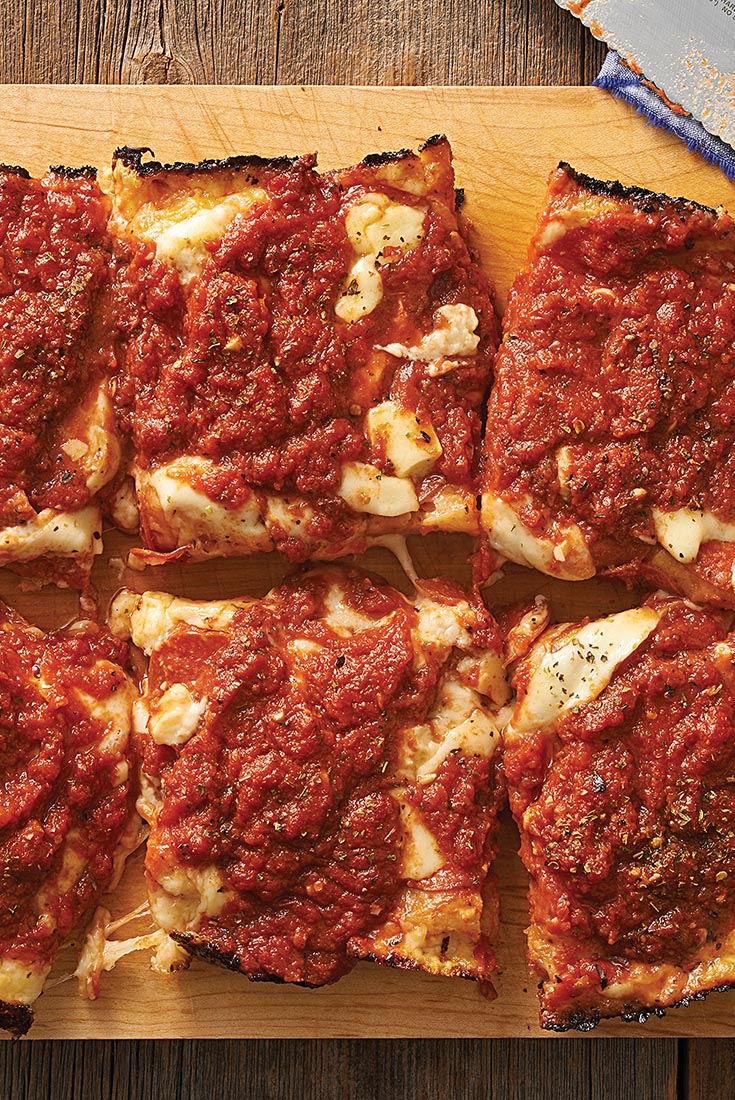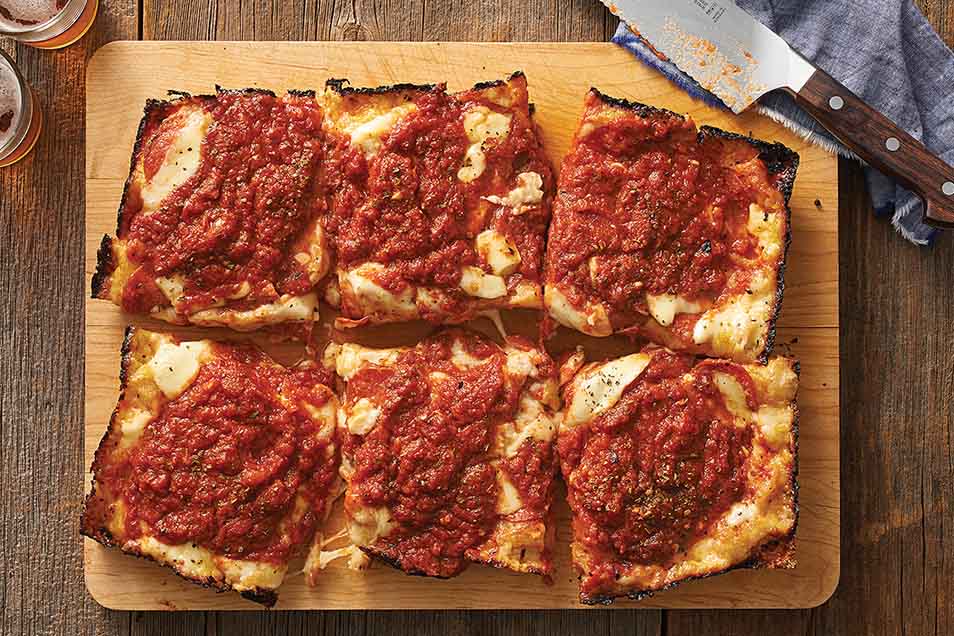 One of our newest obsessions, this Detroit-style pizza, layers classic pizza toppings in reverse order (first optional pepperoni, then cheese, then sauce). It's baked in a special anodized pan to achieve perfectly crispy caramelized cheese around the edge; a harmonious balance to the soft, chewy crust, and sauce and gooey cheese on top.

Our thanks to Serious Eats for the inspiration for this recipe.
Ingredients
Sauce
2 tablespoons olive oil
2 cloves of garlic, finely chopped
1 tablespoon Pizza Seasoning
28-ounce can crushed tomatoes
1 tablespoon sugar, optional
Toppings
8 to 12 ounces pepperoni, sliced 1/8" thick, optional
6 ounces mozzarella cheese, cut into 1/2" cubes
6 ounces cheddar cheese, diced into 1/2" cubes
Instructions
Weigh out your flour; you'll find its weight by toggling to "ounces" at the top of the ingredient section above. Or measure it by gently spooning it into a cup, then sweeping off any excess. Mix and knead all the dough ingredients — by hand, mixer, or bread machine set to the dough cycle — until a shaggy dough forms.

Cover the dough, allow it to rest for 10 minutes, then knead it again until it becomes smooth and elastic (if you're using a bread machine, skip the rest and allow the machine to complete its kneading cycle).

Form the dough into a ball, place it into a lightly-greased bowl, cover, and allow to rest until doubled, about 2 hours.

Drizzle 1 to 2 tablespoons of olive oil into a Detroit-style pizza pan or a 9" x 13" pan. Gently stretch the dough into the edges and corners of the pan until it starts to shrink back and won't stretch any farther.

Cover the pan, and allow the dough to rest and relax for 15 to 20 minutes before stretching it again. Repeat the rest one more time, if necessary, until the dough fills the bottom of the pan.

Position a rack at the lowest position of the oven, and start preheating the oven to 500°F.

In the meantime, make the sauce: Heat the olive oil in a saucepan set over medium heat until shimmering. Stir in the garlic and pizza seasoning, cooking until fragrant, about 30 seconds. Add the tomatoes and sugar, bring to a simmer, and cook until the juices have reduced significantly and you have about 3 cups of sauce, about 20 minutes. Remove the sauce from the heat and set aside.

Gently press the dough down with your fingers to release some larger air bubbles. Top the dough with an even layer of pepperoni, if using, followed by the cubed cheeses making sure to spread them to the edges of the pan.

Dollop the sauce over the surface of the pizza or spread it into three lengthwise rows.

Transfer the pizza to the bottom rack of the oven, and bake until the cheese is bubbly and the edges have turned nearly black, about 12 to 15 minutes.

Remove the pizza from the oven, run a spatula around the edges to loosen it from the pan, and let it rest for 10 minutes, or until you can handle it. Transfer the pizza to a cutting board, cut, and serve.

Store leftover pizza in the refrigerator for up to 5 days. Reheat in a 350°F oven until warm throughout, 10 to 15 minutes.
Reviews
I bought the lloyd pan and this recipe is fantastic. If you are a thick crust lover, this is the one and only pizza you will ever need to make. After purchasing the Detroit style I purchased the Sicilian style pan as well for those who don't like as thick of a crust. I highly recommend this dough. I used my own sauce, pizza crust seasoning and sauce seasoning. We don't order pizza any more. :)
I love this recipe! The pizza has come out perfect every single time. Has anyone made this using KAF Whole Wheat Flour? If so, anything I should know before I try? Thanks!

We're glad you enjoyed this recipe, Neemo! We encourage you to use whole wheat flour for up to 50% of the flour in this recipe. Because it absorbs more moisture, you may find you need to drizzle in some extra water to achieve the soft, smooth dough you're looking for. Happy baking! Annabelle@KAF
This pizza turned out better than I ever imagined! I bought the Baker's Pantry Pizza Trio seasonings, just to give everything a try. I'm going to need the full jars of everything, because this recipe deserves to be made a LOT! I crushed my own tomatoes for the sauce, as I have a neighbor who keeps us very well supplied with tomatoes. The crust was very quick and easy to make, very smooth and flavorful. I used a mozzarella provolone blend of shredded cheese, and sprinkled some Vermont Cheddar Cheese powder on top. I baked it in a 9x13 copper pan, and the olive oil made it slide right out. My dad said it was the best pizza he's ever had, and not just because I made it! This is a perfect recipe for a perfect pizza!
This recipe came together so easily and the crust was fantastic. I was a little unsure about the cheddar cheese but it was great. Looking forward to making this again.
I got on to see if this recipe could be frozen to see that the question was already answered. I still wanted to leave a post about how great this pizza really tastes. I have tried homemade pizza before and no one was at all impressed. Pizza tends to be our Friday night go to but with 6 people all wanting different things it costs a small fortune. My son (who could live on pizza) saw the catalogue and so I thought 'Hey! Why not?' Since I have my own canned marina sauce I just used that and added the spices and cooked it down to be a thicker sauce. Everyone's mouth was watering just from the smell of the sauce. lol Once the pizza came out of the oven everyone raved about it!! There are 2 pizza shops back home who do a white pizza that's just garlic olive oil with pepper rings, onions and bacon that I love. So I gave it a try. I used a cookie sheet instead of the pan and boy I will never crave the pizza from home again. I have done just cheese, a sausage one, ham, bacon and sausage and even made the pizza cheese bread like you get from the big chain pizza places all with this recipe, My only wish is that I had this recipe years ago. I will never buy pizza again! Thanks KAF!!!
I would like to know if this can be frozen before being baked. If so, at what stage and do I defrost or bake from frozen?

Hi Brenda, if you'd like to start making the dough and freeze it partway through preparation, you can do so after the 10 minute rest in step 2. Put the dough into a plastic bag (a ziplock will also work here), making sure there is enough room for the dough to expand. When you're ready to bake, let the dough rest in the fridge overnight in the bag. It should look puffy and have expanded by the next day. Remove the dough from the bag, drizzle in the olive oil, and proceed with the recipe. (Allow more time in step 5 to account for the dough being cold.) The dough should look slightly puffy before you start applying sauce or toppings. Happy pizza baking! Kye@KAF
Hi - i am going to use sausage as one reviewer did - has anyone added thinly sliced onions?? if so on top or with the meat - I have my pan now and will be tryint it this weekend!! Thanks!

Ooh, go for it, Judy! We'd probably recommend adding the onions under the sauce so they don't scorch too much. Happy baking! Annabelle@KAF
Firstly, I'd like to thank MaryJane at KAF for her guidance in making this dough using a food processor. It worked out perfectly! She instructed me to add all ingredients to the mixer bowl, and pulse for 20-30 seconds until a rough ball forms. Allow the dough to rest for 10 minutes, then, process the dough by pulsing again for another 20-40 seconds until a soft, smooth ball of dough forms. She went on to say to be aware that food processors working at very high speeds can over-process the dough easily, so keep a very close eye on the dough. Form into a ball and place it in a lightly oiled bowl to rise. Continue with the recipe. This is another recipe from KAF that is a definite keeper! The first time I made it, the pizza came out wonderful. I followed the recipe and made the dough as instructed in the recipe. It was so good no left overs! Tonight, I made the dough in a food processor. It was so easy, the food processor did all the work! I changed up the recipe a bit. I used the pizza sauce in the recipe and instead of using pepperoni, I used sweet Italian sausage about a pound of it. I precooked the sausage and spread it all over the dough. I omitted the cheddar cheese and used all mozzarella. Assembled the pizza as the recipe indicates and baked it at 500 for 15 minutes. I know this is no longer the Detroit Pizza but it's really a delicious variation! Make sure you use their Detroit-Style Pizza Pan it really makes the difference! It's key to achieve that perfectly crispy caramelized cheesy crust! I am a BIG fan of King Arthur Flour's recipes and their products!
I made this pizza and followed the recipe exactly and it turned out great. The pizza sauce has a little kick to it with the pizza spice having some red pepper flakes in it. I used a fresh ball mozzarella and cheddar cut into chunks. I think next time I make this I will use shredded cheese and stick to mozzarella only. Crusts was great, I baked the full amount of time. I probably would increase my bake time just a smidgen to make sure the bottom is crispy like the edges. Be sure to oil the sides of the pan, it does bubble along the edges and can get baked on pretty good. Will make again. PS I reheated a couple pieces in my toaster oven and this is great reheated!
Everything about this recipe is wonderful. Best part is how easy and hands off it is. I didn't have enough time to follow the recipe to a T due to three ravenous children, but even with just an hour of rising time the crust came out great. I used a 450 F oven with a glass pan and it was good although not as crispy looking as the photo.