A customized print-friendly version of this recipe is available by clicking the "Print Recipe" button on this page.
King Arthur's Detroit-Style Pizza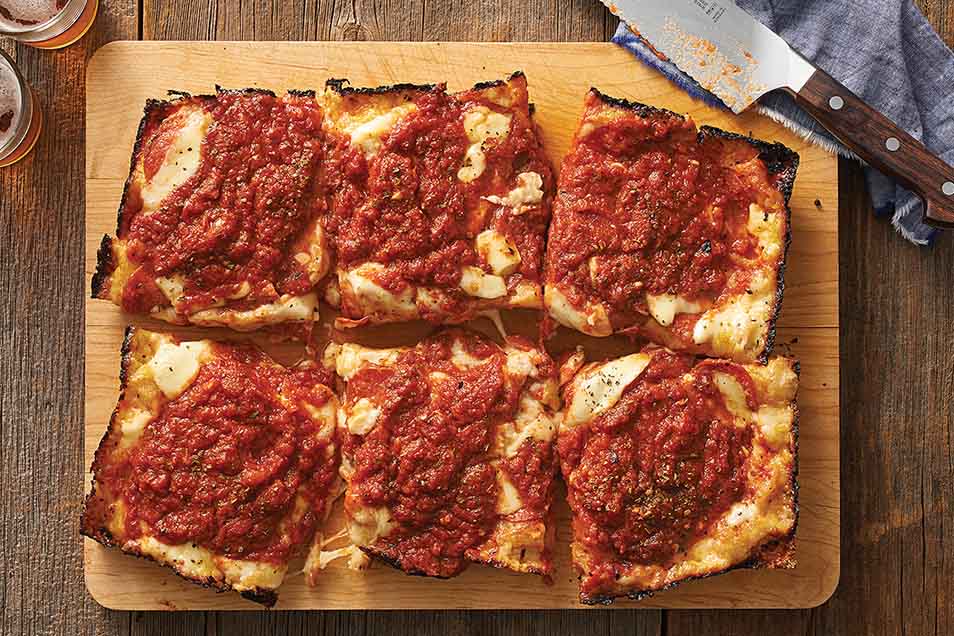 One of our newest obsessions is Detroit-style pizza, a dish born at Buddy's Rendezvous (later to become Buddy's Pizza) in that city more than 70 years ago. Known for its thick crust with crackly-crisp sides and bottom, it also layers classic pizza toppings in reverse order: first optional pepperoni, then cheese (brick cheese, to be totally traditional), then sauce. It's baked in a special dark anodized pan to achieve perfectly crispy caramelized cheese around the edge; a harmonious balance to the soft, chewy crust, and sauce and gooey cheese on top.

Our thanks to Serious Eats for the inspiration for this recipe.
Ingredients
Sauce
2 tablespoons olive oil
2 cloves of garlic, finely chopped
1 tablespoon Pizza Seasoning
28-ounce can crushed tomatoes
1 tablespoon sugar, optional
Toppings
8 to 12 ounces pepperoni, sliced 1/8" thick, optional
6 ounces mozzarella cheese, cut into 1/2" cubes
6 ounces cheddar cheese, diced into 1/2" cubes
Instructions
Weigh out your flour; you'll find its weight by toggling to "ounces" at the top of the ingredient section above. Or measure it by gently spooning it into a cup, then sweeping off any excess. Mix and knead all the dough ingredients — by hand, mixer, or bread machine set to the dough cycle — until a shaggy dough forms.

Cover the dough, allow it to rest for 10 minutes, then knead it again until it becomes smooth and elastic (if you're using a bread machine, skip the rest and allow the machine to complete its kneading cycle).

Form the dough into a ball, place it into a lightly-greased bowl, cover, and allow to rest until doubled, about 2 hours.

Drizzle 1 to 2 tablespoons of olive oil into a Detroit-style pizza pan or a 9" x 13" pan. Gently stretch the dough into the edges and corners of the pan until it starts to shrink back and won't stretch any farther.

Cover the pan, and allow the dough to rest and relax for 15 to 20 minutes before stretching it again. Repeat the rest one more time, if necessary, until the dough fills the bottom of the pan.

Position a rack at the lowest position of the oven, and start preheating the oven to 500°F.

In the meantime, make the sauce: Heat the olive oil in a saucepan set over medium heat until shimmering. Stir in the garlic and pizza seasoning, cooking until fragrant, about 30 seconds. Add the tomatoes and sugar, bring to a simmer, and cook until the juices have reduced significantly and you have about 3 cups of sauce, about 20 minutes. Remove the sauce from the heat and set aside.

Gently press the dough down with your fingers to release some larger air bubbles. Top the dough with an even layer of pepperoni, if using, followed by the cubed cheeses making sure to spread them to the edges of the pan.

Dollop the sauce over the surface of the pizza or spread it into three lengthwise rows.

Transfer the pizza to the bottom rack of the oven, and bake until the cheese is bubbly and the edges have turned nearly black, about 12 to 15 minutes.

Remove the pizza from the oven, run a spatula around the edges to loosen it from the pan, and let it rest for 10 minutes, or until you can handle it. Transfer the pizza to a cutting board, cut, and serve.

Store leftover pizza in the refrigerator for up to 5 days. Reheat in a 350°F oven until warm throughout, 10 to 15 minutes.
Reviews
A winner we will make again! I did use the Detroit-style pan AND took the advice of others to make sure the sauce was reduced correctly. I was also scrupulous about having the oven well-preheated. I was short 3 ozs of solid Mozzarella I could cube so I supplemented with pre-grated and that was fine.
Wondering how you got 4 hours and 40 minutes out of this timeline? I have added it up several times and it's 3 hours max according to your instructions? Just wondering if I'm doing something wrong.

Jocelyn, if you add up all the timed parts of this recipe, they come to 3 hours and 15 minutes. That doesn't include all of the other tasks, including assembling and prepping all your ingredients, kneading your dough, shaping your crust, assembling your pizza, cutting, serving, and any clean-up. We like to be generous with our times, as it often takes new bakers more time to do these kinds of tasks and want to make sure they're not left rushing and frustrated. But if you're experienced and can handle these tasks easily as you go, feel free to give yourself just four hours or fewer instead. Happy baking! Kat@KAF
Love this pizza! This is the first time I made it since I just got the kit from King Arthur. I made the dough in the bread machine. I couldn't skip the rest period so I just let the machine do it's thing. It doubled in size within an hour. It took several tries to get the dough stretched to all the corners but finally got it done. I did bake the dough for about 2 minutes before adding any toppings since some say the dough didn't get done for them. I added the toppings as directed. Never thought of using cheddar cheese but liked it and I always have it on hand. My bottom crust didn't turn out as crispy as I would have liked. Maybe I should have baked it a little longer, and not let it sit in the pan for 10 minutes? I don't believe this serves 12 people, more like six. It is yummy!

Hi there, Deb! We're glad to hear that you enjoyed this recipe! For a crispier crust, we'd recommend baking the pizza for a few extra minutes as well as removing it from the pan as soon as you can handle it. We hope this helps and happy baking! Morgan@KAF
Great recipe! Turned out like the real deal. Just wondering, would this recipe work with substituting with some sourdough starter? Always looking for new uses for that :) Thanks!

You can add your sourdough to pretty much any yeast dough, Emily, so long as there's enough water and flour to do the swap! Replace 120 g (1 cup) flour and 120 g (1/2 cup) of water from the recipe with 240 g (1 cup) of your starter. Happy baking! Annabelle@KAF
This recipe took me two tries to get it right. I had been wanting to get this pan for ages and finally bought the pan+ingredients pizza kit from KAF. On my first try at the recipe, my dough did not cook through at the 15 minutes mark. I put it back in the oven to try to cook it through but I merely burned the crust exterior and the crust interior stayed undercooked. I came to the reviews here to read tips from others and saw that the volume of sauce might be the reason the dough wasn't cooking through so on attempt number two I only put half the sauce on, in narrow ribbons, for the first 13 minutes, I then pulled it out of the oven and put the rest of the sauce on and then baked for another 4 minutes and that was perfection. Fully baked crust, crispy on the exterior and tender chewy on the interior. Nice crusty cheesy edges. Absolutely amazing. I read where others just used less sauce altogether, but I wanted to use all the sauce because the sauce recipe on it's own is absolutely amazing. I thought I would post this for others that might need help with getting a fully baked crust while still wanting to use all of the sauce. Other modifications I made that worked out fine; I used canned whole peeled tomatoes and mashed them a bit with a potato masher to give the sauce a chunkier texture and I used 8 oz. of mozzarella and 8 oz. of Monterey jack cheese which was 4 oz. more cheese than the recipe called for which also worked out just fine. The cheese blocks come in 8 oz. portions and I dIdn't want to waste 2 oz. of each cheese. I cannot wait to show this recipe off to friends! They will never believe this was a make at home recipe. It literally looks and tastes like it came from a top notch pizza shop. Great recipe and so glad I finally made the specialty pan purchase. One other tip; reheat leftover portions in an air fryer. It brings the crust back to the crispy exterior you get from the original bake.
Made this recipe for the first time last weekend and my husband asked me to make it again this weekend. We grew up in New York and this is the closest I have come to making a Sicilian Pizza. I only used mozzarella cheese and listened to other reviews and used less sauce.
Incredible! The chew on the crust was amazing, absolutely astounded by how good this pizza is!!! Didn't think I would like the sauce on top, but it was super good that way! You need to try this at least once~
I've made this recipe over a dozen times now. I want to say enough said, but for instance, tonight is the 'angry Hawaiian.' The toppings include prosciutto, pineapple, and serrano peppers, with a robust red sauce. Sometimes it's just a cheese pizza, or whatever I feel like. With the proper oil to fry the crust, it's beyond crispy and delicious to boot. I've never baked beyond 18 minutes for that deliciousness. Friends love it and so I often don't tell them when I am making it!
Excellent dough, Thank you
Have made this twice. Both delicious but the first time used too much sauce and the dough seemed a little underdone. Second time I used more mozzarella and less sauce. Also baked the crust for a few minutes before adding toppings. Perfection. I used both recommended ka seasonings and felt that was key. Wonder if I can just double this recipe? I have a second larger area round pan I would like to try it in for a thinner crust.

You sure can double this recipe to fit into your larger pan! Happy baking! Morgan@KAF