A customized print-friendly version of this recipe is available by clicking the "Print Recipe" button on this page.
King Arthur's Detroit-Style Pizza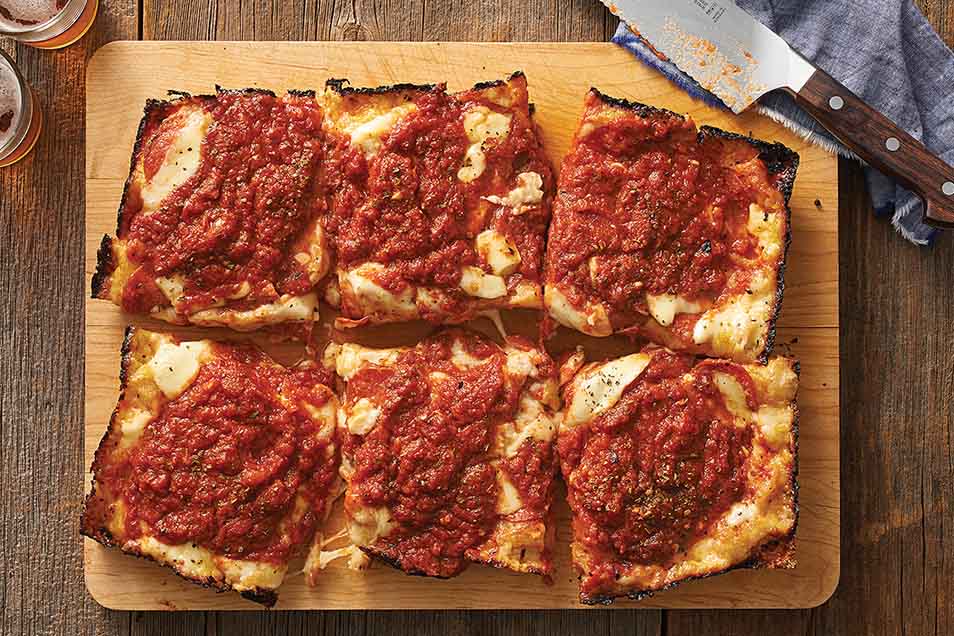 One of our newest obsessions, this Detroit-style pizza, layers classic pizza toppings in reverse order (first optional pepperoni, then cheese, then sauce). It's baked in a special anodized pan to achieve perfectly crispy caramelized cheese around the edge; a harmonious balance to the soft, chewy crust, and sauce and gooey cheese on top.

Our thanks to Serious Eats for the inspiration for this recipe.
Ingredients
Sauce
2 tablespoons olive oil
2 cloves of garlic, finely chopped
1 tablespoon Pizza Seasoning
28-ounce can crushed tomatoes
1 tablespoon sugar, optional
Toppings
8 to 12 ounces pepperoni, sliced 1/8" thick, optional
6 ounces mozzarella cheese, cut into 1/2" cubes
6 ounces cheddar cheese, diced into 1/2" cubes
Instructions
Weigh out your flour; you'll find its weight by toggling to "ounces" at the top of the ingredient section above. Or measure it by gently spooning it into a cup, then sweeping off any excess. Mix and knead all the dough ingredients — by hand, mixer, or bread machine set to the dough cycle — until a shaggy dough forms.

Cover the dough, allow it to rest for 10 minutes, then knead it again until it becomes smooth and elastic (if you're using a bread machine, skip the rest and allow the machine to complete its kneading cycle).

Form the dough into a ball, place it into a lightly-greased bowl, cover, and allow to rest until doubled, about 2 hours.

Drizzle 1 to 2 tablespoons of olive oil into a Detroit-style pizza pan or a 9" x 13" pan. Gently stretch the dough into the edges and corners of the pan until it starts to shrink back and won't stretch any farther.

Cover the pan, and allow the dough to rest and relax for 15 to 20 minutes before stretching it again. Repeat the rest one more time, if necessary, until the dough fills the bottom of the pan.

Position a rack at the lowest position of the oven, and start preheating the oven to 500°F.

In the meantime, make the sauce: Heat the olive oil in a saucepan set over medium heat until shimmering. Stir in the garlic and pizza seasoning, cooking until fragrant, about 30 seconds. Add the tomatoes and sugar, bring to a simmer, and cook until the juices have reduced significantly and you have about 3 cups of sauce, about 20 minutes. Remove the sauce from the heat and set aside.

Gently press the dough down with your fingers to release some larger air bubbles. Top the dough with an even layer of pepperoni, if using, followed by the cubed cheeses making sure to spread them to the edges of the pan.

Dollop the sauce over the surface of the pizza or spread it into three lengthwise rows.

Transfer the pizza to the bottom rack of the oven, and bake until the cheese is bubbly and the edges have turned nearly black, about 12 to 15 minutes.

Remove the pizza from the oven, run a spatula around the edges to loosen it from the pan, and let it rest for 10 minutes, or until you can handle it. Transfer the pizza to a cutting board, cut, and serve.

Store leftover pizza in the refrigerator for up to 5 days. Reheat in a 350°F oven until warm throughout, 10 to 15 minutes.
Reviews
This recipe is fantastic. I used to use a variation from Serious Eats, but my wife and friends told me this was the best one yet. I added one T parm and 1/4 tsp garlic powder b/c I didn't have any pizza dough flavor. I also usually add some fresh cracked pepper to the dough like they do at Pequods and Burts in Chicago. Rather than use cheese cubes, I do overlapping cheese slices all over the dough. I start with the edge of the pan and put each slice half on the pan and half on the dough, and then overlap towards the middle until the dough is completely covered--that way it forms to the crust. I also warm the sauce on the stove rather than cook in the oven. That way, cheese on the top of the pizza browns nicely and then I put the sauce on after it comes out of the oven, just before we slice it. Also, I'll usually let the dough sit on the counter for 6 to 24 hours and it develops a nice flavor and still turns out fantastic. We have done this in cake rounds a 9x13 cake pan and also in Lloyds pans (which I believe are what KAF sells). The pans from Lloyds were far and the way the easiest to release and cook the most consistently. Go ahead and cook this already. You won't be sorry. Your friends and family will be fighting for the cheesy corner pieces of this masterpiece. Happy baking!
i have made this twice. The first time exactly according to recipe. I had to bake it for about an hour before it was done. It tasted good and everyone loved it. The second time I baked it fr 30 minutes and it was vey juicy and difficult to remove from the pan. I will go back to my other recipe.

Hi, Magart. We're sorry to hear that this recipe has given you some inconsistent results. It sounds like the sauce might be the culprit here, could your sauce need a little bit more time to reduce so it's not too thin? If we can ever help troubleshoot or find a recipe that might be a better fit, please feel free to reach out to our friendly Baker's Hotline at 855-371-BAKE (2253). Happy baking! Morgan@KAF
I made this tonight in my lodge 10.5x10.5 cast iron skillet but was unsure of how much dough to subtract. What is the correct weight of the dough ball for a 14x10 pizza pan? I made the dough and used 550 grams of it but am not convinced I correctly guesstimated the amount to use.

Hi Jerry. We're unable to make calculations for customers but the total weight of the dough is approximately 530 grams so we're a little unsure of how you had 550 grams with some to spare. Thankfully, the surface area of the pans isn't terribly different so the easiest thing to do may be to just hold back 100 grams of the 530 grams and see if you're able to get a sufficiant amount of crust in your pan. If not, you'll know to hold back a little less next time. That extra dough will bake up wonderfully as a flavorful roll or two that you could brush with a little garlicky butter as it comes out of the oven. Annabelle@KAF
I have made this probably 20 times. It is absolutely amazing. You can make the sauce in the instant pot - makes it much less messy. And you can make in a regular 1/4 sheet pan. Using the bottom of a 500 degree oven is brilliant!
This is a much better version than the Serious Eats, which was way off on the dough to pan size ratio. I've made a lot of pizza, and this is great (assuming you like this style). Compares very well to Buddy's in Detroit. Definitely make sure you get cheese to the edge if you want the good carmelization. I didn't have the pizza dough flavoring but used a TB of white cheese powder, which is one of the main ingredients of that product.
I used this recipe to make a non-Detroit thick crust pizza, and it came out amazing. I did add the pizza crust seasoning and I kneaded by hand, which wasn't easy because the dough was quite sticky. I used a 12 inch cast iron pan, the largest I have. I brushed the crust with oil and baked it 5 minutes, then added jarred spaghetti sauce, mozzarella, cheddar, parmesan, pepperoni, black olives, and sauteed mushrooms. Baked it about 15 minutes, and it came out with a delicious crispy brown crust that would make Pizza Hut jealous. It was a little salty, probably from the combination of pepperoni and parmesan, so I think next time I'll reduce the salt in the crust, but otherwise, this is a recipe I'll definitely be making regularly.
I just made this recipe in the Detroit Style Pizza Pan. The crust and sauce were fabulous. However, the amounts of pepperoni and cheeses were too rich for my taste, and I didn't care for the cheddar cheese. I will definitely make this again, but with a lighter layer of toppings. The special pan is wonderful. I'll never bake pizza in another pan again.
Have used King Arthur for years for my pizza. A nice addition is a tablespoon of robust olive oil in the dough, and some finely chopped cured olives in with the tomatoes that are cooked in cast iron pan.
Absolutely delicious. I am also a cheese maker, so I use my own homemade brick cheese for the authentic Detroit flavor and aroma, fresh herbs from my garden, and the great dough and sauce recipe published here. I use a real Detroit pan that must be 40 years old. I bought it from a pizzeria up north while on a business trip. I like it with fresh mushrooms and Canadian bacon, and I add a pinch of cinnamon to the sauce. You just can't get this awesome pizza here in the south, much less, the brick cheese. If you don't make your own cheese, I suggest Widmers Cheese Cellars classic brick, available online. That's what Buddy's Pizza uses up in Detroit.
By far my favorite pizza recipe. I do recommend using the proper pan that was suggested for this recipe. The pan helps make this crust browned and crispy, chewy. It is perfect. I have used the King Arthur Pizza Seasoning and the King Arthur Pizza Dough flavoring as well. While the pizza tastes fantastic without them, they both enhance the flavor. I highly recommend this recipe and the pan for sure. Excellent pizza.