A customized print-friendly version of this recipe is available by clicking the "Print Recipe" button on this page.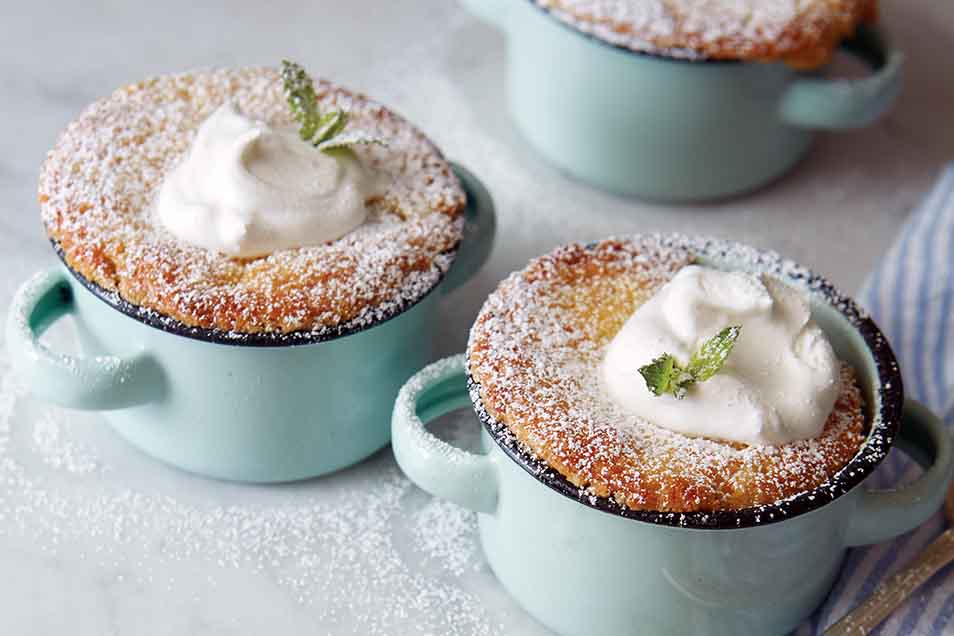 Luscious. No other word can really do justice to these tangy-sweet, buttery, individual-serving cakes.
Ingredients
Batter
2/3 cup sugar
3 tablespoons lemon bits or chips
2 tablespoons lemon powder
2 teaspoons baking powder
1/2 teaspoon salt
2 tablespoons buttermilk powder
4 tablespoons melted butter
2 large eggs
1/3 cup milk
Instructions
Preheat the oven to 350°F. Lightly grease six individual 1-cup bakers.

To make the cake: Whisk together the flour, sugar, lemon bits or chips, lemon powder, baking powder, salt, and buttermilk powder.

In a separate bowl, whisk the melted butter with the eggs and milk.

Stir the liquid ingredients into the dry ingredients.

Scoop the batter into the prepared bakers.

To make the sauce: heat the water and butter until the butter melts.

Whisk together the cornstarch, flour, lemon powder, and sugar.

Whisk the liquid ingredients into the dry until thoroughly combined.

To assemble the cakes: slowly divide the sauce among the bakers; it may take some time to settle, but you'll use it all.

Bake the cakes for 25 to 30 minutes, until they're lightly browned and beginning to shrink away from the edges of the pans. Cool for 5 minutes before serving.

Yield: 6 servings.
Tips from our bakers
To make this in a 9" round pan instead of individual bakers, prepare as directed, spooning the batter into the lightly greased pan, then very gently drizzling the sauce on top. Bake for about 35 minutes, until lightly browned. Serve right out of the pan.
Reviews
Deliciously lemony and not too sweet. The cake has a somewhat cornbread-like consistency, but much more moist. I had no issues with the pudding setting up, although if you cut it when it's hot it is more runny. May add a little cornmeal and top with berries next time.
Like some others have said, the sauce was very liquid, and I baked it longer than it said. So I'll increase the corn starch as suggested above and try it again. But the taste was wonderful. I refrigerated the leftovers, and the sauce set up and was a better consistency the next day. I reheated it the microwave and it was still yummy. I also have a lime powder and have been looking for recipes to use it in. Do you think I could do the same cake substituting the lime powder? Or would it be too tart? Would I have to increase the sugar?

Kathy, the lime juice powder is just about as tart as the lemon juice powder, so feel free to use it in your pudding cake instead (using the same quantities). If you serve the pudding cakes with a sprig of mint and a splash of rum, they'll be like mojito cakes! Kye@KAF
I'd like to try this recipe but I'm uncertain about "lemon bits" - what are they? I searched your shop site and nothing labeled lemon bits came out.

We're happy to hear you'd like to give this recipe a try, Sue! Lemon bits are tangy, crunchy and cereal-like bits that can add a burst of flavor. We're no longer carrying them, but the recipe will be just fine without them. In their place, you might also consider using a lesser amount of lemon zest for some added zing. Mollie@KAF
The cake was very good , however the sauce was very liquid. Had only plain liquid and no thick pudding sauce to top off the yummy cake!! Seems like 1 Tablepoon of cornstarch and 1 Tabelspoon of flour is not enough to thicken the amount of liquid being used. I have prepared lemon pudding cakes in the past using a different recipe and never had any problems. This was my first time using the KAF recipe for Lemon Pudding Cakes. I was a bit disappointed in the results. I have used your Lemon Pudding Cakes box mix and totally LOVE it. Not fond of this recipe though. Thought it would be a good one with the good reviews. Not sure how much I should increase the corn starch and flour if I decide to give it a second try.
Perhaps baking a little longer would do the trick. The edges should be well browned and the top slightly golden. Elisabeth
I thought these turned out great. I did not have bakers cups, I used Pyrex custard cups as a substitute and erred on the side of caution - I only used about 3/4 of the sauce because I was afraid the custard cups would be overflowing otherwise. They baked up beautifully, with just a thin layer of sauce at the bottom. I set them on a cookie sheet to prevent overflow, but none of my cakes baked past the cups. My fiancee had to be prevented from eating the ~whole~ batch in a night.
I've made this twice now. While it tasted incredible, I always ended up with a puddle of liquid on the bottom of the ramekin. Is that suppose to be the case? It just seemed uncooked to me. I increased my cooking time by a few more minutes on my second try, and it seemed to be better. I just didn't want to over cook it and ruin it's delicate texture.
After looking at the recipe you may want to increase the cornstarch by 1/4 tsp or try cooking the cakes a little longer. Have you checked your oven temp. to see if it is calibrated correctly? Betsy@KAF
One of the best recipes I've ever had the pleasure of making,serving,and enjoying! The pudding cakes are out of this world with heavenly lemon flavor! !
I would disagree with people having issues spending so much money to make this wonderful recipe. First of all, buttermilk powder is AMAZING. I am so sick of buying a half gallon of buttermilk to just end up throwing it away!! I know you all have done this as well. Even as a professional pastry chef....the powder works best. Also...the lemon bits are amazing and as much as I love lemon zest, I don't feel lemon should be in your face and therefore not enjoying the flavor of the cake. Citrus should have a balanced flavor. Also, you can use the lemon bits in other things!!! I just made awesome Blueberry/Lemon bit scones! YUM! Think beyond cake box people!!!! King Arthur...you ROCK!
I supervised while my 4 and 10 year old made these cakes last night after dinner. They turned out wonderful! The cakes were very moist with a rich lemon sauce at the bottom of the ramekin. While the lemon flavour is strong, it wasn't overpowering. We'll definitely make these again but will probably add a few fresh mint leaves to balance the tartness of the lemons.
Enjoyed the rich lemon flavor...