A customized print-friendly version of this recipe is available by clicking the "Print Recipe" button on this page.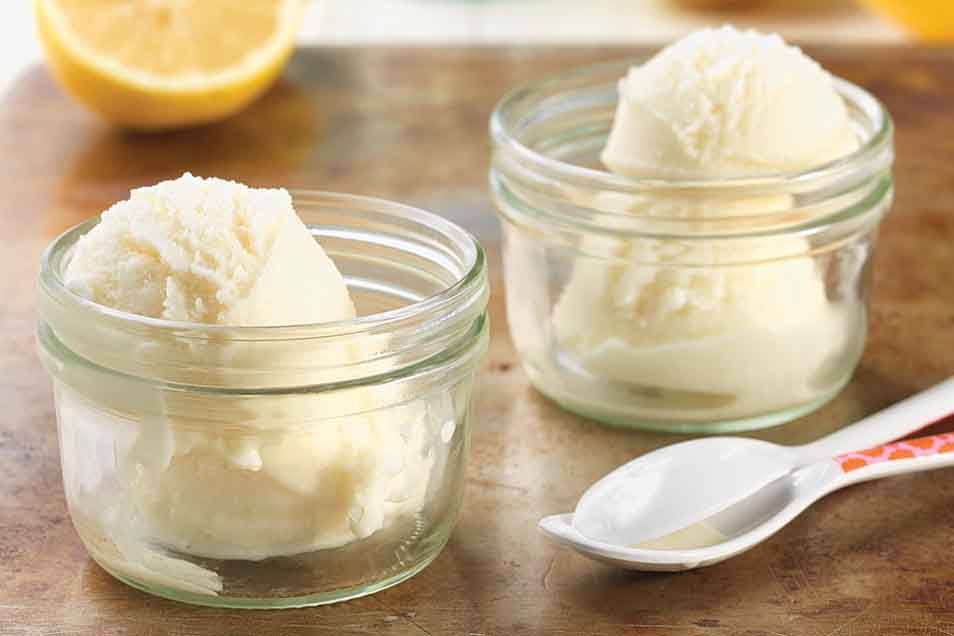 When summer comes, turn to this light and lemony sherbet. Just a handful of ingredients and a quick whirl through your ice cream machine will give you a tart and tangy dessert. Served with fresh fruit, it makes for a lovely ending to a warm summer's day.
Ingredients
1/2 cup lemon juice powder*
3/4 cup granulated sugar
1/2 cup fresh lemon juice (about 2 lemons), chilled
2 cups whole milk, very cold
1 tablespoon cornstarch (optional, for smoother consistency)
*See "tips," below.
Instructions
Combine the sugar and lemon juice powder in your blender. Pulse 8 to 10 times to combine well. Lemon juice powder does not easily dissolve in liquids, so it must be blended with the sugar first.

Add the cold lemon juice, milk and cornstarch if using to the blender and blend for 30 seconds to combine well. If using the bowl method, whisk together until very well combined.

Pour the cold mixture into your ice cream machine and freeze according to the manufacturer's directions.

Yield: 1 quart
Tips from our bakers
No lemon juice powder? Reduce the sugar to 1/3 cup, and replace the lemon juice powder with 1/3 cup instant lemonade drink mix. Adjust to taste.
Lemon zest (grated lemon rind), lemon oil , and a few drops of yellow food coloring are all great additions for those who like their lemon desserts bright and bold. Adjust to taste.
Reviews
I made this the other day for my family - it was gone in less than 24 hours. 'Nuff said. My husband loved it but alas.....the kiddies finished it up first. I'm off to the store to pick up more lemons for another batch - this time I'll double it so we can all have seconds. The sherbert is light, lemony and refreshing - the perfect foil for a summer day. I made strawberry shortcakes the other day and had leftover strawberry filling so I put a few teaspoons over it for a wonderful frozen version of strawberry-lemonade.
This is a perfect summer recipe! I like some of the other reviews in regards to using almond milk--I used two percent organic milk. Also, although some folks proclaimed that they didn't like using the full amount of lemon powder, or not at all--please follow the instructions of pre mixing the power. I blended the lemon powder with the sugar, added the lemon juice, and slowly stirred in the milk. Perfectly blended! I used the full measure of 1/2 cup lemon powder, just because I love a tart lemon taste in the summer, but the powder certainly can be measured according to taste . The recipe came out perfect! I discovered I have the lime powder too, so I can't wait to use coconut milk and make a coco-lime sherbet. Yum!
I saw this recipe in the latest KAF catalog. Having two huge lemons and no plans for them, I made this recipe. I like this sherbet because it's not overly sweet. I also like making my own frozen treats because I can control the amount of sugar and fat. I made this recipe with almond milk rather than regular milk. I'm considering tossing some fruit into the mix the next time I make this.
My previous review wasn't as stellar. Unfortunately we had to throw away the first attempt, with the lemon powder. The chemical tinny taste was most unpleasant. Today, I made this recipe without the lemon powder. It took 6 Eureka lemons to get 1/2 cup of juice. I used the cornstarch and I own a Cuisinart Ice Cream maker. In 25 minutes, my sherbet was smooth and frozen. It's delicious! The next time I make this (and I shall), I might add some lemon zest and possible a drop of yellow food gel.. just to give it a pretty yellow color. Great recipe, but sorry KAF, I don't recommend the lemon powder at all. You don't need it.
I just made this sherbet and it would rate five stars with some adjustment. I would use half the lemon powder, as it made the sherbet way too tart (and there's a bit of an aftertaste that's a bit artificial). I would increase the sugar to a full cup. I was going to use my sacred Meyer lemons (since I have a beautiful tree full of them) but decided to test the recipe on Eureka lemons. The texture is smooth and creamy (I did use the cornstarch.) I'd say that this recipe has potential. I'm not sure what I'd use in place of the lemon powder, but I do keep that (and many KAF ingredients) on hand, anyway.
Made this sherbet with a few modifications used 2% milk and reduced the lemon powder to 1/4 a cup because the lemon juice seemed extremely tart to me and I was a worried that it would not be sweet enough. I use the lemon powder in lemon cookies, also on KAF site - wonderful by the way, and I know it is potent. The sherbet was fabulous everyone raved about it not a complaint from anyone even the "I"m not a lemon fan." You could make this in a moments notice. I am giving It a 4 out of 5 for the mouth feel. I though was a little powdery. I 'm not sure if it was the corn starch or the lemon powder or possibly the fact that everything is cold. Most recipes call for heating the mixture then cooling. I did notice that I the liner notes it said that lemon powder is extremely hard to melt. Even so, I would make this again. I might try heating just to see what happens.
I am charmed by the poem on the blog. Engaging word choices and rhythm, and a lighthearted spirit to match your creamy sherbet. Very nice!