A customized print-friendly version of this recipe is available by clicking the "Print Recipe" button on this page.
Lemon Streusel Coffeecake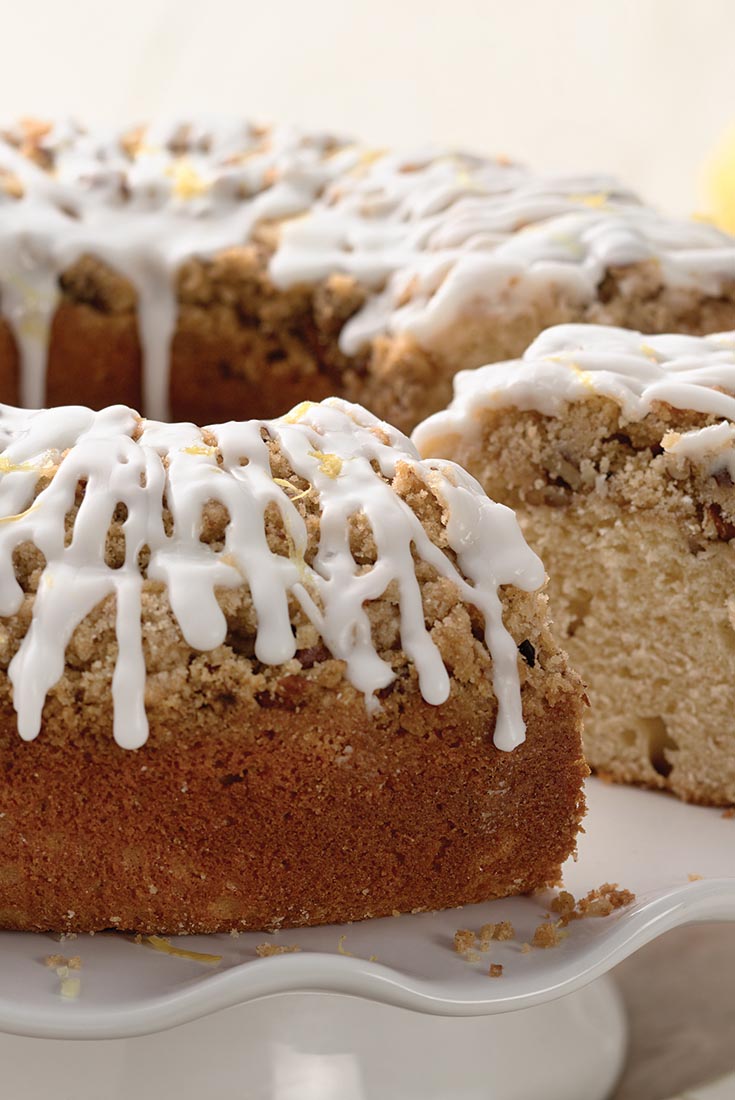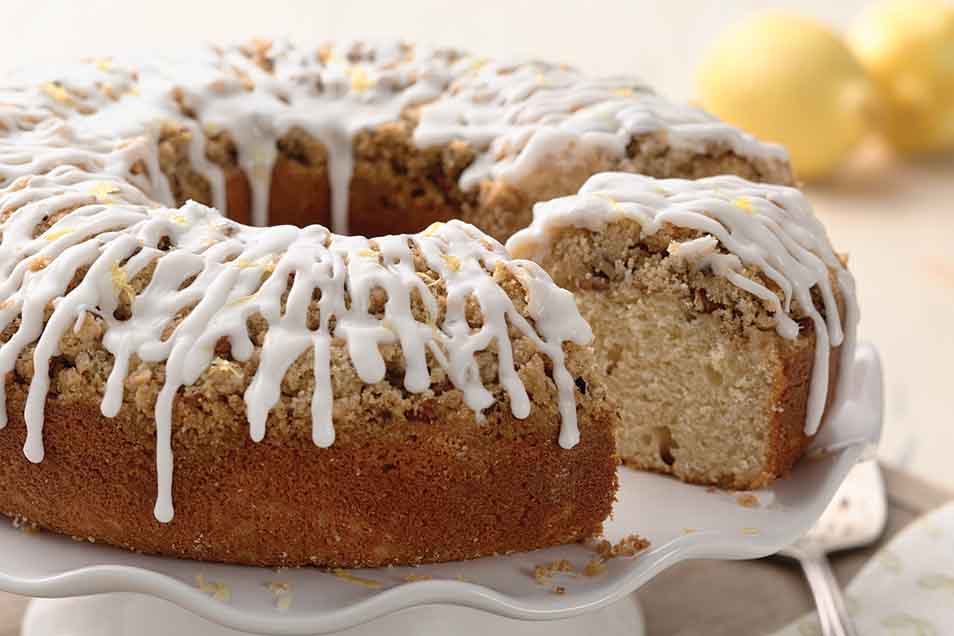 This tender, moist coffeecake offers a triple threat of lemon flavor. The dense pound cake base and buttery crumble topping are delicately zesty, while the sweet glaze packs a tart, lemony punch.
Ingredients
Streusel
¼ teaspoon ground cinnamon
1 tablespoon lemon juice powder*
¼ teaspoon salt
½ cup packed light brown sugar
6 tablespoons cold unsalted butter, cut into ½" pieces
grated rind (zest) of 1 lemon
¾ cup chopped pecans
*If you don't have lemon juice powder, increase the grated lemon rind to that of 2 lemons.
Cake
2 teaspoons baking powder
½ teaspoon salt
2 tablespoons lemon juice powder or the grated rind of 2 lemons
1 teaspoon ground cinnamon
½ cup (8 tablespoons) unsalted butter**
¼ teaspoon lemon oil, optional, for flavor
1 cup granulated sugar
3 large eggs
1 cup sour cream or plain whole milk yogurt (not Greek-style)
**see tip below
Glaze
1 tablespoon fresh lemon juice
½ cup confectioners' sugar
Instructions
Preheat the oven to 350°F. Grease a tube pan, or a 9" x 13" pan.

To prepare the streusel: Stir together the dry ingredients. Cut in the cold butter, then add the grated rind and pecans.

To prepare the cake: Sift together the flour, baking powder, salt, lemon powder (or grated rind), and cinnamon.

Beat the butter and lemon oil together until the butter is soft. Add the sugar and beat until light and creamy.

Add the eggs one at a time, followed by the sour cream, beating after each addition and scraping down the bowl as needed.

Add the dry ingredients, stirring just until incorporated.

Spoon the batter into the prepared pan and smooth the top. Sprinkle the streusel evenly over the batter.

Bake the cake for 40 to 45 minutes, until a cake tester inserted into the center comes out clean. If you've used a tube pan, allow the cake to cool slightly, then turn it out onto a plate. Using another plate, turn it over again so the streusel is on top. If you've baked the cake in a 9" x 13" pan, serve it right from the pan.

To prepare the glaze: Stir the lemon juice and confectioners' sugar together. Drizzle over the cake.

Yield: 16 to 24 servings.
Tips from our bakers
We developed this recipe with a fine-textured, tender pound cake in mind. If you prefer a lighter, slightly moister version, we recommend using 1/4 cup of oil in place of half of the butter.
Reviews
Made this cake using premium quality ingredients and KAF of course. Weighed all the ingredients. The first cake was more like a lemon pound cake, the second attempt using oil (canola) has a lighter texture but not quite what I was expecting in terms of taste. Both cakes the crumble was a fail. I've made streusel plenty of times but this toping didn't fair so well. Could it have been the European style butter? It was cut in very cold with a pastry blender. The topping was more like a sugar crumb.

Jillian, we're sorry to hear that this cake wasn't quite what you were looking for, and we appreciate you giving it a second chance. We want you to know what you're getting into when you bake and thanks to your feedback, we've added a note about the intentionally dense nature of this cake in the recipe description. As for the streusel, European butter might have made some difference (higher fat, less moisture), but we wonder if the butter might also gave been too cold to blend with the other ingredients. While we like to use cold butter here, we also like to cut it until it's well combined. If we can help troubleshoot any more directly, please give our free Baker's Hotline a call at 855-371-BAKE. We'd be happy to chat! Mollie@KAF
I agree with diane about yogurt. Made this recipe total of three times and first two were with sour cream and I made it yesterday with whole milk yogurt and the difference is amazing!!!! Sour cream versions were a bit dry but yogurt version was very moist!!!!! I take this cake to work and everyone loves it!!!!!
After reading reviews I baked this delicious coffeecake with the following : Weighed flour--8.5 oz./sifted 1/4 C butter plus 1/4 C safflower oil Added 1/2 tsp. KAF Chai spice with cinnamon ( cake ingredients) Baked in KAF 10 inch tube pan at 350 degrees for 40 minutes -----cooled in pan 15 min Doubled glaze Yummy!!!
The cake is tender & moist. The struesel comes out perfect. Next time I make this - and there will be a next time, I would omit the pecans. They don't add that much to the struesel. I would also double the glaze to 1 cup of confectioner's sugar & 2 T of lemon juice. My glaze was stingy to my taste.
I too made this cake 2 times. I always have good luck with anything KAF has and it was so dense I couldn't eat it. I thought the Sour Cream was to thick and I made it again. It too was so dense. I was so disappointed I threw it away. No I wouldn't recommend this cake.......I have baked about 75 yrs and don't have flops very often.

We're genuinely sorry to hear this coffeecake recipe didn't have the light, tender texture you were looking for. We recommend weighing your flour for best results if you're not already doing so. We take feedback like yours seriously and we want to ensure you have the very best results with our recipes, so we're going to take another look at how to lighten up the texture. We'll be sure to make any necessary changes noted in the recipe. In the meantime, we hope you find a recipe that works for you! Kye@KAF
I made this cake today for the second time. I took it to a family event last week where it was devoured so quickly my husband didn't get any. Today's cake is for him. Last week I followed the recipe exactly as written with one slight adjustment. I pressed the streusel slightly into the batter because I hated for it to come off when I took the cake out of the pan. Today I decided to put the streusel in the middle of the cake. My husband thought it was delicious and was really glad he doesn't have to share this cake, except with me, of course! This recipe is a keeper!!
Very tasty, very lemony -- I did not use the icing. But the cake seemed to be a bit dry overall so I did not give it 4 stars.
Disappointing and won't make it again. Flavor good but not great and cake was too heavy and dense. I carefully weighed the ingredients and followed the directions. It didn't rise as much as I thought it should even though I used a nearly new can of baking powder and the recommended tube pan. Not sure what went wrong and would appreciate any suggestions.

Thanks for sharing your honest feedback with us, Barbara. In addition to improperly measuring ingredients, over or under creaming the butter and sugar can also often lead to a denser cake than intended. As we describe in our blog article on the topic, "in creaming the butter and sugar together, you are using the sugar to aerate the butter and fill it with bubbles that can capture the gasses released by your leavener. The more fine bubbles you have in your network, the lighter in texture your cakes will be and the finer the crumb." For more detail and a visual walk through of the process, we hope you'll take a read through "Creaming butter and sugar: the right temperature, the right timing, the best results for your baking". Please also feel free to give our Baker's Hotline a call at 855-371-BAKE if you'd prefer to talk with one of our bakers directly. We're here to help! Mollie@KAF
Excellent cake with a tender and moist crumb and nice lemony flavor. Weighed the flour; subbed plain Greek yogurt and a little 1% milk for the sour cream; walnuts instead of pecans; did not use lemon oil. Baked in a 9x13 pan for 39 minutes. Thanks for another fabulous recipe KAF!