A customized print-friendly version of this recipe is available by clicking the "Print Recipe" button on this page.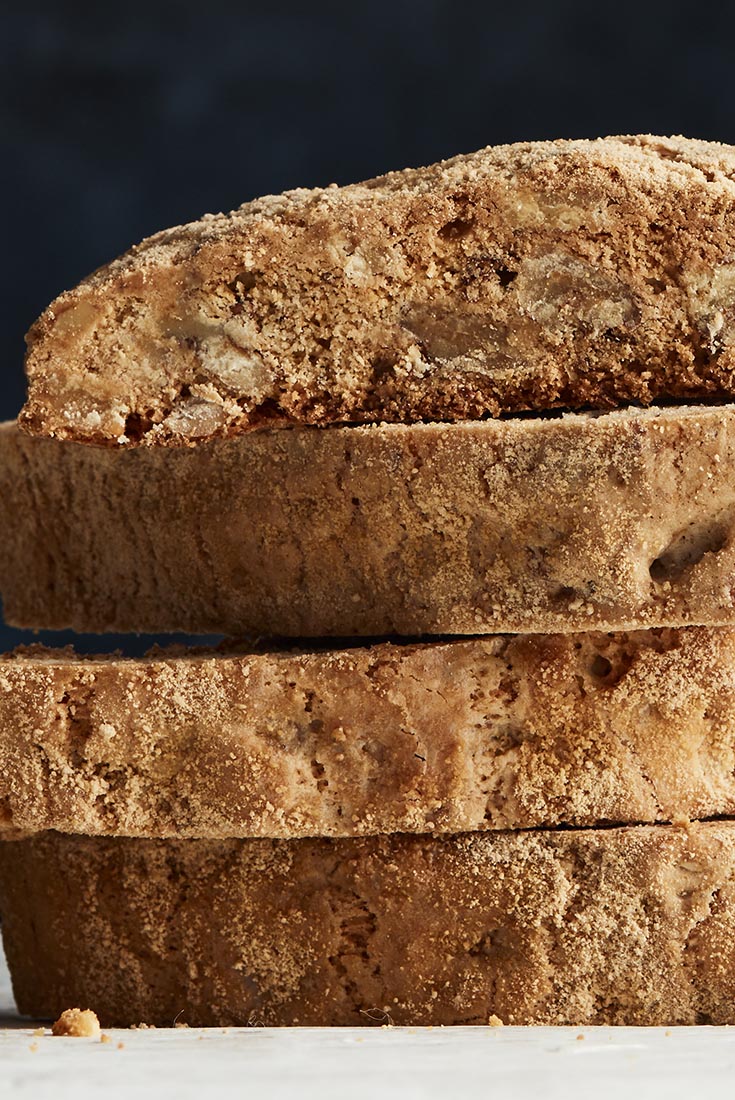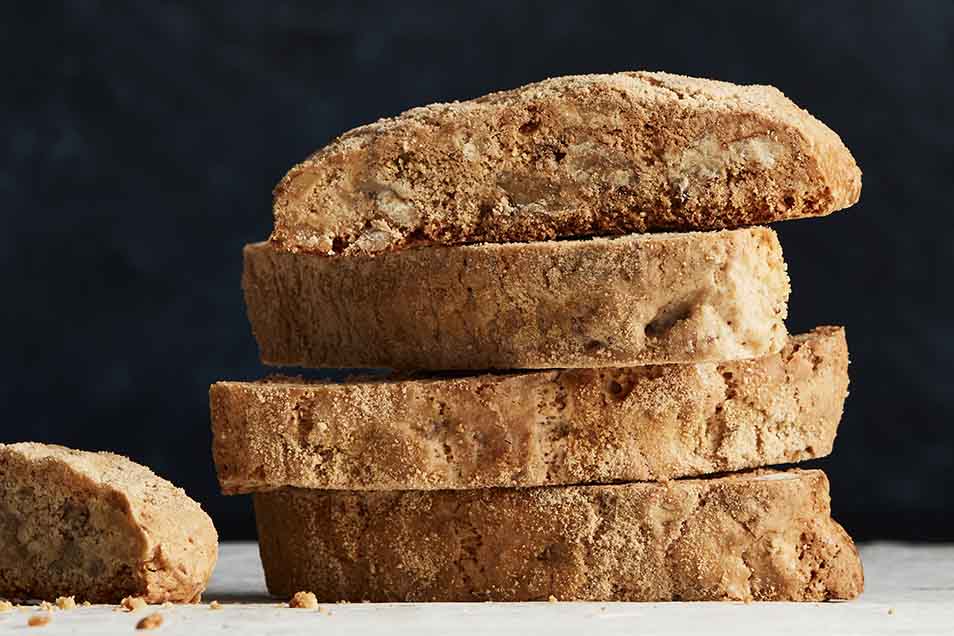 Maple is such a cold-weather flavor, isn't it? Add toasted walnuts, and you have the perfect winter biscotti, just the ticket with a cup of hot cocoa or coffee.

Read our blog about these biscotti, with additional photos, at flourish.
Instructions
Preheat the oven to 350°F. Lightly grease a large baking sheet; or line with parchment.

Toast the walnuts by spreading them in a single layer in a 9" x 13" (or similar size) pan, and baking in a preheated 350°F oven for 8 to 10 minutes, till they're a light golden brown.

Beat together the eggs, sugars, maple syrup, and maple flavor, if you're using it.

Add the melted butter, beating till smooth.

Mix in the flour, baking powder, and salt, then the nuts.

Divide the dough in half on a lightly greased or parchment-lined baking sheet.

Using your wet fingers, shape each half into a rough 10" rectangle, about 4" wide and 1/2" thick.

Using your wet fingers or a wet bowl scraper, smooth the top and sides of the rectangles. Sprinkle the top of each rectangle with 1 tablespoon maple sugar, if desired.

Bake the biscotti dough for 30 minutes. Remove from the oven, and cool for about 10 minutes; cooling the dough allows you to cut it more easily, with less crumbling.

Use a sharp chef's knife or serrated knife to cut the baked dough, slightly on the diagonal, into generous 1/2"-thick slices. Place the slices close together on the prepared baking sheet. If you can balance them upright (rather than laying them flat), so much the better; you won't have to turn them during their second bake.

Bake for about 20 to 25 minutes, till the biscotti's cut sides are beginning to brown. Remove them from the oven, and cool right on the baking sheet.

Yield: about 3 dozen 4" to 6" biscotti
Reviews
I have made biscotti's for years and when I have sliced them I put in heated oven at 350 for ten min. And turn my oven and leave them in there till they are cold and will be crispy and lots of crunch to them, try it it's the best way to dry biscotti's.
The recipe and blog were spot on! I used maple sugar instead of granulated - the cookies have a good maple flavor and aroma. They're not too sweet and the walnut and maple really shine. I know I'll be making these again.
I made these yesterday, my first-ever attempt at biscotti, and they turned out exactly as promised. My baking skills are elementary at best so I found PJ Hamel's blog immensely helpful. In fact, if KAF ever put together a book made up entirely of blogs, with all the great photos and some of the more useful reviewer comments, I'd be first in line to buy it! Oh yes and to slice them, I used an offset bread knife (sold by KAF), which is long and thin enough to push straight down through the biscotti without sawing. No crumbling! Thanks for the recipe and the great tips in the blog.
Jlynn, what a great idea to make the blog into a book! It would be a tantalizing coffee table book with all the photos, as well as being educational for bakers of all levels! I'd be the second to buy it after you! --Kye@KAF
Wow is this good! This was my first biscotti and is still my favorite. Although I have followed the recipe exactly on occasion, I usually substitute one cup of black walnuts for the two of what my wife says "walnuts" means in a recipe. This is entirely a matter of taste.
Wonderful! What a lovely biscotti. I do suggest utilizing this tip from another KAF biscotti recipe: right before slicing, spritz or lightly brush the biscotti with water. It helps minimize broken edges. I find that a large chef's knife and one swift rolling chop is better than sawing with a serrated knife.
I make a lot of Biscotti, not for me, my mother. She loves this and I have to say I kind of like it also. I have yet to make anything from this site that didn't turn out great. Straight from the site no tweeks, mostly. This is quality from start to finish,
First time making biscotti... This is a good and easy recipe. Just made 1/2 recipe as a test. Used hazelnuts and had no maple anything, so added half and half, so that dough got together. 2nd bake was for 20 min and mine got slightly burnt, while I thought my oven wasn't hot enough. I baked them on the lowest rack, so could this be the issue? I'll try different flavors, but for texture it's the best biscotti I've had. Thanks, KA!
For most baking we always recommend baking on the middle rack. Biscotti are so delicious and for the most part so easy! I am glad you ventured out by trying something new! Elisabeth@KAF
We loved these biscotti! I used all brown sugar to enhance the flavor. When I ran out of walnuts I used pecans which were equally as good! I added pecan haves as I prefer to see the slices of nuts in the biscotti. As pecans are a softer nut than walnuts it was not a problem. I also used the chocolate ganache to coat a third of the biscotti. Everyone raved about the addition of the chocolate ganache. These recipe is a winner.