A customized print-friendly version of this recipe is available by clicking the "Print Recipe" button on this page.
Merlin's Magic Sourdough Bread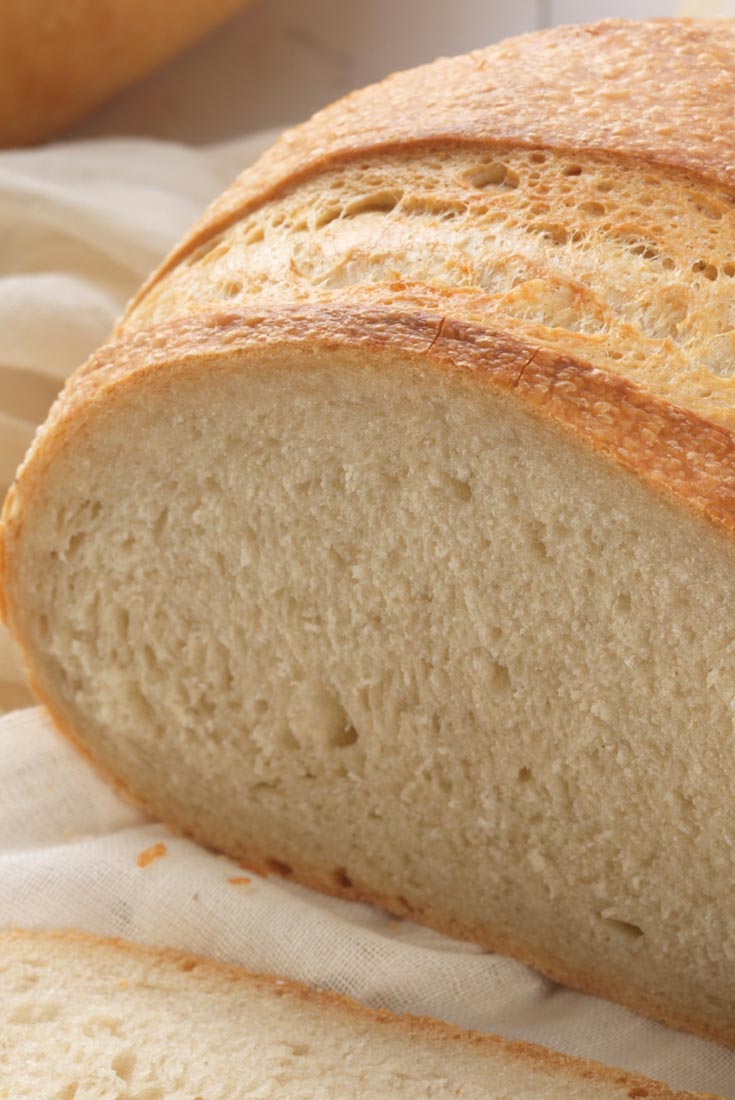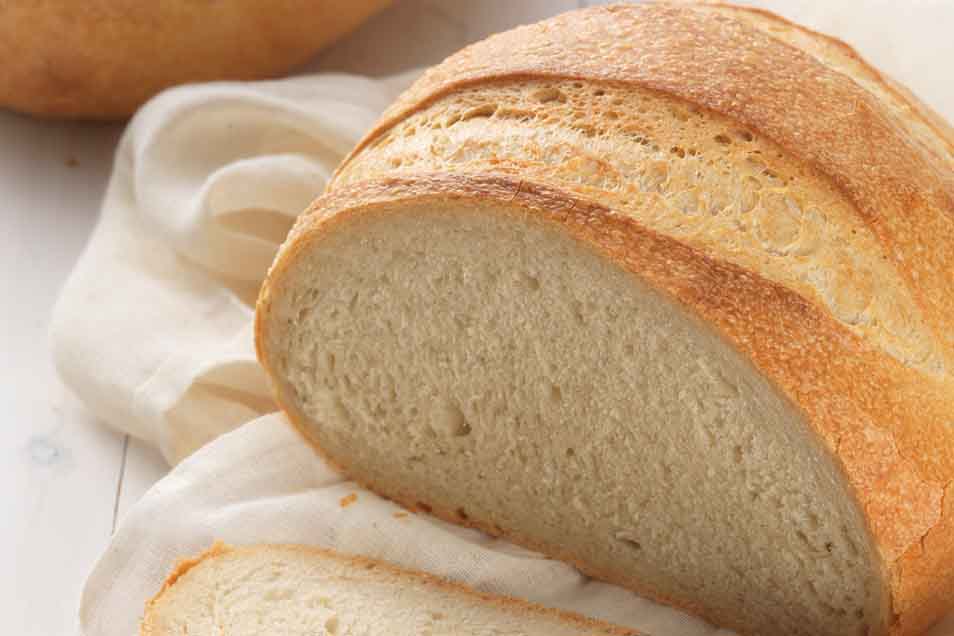 This finely textured bread will stay fresh longer than most loaves you'll make, due to both the olive oil and the sourdough starter: breads higher in acid retain moisture better than less acidic loaves.
Instructions
The day before: mix together the starter, water, and yeast. Add 3 cups of the flour. Cover with a damp towel, and let this sponge sit overnight. At this point, you may let the sponge sit for as long as 24 hours; the longer it rests, the more flavorful your bread will be.

The next day: Add the salt, oil, and enough of the remaining flour to make a soft dough that cleans the sides of the bowl. Turn the dough out onto a lightly floured or oiled work surface, and knead it, adding more flour as necessary, until it's smooth and springs back when you poke it. If the dough feels too stiff, add a few more teaspoons of water to soften it.

Place the dough in a lightly greased bowl, cover it with lightly greased plastic wrap, and let it rise for 2 hours. The dough should become puffy. Again, you may let the dough rise for as long as 12 hours at this point; to prevent the bread from over-proofing and thus losing strength to rise again in the oven, slow the fermentation by letting the dough rise in a cooler place, like your refrigerator.

Press the dough down and divide it into two pieces. Form each piece into a round ball, and place each ball on a baking sheet that has been greased and sprinkled with cornmeal. Cover the loaves with damp towels or lightly greased plastic wrap, and allow them to rise for 1 hour (or more), or until they've become puffy and a pressed finger leaves a mark.

While the loaves are rising, preheat the oven to 375°F.

Use a sharp knife or lame to make three slashes on the top of each loaf, which helps the bread to rise evenly in the oven. Bake for about 35 minutes, or until the bread is golden, sounds hollow when tapped, and the internal temperature of the loaf is 190°F to 205°F on a digital thermometer.

Remove the bread from the oven, and cool completely on a rack.

Store loosely wrapped in plastic for 3 days, or wrap tightly and freeze for up to 3 months.
Reviews
So this recipe was perfect for me, even if my execution wasn't. It yielded two nice sized boule loaves. The crumb was perfect. This is not a crusty, rustic loaf with a crunchy crust. These loaves are great for toast and sandwiches and retain a lot of moisture. I gave one loaf to a friend, and then spend the weekend experimenting with the other. It was fabulous: warm and fresh from the oven with butter, served with tomato bisque as a grilled cheese, and a great vehicle for Nutella one morning and avocado toast another. I would say my only issue was that I over-proofed the dough; lost track of time and let it rise for two and a half hours. I then formed the loaves and let them rise. The loaves in the second proof lost a little of their 'oomph' because of that. The recipe itself is great. Making more today to give away as gifts. *Also, it was my first time baking with a bread stone that I got for my birthday, and WHAT A DIFFERENCE. I baked the loaves on parchment paper with corn meal sprinkled on the bottom, and lightly dusted the top of the loaves with some flour before putting them in directly on the stone.
This bread has a beautiful fine crumb and just the right amount of sourdough tang. In one loaf I mixed in brandy soaked raisins and cinnamon sweet bits; it made for some yummy morning toast.
It would be nice that if you select to measure your ingredients by ounces or grams that the instructions also convert. I'm new at baking bread and found I didn't have 2-1/2 cups left of the 23-1/4 oz of flour left after I measured out the first 3 cups. If your recommending that baking be done by weight then convert your recipe to your recommendations. I'm not recommending this recipe yet as I'm right now in a question to add the remaining weighed flour or add the 2-1/2 cups.
Second time around: this time I made a few alterations. Used 2 c starter and reduced the water accordingly, used half the commercial yeast (my first time it rose WAY fast: kinda scary). Let it go overnight in the oven with the light on. Finished the dough per recipe in the morning and some 'slap and fold' technique I saw on a video. Then let it rise in the fridge: total time was about 5 hours. The last hour I did some dough stretching I saw on a another video. Then I shaped my 2 loaves. I let them rise on individual parchment circles in the oven with the light on for about 1.5 hours under a damp towel. The last half hour at room temp while the oven pre-heated with my Dutch Oven. Since I have only 1 I had to do the loaves one at a time. The first I did 20 min with the lid and 15 without. Came out sounding nice and hollow the bottom crunchy but the top sounded crunchy at first and softened a bit as it cooled. The second, I did about 25-30 min with the lid and 20 without. I also reshaped it after I put the first loaf in since it had been rising awhile already. This one seemed to brown better and rose more evenly and had a crunchier crust. The crumb inside was a bit different too. More uneven pockets of air, which I liked, but still soft and delicious. I'll keep working on this till I get it just how I like. ;)
Good instructions. My sponge got scary big so I stirred it down a few times before I left it overnight. The next morning I finished making the dough and let it rise in the refrigerator since I wouldn't be ready to bake until the afternoon. It still rose HUGE, bulging the plastic wrap on top. I punched it down and shaped the loaves as instructed, but they were a bit blobby not quite the taller round shape in the picture (is that the Boule shape?). It baked up nice though I baked it a bit longer than listed. Nice crust, inside pretty even and a very mild sourdough flavor. I have a lot of discard so I'll likely make it again. Any tips to get a crunchier crust (because that's my favorite part).

Looking for the key to crunchy crust, Marcia? The answer is steam at the beginning of your baking time. This can be achieved either by baking your loaves in a Dutch oven with the lid on for the first 2/3, and off for the final 1/3. Another way of incorporating steam is to put a cast iron pan in the bottom of your oven when you're preheating. Boil 1 cup of water on the stove. Right after you pop your bread into the oven, pour the water into the cast iron pan and close the door quickly to keep as much steam inside as you can. Let us know how it works! Annabelle@KAF
First, I am a new baker and have finally had some good success with a 60-65% hydration sourdough loaf. My starter is incredibly active and is fed twice daily as I am continuing to bake more and more for practice. This higher hydration bread didn't turn out as planned. It was flatter for sure. I did like the tighter crumb as I was hoping to get some kind of sandwich bread. The dough, despite my efforts to shape and form that skin around the bread, did flatten during the last hour of rest. The dough also overtook the bowl and the counter. I read a recent review about too much yeast and that is exactly the issue. This dough taste yeasty, if that makes sense. It doesn't have much flavor going on otherwise. I was going to give away the second loaf, but I am reluctant because it doesn't taste good and it seems like there is too much yeast. If I try it again, I'll halve the yeast and probably up the flour a bit. I used all of the flour the recipe called for.

We've been doing some testing with this recipe and have some thoughts that could be useful. Since you're using your sourdough starter, so long as it's nice and ripe and bubbly, you can lower the yeast down to 1 1/2 teaspoons the next day when you mix up the dough itself. Amidst the testing, we hope this will be of help. Kindly, Annabelle@KAF
The first time I made this recipe, the loaves got too big for my largest baking sheet and I wound up having to move them to two separate sheets, which ended in them being a bit misshapen, but still good. The second time I did the last rise on two separate sheets with much better results. Both times I've used flours from companies local to me, since King Arthur isn't sold at my grocery store. I was thinking of experimenting with baking these off in loaf pans next time, since the bread is such a lovely texture and I'd love to be able to use it for sandwiches. Has anyone tried that yet?

You're welcome to experiment with baking this dough in loaf pans, Dre. As a general rule of thumb, the dough should fill the loaf pan about halfway before it rises for the final time. (About 1 1/2 lbs. of dough will fit in a standard 8 1/2" by 4 1/2" loaf pan.) Use the same baking temperature and time provided in the recipe as a starting point, but test the internal temperature of the loaves with a thermometer if you have one. The temperature should reach 190°F once the loaves have finished baking. Good luck and enjoy! Kye@KAF
This bread turned out perfectly-- Moist, perfect crumb and held its shape. First time I have attempted a boule that didn't turn out like a pancake!
I bake this one a lot. I use my KAF dough whisk to perfectly blend the dries to avoid pockets of flavor. Everyone loves this bread, its even a hit with children who calls it chocloate bread. Its a favorite, and is really good as a grilled sandwich, its flavors compliment many meat and cheese fillings.
This bread was a hit! So yummy! I mixed up the sponge before bed and didn't get back to it for 15 1/2 hours. I mixed and kneaded the rest of the ingredients in my stand mixer. My kitchen was cool so I let the next rise go for about 3 hours. I just love baking bread in a cast iron pot so decided to try these that way too. One loaf turned out to be bigger than the other. I preheated the pots and added some cornmeal before adding the dough. I baked at 450° for 30 minutes. I was surprised that each loaf was at 200°. They weren't quite dark enough so I sprayed with water and baked for 5 more minutes. It worked perfectly. Nice sour flavor but not overwhelming. They have a moist texture, crispy crust and lots of beautiful holes. I had fed the starter the day before. Thank you so much for the delicious recipe! I plan on making this one a lot.