A customized print-friendly version of this recipe is available by clicking the "Print Recipe" button on this page.
Merlin's Magic Sourdough Bread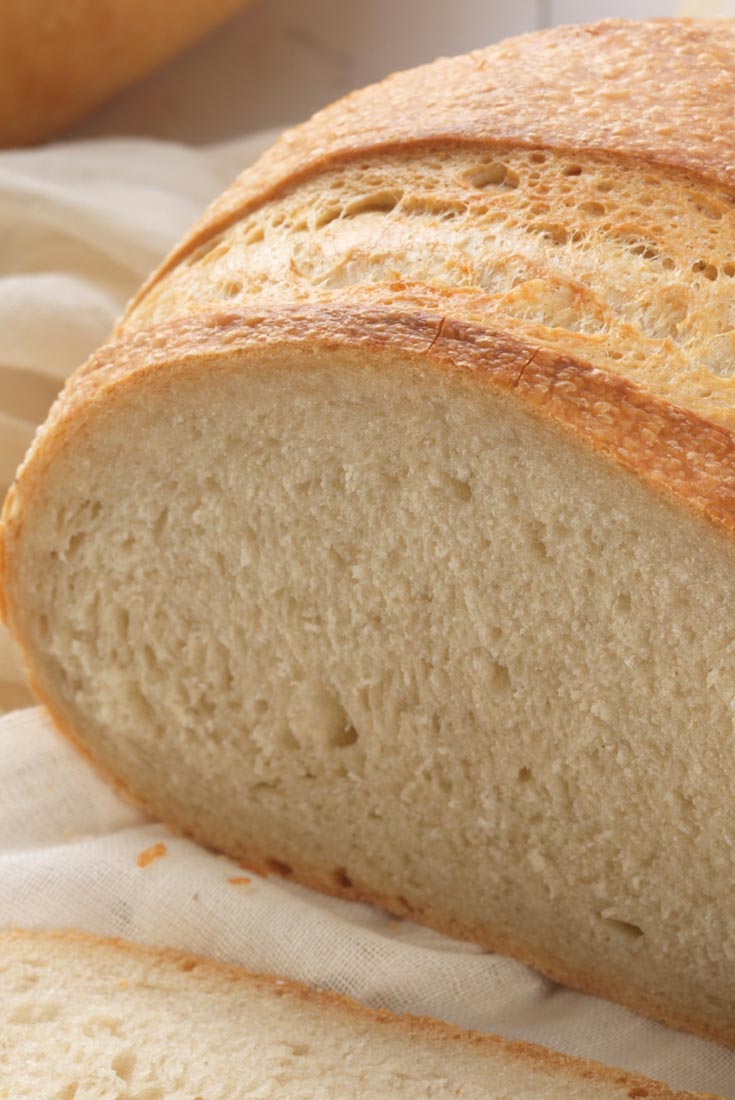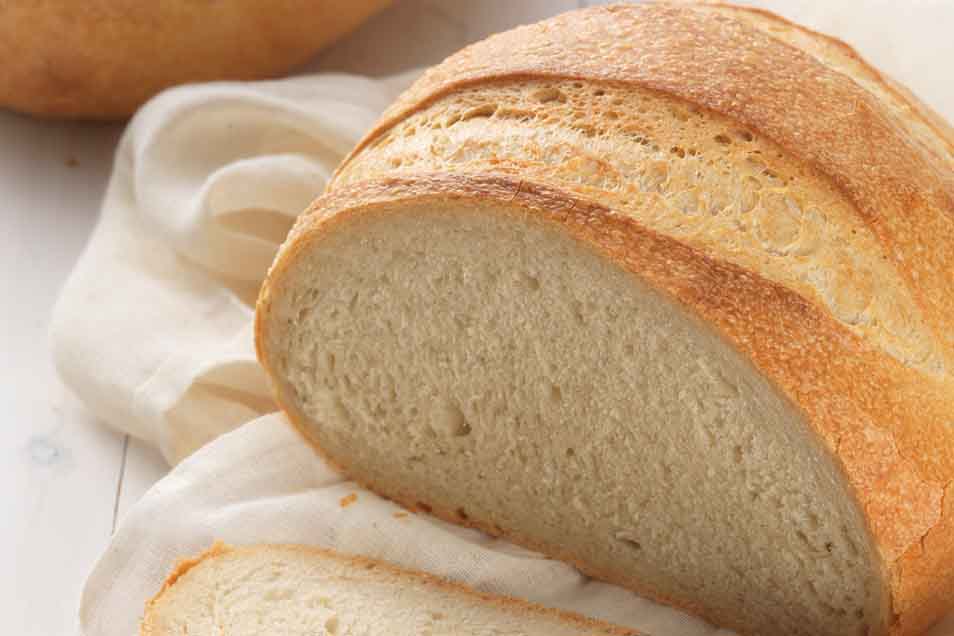 This finely textured bread will stay fresh longer than most loaves you'll make, due to both the olive oil, and the sourdough starter: breads higher in acid retain moisture better than less acidic loaves.
Instructions
The day before: mix together the starter, water, and yeast. Add 3 cups of the flour. Cover with a damp towel, and let this sponge sit overnight. At this point, you may let the sponge sit for as long as 24 hours; the longer it rests, the more sour your final bread will be.

The next day: Add the salt, oil, and enough of the remaining flour to make a soft dough that cleans the sides of the bowl. Turn the dough out onto a lightly floured or oiled work surface, and knead it, adding more flour as necessary, until it's smooth and springs back when you poke it. If the dough feels too stiff, add a few more teaspoons of water to soften it.

Place the dough in a lightly greased bowl, cover it with lightly greased plastic wrap, and let it rise for 2 hours. The dough should become puffy. Again, you may let the dough rise for as long as 12 hours at this point, to develop flavor. See "tips," below.

Press the dough down and divide it into two pieces. Form each piece into a round ball, and place each ball on a baking sheet that has been greased and sprinkled with cornmeal. Cover the loaves with damp towels or lightly greased plastic wrap, and allow them to rise for 1 hour (or more), or until they've become puffy and a pressed finger leaves a mark.

While the loaves are rising, preheat the oven to 375°F.

Use a sharp knife or lame to make three slashes on the top of each loaf, which helps the bread to rise evenly in the oven. Bake for about 35 minutes, or until the bread is golden, sounds hollow when tapped, and the internal temperature of the loaf is 190°F to 205°F on an instant-read thermometer.

Remove the bread from the oven, and cool completely on a rack.

Store loosely wrapped in plastic for 3 days, or wrap tightly and freeze for up to 3 months.
Tips from our bakers
Need some sourdough starter to get started? See our step-by-step directions for creating your own sourdough starter from scratch. Or, if you're looking for a head-start, check out our classic fresh sourdough starter, a simpler path to fresh, ready-to-use sourdough starter.
To prevent the bread from overproofing and thus losing strength to rise again in the oven, you can slow the fermentation by letting the dough rise in a cooler place; your refrigerator is a perfect place for this.
Reviews
Really like this recipe. To add a twist I use garlic flavored olive oil. Have also discovered that not all flour is the same, have gone back to using King Arthur flour for my breads.
I cut the yeast in this recipe back to 1 teaspoon. If you are using fed starter, a tablespoon is waaaay too much yeast for 5.5 cups of flour. Even with unfed starter a tablespoon is too much. I have baked a lot of bread over the years, so I do not say this lightly. Other than the amount of yeast, I like this recipe for an easy sourdough bread.
It is magic, all right! I made the sponge and then it was waiting, and I was making banana bread, because....ripe bananas. And in the middle of all that, my oven stopped working! So I was distracted. (Turns out, you can make banana bread in a microwave. Kinda. I had no idea. Ovens are better, though.) So when I got back to the sponge here, maybe 27, maybe 30 hours had passed. There was liquid (hooch?) floating on top and a skin had formed. And it was a giant bowl of sloppy liquid. How would I knead this? If I poured it out of the bowl it would just run off and all over the floor. Also, I've never really kneaded bread ever before. Maybe once. So I added flour and more flour. Then I had this incredibly soft dough.....but I was waiting for the oven repairman, and I was freaking out about this loaf of bread here..... did not look at recipe again, so I FORGOT THE OIL. Let me tell you, this was the shaggiest, stickiest dough I could imagine. Fortunately at some point I remembered the salt, but my hand were so coated with sticky dough goo, I just grabbed the salt shaker and shook some on. If I did not have one of those bench scraper gizmos, I cannot say where I would have gone. I could not really "knead" it but I kept smooshing it around and pulling it and squeezing it and scraping it up. The oven repairman came and I had to just scoop-pour this wildly unknown dough into a baking pan. There were supposed to be two more steps at least in this recipe, I see now. But I was not paying attention because oven repairman. It's a warm day - and I looked and it started to rise and to crown above the sides....I had just read about that on here, over-proofing, so as soon as he was done I asked him to turn on the oven! Then I forgot the bread was in there until I smelled it baking. (It's been a day.) So eventually I pulled it out, bottom sounded hollow and I turned it out of the pan, and then I thought, does it need more baking, so I put it back in the turned off oven for a bit, AND IT'S AN EDIBLE LOAF OF BREAD WITH A NICE CRUMB! I think it will make great toast. Have to try to make it again and follow the whole recipe the way it's written, but seriously, this is one forgiving recipe. MAGIC INDEED.
The activity in the yeast was overwhelming. Within a few hours it was over flowing my large bowl. I would have liked to let it sit longer before baking, but was afraid the yeast would loose it's activity. The dough was very sticky, even with additional flour. It came out very flat, about 2" tall. Texture and flavor was good, but the appearance was poor.

Linda, we'd love the opportunity to help figure out where things went wrong here, and we hope you'll give our free and friendly Baker's Hotline a call at 855-371-BAKE to chat directly with one of our bakers. Mollie@KAF
Really like this recipe but today -higher humidiy- and I ended up needing to add 1-1.5 cups more flour and could have actually added more. It was a very soft yet smooth elastic dough. On advice from another KAF recipe I added 1T sugar to increase the browning. Dough rose much faster than usual -sugar maybe? Also I'm seeking the perfect baguetter/Italian loaf and since the double perf pan always yields a round bottom loaf that rocks I used it just for proofing with the aid of parchment & slid the loaves onto the overturned cookie sheet. They didn't rise as much and I was kinda expecting that. But I had a flat bottomed loaf that was more flat than rounded at the top. I also caught it wasn't browning and quickly brushed some butter on it but wound up using convection in last 10 min. Ended up turning on the broiler briefly & when it got close to color I shut it off & after a few seconds shut the door. They turned out good, just not tall enough because the dough was softer than usual. I really love this bread and it always turns out well. With this shape it would make excellent garlic bread Any KAF advice? THanks.

It sounds like your loaves could benefit from a little bit more protein (strength) in the flour. If you're not already using King Arthur All-Purpose Flour, give that a try, or even consider using our Bread Flour. Additionally, if you add a few stretch and folds to the initial rise, it might help build strength and make the dough rise high. If you need tips on how to do this effectively, don't hesitate to give our bakers a call at 855-371-BAKE(2253). Kye@KAF
The dough, even after the second rise, was still incredibly "wet". The texture of the finished product is more like a sponge (the kind I wash dishes with) than bread. Taste is nice, but certainly not usable as a sandwich bread nor would I put it on the table for others to eat. I have no idea how this recipe got so many good reviews.

It sounds like something went wrong here, Sheri. We encourage you to give our free Baker's Hotline a call at 855-371-BAKE so we can help to get you back to happy baking. Mollie@KAF
Have made this many times. It makes excellent baguettes, boules and loaves. Nice crunchy crust and flavor. Easy to make. Made this specifically for a wedding gift basket filled with traditional house warming gifts, bread so you may never be hungry, wine so you'll never thirst, etc. It was a show stopper and the fragrant aroma of the fresh made bread wowed everyone who had to lean in to inhale. It was really enjoyed by the happy couple who took it with them to enjoy with the accompanying champagne on their trip.
Made this twice so far. I am using the sourdough started I made with your recipe which is now 4 months old and fed weekly. Good flavor. My only problem seems to be the bread spreads out instead of rising. I am using a scale for the ingredients. It bakes up fine but I am left with a large round flat loaf about 2 1/2 inches tall. I don't want the bread to be dry, but what should I do?

Charlotte, you could either try adding a series of stretch and folds to the dough while it's rising (after the first rise is complete) to add strength, or you could consider baking it in a bread baking bowl or Dutch oven to give it support to rise upwards. (If you need some tips about how to do stretch and folds, you can give our friendly bakers on the hotline a call: 855-371-2253). Kye@KAF
Mmmmmm... Love this bread! Have been making bread for many moons and this is now one of my favorite recipes. Baked this today. Made a double recipe. One for two boules with rosemary added and the other for two loaves baked in a pan for sandwich bread. Used a starter I've had going for years, originally started with potato water. Feed it weekly. Bake several loaves about every other week, some to use now and freeze the others for later. Haven't bought bread in years. Have been alternating the rustic sourdough and the extra tangy recipes. Saw this Merlins magic recipe the other day and decided to use it for this week's bake. So happy I did. Sponge is quick to make and very bubbly. Left on the counter at room temperature for a few hours, nearly topped the bowl, then into the fridge overnight. In the morning the dough mixed up nicely with my stand mixer. Kneading it was lovely, it was smooth, soft, elastic and very easy to work with. Just felt right, like it would be perfect. Raised for about two hours, more than doubled. Made into loaves, again the dough was just perfect. Raised about an hour and a half. Baked the boules on a stone on a piece of parchment. Spritzed them with water when they went in, then a few more times during baking. Smelled wonderful while baking. Came out light brown, soft crust and soooo tasty. We ate a half a loaf just sampling!!!! The loaves in the pans came out a little crustier and darker brown, I turn them out of the pans and onto the oven rack about halfway through their bake time so they brown all around. Again beautiful, beautiful bread. I highly recommend this recipe for beginners and experienced bakers. Thank you King Arthur for another outstanding recipe. LOVE this website, always find something wonderful!
This is now one of my favorite breads. SO soft and tasty with a very nice crumb. The top was very pale, I didn't get a nice brown color, but it didn't affect the flavor at all. One thing I'm not sure about: at the end of step 1, after about 2 hours of rising it was about to overflow the bowl, so I put it in the fridge. I'm not sure if I should have left it out for a full 24 hours, or if that is what would cause overproofing.