A customized print-friendly version of this recipe is available by clicking the "Print Recipe" button on this page.
Merlin's Magic Sourdough Bread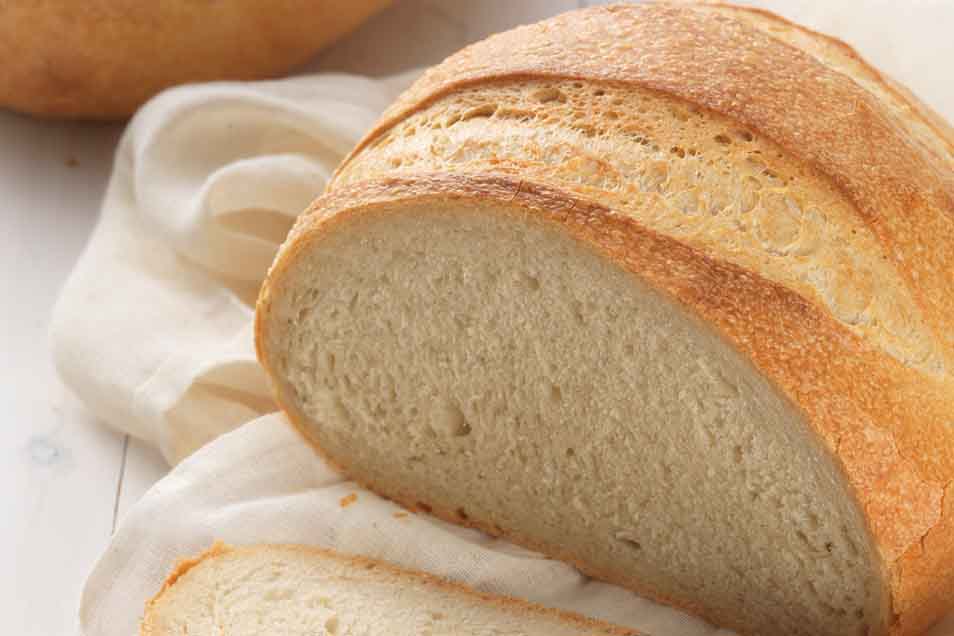 This finely textured bread will stay fresh longer than most loaves you'll make, due to both the olive oil and the sourdough starter: breads higher in acid retain moisture better than less acidic loaves.
Instructions
The day before: Mix together the starter, water, and 3 cups (12 3/4 ounces) of the flour. Cover with a damp towel, and let this sponge sit at room temperature for 2 hours; and then in the refrigerator overnight, or for up to 16 hours.

The next day: Add the yeast, salt, oil, and enough of the remaining 2 1/2 cups of flour (up to 10 1/2 ounces) to make a soft dough that cleans the sides of the bowl. Turn the dough out onto a lightly floured or oiled work surface, and knead it, adding more flour as necessary, until it's smooth and springs back when you poke it. If the dough feels too stiff, add a few more teaspoons of water to soften it.

Place the dough in a lightly greased bowl, cover it with lightly greased plastic wrap, and let it rise for 2 hours at moderate room temperature (below 80°F or so). The dough should become puffy.

Press the dough down and divide it into two pieces. Form each piece into a round ball, and place each ball on a baking sheet that has been greased and sprinkled with cornmeal. Cover the loaves with damp towels or lightly greased plastic wrap, and allow them to rise for 1 hour (or more), or until they've become puffy and a pressed finger leaves a mark.

While the loaves are rising, preheat the oven to 425°F.

Use a sharp knife or lame to make three slashes on the top of each loaf, which helps the bread to rise evenly in the oven. Bake for about 25 to 30 minutes, or until the bread is golden, sounds hollow when tapped, and the internal temperature of the loaf is 190°F to 205°F on a digital thermometer.

Remove the bread from the oven, and cool completely on a rack.

Store loosely wrapped in plastic for 3 days, or wrap tightly and freeze for up to 3 months.
Reviews
Good recipe. I do however agree with Cara below. The recipe needs the splits converted to grams. Yes KA flour you have the conversion for the entire ingredients. You do not list when you split them though.

Thanks for mentioning that, Todd! We've brought this to the attention of our recipe team. Kat@KAF
Hi KAF. This is a nice recipe, and it is definitely part of my rotation. A request: would you please include conversion to grams within this recipe and many others? You have convinced me that measuring by weight is best! So it is very frustrating to have to stop and do math from cups or ounces, which are in the text of this recipe, to grams, which are not. What do you say? Thanks.

Cara, all of our recipes are written for grams, ounces, and cups. Just click on "grams" at the top of the ingredients list to choose that option. Happy baking! Kat@KAF
I love this recipe. The bread always comes out great,but I'd like to kick my performance up a couple of notches. One thing I've noticed is that the bottom of the bread has started cracking. I slash the top about 1/4 inch if that has anything to do with it. Also, the first couple of times I made it the crust was nice and crispy, the last couple of times it's been so so. I've tried using the ice cubes in the pan trick but it's still turning out the same. Any ideas?

Hi there, fellow baker! We're happy to hear that you've enjoyed this recipe so far. The crack on the bottom of the loaf is probably the seam from when you shaped the loaf opening up. When you shape the loaf next time just be sure to really seal the seam well so it doesn't split open. The thicker crust can be caused by too much flour in the dough, we'd recommend checking out the "Recipe Success Guide," link next to the ingredients header above to ensure you're using the right amount. Also, baking your bread in a Dutch oven or another kind of covered baker can help get a nice thin, crisp crust. This way the dough creates steam within the baker, which is much easier than trying to steam your whole oven. We hope this helps and happy baking! Morgan@KAF
The first kneed....#2. About how long would that be in electric mixer w dough hook? 5 minutes?

Hi Annie! That knead should take between 4 and 7 minutes. Happy baking! Annabelle@KAF
Might it be possible to indicate on a recipe that KAF has updated it and the date of the update? I thought this recipe was the one I had used before to utilize the waste sourdough from feeding my starter. Since it now calls for "fed" sourdough I spent several frustrating minutes looking through all your sourdough recipes for the one that I remembered that used unfed starter. Finally read the reviews to find I wasn't losing my mind!

We appreciate your suggestion, Carla, and have shared your thoughts with our Recipe Team. We've started including the date a recipe has been changed in the headnotes, along with the changes, if that's occurred as part of the recipe retesting process. (We'll see if we can do that for this recipe retroactively.) We apologize for any inconvenience the change might have caused for you, but after baking many iterations of this recipe, we felt like the best results came from dough that used fed sourdough starter. You're welcome to experiment with using unfed starter if you've had good results with this method in the past. Thanks for sharing your thoughts with us! Kye@KAF
i experimented a little by using the whey from a batch of ricotta i just made instead of water and it added great depth o f flavor. dough is a little tricky to work with but i "poured" it into my oblong clay baker and a small cast iron pot and just sifted some flour on top because i like that look. came out with a great crust and crumb. thanks for another great recipe KAF.
I'm confused. I made this recipe a couple weeks ago and it turned out ok. Delicious and I had ideas to make it.more boule like but just started it this evening and was looking over the rest of the recipe to refresh my memory and it says 2 tablespoons cup of olive oil. I thought it was 1/3 cup? Am I mistaken? Or did you completely change the recipe?

Thank you for letting us know about this, Kris, we've alerted the Recipe Team to make a correction. It should read 2 tablespoons of olive oil, which was lowered from 1/4 cup because people were having issues with their dough being too sticky. If 1/4 cup of olive oil worked for you, stick with it! Annabelle@KAF
I love that this can be made with sourdough discard. This is a great recipe and it always works. Was it recently changed/updated? I've made it a few times but I think the instructions were different this time.

You have a keen baker's eye, Emily! We did recently update this recipe after so many bakers were struggling with their dough being too sticky. The amount of water and yeast were both decreased and we've been loving the results. Annabelle@KAF
I was anxious to try a new sourdough recipe, but very disappointed with the result. Followed the recipe exactly, I measure by weight. Mixed the remaining ingredients the second day, but the dough was way overhydrated. I tried adding flour 30 grams at a time and then letting the dough rest. But after adding 120 grams, the dough still could not be kneaded. Not sure what was wrong, my starter was a thicker pancake batter consistency.

We're sorry to hear you had trouble with this recipe, Grace. Our test kitchen bakers have been hard at work baking this recipe, trying to find the best way to ensure more consistent results. We recommend using a starter that's been recently fed (in the last 6-8 hours) rather than beginning with discard. Also, try letting the sponge sit for two hours and room temperature, and then moving it to the fridge for the night. Let the dough sit in the fridge for about 16 hours, ideally. When mixing the dough together on day two, add only as much flour as needed to make a smooth, slightly tacky dough. Using this timeline, you shouldn't need too much additional flour. We hope these tips help to make a better baking experience next time. Kye@KAF
I am a beginner baker, and my sourdough starter that is of two months old does not seem very active (it doesn't rise after feedings), but this recipe worked perfectly, and it gave me the kind of bread that I had in mind when I first started my bread adventures. So I started on the recipe for the second time, and realized that the first time, I misread it and used 1 tsp of yeast instead of 1 tbsp. It turned out perfectly, though! Used 1 tbsp today and am looking forward to see if there will be a difference.