A customized print-friendly version of this recipe is available by clicking the "Print Recipe" button on this page.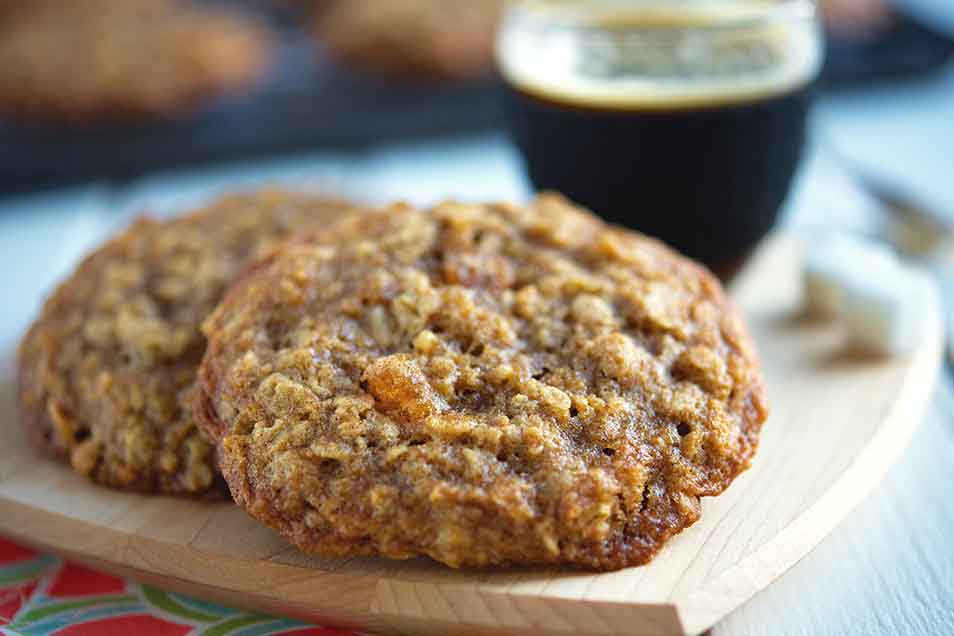 Crunchy around the edges, softer in the center, these oatmeal cookies feature the nutty taste and nubbly texture of oats.

Our guarantee: These cookies will be mildly crunchy around the edge, softer in the center, and very mildly spiced; oats are the star. They'll be 1/4" thick and 2 1/2" to 3" wide when scooped in 1 1/4" balls.
Ingredients
4 tablespoons (1/4 cup) unsalted butter
1/4 cup vegetable shortening
1/2 cup light brown sugar
1/4 cup granulated sugar
1 teaspoon vanilla extract
1 1/4 teaspoons ground cinnamon
1/8 teaspoon ground nutmeg
1/2 teaspoon salt
1 teaspoon cider or white vinegar*
1 large egg
1/2 teaspoon baking soda
1 1/2 cups rolled oats, quick cooking or old-fashioned
1 cup golden raisins, optional; or Jammy Bits*
*See "tips," below.
Instructions
Preheat the oven to 350°F. Lightly grease (or line with parchment) two baking sheets, light-colored preferred.

Beat together the butter, shortening, sugars, vanilla, cinnamon, nutmeg, salt, and vinegar until fairly smooth; a few tiny bits of butter may still show.

Beat in the egg, again beating until smooth.

Add the baking soda and flour, beating until well incorporated.

Add the oats (and raisins), stirring to combine.

Drop the dough in 1 1/4" balls onto the prepared baking sheets; a tablespoon cookie scoop works well here. If you're measuring, this is about 2 level tablespoons (using a tablespoon measure, not a dinner spoon). Space the cookies 2" apart; they'll spread.

Bake the cookies for 12 to 14 minutes, reversing the pans halfway through (top rack to bottom, bottom to top). For softer cookies, bake the lesser amount of time; for crunchier, the longer amount. At 12 minutes, especially if you're baking on a dark pan without parchment, a few of the cookies on the edge should just barely be showing a pale brown around their edges. At 14 minutes, they should be starting to color all over.

Remove the cookies from the oven, and let them cool right on the pan.

Yield: 22 to 24 cookies.
Nutrition Information
Serving Size

1 cookie (25g)

Servings Per Batch

about 22
Amount Per Serving:
Calories

110

Calories from Fat

45

Total Fat

5g

Saturated Fat

2g

Trans Fat

0g

Cholesterol

15mg
Sodium

85mg

Total Carbohydrate

14g

Dietary Fiber

1g

Sugars

7g

Protein

2g
* The nutrition information provided for this recipe is determined by the ESHA Genesis R&D software program. Substituting any ingredients may change the posted nutrition information.
Tips from our bakers
Jammy Bits, sweet, soft little morsels of fruit purée, come in six true-fruit flavors: raspberry, blueberry, strawberry, orange, apricot, and peach.
While it's easier to beat butter that's at cool room temperature, it's not necessary to wait for it to warm up if you've taken it straight from the fridge. You'll just need to beat it a bit longer.
Substitute butter for the vegetable shortening, if desired; the texture of the cookies will be a slight bit cakier.
For round, symmetrical cookies, be sure to leave 2" between them on all sides. This is sufficient room that they won't spread and touch one another.
If your baking sheets are dark/black, shorten the baking time by a minute or so. If you use air-insulated cookie sheets (which we don't recommend), increase the baking time by a couple of minutes.
If you're a fan of salty/sweet, the merest sprinkle of salt (extra-fine preferred) atop the just-baked cookies brings their flavor over the top.
*Why vinegar in a cookie recipe? It helps cut the sweetness and also gives your baking soda a bit of a boost. Mystery solved!
Reviews
I thought I had made the recipe exactly as written. The dough was extremely dry and crumbly. I reread the recipe a couple of times and thought, well, the King knows best. I baked the cookies for 8 minutes and could see that this recipe was going to be a failure. Then I realized I had forgotten to add the egg. I removed the partially baked cookies from the oven and crumbled them into the uncooked dough. I added the egg and beat well with my mixer. They are now baked and half eaten - they are fantastic!
I love this recipe. I use chopped pecans and dried cranberries, and I have also divided the dough in half to add mini chocolate chips to 1/2 and the cranberries to the other half. Funny story: the first time I made this recipe, my husband assured me that he wouldn't eat any cookies because he didn't like oatmeal cookies at all. Well, you can guess what happened! Yep, he ate the majority and now begs for more. So you could relabel the recipe as: "Oatmeal Cookies Even Haters Will Love"!
Best Oatmeal Cookie recipe ever. I have been searching for an oaty, crispy cookie and this is it. I followed recipe using grams - easy to measure, mix and bake. They are pretty and really good. It seems this recipe is pretty adaptable too. Thank you for all the tips and responses on review questions. Could I replace some flour with whole wheat flour and add a little ground flaxseed to bump up fiber? Would that work?

You can easily add whole wheat flour to many of your favorite recipes, including this one for Oatmeal Cookies. Start by replacing half of the all-purpose flour with whole wheat flour (either white or traditional whole wheat). There's no need to make any changes to the recipe with this approach. If you'd replace 100% of the white flour with whole wheat, add about 2 teaspoons of additional liquid per cup of whole wheat flour. Before baking, allow the mixture to rest for about 15 minutes so that the whole grains can absorb the additional liquid and soften slightly. Add extra liquid if the mixture seems dry or stiff, and then bake as you normally would.

You can also incorporate some flax meal into the dough too. Replace between 1/4 and 1/2 cup of the flour with flax. Happy baking! Kye@KAF
I made these this morning and they're perfect. They spread evenly and the 12-minute bake time resulted in a crispy edge and a slightly soft middle. The recipe yielded 16 three-inch wide cookies. Since it's October, I substituted apple pie spice for the cinnamon and nutmeg. I also added cinnamon chips and finely chopped freeze dried apples.
I take about a cup of dried fruit... I've used mixtures of prunes, apricots, cranberries, raisins, crystalized ginger, etc. in various combinations...then I food process them with a quarter cup of the flour (I always use the white whole wheat flour) till they are small pellets. I also add chopped walnuts (but I don't food process them) and use all butter. I take out the white sugar completely because the dried fruit is quite sweet. And I decrease the amount of flour a bit or add a spoon of oil if the batter is too stiff. It comes out an awesome, healthy cookie that my family loves.
These were good cookies; I liked that there was nutmeg and cinnamon, since they would have been rather plain otherwise. Crunchy exterior, soft interior. But my batches weren't consistent. The first spread and were flat, while the next stayed in small, roundish lumps. Why? Thanks.

We're glad you enjoyed these cookies, fellow baker. Cookies can have differences in spreading for a couple of reasons. The first is that the second batch had a chance to rest for a while.

Letting cookie dough rest (especially in the fridge) allows the dough to become more cohesive. The little grains of sugar have a chance to dissolve in the dough. When the cookies hit the heat of the oven, the rapid melting of sugar that causes unrested dough to spread more is no longer an issue. The finished cookie will have more of a mounded shape rather than flat.

Another possibility is that by the time you were able to bake the second batch, the oven had finally gotten up to temperature. Most ovens beep before they're ready, and the cooler the oven, the longer a cookie has to spread before the outside sets up to keep its shape.

We encourage you to check out our blog article Cookie Science if you're curious about ways to tweak cookie recipes to achieve the textures and appearances you prefer. Happy baking! Annabelle@KAF
This recipe isn't just great, it's exactly what I was looking for! The right amount of sweetness, & I'm one who's always had a sweet tooth, & flavor as well as a little crunch or even less crunch if you desire. Easy & fast to make, they disappear just as fast. I now have to double the recipe if I expect to be able to eat 1 for myself.
These cookies were ok, but not very flavorful. I expected sweeter cookies. These taste like a granola bar.

Hi Vanessa, we'd love the chance to help you make the perfect oatmeal cookies because that's the beauty of baking — you get to make recipes exactly as you like them! Feel free to increase both the brown sugar and granulated sugar by 2 tablespoons; this might make the cookies spread a bit more and become crispier. If that's not a texture you're looking for, instead consider using our recipe called Chocolate Chip Oatmeal Cookies. You can even leave out the chocolate chips if you like and you'll be left with a sweet and tender, oat-filled cookie. We hope this helps, and happy baking! Kye@KAF
I am so impressed with how great these turned out. They are by far my favorite oatmeal cookie recipe and I plan to make many more of them in the future. I didn't have any nutmeg so I substituted it with pumpkin pie spice and it tasted so good. I also didn't have any shortening so I doubled the butter measurements and it worked just as well. also, the forgetful person I am, I also forget to add the granulated sugar even though it was sitting on the counter right next to me! Honestly I am glad I didn't add the sugar because they were so soft and sweet without it. they took about 25 minutes to bake but I am sure that is because of the different ingredients that I used. If you are hesitating about trying this recipe I would really recommend it. have a great day!
Hola quiero hacer esta receta, solo tengo una duda vegetable shortening es aceite vegetal liquida? O uso mantequilla normal?

Hola, y gracias por su pregunta. Use mantequilla en lugar del manteca, preferiblemente mantequilla sin sal. ¡Feliz cocción! Annabelle@KAF