A customized print-friendly version of this recipe is available by clicking the "Print Recipe" button on this page.
Old-Fashioned Apple Cake with Brown Sugar Frosting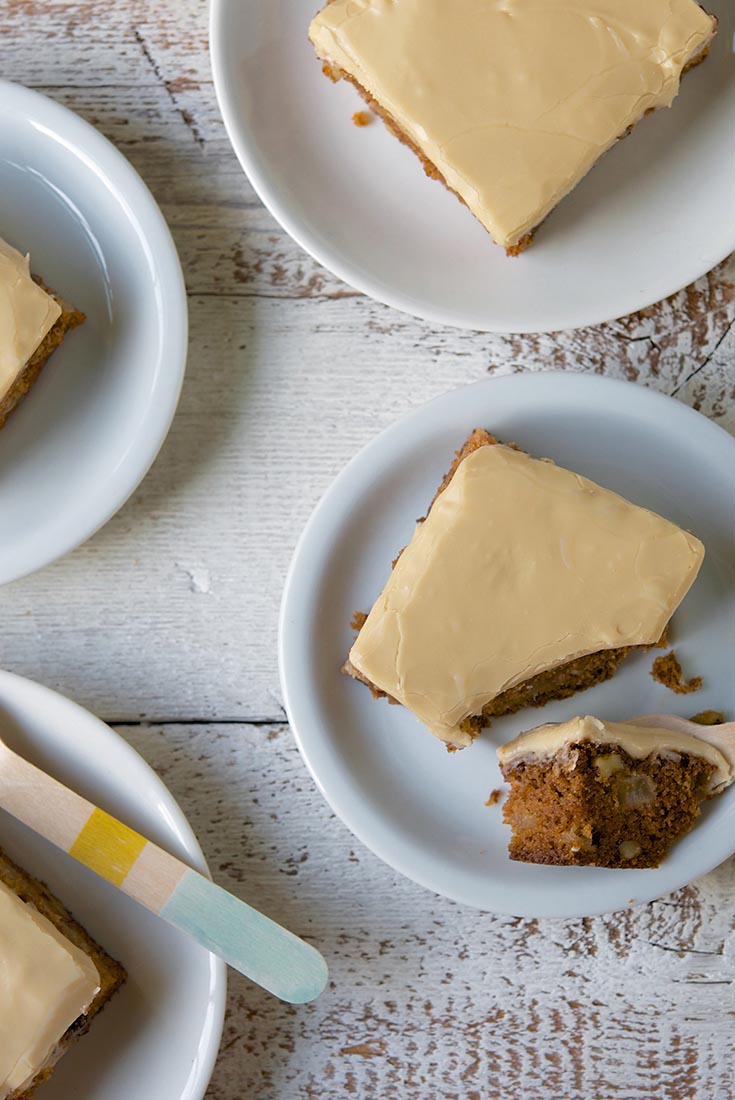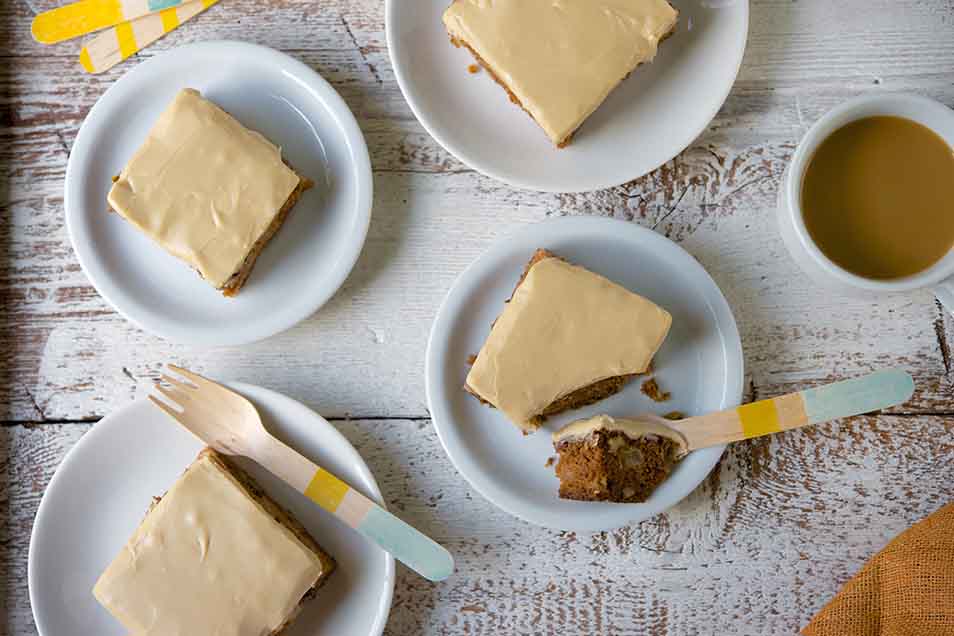 This cake is an old, old favorite of ours. It's a cake where the whole is definitely more than the sum of the parts. The moist, semi-chunky cake, spread with the frosting equivalent of brown sugar fudge, is perfect served with a cup of coffee or, better still, a glass of ice-cold milk.

Our thanks to the wonderful Bakery Lane Soup Bowl cookbook for the inspiration for this recipe.

Baking gluten-free? For great results, substitute King Arthur Gluten-Free Measure for Measure Flour for the all-purpose flour in this recipe; and increase the baking time to 55 minutes, no other changes needed.
Ingredients
Cake
2 1/3 cups King Arthur Unbleached All-Purpose Flour or King Arthur White Whole Wheat Flour
1 2/3 cups granulated sugar
2 teaspoons baking soda
3/4 teaspoon salt
1 1/2 teaspoons Apple Pie Spice or 1 teaspoon ground cinnamon + 1/4 teaspoon each ground ginger and ground nutmeg
2 large eggs
1/2 cup (8 tablespoons) unsalted butter, softened
4 cups peeled, cored, chopped apple, about 1 1/3 pounds whole apples
1 cup diced toasted walnuts or pecans
Frosting
7 tablespoons unsalted butter
2/3 cup brown sugar
1/4 teaspoon salt
1/4 cup milk
2 1/4 cups confectioners' sugar
3/4 teaspoon vanilla extract or 1/4 teaspoon vanilla-butternut flavor
Instructions
Preheat the oven to 325°F. Grease and flour a 9" x 13" pan.

To make the cake: Mix all of the ingredients except the apples and nuts in a large bowl.

Beat until well combined; the mixture will be very stiff, and may even be crumbly.

Add the apples and nuts, and mix until the apples release some of their juice and the stiff mixture becomes a thick batter, somewhere between cookie dough and brownie batter in consistency.

Spread the batter in the prepared pan, smoothing it with your wet fingers.

Bake the cake for 45 minutes, or until a cake tester or toothpick inserted into the center comes out clean, or with just a few wet crumbs clinging to it.

Remove the cake from the oven and place it on a rack to cool completely; don't remove the cake from the pan.

To make the frosting: Melt the butter in a small pan over medium heat. Stir in the brown sugar and salt and cook, stirring, until the sugar melts.

Add the milk, bring to a boil, and pour into a mixing bowl to cool for 10 minutes.

After 10 minutes, stir in the confectioners' sugar and vanilla. Beat well; if the mixture appears too thin, add more confectioners' sugar. Spread on the cake while frosting is still warm.

Yield: about 2 dozen servings.
Nutrition Information
Serving Size

1 (81g)

Servings Per Batch

24
Amount Per Serving:
Calories

270

Calories from Fat

100

Total Fat

11g

Saturated Fat

5g

Trans Fat

0g

Cholesterol

35mg
Sodium

210mg

Total Carbohydrate

42g

Dietary Fiber

1g

Sugars

32g

Protein

3g
* The nutrition information provided for this recipe is determined by the ESHA Genesis R&D software program. Substituting any ingredients may change the posted nutrition information.
Tips from our bakers
To toast nuts, place them in a single layer in a cake pan. Bake in a preheated 350°F oven for 6 to 9 minutes, until they're golden brown and smell "toasty."
To guarantee lump-free frosting, sift confectioners' sugar before adding to the butter mixture. Usually all the lumps disappear as you beat the frosting; but to guarantee no lumps at all, sift the sugar first.
Our Gluten-Free Measure for Measure Flour makes it easy to make many of your favorite traditional recipes (like this one) gluten-free. Simply substitute Measure for Measure flour 1:1 for the flour called for in your recipe; no additional ingredients needed.
Reviews
This cake and frosting are delicious!! As someone new(er) to dairy free/gluten free baking I am always on the lookout for recipes that do double duty and fit the "can't tell the difference" bill and this one does. I substituted applesauce and coconut oil for the butter in the cake, gluten free flour for regular flour in the cake and dairy free butter and coconut milk for the frosting. Additional time for baking as recommended by the KA team. It is fantastic!! Definitely a keeper and going the big book of GF/DF eats. Thank you for sharing!
I absolutely adore this recipe! The cake is wonderfully moist and flavorful, but the frosting absolutely steals the show. It's sweet and caramel-y and it pairs so well with the spicy cake. This cake embodies the flavors of fall, but it's so good you'll want to make it year round. It might be my favorite cake EVER!
I've made many King Arthur recipes over the years. I liked this, but it definitely wasn't one of my favorites. It's good, but way too sweet! I never thought I'd say that about a recipe, I love sweets. Next time I just won't use all the frosting. The batter ended up mixing for a bit before it was the consistency needed. Normally you don't want batter mixing that long, due to gluten issues. I think next time I'll heat the apples on the stove to allow the juices to come out sooner, add them to the batter, then stir in the nuts.
This cake is yummy. Sweet yes, but yummy. The directions are easy and are accurate. I used Granny Smith apples with the idea that they would cut some of the sweetness other reviews complained about. I couldn't taste the apples much, but the texture is very reminiscent of carrot cake. This was a big hit with my coworkers, and everyone loved the frosting. I'll do it again. THANKS KAF!
King Arthur Gluten free flour. It's the best apple cake
I only gave this recipe three stars, not because it isn't good, (although it could be better), but because of the directions, which could easily be fixed. As someone else said, it's the 'Best Cake that Seemed Like a Disaster at the Batter Stage.' The problem is step two: 'Mix all of the ingredients. except the apples and nuts, in a large bowl.' If you do that, you will find it virtually impossible to incorporate the butter with all the dry ingredients. It works better, if you combine the butter, sugar and eggs and a tsp of vanilla and mix well. Then, add flour sifted with baking soda, salt and cinnamon (you really don't need the nutmeg and ginger. but it doesn't hurt). The mixture will be somewhat dry, but not like the disaster you will have if you try to combine the butter with all the dry ingredients. As soon as you blend in the apples, which add moisture, you get a nice thick batter. I think adding raisins, called for in my mom's original old fashioned apple cake recipe, is an additional improvement.

Thanks for taking the time to share your thoughts with us, and for letting us know that you did indeed enjoy the finished cake. We understand your point about creaming the butter and sugar together initially. We've found this step unnecessary when working with butter that's quite soft. However, we've asked our Recipe Team to take a closer look at this process and compare the one-bowl-blending and creamed method to see which produces a more favorable result. We'll be sure to update the recipe if we find any changes are advantageous. Kye@KAF
I found this cake to be quite easy to mix using a medium mixing bowl and a wooden spoon. When I made the cake for my family, I left the peels on the apples for more flavor and texture. Not everyone is fond of the peels, so when I make it to take to someone else, I peel the apples. The frosting is different and is very good, but it is very sweet so I prefer the cake without it. The cake is moist, delicious, and full of flavor, and really doesn't need the frosting.
I made it with only whole grain spelt and weighed my ingredients. I reduced the sugar to 8 oz and split it by using half brown sugar and half white. I used my stand mixer and I'm glad I did, because it was able to mix it better than I could and get more juice from the apples into the batter. I did not make the icing because it's too sweet for my taste. (Maybe on a special occasion?) I only bake with whole grain spelt and the issue that I have with making a large cake is that sometimes it sinks in the middle. This did not! It baked up very nicely and evenly. I'm having great luck with King Arthur recipes lately (yesterday was the whole grain banana bread) and I have learned that it definitely makes a difference if you weigh your ingredients.
We're a family of chocolate cake lovers, but this is a real favorite of ours. It's quick and easy to make, and from my experience, mixes up pretty much the way the instructions say it will. I prefer to use my stand mixer, but have made it both ways. Looking forward to having a piece after supper tonight.
This cake wins my "Best Cake that Seemed Like a Disaster at the Batter Stage" award. Thank you, recipe writer for the hints about what the batter should look like, because that helped a lot. Without that, I would have overmixed and added liquid to make a mushy mess. It's a delicious cake, and while I sometimes skip the frosting I'm glad I made it (both because my cake was kind of ugly and because it's a tasty frosting).