A customized print-friendly version of this recipe is available by clicking the "Print Recipe" button on this page.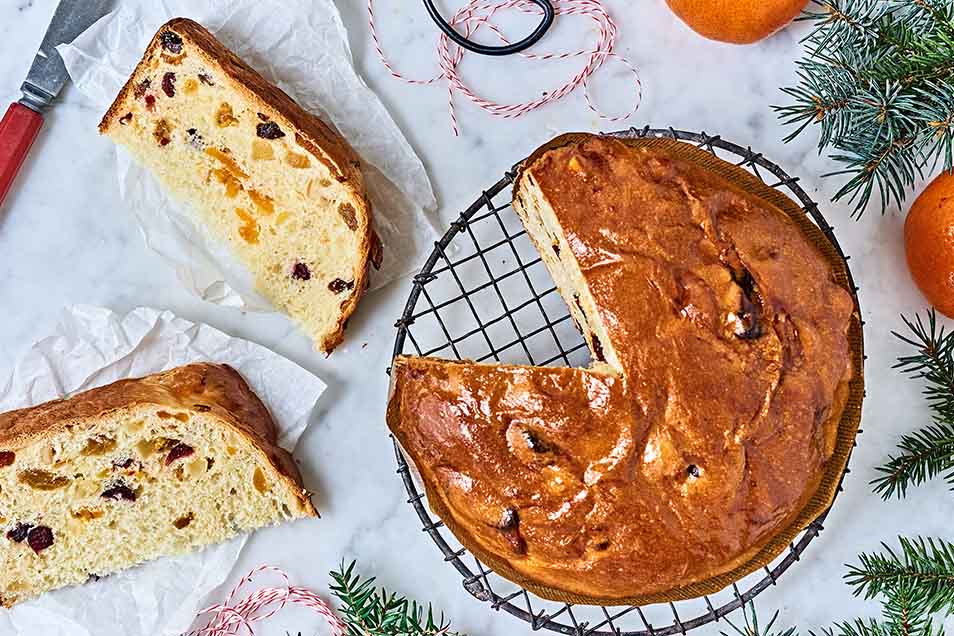 This traditional Italian holiday bread will stay fresh longer when it's made with an overnight starter.
Ingredients
Dough
all of the starter (above)
2 1/4 cups King Arthur Unbleached All-Purpose Flour
1/4 cup lukewarm water
2 large eggs
1/4 cup (4 tablespoons) softened butter
1/2 teaspoon Fiori di Sicilia flavoring OR 1 teaspoon vanilla + 1/8 teaspoon orange oil
2 1/4 teaspoons SAF Gold instant yeast OR 1 tablespoon instant yeast
1 1/4 teaspoons salt
1/3 cup sugar
1/2 cup golden raisins
1/2 cup slivered dried apricots
1/2 cup dried cranberries
1/2 cup chopped dried pineapple
2 tablespoons grated orange rind or grated lemon rind (zest)
Instructions
To make the starter: Combine the starter ingredients in a medium-sized mixing bowl, cover, and allow them to rest overnight (8 to 12 hours).

To make the dough: Combine all of the dough ingredients except the fruit and zest, and mix and knead them together — by hand, mixer or bread machine — until you've made a soft, smooth dough.

Allow the dough to rise, covered, for 1 to 1 1/2 hours, or until it's puffy (though not necessarily doubled in bulk).

Gently deflate the dough, and knead in the fruits and zest.

Shape the dough into a ball and place it in a panettone pan or other straight-sided, tall 1 1/2- to 2-quart pan. Cover the pan and let the dough rise until it's just crested over the rim of the pan, about 1 hour.

Bake the bread in a preheated 400°F oven for 10 minutes; reduce the oven heat to 375°F and bake an additional 10 minutes; then reduce the heat to 350°F and bake for 25 to 35 minutes, tenting with aluminum foil if the crust appears to be browning too quickly. Panettone should be a deep brown when done, should sound hollow when tapped, and will read 190°F at the center using a digital thermometer. (It's easy to underbake, since it browns so quickly!)

Remove the panettone from the oven and cool completely. Store at room temperature, well-wrapped, for up to a week; freeze for longer storage.
Nutrition Information
Serving Size

65g

Servings Per Batch

16
Amount Per Serving:
Calories

200

Calories from Fat

40

Total Fat

4.5g

Saturated Fat

2.5g

Trans Fat

0g

Cholesterol

30mg
Sodium

210mg

Total Carbohydrate

36g

Dietary Fiber

3g

Sugars

16g

Protein

4g
* The nutrition information provided for this recipe is determined by the ESHA Genesis R&D software program. Substituting any ingredients may change the posted nutrition information.
Reviews
This is a superb recipe. I made it about 6 times over the Christmas season and started on the last one I kept in the refrigerator (not freezer) for a month. 15 seconds at half power in the microwave brought it back to life. I'll be using this recipe at Christmas in 2019. It was a special treat for one of my sons-in-law whose family is 2nd generation Italian who are seriously into lemon. Fiori di Sicilia is an important ingredient.
I baked this bread for Sunday breakfast, right before the New Year. I had intended to bake it for breakfast on Christmas morning but never got the chance....too many cookies to bake. Anyway, it came out great! The second rising took a little longer than expected but the end result was perfect. I used by bread machine to mix the dough and for the first rising. It's also great for making french toast. My husband loved it!
I'm updating a previous review. I remade this and this time the texture really was panettone. The first time I made it, I was nervous about overworking the dough in my 7 qt Kitchenaid, so only kneaded it 7-8 minutes despite the eggs and butter. Reading the response to Agnes, that "It should feel smooth, bouncy, and just slightly tacky to the touch when it is fully kneaded." I realized my dough had been still too sticky when I stopped kneading it. This time I kneaded it for about 14 mins. The final texture was much lighter. I did measure by weights and use the SAF gold yeast both times and use the Yuletide fruit and rind blend (very nice). I would recommend expanding your description of what the fully kneaded dough should feel like in either the recipe or the tips.
I baked a double batch of this bread yesterday using sourdough starter straight from the fridge instead of the pate fermentee, which seemed to work well. The dough took forever to rise, which was compounded because I didn't have actual panettone molds, so I was using casserole dishes with a much wider area. As other bakers have said, I used the dried fruit that I had on hand, so I ended up with a mixture of apricots, bing cherries, golden raisins, and dates. I was nervous taking the panettone out of the oven because it still hadn't risen much, but when I sliced it the crumb was springy and fairly light. I haven't eaten much panettone in my life, so I don't know how close a match it is, but I love that each slice is packed with fruit. It's perfect with butter and a cup of coffee.
I made this recipe by weight and think that I must have made a mistake. The final baked product was more like Irish soda bread w an Italian flare. Oh well. Will try again.

Hi Andy! We're sorry to hear that this recipe didn't turn out quite right for you. One of the most common reasons why baked goods turn out a little dense is because too much flour is used. To ensure you're using the right amount, we recommend checking out the "Recipe Success Guide," link next to the ingredients header above. You'll see that either measuring your flour by weight using a scale, or fluffing and sprinkling the flour into your measuring cup are the best ways to ensure your recipe turns out perfectly. Happy baking! Morgan@KAF
Made this recipe two yrs in a row. I find the cooking time way too long. Followed directions but after turning oven down to 350 only needed 12 more mins to finish. Flavor is great, no problem with dough, came out perfect, but alas, still a little dense. Will try again and cut down on flour just a little

It sounds like you're doing a great job using your baking instincts to adjust this recipe to your kitchen and your ingredients, Jenn! We think decreasing the flour a bit, if you're consistently getting a panettone that's too dense, is a good idea. Hopefully, that should get you the panettone you're dreaming of! Kat@KAF
I use this recipe as a starting point. KAF should know that gluten development is hindered by fats (butter), so butter should always be added AFTER kneading. I knead (in mixer) for 5 minutes, THEN add the softened butter and knead for another 10 minutes until it passes the window pane test. Also, rise times are very dependent on room temperature, so pay more attention to dough volume than time. Bump up the vanilla a bit as well as the orange flavoring. Be careful with dried pineapple or any dried fruits that contain sulfites. Sulfites kill yeast and hinders rise. You can rinse any dried fruit that has sulfites to eliminate this problem. With these modifications, you will have a light and fluffy amazing panettone.
I have made this recipe twice and agree with other reviewers that the instructions could be improved by adding more details commonly found in bread-making, such as the look and feel of the dough at various stages. Most bakers realize small recipe adjustments due to ingredient/environmental conditions are often needed. Made as described, this dough is so wet as to be borderline unmanageable. Little choice but to add small amounts of additional flour, which then results in a denser pannetone than preferred. Flavor is excellent however, and the increased density is actually a plus if you like to dunk it in coffee or tea, but still...
I have been using this recipe for years and I will put in whatever dried fruit I happen to have. My favorite is dried diced apricots, dried cranberries, and golden raisins. I learned one trick I'd love to share with others. I hang my panettone upside down to cool. I saw this on a show once when the host was touring a panettone factory in Italy. This keeps it lighter and less dense. Here's how I do it: I have a large 2 pound pasta colander and grill skewers. I insert the skewers at the bottom of the panettone pan/wrapper crossing over each other like an "X". The skewers are long enough to hang out about 6-8 inches. I then let the dough rise (the second rise) on top of the skewers. I bake it with the skewers below the dough. After it comes out if the oven, I flip it over and allow the skewers to rest on the edges of the colander. It works great and it cools that way. Also, I know people say this bread doesn't raise well, you're right, I ignore the recipe timing for the second rise and just wait until it rises above the pan. The other thing I do is to cover the top losely with foil to avoid having the top brown too quickly before the center is cooked. I'm full blooded Italian and my father was a baker, so I think he'd be proud of my bread baking!
As another reviewer said, not quite panettone. The texture isn't quite as light as I would like, but close and very tasty. I used KAF's Yuletide blend of fruits and rinds and the suggested SAF Gold yeast. I noticed in feedback to another review, KAF suggested there should be 2 c. of fruit overall (otherwise I was using weight to measure) so I supplemented the Yuletide with some diced dried cranberries, but upon kneading it in realized that had been unnecessary. The bag of Yuletide would have been sufficient (and was very tasty in it). Following KAF's feedback to another review, I divided into 3.5 oz. portions and put the dough into mini-panettone molds. I gave the second rise 1.5 hrs (and perhaps could have left it a little longer). I baked at 400F for 5 mins and then turned it directly down to 350F. I baked another 15 min, never tenting as it didn't overly brown. By a total of 20 mins (the suggested time, although no guidance given on temperature), the bread was already ca. 200F and had a good color on top.