A customized print-friendly version of this recipe is available by clicking the "Print Recipe" button on this page.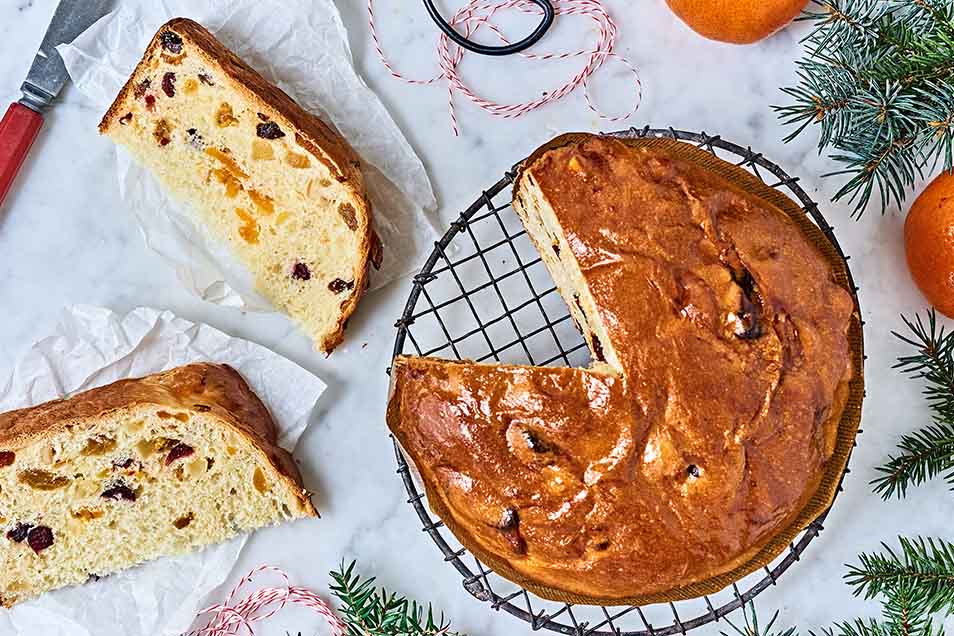 This traditional Italian holiday bread will stay fresh longer when it's made with an overnight starter.
Ingredients
Dough
all of the starter (above)
2 1/4 cups King Arthur Unbleached All-Purpose Flour
1/4 cup lukewarm water
2 large eggs
1/4 cup (4 tablespoons) softened butter
1/2 teaspoon Fiori di Sicilia flavoring OR 1 teaspoon vanilla + 1/8 teaspoon orange oil
2 1/4 teaspoons SAF Gold instant yeast OR 1 tablespoon instant yeast
1 1/4 teaspoons salt
1/3 cup sugar
1/2 cup golden raisins
1/2 cup slivered dried apricots
1/2 cup dried cranberries
1/2 cup chopped dried pineapple
2 tablespoons grated orange rind or grated lemon rind (zest)
Instructions
To make the starter: Combine the starter ingredients in a medium-sized mixing bowl, cover, and allow them to rest overnight (8 to 12 hours).

To make the dough: Combine all of the dough ingredients except the fruit and zest, and mix and knead them together — by hand, mixer or bread machine — until you've made a soft, smooth dough.

Allow the dough to rise, covered, for 1 to 1 1/2 hours, or until it's puffy (though not necessarily doubled in bulk).

Gently deflate the dough, and knead in the fruits and zest.

Shape the dough into a ball and place it in a panettone pan or other straight-sided, tall 1 1/2- to 2-quart pan. Cover the pan and let the dough rise until it's just crested over the rim of the pan, about 1 hour.

Bake the bread in a preheated 400°F oven for 10 minutes; reduce the oven heat to 375°F and bake an additional 10 minutes; then reduce the heat to 350°F and bake for 25 to 35 minutes, tenting with aluminum foil if the crust appears to be browning too quickly. Panettone should be a deep brown when done, should sound hollow when tapped, and will read 190°F at the center using a digital thermometer. (It's easy to underbake, since it browns so quickly!)

Remove the panettone from the oven and cool completely. Store at room temperature, well-wrapped, for up to a week; freeze for longer storage.
Nutrition Information
Serving Size

65g

Servings Per Batch

16
Amount Per Serving:
Calories

200

Calories from Fat

40

Total Fat

4.5g

Saturated Fat

2.5g

Trans Fat

0g

Cholesterol

30mg
Sodium

210mg

Total Carbohydrate

36g

Dietary Fiber

3g

Sugars

16g

Protein

4g
* The nutrition information provided for this recipe is determined by the ESHA Genesis R&D software program. Substituting any ingredients may change the posted nutrition information.
Reviews
Great recipe, would suggest giving yeast 15 mins to activate with the water sugar and a little flour, before mixing all.
I am very glad that your recipes come with weight options, dividing a recipe is so simple when weighing and so much easier. Fewer cups involved and an easier clean up
Using this recipe was my first attempt at baking a panettone. Made the sponge the night before, and followed the directions when making the dough. However, I used Contreau as a flavoring. I let the dough rise for 2 hours, then added fruit and placed it in a clay flowerpot that I ONLY use for baking bread. The second rise was for 2 hours, and at that point, the crown of the dough just reached the top of the clay pot. To be fair, it was a cool day. I baked according to the instructions, but I needed lots more oven time to allow the dough to reach the recommended internal temperature. It turned out lovely, and very tasty. My neighbour, who is Italian, sampled a slice and gave it two thumbs-up. I'll be making this again.
First crack at this recipe was eventful, but mostly because I'm an inexperienced baker. Would like to note that covering the starter in a dry climate caused a crust to form on the top. Make sure to cover with plastic wrap that will hold in the moisture. All and all though I produced something very tasty although not quite Panetone. I'd recommend to others for sure.
Great recipe in terms of texture and taste. Ithe only change I made was adding another tablespoon of butter and I also added some crystallized ginger bits. Request you to add how many minutes to knead by hand or mixer as a newbie into baking breads wouldn't know such details. I kneaded it in my kmix for 8 mins. This is a keeper!

We're glad this recipe turned out so well for you, Agnes. The reason why we don't give a specific time in the instructions is because it can vary widely based on how quickly and vigorously you're kneading the dough. Instead, it's better to gauge your progress based on the look and feel of the dough. It should feel smooth, bouncy, and just slightly tacky to the touch when it is fully kneaded. We hope that helps, and happy baking! Kye@KAF
I usually have to put this in a 75-80 degree oven to get a good rise with all the fruit but we love this so much! I make my own candied orange peel just for this
Thanks so much for this recepie is fantastic. Is the first I am making a panettone, it came very good, excellent flavor and soft. Thanks.
I'm in the middle of my third batch. The first one with my regular instant yeast (Red Star) and the rise was not great. Flavor great. Second round using SAF "Platinum" which seemed to be a new product and was available in my grocery store. More or less the same result. I broke down and bought a POUND of the SAF Gold yeast. Fingers crossed. I have one question: I bought the KA Yuletide Cheer dried fruit blend. I used 1 cup plus 2 Tablespoons. I added 1/2 cup each chopped pineapple and apricot. Does that seem right to everyone else? I also added brandy to plump all the fruit.

Kelly, you should use about 2 cups of dried fruit total in this recipe. It's not necessary to soak the fruits in liquor in this recipe; the dough has enough moisture to account for the fruits absorbing some liquid. If you want to take this step to get the boozy flavor, be sure the fruits are well-drained and consider reducing the water to about 2 tablespoons, adding more as necessary. We hope this helps, and if you'd like to troubleshoot further, feel free to give our Baker's Hotline a call at 855-371-BAKE(2253). Kye@KAF
The 3 stars are based on my finished product, not an evaluation of the recipe itself. The taste was very good, but the crumb was too dense and not light enough. The starter looked a bit inactive although I used fresh yeast. Perhaps due to the cold Winter temperatures in my house I didn't have an optimum fermentation temperature and the yeast didn't get to do it's thing completely. I'm going to try again by creating a proof box in my oven (light on). I'll do this with the starter as well as the final dough mix and see what happens. If it doesn't work, do you think a bread flour with more gluten would help develop a lighter and stringier crumb? The only other thing I can think of is getting some osmotolerant yeast to compensate for the sugar. Any other ideas?

Thanks for your interest in perfecting this recipe, Daniel! Given that your starter seemed "inactive" and your final loaf was "dense", it sounds to us like you might have run up against the common baking pitfall of flour measurement. Too much flour can result in dense, heavier baked goods that don't rise fully. We recommend using a scale to measure flour (as well as your other ingredients) whenever possible. If you don't have a scale, we suggest using the KAF fluff, sprinkle, sweep method explained under "measuring standards". We hope you'll give this method a try before switching to Bread Flour, which might get you more rise but also a tighter crumb. Mollie@KAF
I just made this couple nights ago. Instead of using a panettone pan, I used a 9"x5" pan and baked at 350 degrees for ~45-50 minutes per instructions from my inquiry to King Arthur email directly. The flavor of the panettone is fantastic. Really love it. The dough, however, is very wet - as wet as the English Muffin toasting bread recipe on the KAF website. Despite the wetness of the dough, first rise happened as expected. After first rise, however, it was still very wet which made it virtually impossible to knead in the dried fruit without making a sticky mess everywhere (even adding flour on the board multiple times.) As a result, the fruit was unevenly distributed in the loaf (more concentrated on the surface) and I only used about two-thirds of the dried fruit... The loaf tasted great. My experience in making this panettone was not as pleasant as I would have hoped - mainly due to the wetness of the dough. I want to give it another try tomorrow so I'm hoping to get some advice from KAF! 1. Is the dough supposed to be this wet?! (I checked my measurement many times, and I always weigh all the dry ingredients instead of using volume) 2. If the dough is indeed supposed to be wet, how best do I mix in the dried fruit after first rise without stirring it like batter? Thank you for your help.

We're so sorry to hear your experience in make this dough wasn't particularly enjoyable, Daisy. It sounds like there may have been a bit of extra moisture in the air that day, and the dough just needed a little more flour in the initial mixing. Next time, when you're kneading the dough together, aim to get it to a smooth and tacky consistency. It should feel a little like a sticky note or a piece of tape when you poke it. Having that little extra flour in there will make the dough much easier to work with when mixing in the fruit so you can get some nice even distribution. Annabelle@KAF