A customized print-friendly version of this recipe is available by clicking the "Print Recipe" button on this page.
Peanut Butter Marshmallow Pie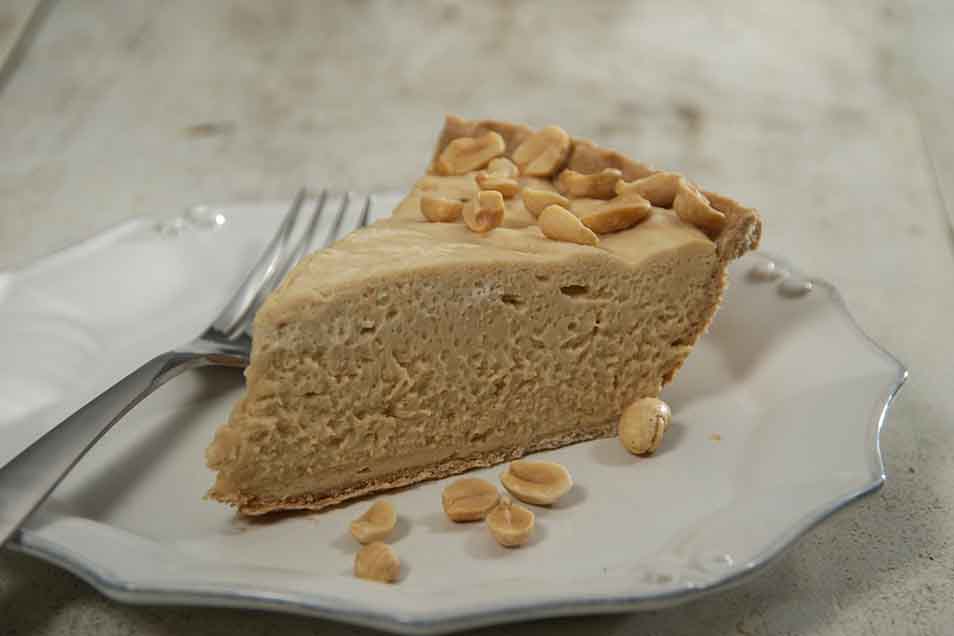 Peanut butter and Marshmallow Fluff, aka The Fluffernutter, has been a favorite New England sandwich for generations. This recipe brings you that sweet and salty flavor combination in a light and fluffy pie, complete with homemade graham crust. Imagine you're back in school trading baseball cards with sticky fingers...
Ingredients
Graham Flour Crust
1/2 cup butter, softened
2 tablespoons sugar
3/4 teaspoon salt
1 egg yolk
1/4 cup milk
Fluffernutter Filling
2 cups heavy cream, chilled
1/2 cup fat-free half & half
1 scant tablespoon Instant ClearJel
2 tablespoons sugar
1 cup Marshmallow Fluff
1 1/4 cup peanut butter, divided
Instructions
For the crust: Cream the butter, sugar, and salt in the bowl of your mixer until light and fluffy. Add the egg yolk and blend well.

Add 1 cup of the graham flour and blend until the mixture smooths out. It will seem quite sandy at first, but will be cohesive in 1 to 2 minutes.

Add the milk and the remaining cup of flour. Beat until the mixture forms a moist, firm dough. It will feel very similar to cookie dough.

Divide the dough into two equal portions and wrap each in plastic wrap. Chill for at least 2 hours, or up to overnight.

Remove one piece of the chilled dough (save the other for another project) and roll on a lightly floured surface to fit a 9" pie pan. Place the dough in the lightly greased pan and bake in a preheated 350°F oven for 8 to 10 minutes, until browned and fragrant. Cool completely before adding the filling.

To prepare the filling: Place the cream and fat free half and half in the bowl of a stand mixer fitted with the whisk attachment. Beat until the whisk leaves a trail in the cream.

Blend together the sugar and Instant ClearJel in a small bowl. This will prevent clumping when adding to the filling. Add the sugar/Instant ClearJel mixture, one cup of peanut butter, and the Fluff to the cream. Beat until well combined, thick, and fluffy. Little unblended bits of Fluff are fine, even desirable depending on your taste.

To assemble: Spread the remaining 1/4 cup of peanut butter in the cooled pie shell. Heap in the fluffy filling, spreading to fill the shell.

Loosely cover the pie with plastic wrap and chill for at least 4 hours, or overnight. Serve cold.

Yield: one 9" pie, 8 to 10 servings.
Tips from our bakers
For a peanut butter-marshmallow-jam pie, add dollops of your favorite jam on top of the pie filling, and gently swirl in before chilling.
Chocolate sauce drizzled over individual servings makes a treat that will remind you of your favorite peanut butter cup candy.
Reviews
The description of clear jel says it can be subbed 1:1 for cornstarch. For this recipe could I use cornstarch then?

That's a good question, Amanda! Since the filling in this pie isn't baked, we wouldn't suggest using cornstarch. It does work fairly well in a more traditional pie in which the filling is baked with the crust, such as a fruit pie. Happy baking! Kat@KAF
I am giving 5 stars for the filling...the crust not so much. The graham flour has to strong wheat taste and just wrong with this lovely filling. I made it again using a cookie butter crust, a layer of chocolate, and than the filling and it was in perfect.
I have to admit that I cheated and used a chocolate cookie crumb crust. I live in Wyoming and finding whole wheat pastry flour is impossible, and I wanted to try this pie before going on a diet. It was to die for! Really decadent! I love peanut butter and this recipe has all the others I have tried beaten hands down! Way to go KAF!
My first swing at this recipe got lukewarm reviews from the kids. Second time around, I used a regular old graham cracker crust (kids found the graham flour crust to be a little "bitter"), and replaced the 1/4 cup of peanut butter with a simple chocolate ganache (3/4 cup cream, 2TB butter, 6 oz semi-sweet chocolate). My one daughter callled it "so amazing." I also used 2TB of KAF pie filling enhancer and 1TB of superfine sugar instead of the 1TB clearjel and 2TB sugar. Consistency was perfect.
What is the difference between instant clear gel and the Signature Secrets Culinary Thickener? I thought they were interchangable. When can you use one, when can you use the other?
The significant differences are these: Instant ClearJel must be combined with sugar before addition to prevent lumping. Signature Secrets may be added directly to hot and cold liquid. Please call us on the Hot Line: 800-827-6396, we're happy to assist you with ingredient selection. Frank @ KAF.
Was much improved with a layer of bitterweet chocolate lining the pie crust instead of more peanut butter - cuts the sweetness and adds great flavor. 1/3 cup melted chocolate would do it. Can substitute semisweet.
The taste brought me way back. One question though...Is there a substitute for clear gel?
In this application, there really isnt' a good substitute for the Clear-jel. Mary@ KAF