A customized print-friendly version of this recipe is available by clicking the "Print Recipe" button on this page.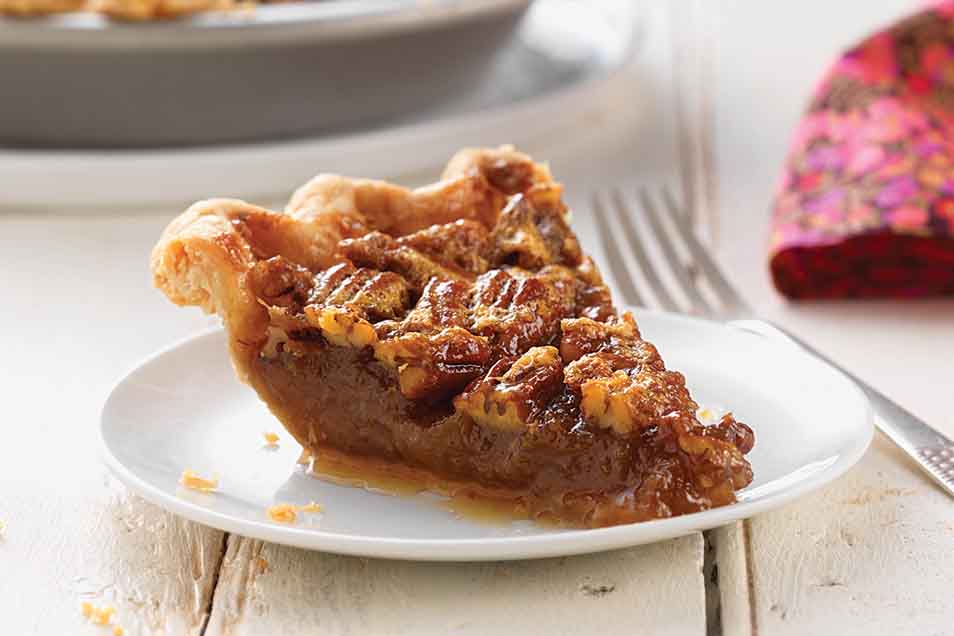 Pecan pie is a beloved institution; if you have a sweet tooth, this is your dessert. Our recipe lightly toasts some of the nuts in the filling with a sprinkle of salt, which makes the flavors even richer and balances the sweetness of the filling. The crunchiness of the nuts is a pleasing contrast to the silky filling that surrounds them. This is a pie that wears a small scoop of vanilla ice cream or dollop of whipped cream exceptionally well. Since it's such a rich pie, we recommend smaller portions, 10 slices from each pie instead of 8.

Our guarantee: This pie slices well after it's completely cool, and has just a hint of salt to balance out the sweetness of the filling.
Ingredients
Crust
1 1/2 cups King Arthur Unbleached Pastry Flour or King Arthur Unbleached All-Purpose Flour
1/2 teaspoon salt
1/4 cup vegetable shortening
1/4 cup (4 tablespoons) cold unsalted butter
1/4 cup plus 1 to 2 tablespoons ice water
Filling
1/2 cup chopped pecans
1/2 teaspoon salt
3 large eggs
1/2 cup dark corn syrup
1/2 cup light corn syrup
1/4 cup sugar
1/2 cup (1 stick) unsalted butter, melted
1 teaspoon vanilla
1 cup pecan halves
Instructions
To make the piecrust: In a medium bowl, whisk together the flour, and salt.

Cut in the shortening until it's in lumps the size of small peas.

Dice the butter into 1/2-inch pieces, and cut into the mixture until you have flakes of butter the size of your fingernail.

Add the water, two tablespoons at a time, mixing with a fork as you sprinkle the water into the dough

When the dough is moist enough to hold together when you squeeze it, transfer it to a piece of wax or parchment paper. It's ok if there are some dry spots in the pile. Use a spray bottle of water to lightly spritz these places; that way you'll add just enough water to bring the dough together without creating a wet spot.

Fold the dough over on itself three or four times to bring it together, then pat it into a disk 3/4-inch thick.

Roll the disk on its edge, like a wheel, to smooth out the edges. This step will ensure your dough will roll out evenly, without a lot of cracks and splits at the edges later. Wrap in plastic and refrigerate for 30 minutes before rolling.

Preheat the oven to 400°F. Lightly grease a 9-inch pie pan that's at least 2 inches deep. This will make serving the pie easier after it's baked.

Roll out the pastry for the pie to a 13-inch circle. Transfer it to the prepared pan, and trim the edges so they overlap the edge by an inch all the way around. Tuck the edges up and under, and flute them. Put the lined pie pan in the refrigerator to chill for 10 minutes.

Line the crust with foil or parchment paper, and fill it with pie weights or dried beans. Blind bake the crust for 10 minutes. Remove it from the oven, and gently remove foil or parchment with the weights or beans. Set the crust aside to cool while you prepare the filling. Reduce the oven temperature to 325°F.

Place the chopped pecans on a baking sheet. Sprinkle them very lightly with salt. When the oven temperature has fallen to 325°F, place the nuts in the oven to toast for 10 to 15 minutes, just until you can smell them. Remove them from the oven and set them aside to cool. Increase the oven temperature to 375°F.

Prepare the filling: In a medium-sized mixing bowl, beat together the eggs, corn syrups, sugar, butter and vanilla. Stir in the chopped pecans, and pour the mixture into the baked pie shell. Arrange the whole pecans on top.

Bake the pie for 45 minutes, or until it's puffed and the center seems fairly set. Remove the pie from the oven, and allow it to cool on a rack. As it cools, the center will sink; that's OK.

Cool completely before slicing; store in the refrigerator. Warm individual slices if you like before serving.
Nutrition Information
Serving Size

1 slice (112g)

Servings Per Batch

10
Amount Per Serving:
Calories

460

Calories from Fat

270

Total Fat

31g

Saturated Fat

11g

Trans Fat

0g

Cholesterol

100mg
Sodium

260mg

Total Carbohydrate

44g

Dietary Fiber

2g

Sugars

15g

Protein

5g
* The nutrition information provided for this recipe is determined by the ESHA Genesis R&D software program. Substituting any ingredients may change the posted nutrition information.
Tips from our bakers
Chilling the crust after putting it in the pie pan does two things: it makes the crust flakier, by firming up the fat before baking. It also gives the gluten a chance to relax, so it doesn't snap back when it's baked.
When blind baking the crust, make sure some of the pie weights, or beans are nestled up against the sides. This will keep the crust from slumping down into the pan.
Nuts need to toast at low oven temperatures. They have a lot of oil in them, and toasting with high heat means burned nuts, which is an expensive loss. Take your time and bake them slowly.
Reader Chris Parks emailed us the following suggestions. Thanks, Chris! "Eliminate the 1/2 cup light corn syrup; 1/2 cup of dark is enough. Increase the sugar to 1 cup and increase to 4 eggs. Also, add a teaspoon of vanilla. The filling will be higher and fluffier. I use chopped pecans also. It's so much easier to cut the pie when the pecans are chopped. I hope you enjoy this recipe, I know it blows away my friends and family!"
Reviews
So disappointed. I followed Chris's variation of the recipe exactly, baked at 375 degrees for 45 minutes, as stated. The result was a very darkened pie after just 45 minutes. The pecans were on the edge of being burnt. After reading reviews, I expected to have to bake it longer than 45, so I didn't check until that point. Unfortunately, I have to show up to my Thanksgiving with a dark pecan pie. If I made this recipe again, I would definitely drop the oven temp to 350, perhaps.

Claire, we're both surprised and sorry to hear that this baking temperature and time didn't produce a nicely baked pie for you. Usually this combination produces a golden brown crust and a nice set custard. If you're using a convection setting, try turning the temperature down by 25°F. It may also be worth checking the temperature of your oven with an independent thermometer, as ovens are notorious for running off temp. You can always check on your pie early and often to see how it's coming along. You can tent the pie with foil to keep it from browning too much. We hope that helps make your next pecan pie more successful. Kye@KAF
I noticed one of your bakers responded to a question about refrigerating this pie. The baker said it did not need refrigeration between the little time it was baked and eaten by the family. Shouldn't the baker have responded that the pie needs to be refrigerated after 2 hours to avoid bacteria (similar to cream pies) since there are no preservatives in this recipe.

Thanks for being an advocate for safety (as are we) by seeking some clarification, Lyn! Due to the nature of this pie (high sugar and baked) it's likely to be less perishable than some other foods. Of course, every environment and individual circumstance can introduce factors beyond our knowledge or control so that bakers must assess food-safe guidelines and their personal situation. Our understanding of the previous comment is that their reference to "lil time" outlines a food-safe window as recommended by the FDA/USDA. Noting your concerns, we've updated the previous response to provide some additional clarity. Happy baking! Jesse@KAF
Just made pie it was amazing my problem the filling was very wet I cooked it longer than it said but still soft after having 1 slice decide to put back in oven see if it will harden up Any suggestions?

Hello Mike- We just love pecan pie around here! It's technically a custard, so it's important to bake it just until it's set, regardless of the time. Your oven may vary slightly from ours. When it's puffed up a bit, test it by inserting a knife an inch in from the side- the blade should be clear, while the center is still a bit soft. Once it has been cut, you really can't finish baking it, but you can still scoop it with vanilla ice cream. Practice makes perfect, and who doesn't mind tasting pies for the sake of practice? Laurie@KAF
This recipe is absolutely wonderful and receives all the love in my book. But I do have a question for all bakers here as well as KAF: WHAT is the trick to blind baking without having your crust shrink?!!! I have tried everything: pie weights, foil, pricking, chilling dough for 24 hours, chilling rolled dough in the pie plate (freezing it!) overnight and then baking.....but every time, without fail, my crust shrivels up, shrinks down the sides, and I end up having to take it out early to reshape what I can (ruining my crimp) and cutting out some filling to accommodate the tiny crust. It's such a shame, and I'd really like to know any tricks you all have - because I feel like I've tried them all! I would really appreciate it. Love, A helpless baker

Chrissy, try using half shortening to make your pie crust if you aren't already. You'll get a delicious flavor from the butter, but the shortening has a higher melting point, which means it will hold its shape much better as it bakes. We also recommend checking out the article on our blog called "How to blind bake pie crust," as it includes a few other tips that you might find helpful. Kye@KAF
I make pecan pie for each holiday and usually use the recipe on the Karo syrup bottle. I've been making it for years and have gotten a little bored and so tried this for Easter. Perhaps I had too light a hand with the salt, but the verdict from my family was that they couldn't tell any difference from my usual pie. I was looking for a real salty-sweet flavor; I tasted it a bit but it was very subtle - I think if I weren't looking for it, I wouldn't have noticed. It's back to Karo syrup's recipe for me as it's not worth the extra time or effort for close to the same results.
I am remiss by not rating this pecan pie recipe several years ago: It is perfect, as written. Every Thanksgiving since 2012 it has graced our Thanksgiving fare; now it requested by my adult children as must-have-please-Mom Thanksgiving pie (in addition to the KAF pumpkin pie). While I respect those reviewers who use crushed pecans as the topping, I find the concentric salted pecan topping dramatic plus delicious. Thanks again, KAF folks, for providing yet another excellent recipe and instructions; you have a cherished reserved in-spirit chair at our Thanksgiving table.
I'm excited to try this recipe out with the suggestions that Chris Made... Question: He says, "Also, add a teaspoon of vanilla." Does he mean add a teaspoon MORE (to make it 2 tsp)?
1 t. in addition to the 1 t. already there. Enjoy! Elisabeth@KAF
I made this pie using reader Chris' alteration -- and WOW. For those reviewers who felt the filling was too dense or solid, try it again using Chris' way. He is right -- the filling bakes up higher and fluffier than most pecan pie recipes I have made (and I have made LOTS). Thank you to KAF for being open-minded and including his suggestions -- the changes make an amazing pie! (Please Note: That is NOT to say that the un-altered KAF recipe is not delicious also -- I have not made the original version, so please do not read this review as a comparison)
Expected this to be great as all your other recipes are. Followed directions exactly and made three. They looked beautiful, but had WAAAY too much butter in the filling. Enough so that after baking I thought they were not done yet in center but it was really butter separating. One of the pies has a 1/8 inch thick layer of butter in the bottom of the pan under the crust (Yes, I did blind bake the crusts. Yes, there were measured toasted chopped pecans in the filling, yes butter was melted and filling mixed thoroughly). Also at least one bubbled up and over with just butter so the crusts are really really buttery and the bottom of my oven now has a lot of burned butter. I put them back in oven for a few more minutes when I thought filling was still too un-done, and a few other commenters said they baked longer, so now pecans on the top are more brown than I would like, but this is way much butter on outside of pans etc. It has been a while since I baked pecan pies. I knew butter was in filing but did not think hard about how much. I have now checked several other recipes and they use ca 2 to 5 Tbsp for a 9-inch pie, not 1/2 c or 8 Tbsp. Can't recommend it this was. Although I do like the ides of the mixed corn syrups and the chopped pecans in the filling. Promised there for gifts and spent a lot of time with overlapping leaves on crust edges, and laying out pecans on top, etc. They did look lovely -- in fact they are the prettiest food I will have to toss out.
I'm so sorry you had such a hard time with this recipe and then had to throw it out! We would love to help you troubleshoot this recipe if you call the Baker's Hotline at 855-371-2253. Barb@KAF
Excellent, yummy..One question, does it need to be refrigerated during the 'lil time before the family gobbles it up?

*Updated 5/24/17* Knowing how delicious this recipe is, we have to assume that a "lil time" is a short window, indeed! We recommend sticking with FDA and USDA safe food handling guidelines, which do allow a brief period of time at which certain types of foods can be left at room temperature. You'll want to keep the pie covered to help prevent drying out. Kindly, Jesse@KAF