A customized print-friendly version of this recipe is available by clicking the "Print Recipe" button on this page.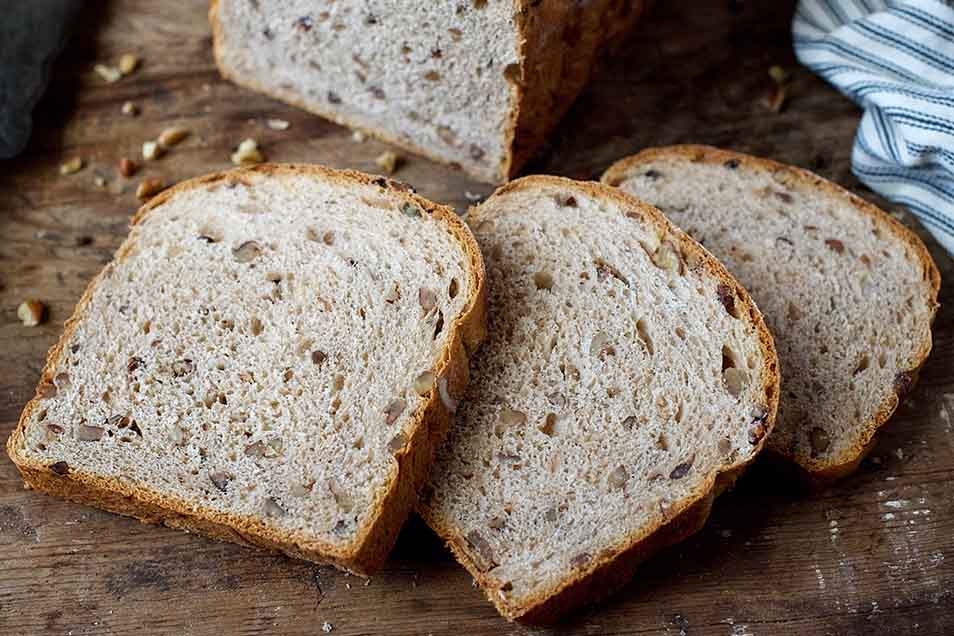 This loaf features the rich flavors of both wheat and pecans. Make it start to finish in your bread machine, or let the machine do the initial work, then take it out and bake it in your regular oven. Either way, it's a winner.
Instructions
To bake in a bread machine: Place all of the ingredients into the pan of your bread machine in the order recommended by the manufacturer. Program the machine for the basic cycle, and press Start.

Check the dough's consistency about 10 minutes before the end of the final kneading cycle, adding additional water or flour to form a soft, smooth ball of dough. Allow the machine to complete its cycle. Cool the bread completely before serving.

To bake in an oven: Program your bread machine for the dough or manual cycle. When the entire cycle is complete (including the rise), remove the dough and place it in a lightly greased 8 1/2" x 4 1/2" loaf pan.

Allow the dough to rise, covered, for about 1 hour, or until it's crowned about 1" over the rim of the pan.

Bake the bread in a preheated 350°F oven for 35 to 45 minutes, or until it's a deep golden brown and a digital thermometer inserted into the center of the loaf registers about 190°F. Remove the bread from the oven, turn it out of the pan, and let it cool on a rack.

Store completely cooled bread, well wrapped, at room temperature for several days. Freeze for longer storage.
Tips from our bakers
Can you make this bread without a bread machine? Of course. Simply mix and knead the dough by hand (or using a mixer), and follow the directions above for rising, shaping, and baking.
Reviews
I have baked probably 10-12 different KAF bread recopies and this has been one of the best. I subbed about an ounce of flax meal for an ounce of the pecans (I also diced the pecans a little finer) and the taste was amazing! The bread rose nicely, baked and browned great at 40 minutes in my oven, and is very versatile for sandwiches, french toast, etc. I calculated the nutrition info using a calculator on sparkpeople and if you cut this into 12 slices its 202 Calories per slice with tons of vitamins and minerals. A filling, healthy loaf!
I made this recipe the other day, it came out beautifully. I was so excited when it rose to this wonderful loaf of bread. The family loved it. I highly recommend it, you will not be sorry.
This is the most delicious bread I've had in a long time - tasty, moist, and the nuts give it crunch! And mine looked much better than the picture.
This is delicious and less dry than I expected from the picture. I used ONLY the ingredients listed and their exact measurements, choosing Premium Whole Wheat Flour instead of White WW, and walnuts instead of pecans, since those are what I had on hand. I did NOT use a bread machine at all. Being a novice bread baker and never using a bread machine to know its processes, the "tip" on how to make it without a bread machine only left me puzzled. It read like once I kneaded the dough, I was to shape it and put it directly in the loaf pan to rise, then bake it. Is that right, only one rise? I still don't know for sure. But, when I noticed the total time required, I surmised there must have been something I was missing. So, I looked at another bread recipe to see how it was done, and I ended up following that recipe's steps of letting it rise in a covered bowl, deflating, shaping, placing in the loaf pan, then letting it rise again. Had this recipe given better instructions without a bread machine, I would have given it 5 stars. I THINK I figured out what to do, or else I took an extra hour's worth of time, but either way, it turned out delicious! My husband actually said it deserves 5 stars. Lol. I just wish I knew if I added an extra step or not.

We apologize for any confusion, fellow baker. You're right in thinking that this dough needs to go through two rises. The first rise is completed in the machine and the second is in the loaf pan once the dough is shaped. We've asked our Recipe Team to clarify this timeline within the instructions to ensure smooth sailing from here on out! Kye@KAF
I am not an experienced bread maker, but I bought a good digital scale and digital thermometer which made an incredible difference in my bread making outcomes. This bread is my favorite bread of all time. It's delicious as is, or toasted. Makes fantastic sandwiches, French toast or bread pudding. You can't go wrong with this bread recipe. The past 2 times I've made it I used King Arthur Sprouted Wheat flour (which is their white whole wheat that's been sprouted) to substitute the white wheat flour in the recipe. It's a very moist bread and freezes very well. I've been trying other recipes for fun, but keep coming back to this one. After the bread cools, I slice the whole loaf with an electric knife and then freeze 3/4 of it since there is only one person in my household. You can take out as many slices as you want and it tastes as fresh as the day it was made.
Great recipe! I made as written -- almost. I substituted the same quantity of coconut sugar for brown sugar and added about 3/4 c. of dried cranberries. Texture was perfect and taste was delicious! Next time I will swap out some white flour for semolina flour as one reviewer suggested.
Easy to make and delicious to eat. I followed the recipe as written but did add 3/4 raisins. Nice bread to enjoy for breakfast. I will be making more today for family members.
So easy! I'm not a particularly experienced yeasted bread baker, but this came out perfectly. I made it in my stand mixer. Only had active dry yeast not instant, so had to let it rise an extra 25 minutes. Thanks to KAF for recipes that help build confidence.
First time I made this I only changed ingredient amount to fit mini Zo. Great results! The 3rd time I used 1/2 KAF bread flour, 1/4 white whole wheat flour, 1/4 semolina (just because I had so much pasta flour on hand). My gosh this change made great bread over the top! The addition of semolina seemed to make the texture perfect for sanwiches or toast.
I redid some of the measurements so I could bake in my mini zo bread machine. Came out almost perfect--needed to bake just a touch longer (very slightly doughy) so I'm not sure if that was in part due to my measurements? I did add some cinnamon to the dough which gave it great taste. I may try using regular yeast next time and the regular cycle to see if that helps. Any feedback on adjusting recipes for the mini zo machine is also appreciated!

Kathleen, if you're looking to be ultra-precise, check out the article on our blog about using baker's percentage to scale bread recipes up and down. You might find that some of your measurements are slightly different using this approach. Be careful adding cinnamon to yeast dough as it can impede the rise. Other than that, it sounds like you had quite delicious results already! Kye@KAF