A customized print-friendly version of this recipe is available by clicking the "Print Recipe" button on this page.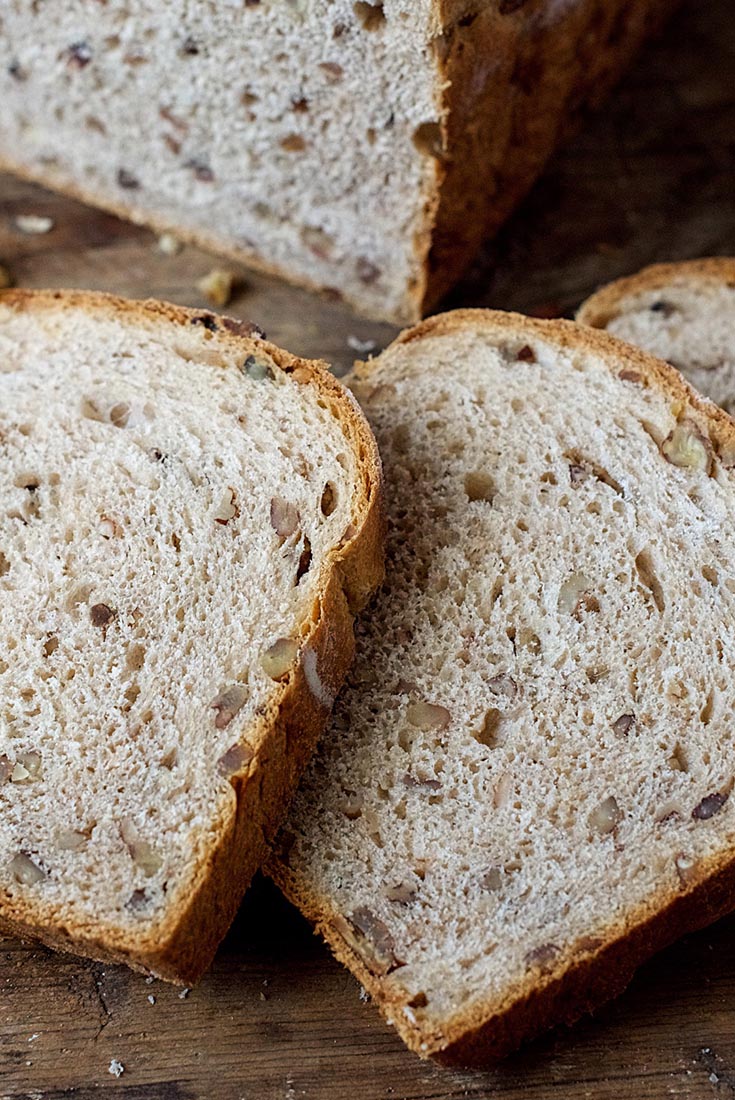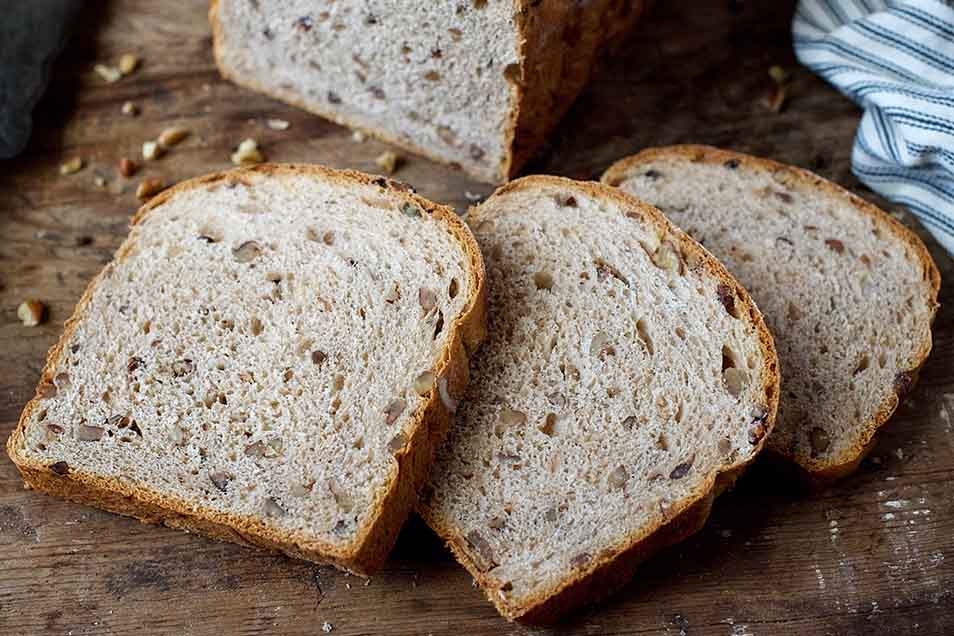 This loaf features the rich flavors of both wheat and pecans. Make it start to finish in your bread machine, or let the machine do the initial work, then take it out and bake it in your regular oven. Either way, it's a winner.
Instructions
To bake in a bread machine: Place all of the ingredients into the pan of your bread machine in the order recommended by the manufacturer. Program the machine for the basic cycle, and press Start.

Check the dough's consistency about 10 minutes before the end of the final kneading cycle, adding additional water or flour to form a soft, smooth ball of dough. Allow the machine to complete its cycle. Cool the bread completely before serving.

To bake in an oven: Program your bread machine for the dough or manual cycle. When the cycle is complete, remove the dough, and place it in a lightly greased 8 1/2" x 4 1/2" loaf pan.

Allow the dough to rise, covered, for about 1 hour, or until it's crowned about 1" over the rim of the pan.

Bake the bread in a preheated 350°F oven for 35 to 45 minutes, or until it's a deep golden brown and a digital thermometer inserted into the center of the loaf registers about 190°F. Remove the bread from the oven, turn it out of the pan, and let it cool on a rack.

Store completely cooled bread, well wrapped, at room temperature for several days. Freeze for longer storage.
Tips from our bakers
Can you make this bread without a bread machine? Of course. Simply mix and knead the dough by hand (or using a mixer), and follow the directions above for rising, shaping, and baking.
Reviews
Delicious bread. I made this in my bread machine, turned out beautifully. We made grilled cheese sandwiches to go with some homemade soup. My son says I need to make this again. Give it a try!
Wonderful made with walnuts. I did make changes based on what I had on hand (no bread flour or pecans) and switched the measurements of flours: 2 cups white whole wheat, 1 cup all purpose, plus 1 Tbsp vital wheat gluten to make up for no bread flour. I just threw all ingredients into my heavy-duty mixer and let it knead for 10 minutes, then a couple minutes of hand kneading. Also toasted the nuts slightly before mixing. Amazing flavor and texture. We finished the loaf in two days (that's probably not a good thing for me).
What a delicious bread! It came out exactly as described. I would love to make a larger loaf as an 8" x 4" is on the small side for sandwiches. Is there a proportion change I can make? I guess I could double the recipe and make rolls with the leftover dough. If I do that, do I double the yeast amount as well? Thanks!

Hi Carole! As a general rule of thumb, most yeast bread recipes can be easily doubled (including this recipe). You can simply multiply most ingredients, using anywhere from 1-2x the amount of yeast called for in the original recipe. The amount of yeast used can vary depending on your preference, with more yeast leading to a faster rise but less flavor development, and less yeast leading to more flavor development but a longer rise. If you plan to increase your bread recipe by a fraction (for example, make a 1.5x batch), you may want to use bakers' percentages, which we explain in some detail on our blog called "Baker's Percentage: Scaling bread recipes up and down the accurate (and easy) way." We hope this helps, and happy baking! Kye@KAF
A very tasty bread just eaten plain. I followed the ingredients list by weight exactly. Made in a stand mixer, using the paddle to develop gluten until dough formed a definite mass, then a minute more mixing with the dough hook. First rise 45 minutes, then into "loaf pan" until well risen above rim, about an hour. Per directions, baked 40 minutes at 350 F. Beautiful result. Problem: my greased recommended size "loaf pan" was Pyrex which required much work to release the bread. Next time (and there will be one soon) I will increase the amounts of ingredients by half more to fit in a normal metal bread pan.
Failed miserably with this recipe. Followed directions -- is it missing something? It never did knead properly in my bread machine. The pecans didn't mix into the loaf. It was basically unrisen after baking. Something not right...

Brenda, we're sorry to hear you had trouble making this recipe, and we'd love the chance to help you make it right. It sounds like perhaps there was too much flour added to the dough, which can make it dry, heavy, and stiff. (This may have been why the nuts weren't able to mix in and the dough didn't rise.) In order to ensure you're using the right amount of flour, we recommend clicking on the Measuring Standards link next to the ingredients header above. You'll see that the most accurate way to measure flour is by weight using a scale, but you can also use the fluff, sprinkle, sweep method if measuring by volume. We hope this makes your next loaf rise beautifully. Kye@KAF
I only had unbleached Flour in the house so I winged it and used just 3 cups of that and followed directions, except I threw in a Tbs of oatmeal to make it interesting. When I added my chopped pecans I also added a handful of dried cranberries.This was so easy ! I set my bread maker to the Raisin Bread Cycle and after checking to make sure it looked good just walked away and when it was done it had baked into a big soft perfect loaf of bread that wasn't too sweet to use for a sandwich and also perfect for a breakfast bread too . Very pleased with this recipe . Thank you for sharing King Arthur !
Top quality bread. Made this in a stand mixer. We were surprised at how the pecans enhanced to flavor of this very easy recipe. Dough handles well, easily formed into a loaf and enticing aroma. Nice surprise.
I just got a new Ankarsrum mixer and this was the first recipe I tried. I doubled it and kneaded for 10 minutes. First rise 1 hr., second rise in loaf pans 1 hr and baked at 350. Mine took around 45-50 min though it could be that my oven hadn't pre-heated enough. Glad I used an instant read thermometer or I would have taken it out too soon. The dough is soft and tender and easy to work with. This bread is excellent! My family agrees. The pecans are just the right touch for texture and the brown sugar gives a delicate sweetness to the bread, though this is not what you'd call a sweet bread. Think I'll make another loaf tomorrow to share with my neighbor!
Top quality bread. Made this in a stand mixer. We were surprised at how the pecans enhanced to flavor of this very easy recipe. Dough handles well, easily formed into a loaf and enticing aroma. Nice surprise.
How do I make this without a bread machine?

Hi Marian, we've included a Baker's Tip about how to make this recipe if you don't have a bread machine. "Can you make this bread without a bread machine? Of course. Simply mix and knead the dough by hand (or using a mixer), and follow the directions above for rising, shaping, and baking." We hope that helps, and happy baking! Kye@KAF