A customized print-friendly version of this recipe is available by clicking the "Print Recipe" button on this page.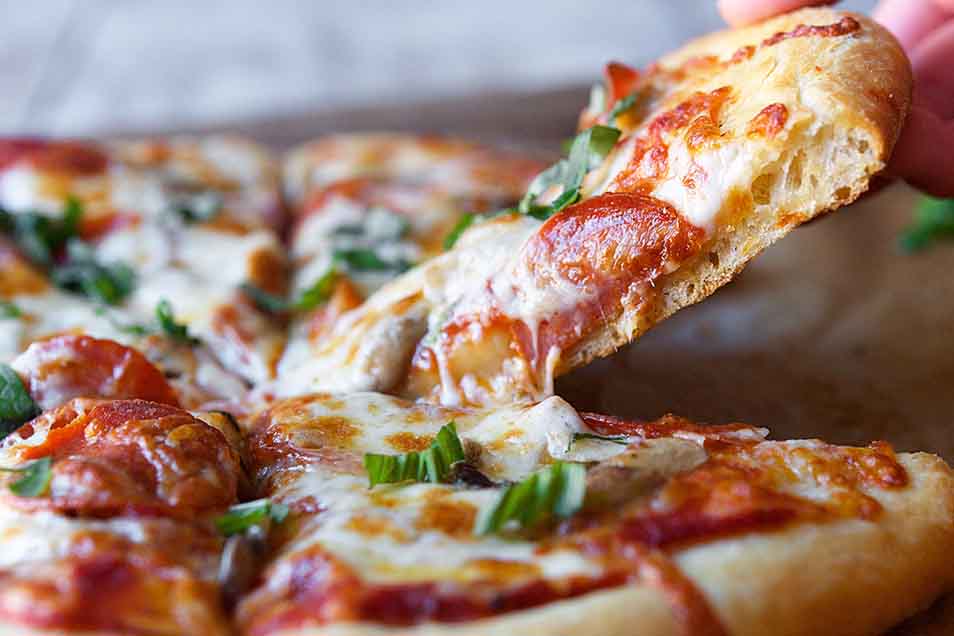 What a treat—hot homemade pizza, with exactly the toppings you like. And this crust adapts to YOUR schedule: make the dough now, and serve fresh pizza up to 2 days later. Please read this recipe all the way through before starting. It gives you a lot of baking options, and you want to choose the one that best fits your schedule.

Our guarantee: This flavorful pizza crust recipe is crisp when rolled ultra-thin, and chewy when made thick.


Ingredients
2 teaspoons active dry yeast or instant yeast
7/8 to 1 1/8 cups lukewarm water*
2 tablespoons olive oil
1 1/4 teaspoons salt
*Use the lesser amount in summer (or in a humid environment), the greater amount in winter (or in a dry climate), and somewhere in between the rest of the year, or if your house is climate controlled.
Instructions
If you're using active dry yeast, dissolve it, with a pinch of sugar, in 2 tablespoons of the lukewarm water. Let the yeast and water sit at room temperature for 15 minutes, until the mixture has bubbled and expanded. If you're using instant yeast, you can skip this step.

Combine the dissolved yeast (or the instant yeast) with the remainder of the ingredients. Mix and knead everything together—by hand, mixer or bread machine set on the dough cycle—till you've made a soft, smooth dough. If you're kneading in a stand mixer, it should take 4 to 5 minutes at second speed, and the dough should barely clean the sides of the bowl, perhaps sticking a bit at the bottom. Don't over-knead the dough; it should hold together, but can still look fairly rough on the surface.

To make pizza up to 24 hours later, skip to step 5.

To make pizza now: Place the dough in a lightly greased bowl, cover the bowl, and allow it to rise till it's very puffy. This will take about an hour using instant yeast, or 90 minutes using active dry. If it takes longer, that's OK; just give it some extra time.

To make pizza later: Allow the dough to rise, covered, for 45 minutes at room temperature. Refrigerate the dough for 4 hours (or for up to 24 hours); it will rise slowly as it chills. This step allows you more schedule flexibility; it also develops the crust's flavor. About 2 to 3 hours before you want to serve pizza, remove the dough from the refrigerator.

Decide what size, shape, and thickness of pizza you want to make. This recipe will make one of the following choices:
Two 1/2"-thick 14" round pizzas (pictured);
Two 3/4"-thick 12" round pizzas;
One 3/4" to 1"-thick 13" x 18" rectangular (Sicilian-style) pizza (pictured);
One 1 1/2"-thick 9" x 13" rectangular pizza;
One 1"-thick 14" round pizza.

Divide the dough in half, for two pizzas; or leave it whole for one pizza.

If you're making a rectangular pizza, shape the dough into a rough oval. For a round pizza, shape it into a rough circle. In either case, don't pat it flat; just stretch it briefly into shape. Allow the dough to rest, covered with an overturned bowl or lightly greased plastic wrap, for 15 minutes.

Use vegetable oil pan spray to lightly grease the pan(s) of your choice. Drizzle olive oil into the bottom of the pan(s). The pan spray keeps the pizza from sticking; the olive oil gives the crust great flavor and crunch.

Place the dough in the prepared pan(s). Press it over the bottom of the pan, stretching it towards the edges. You'll probably get about two-thirds of the way there before the dough starts shrinking back; walk away for 15 minutes. Cover the dough while you're away, so it doesn't dry out.

When you come back, you should be able to pat the dough closer to the corners of the pan. Repeat the rest and dough-stretch one more time, if necessary; your goal is to get the dough to fill the pan as fully as possible.

Allow the dough to rise, covered, till it's noticeably puffy, about 90 minutes (if it hasn't been refrigerated); or 2 to 2 1/2 hours (if it's been refrigerated). Towards the end of the rising time, preheat the oven to 450°F.

Bake the pizza on the lower oven rack till it looks and feels set on top, and is just beginning to brown around the edge of the crust, but is still pale on top. This will take about 8 minutes for thinner crust pizza; about 10 to 12 minutes for medium thickness; and 12 to 14 minutes for thick-crust pizza. If you're baking two pizzas, reverse them in the oven (top to bottom, bottom to top) midway through the baking period.

To serve pizza immediately: Remove it from the oven, and arrange your toppings of choice on top. Return to the oven, and bake on the upper oven rack for an additional 10 to 15 minutes, until the crust is nicely browned, both top and bottom, and the cheese is melted. Check it midway through, and move it to the bottom rack if the top is browning too much, or the bottom not enough.

To serve pizza up to 2 days later: Remove the untopped, partially baked crust from the oven, cool completely on a rack, wrap in plastic, and store at room temperature. When ready to serve, top and bake in a preheated 450°F oven, adding a couple of minutes to the baking times noted above. Your goal is a pizza whose crust is browned, and whose toppings are hot/melted.

Remove the pizza from the oven, and transfer it from the pan to a rack to cool slightly before serving. For easiest serving, cut with a pair of scissors.
Nutrition Information
Serving Size

1/12 crust

Servings Per Batch

12
Amount Per Serving:
Calories

130

Calories from Fat

25

Total Fat

2.5g

Saturated Fat

0g

Trans Fat

0g

Cholesterol

0mg
Sodium

240mg

Total Carbohydrate

22g

Dietary Fiber

1g

Sugars

0g

Protein

4g
* The nutrition information provided for this recipe is determined by the ESHA Genesis R&D software program. Substituting any ingredients may change the posted nutrition information.
Tips from our bakers
Make pizza any shape or size or thickness you like; the above guidelines are simply suggestions. Understand that the thickest-crust pizza will need to bake longer than the thinnest-crust version.
To freeze partially baked pizza crust: Bake crust as directed in step 13. Remove from the oven, cool to room temperature, wrap well, and freeze for up to 3 months. When you're ready to serve pizza, remove the crust from the freezer, and allow it to thaw, loosely wrapped, at room temperature. Once it's completely thawed, complete pizza by starting at step 15 above.
What else can you to with this tasty crust? How about fresh, hot cheese stuffed bread sticks? Our step by step blog will show you what pitfalls to avoid on your way to these pizza shop favorites.
Reviews
We live on a farm and pizza is always cold by the time we pick it up and get home. This recipe gave us 2 large pizzas! It was fun building them and have decided no more take out, this were much better. Thank you!
well I dont know what happens with my dougt but it was very hard almost like a crackers but much harder. and the dought was so sticky that I dont know how i manipulated it into the baking sheet

Odile, we're sorry this didn't work out for you! For very sticky dough, you can replace a small amount of the water with olive oil, which will also help make your final crust more tender. There's a possibility that your oven was not quite hot enough, which would cause it to get hard all the way through instead of forming a nice crust on the outside but leaving the inside soft. Regardless, it sounds like it was somewhat overbaked. If you scroll all the way down to the bottom of our website, you can find a link to our Baker's Hotline listed under "customer service." While we don't recommend making international telephone calls, you can also chat with our helpful bakers online from that page. They should be able to help you pinpoint exactly where your pizza crust went awry and figure out how to make it better next time. Happy baking! Kat@KAF
Made thin crusts from this for the first time, and after trying lots of recipes online previously, I don't feel the need to try any new recipes anymore. This is the one for me!
My sister-in-law in Texas made this, and it came out fantastic. I live at high altitude. Will I need to adjust the recipe at all? I'm at almost 10,000 feet above sea level.
I had another question: When making for later and refrigerating the dough- when you take it out should it sit for any amount of time before moving to the divide/shape step?

Let the dough rest at room temperature for anywhere between 30 minutes and a few hours before shaping and baking, depending on how much you want the dough to rise. The longer it rests, the more bubbly your final crust will be (assuming you stretch the dough gently and maintain some of the air bubbles). Happy pizza baking! kye@KAF
Made it twice but it was definitely best the first time. I was worried about 'over kneading' and not sure what consistency the dough should have when properly kneaded/prepped. First time it was sticky, second time it was dry and I could barely stretch it to fit the two 14" round pans. First time it came out about the right thickness (on half sheet) and was very good. Second, it was very thin, hardly rose at all on the pan. Any ideas what might be wrong and let me know what the dough should look/feel like. I gave 5 stars because it was very good and I think once I get the hang of it, this will be a go to recipe.

We're happy to help, Amber! It sounds like the first time, you got it pefect. You want the dough to be tacky, soft like your cheek, bouncy when you poke it, (think marshmallow-like) and smooth.

We have a feeling that your second batch had too much flour in it which would make it really tough to work with, dry, and unable to rise well.

Over-kneading in a mixer can also cause the gluten to really tighten up which would make it pretty impossible to stretch/roll it out without it bouncing back. If that's happening, cover it with plastic wrap and let it rest for 15 to 20 minutes. We know with another tasty batch or two, you'll have this recipe down pat! Annabelle@KAF
What temperature do you parbake dough?!

If you're looking to parbake your pizza crust, bake at 450°F for about 5 to 8 minutes. The crust should puff up slightly and just start to show a hint of color around the edges. It should feel firm enough to lift up the edge without flopping over, but it shouldn't be fully cooked. You can save the parbaked crust for using later, or you can top generously with toppings and proceed with the bake until the cheese is melted and golden. Enjoy! Kye@KAF
This is the best pizza crust. We used cast iron pans (looks like a frying pan with crepe pan sides) on the grill. The crust browned nicely and had that perfect chew and crunch.
Dear KAF: I loooove your various pizza crust recipes! They are like gourmet restaurant quality :D But I have a quick question... Could I replace the water in this recipe with milk (198-255g)? Or sour cream? Or yogurt? Because I love more than anything your site's bread recipes that include one of the aforementioned ingredients. It really gives the dough that something extra. But whenever I try switch up ingredients on my own everything turns out really awful. So hopefully you can give me advice on what to do here? :) Because I would be soooo sooooo grateful! :) :) But thank you so much in advance for your time & help. And thank you again for all the amazing recipes on your site which make people thing I'm the most amazing baker ever haha :D <3

We're happy to tell you that you can absolutely use milk in place of the water, fellow baker! The results will be more tender, soft, and rich, rather than crispy. You can do a 1:1 swap and use whatever kind of milk you like. Happy baking! Annabelle@KAF
One of the pizzerias we like has a chewy/doughy crust for their pizza. I used 2 c AP flour and almost a cup of bread flour to achieve that texture with this recipe. And, I like to put about a tablespoon of honey in when testing the yeast. The flavor is light, and I really like the results. I encourage you to change things up a little, even though this recipe has few ingredients. You can level up how you like!