A customized print-friendly version of this recipe is available by clicking the "Print Recipe" button on this page.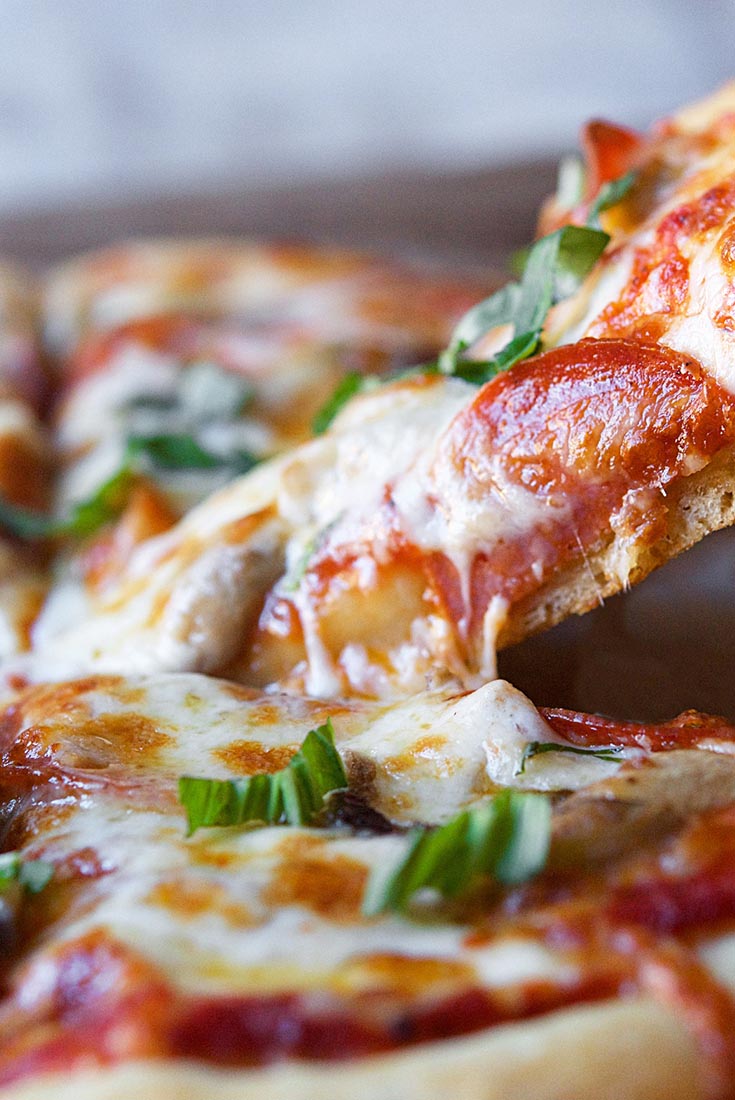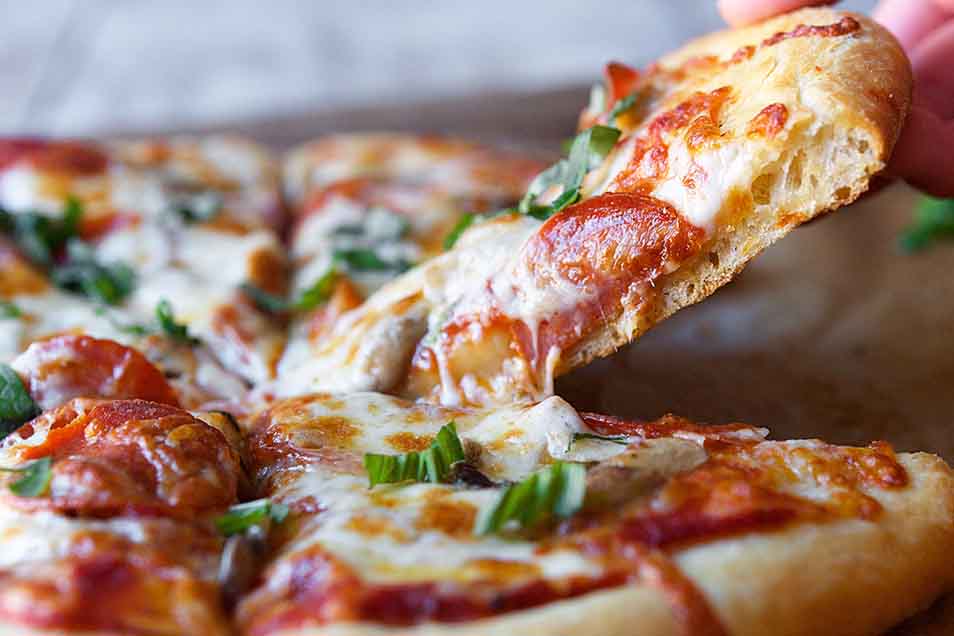 What a treat—hot homemade pizza, with exactly the toppings you like. And this crust adapts to YOUR schedule: make the dough now, and serve fresh pizza up to 2 days later. Please read this recipe all the way through before starting. It gives you a lot of baking options, and you want to choose the one that best fits your schedule.

Our guarantee: This flavorful pizza crust recipe is crisp when rolled ultra-thin, and chewy when made thick.


Ingredients
2 teaspoons active dry yeast or instant yeast
7/8 to 1 1/8 cups lukewarm water*
2 tablespoons olive oil
1 1/4 teaspoons salt
*Use the lesser amount in summer (or in a humid environment), the greater amount in winter (or in a dry climate), and somewhere in between the rest of the year, or if your house is climate controlled.
Instructions
If you're using active dry yeast, dissolve it, with a pinch of sugar, in 2 tablespoons of the lukewarm water. Let the yeast and water sit at room temperature for 15 minutes, until the mixture has bubbled and expanded. If you're using instant yeast, you can skip this step.

Combine the dissolved yeast (or the instant yeast) with the remainder of the ingredients. Mix and knead everything together—by hand, mixer or bread machine set on the dough cycle—till you've made a soft, smooth dough. If you're kneading in a stand mixer, it should take 4 to 5 minutes at second speed, and the dough should barely clean the sides of the bowl, perhaps sticking a bit at the bottom. Don't over-knead the dough; it should hold together, but can still look fairly rough on the surface.

To make pizza up to 24 hours later, skip to step 5.

To make pizza now: Place the dough in a lightly greased bowl, cover the bowl, and allow it to rise till it's very puffy. This will take about an hour using instant yeast, or 90 minutes using active dry. If it takes longer, that's OK; just give it some extra time.

To make pizza later: Allow the dough to rise, covered, for 45 minutes at room temperature. Refrigerate the dough for 4 hours (or for up to 24 hours); it will rise slowly as it chills. This step allows you more schedule flexibility; it also develops the crust's flavor. About 2 to 3 hours before you want to serve pizza, remove the dough from the refrigerator.

Decide what size, shape, and thickness of pizza you want to make. This recipe will make one of the following choices:
Two 1/2"-thick 14" round pizzas (pictured);
Two 3/4"-thick 12" round pizzas;
One 3/4" to 1"-thick 13" x 18" rectangular (Sicilian-style) pizza (pictured);
One 1 1/2"-thick 9" x 13" rectangular pizza;
One 1"-thick 14" round pizza.

Divide the dough in half, for two pizzas; or leave it whole for one pizza.

If you're making a rectangular pizza, shape the dough into a rough oval. For a round pizza, shape it into a rough circle. In either case, don't pat it flat; just stretch it briefly into shape. Allow the dough to rest, covered with an overturned bowl or lightly greased plastic wrap, for 15 minutes.

Use vegetable oil pan spray to lightly grease the pan(s) of your choice. Drizzle olive oil into the bottom of the pan(s). The pan spray keeps the pizza from sticking; the olive oil gives the crust great flavor and crunch.

Place the dough in the prepared pan(s). Press it over the bottom of the pan, stretching it towards the edges. You'll probably get about two-thirds of the way there before the dough starts shrinking back; walk away for 15 minutes. Cover the dough while you're away, so it doesn't dry out.

When you come back, you should be able to pat the dough closer to the corners of the pan. Repeat the rest and dough-stretch one more time, if necessary; your goal is to get the dough to fill the pan as fully as possible.

Allow the dough to rise, covered, till it's noticeably puffy, about 90 minutes (if it hasn't been refrigerated); or 2 to 2 1/2 hours (if it's been refrigerated). Towards the end of the rising time, preheat the oven to 450°F.

Bake the pizza on the lower oven rack till it looks and feels set on top, and is just beginning to brown around the edge of the crust, but is still pale on top. This will take about 8 minutes for thinner crust pizza; about 10 to 12 minutes for medium thickness; and 12 to 14 minutes for thick-crust pizza. If you're baking two pizzas, reverse them in the oven (top to bottom, bottom to top) midway through the baking period.

To serve pizza immediately: Remove it from the oven, and arrange your toppings of choice on top. Return to the oven, and bake on the upper oven rack for an additional 10 to 15 minutes, until the crust is nicely browned, both top and bottom, and the cheese is melted. Check it midway through, and move it to the bottom rack if the top is browning too much, or the bottom not enough.

To serve pizza up to 2 days later: Remove the untopped, partially baked crust from the oven, cool completely on a rack, wrap in plastic, and store at room temperature. When ready to serve, top and bake in a preheated 450°F oven, adding a couple of minutes to the baking times noted above. Your goal is a pizza whose crust is browned, and whose toppings are hot/melted.

Remove the pizza from the oven, and transfer it from the pan to a rack to cool slightly before serving. For easiest serving, cut with a pair of scissors.
Nutrition Information
Serving Size

1/12 crust

Servings Per Batch

12
Amount Per Serving:
Calories

130

Calories from Fat

25

Total Fat

2.5g

Saturated Fat

0g

Trans Fat

0g

Cholesterol

0mg
Sodium

240mg

Total Carbohydrate

22g

Dietary Fiber

1g

Sugars

0g

Protein

4g
* The nutrition information provided for this recipe is determined by the ESHA Genesis R&D software program. Substituting any ingredients may change the posted nutrition information.
Tips from our bakers
Make pizza any shape or size or thickness you like; the above guidelines are simply suggestions. Understand that the thickest-crust pizza will need to bake longer than the thinnest-crust version.
To freeze partially baked pizza crust: Bake crust as directed in step 13. Remove from the oven, cool to room temperature, wrap well, and freeze for up to 3 months. When you're ready to serve pizza, remove the crust from the freezer, and allow it to thaw, loosely wrapped, at room temperature. Once it's completely thawed, complete pizza by starting at step 15 above.
What else can you to with this tasty crust? How about fresh, hot cheese stuffed bread sticks? Our step by step blog will show you what pitfalls to avoid on your way to these pizza shop favorites.
Reviews
I Love, Love, Love this recipe! My favorite pizza is a nice, thin Margherita-style. I half the recipe for one 16" round pie, with the exception that I use the full 2 TBLS of olive oil from the full recipe in the dough. Then I follow the recipe exactly except that instead of spray cooking oil on the pan I use just olive oil on the pan. (I guess it's obvious that I LOVE olive oil!) After letting the dough rise the prescribed 90 minutes, the initial spread out on the pan, then the second rise and final shaping I go ahead with the par-cook, and I want to stress making sure your oven shelf rack is on the lower rack, not necessarily the bottom rack, but the one below the middle ... and if you have a convection fan, turn it on! It helps to circulate the heat and cook it evenly. I also check for crust "bubbles" through the window and quickly hit them with a fork and close the door, but that isn't really necessary. I just like a pretty, even pizza. After the par-cook I let the crust cool a minute or two, then I top with a medium-light swirl of tangy north Italian style pizza sauce; then a generous (but not too heavy) layer of store-bought shredded pizza cheese (mozzarella/provolone/Parmesan/Romano); then I top the shredded cheese with very thinly sliced fresh vine ripened tomatoes (you need to use a VERY sharp chef's knife to slice them thin enough ... if they're too thick your pizza will be SOGGY!); then fresh julienne sliced sweet basil; then red or white onion (very thinly sliced and quartered pieces), then lots of "pearls" or quartered slices of FRESH mozzarella .... then a light sprinkling of oregano, and if you DARE ... another light drizzle of more olive oil!!! It's AWESOME! I've even converted people that are fans of "loaded pan pizza", which I call "American Goulash pizza" with this fresh tasting recipe! I've tried many other pizza crust recipes ... this one is the BOMB!!!
I am super pleased with this recipe. I did not par bake and I stretched a pretty large rectangle pizza. It was a nice thin crust, airy and flavorful. I put a bit of dried rosemary and thyme in the dough and it for me was a nice touch.
The pizza crust was cracker-like, as I anticipated from par-baking the crust before adding toppings. I was dissappointed, and I won't be making this again.

We're sorry to hear this method of making pizza crust didn't deliver the texture or overall results you were hoping for. Some bakers don't like the way par-baking affects their pizza; if you prefer a soft, chewy crust then you might want to stretch your dough less so that it's thicker from the edges to the center. Skip the par-baking step and just be sure that you don't top the pizza too heavily. Otherwise, the center may be soggy instead of just soft and chewy. We hope these tips help you make the perfect pizza next time. Good luck! Kindly, Kye@KAF
Not bad. The recipe is a bit confusing and the taste is a little salty. I halved the recipe for one rectangular pizza and only did a 30 minute second rise and it turned out just fine. Nice thin crust. In my oven it took 15 minutes on a pre-heated pizza stone at 500F for well-done pizza. I'll try less salt next time.
Thick and fluffy. The bread overtakes the flavor of the toppings. Good pretzel recipe.
Honestly the dough was good but the directions were really confusing. Just tell me how to do it and leave in the footnotes how to modify. I'm still unclear if the recipe was calling for me to parbake the dough before adding toppings.
GREAT dough ! we use it for much of our dough needs found this recipe and stuck with it !
I loved this recipe. However, I only followed the ingredients and simplified the directions of the recipe a lot. I let it proof for over 90 min. Shaped it into a ball and let rest for about thirty minutes. Spun it into a circle, spread some pesto, chorizo, cherry tomatoes, and basil on top and baked at 550 degrees. A much easier procedure for a crust that's probably just as tasty as the one listed in the actual recipe above.
This turned out very nice although you really have to allow adequate time because i found it to be a lengthy procedure. I used a pizza stone and shaped the dough to fit the full size of the stone. I used a little semolina flour on the bottom to help it be crispy on the bottom. I also used King Arthur pizza dough seasoning and pizza seasoning. I thought the whole thing came out great, bottom was very crispy, top soft. i feel proud of myself!! haha (lol, actually i really do feel proud)!!
Great pizza! I used my 24 year old bread maker for the dough, and then followed this recipe with a very tasty result. My opinion is that a thin crust doesn't require the pre-bake. However, King Arthur high quality flour was the key ingredient.