A customized print-friendly version of this recipe is available by clicking the "Print Recipe" button on this page.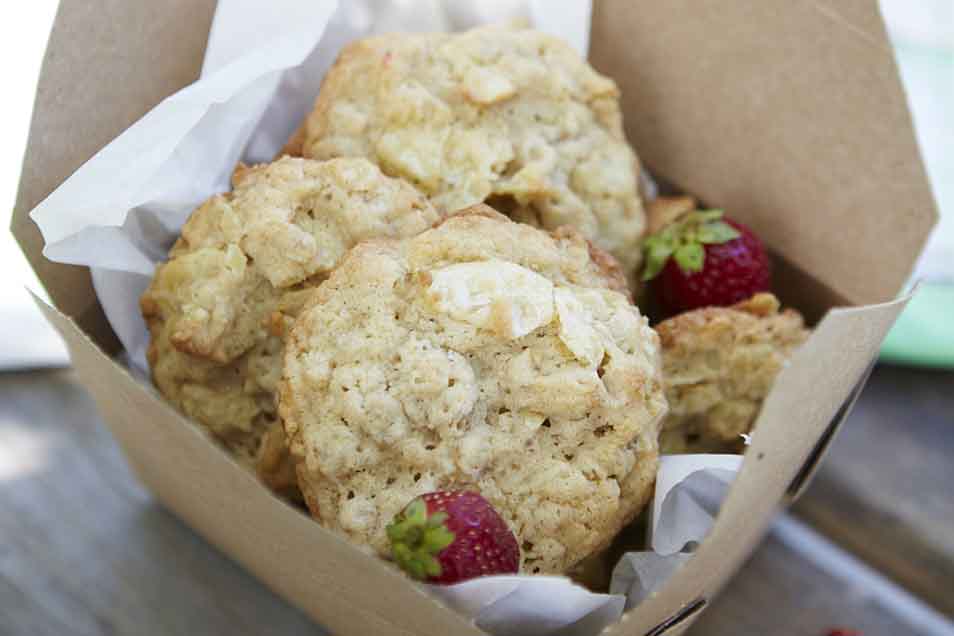 Potato chip cookies? No joke. Crushed potato chips add salt and crunch to these sweet little nuggets.
Ingredients
1/2 cup vegetable shortening
1/2 cup granulated sugar
1/2 cup firmly packed brown sugar, light or dark
1/2 teaspoon salt
1 teaspoon baking powder
1 teaspoon vanilla extract
1 large egg
1 cup rolled oats, traditional or quick
1 cup King Arthur Unbleached All-Purpose Flour
1 2/3 cups gently crushed potato chips
additional salt for sprinkling on top, optional
Instructions
Preheat the oven to 350°F. Lightly grease (or line with parchment) two baking sheets.

Beat together the shortening, sugars, salt, baking powder, and vanilla.

Beat in the egg, then stir in the oats and flour, mixing till cohesive. The dough will be stiff.

Gently stir in the potato chips.

Drop the dough in chestnut-sized pieces (about 1 level tablespoon) onto the prepared baking sheets, leaving about 1 1/2" space around each cookie.

Bake the cookies for 12 minutes, until they're barely beginning to brown. This will yield a cookie that's crunchy on the outside, and softer within. For a cookie that's crunchy/hard all the way through, bake for 14 to 15 minutes, till light golden brown.

Remove the cookies from the oven, and cool right on the pan.

Yield: about 42 cookies.
Reviews
Delightfully different! It was love at first bite for us. I used Kroger wavy chips and quick oats, and convection baked at 325 degrees for 10 minutes. I didn't crush the chips much at first so they could handle being 'stirred in' with the mixer at the end. I did add the salt (pink himalayan sea salt this time) and it was a perfect addition. If you are at all hesitant - and I bake LOTS of cookies - please try these!
These are a decadent, different cookie. I had the same experience as others who only got about two dozen cookies. I agree with those who dusted the cookie tops with sea salt. When I make these again I may use slightly less potato chips as they made a few cookies crumble apart.
I just made these using KA Measure for Measure gluten free flour. They are terrific. I baked them for twelve minutes, turning the pan after the first six. The outside, especially the bottom is slightly firm and the inside is tender. I put a few grains of Maldon Sea Salt on top of each cookie - perfection!
These cookies are delicious! I adopted suggested revisions from other commets by substituting 3/4 ounce of butter for 3/4 ounce of the vegetable shohrtening. I also used kettle cooked potato chips and added in 6 ounces of bittersewwt chocolate chips. Don't skip the optional sea salt on top of the cookies! It is the WOW factor that sends these cookies over the top.
I love these cookies! I've made them several times now and I like them better each time. I substitute just a couple tbsps of butter with the vegetable shortening and it makes a noticeable improvement in the flavour. Cape Cod Kettle cooked potato chips are sturdy enough to stand being beaten into the dough with the electric mixer. Don't skip the sea salt! I'm going to try dressing these up with a chocolate dip (chocolate covered potato chips?) for my Christmas cookies collection this year.
These were just so good! In addition to the potato chips, I added chocolate chips!! These cookies are so light and delicate and easily consumable!!
I made these with kettle style barbecue chips...that's what I had, and I sprinkled them with a little salt, as suggested, before baking. I baked them for about 10 minutes. They came out great - soft with a sweet/salty taste. They were easy and quick to go together. I got 40 cookies out of the recipe. I am sending them off to my niece in the Navy ROTC program. She and her friends really appreciate home made!
Unusual and delicious! Made with the metric weight recipe, and Kettle Chips. Might be interesting to try with the Salt & Pepper, or Mesquite Barbecue flavors. I tried to stick to the suggested cookie size and the recipe made about 3-1/2 dozen.
Awesome!! Great combination of sweet and salty. Use the kettle chips. Great cookie. The recipe did only make about 2 dozen cookies.