A customized print-friendly version of this recipe is available by clicking the "Print Recipe" button on this page.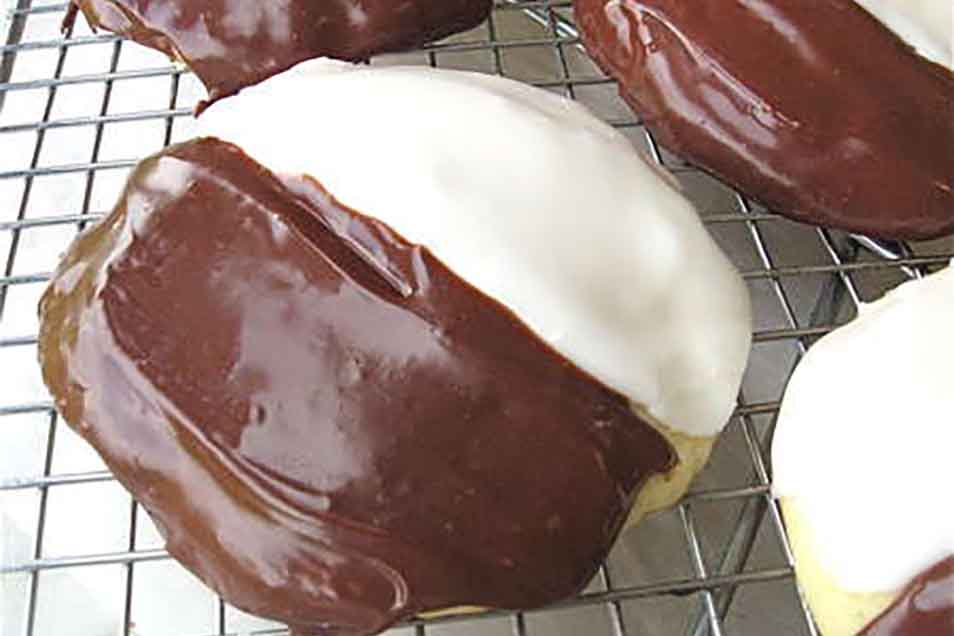 Also knows as Half-Moon Cookies, or just plain Black and Whites, these jumbo cookies are soft and cakelike, and would be quite plain save for their faint hint of lemon, and the vanilla and chocolate icings on top. Their distinctive taste (and look) seem to be the main attraction for kids... and truth be told, their parents as well.

Informal research tells us these cookies are New York City natives. In fact, we've seen a recipe titled New York Black and White Deli Cookies; and the corner deli is where you'll most likely find them in NYC, as the sweet counterpoint to a pastrami on rye and a half-sour.
Ingredients
Cookies
1 cup butter*
1 1/2 cups granulated sugar
1 1/2 teaspoons salt
1 tablespoon baking powder
1/8 teaspoon lemon oil, or 1 teaspoon grated lemon rind
2 teaspoons vanilla extract
3 large eggs
4 1/2 cups King Arthur Unbleached All-Purpose Flour
1 cup milk (regular or low-fat; not nonfat)
*If you use salted butter, reduce the salt in the recipe to 1 teaspoon
Vanilla icing
3 1/3 cups confectioners' sugar
3 tablespoons light corn syrup
3 tablespoons hot water
3/4 teaspoon vanilla extract*
*For the whitest icing (at the cost of reduced flavor), omit the vanilla
Chocolate icing*
2 2/3 cups confectioners' sugar
3 tablespoons light corn syrup
3/4 teaspoon vanilla extract
1/4 cup hot water
1/4 teaspoon espresso powder, optional
3/4 cup semisweet or bittersweet chocolate (chips, or chunks), melted
*See "tips," below.
Instructions
Preheat the oven to 400°F. Lightly grease (or line with parchment) two baking sheets.

To make the cookies: Beat together the butter, sugar, salt, baking powder, lemon, and vanilla till well combined.

Beat in the eggs one at a time, beating well after each addition.

Stir in the flour alternately with the milk, beginning and ending with the flour. Do this gently; there's no need to beat.

Using a muffin scoop or a 1/4-cup measure, drop the dough onto the prepared baking sheets. With wet fingers, or the wet bottom of a measuring cup, flatten/spread the dough to a 3"-diameter circle. Leave 2" to 2 1/2" between each cookie; they'll spread.

Bake the cookies for 10 to 12 minutes, until they're set, and are perhaps a very light golden brown around the edges. If there's no sign of brown, that's OK. Cookies baked for 10 minutes will be quite moist. Cookies baked for 12 minutes will be drier, and more "authentic." Bake for 11 minutes for an in-between cookie.

Remove the cookies from the oven, and cool them right on the pan. As they cool, prepare the icing.

To make the vanilla icing: Whisk together the confectioners' sugar, corn syrup, and hot water. For a nice vanilla flavor, add the vanilla; for the whitest icing, omit it.

Spread the icing over half of each cookie. Place them on a rack to set while you make the chocolate icing.

To make the chocolate icing: Combine the confectioners' sugar, corn syrup, vanilla, hot water, and espresso powder. stirring till smooth.

In the microwave, or in a pan set over very low heat, melt the chocolate.

Add the melted chocolate into the sugar mixture, stirring till well combined.

Spread the icing on the uncovered half of each cookie. You'll have a generous amount of icing, so don't be afraid to pile it on.

Set the cookies back on the rack, and allow them to rest for about 30 minutes, till the icing is set.

For best storage, wrap each cookie individually, in plastic wrap, and store at room temperature.

Yield: 2 dozen large (3 3/4" to 4") cookies.
Tips from our bakers
Note that the chocolate icing recipe as printed makes a generous amount; you could probably ice 2 or 3 additional (whole) cookies with what's left over. We figure too much icing is better than not enough; and to write the recipe to make just enough would have resulted in lots of odd-amount ingredients. So go ahead and spread it thickly; there should be plenty to go around.
Red and white cookies are a nice holiday variation on this recipe. Make red and white cookies simply by making a double batch of the white icing above, and adding red food coloring to half.
For a simpler chocolate icing, combine 1 1/4 cups semisweet chocolate chips, 1/4 teaspoon espresso powder (optional), 1/3 cup heavy cream, and 1 1/2 tablespoons corn syrup in a microwave-safe bowl, or in a saucepan. Heat until the cream is steaming; stir until the chips are melted and the mixture is smooth. Spread on cookies while warm.
Reviews
These cookies are delicious! They definitely get better with age; the day after baking they taste absolutely perfect. I was originally worried because when I first made the vanilla icing I really disliked the taste, but I went with my gut (added a little bit of lemon juice and some more vanilla), iced the cookies, and they turned out great. Even though the icing is super sweet the cookies balances it well. The chocolate icing was absolutely delicious (espresso powder is a must), and these cookies received rave reviews when I brought them to a party. Thanks KAF!
This is really worth the effort to bake. They taste like the very best Black and Whites that I remember from the bakeries of my childhood in Connecticut. Cakey and delicious and the lemon oil adds just the right taste.
Very authentic! My wife is from New Jersey and always craves these cookies. We used the lemon oil instead of the rind and it turned out with just the right flavor. The cookies were just the right amount of cakeiness. Highly recommended.
I must have done something wrong, because my icing came out as a very runny glaze. Most of the cookies had a beautiful round, domed shape, but the icing was pretty disappointing. I followed the recipe exactly, so not sure how to fix it. I think I'd do better just melting straight chocolate and dipping the cookies in that.

We're sorry to hear that you ran into trouble with the icing, Sarah. It should set up as it cools, so if it didn't, something must have gone a little wrong here. We'd encourage you to give our free Baker's Hotline a call to troubleshoot with one of our bakers directly. Mollie@KAF
I made these for a friends birthday and they were very well received. The recipe yielded a beautiful and tender cookie and the chocolate and vanilla icing were beautiful. The vanilla icing in particular dried very shiny - I was pleased to see that; it reminded me of the cookies from the bakery we frequented growing up on Long Island. Although I made these cookies for a friends birthday, I kept some for my family. They loved them and brought a few to school to share with their friends. Next time I'll make the cookies a little smaller; I followed the recipe exactly (as I always do the first time) but next time I'll tweak it a bit here and there. I'll double the vanilla icing recipe too (I would have liked to have had more); but honestly the cookies looked beautiful and were delicious. This is a keeper, for sure.
KDMAGNUS was correct - this recipe as written will tend to give a tougher cookie, more biscuit-like than cake like. "Tougher" isn't really the right word- the texture is not very cake like, at any rate. She was also correct in noting the high amount of baking powder used, which I surmise is necessary to overcome the heavier quality of KAF's AP flour - which, at 11.7% protein, is very nearly bread flour - and in fact makes most excellent bread, but generally pretty poor cookies (its good for Alton Brown's version of chocolate chip cookies that calls for bread flour, though). 1T of baking powder is SIX TIMES higher than my preferred recipe (from the Brown Eyed Baker) for this cookie, which uses 1/2 tsp of baking powder with 4 C of cake flour. The recipe on Smitten Kitchen uses 1/2 tsp baking powder to FIVE cups of flour (1/2 cake flour, 1/2 standard AP such as GM or Pillsbury). So she was also right to note the high amount of baking powder being used in this recipe, and the KAF representative was wrong in her suggestion that the disappointing result of this recipe was somehow the reviewer's fault. These cookies are not bad per se - but they are not really what a black & white cookie is about. True "black and white cookies" are actually made from cake batter - the style has been called "drop cake". That is not THIS cookie.

We're pleased that you are finding recipes that you love, and hope that you have some you'll enjoy from King Arthur Flour, too. Happy baking! Laurie@KAF
Nice job on these, they are spot on! Native New Yorker here, and B&W cookies were always my first choice from the bakery as a child, and adult! (A close second would be the giant butter cookies with white icing and a piped chocolate smiley face!) The cookie part of this recipe went together very easily, and is literally just like making a cake. Scooped and baked easily, and I just used wet fingers to flatten/shape them.These are the perfect combination of cake and cookie, just as they should be, and the flavor of the cookies, with the hint of lemon is just right. I did add, and maybe-just maybe this was the magic ingredient, a tsp of "buttery sweet dough flavor" in place of one of the tsp's of vanilla. DO NOT skip the vanilla in the white frosting, as you will certainly miss it and will NEVER notice that they are not pure white. The chocolate frosting gave me trouble; bound right up on me when I added the melted chocolate, and was far too light in color and flavor. I fussed with it back and forth for some time to get it right; warmed it and added 1 oz of unsweetened chocolate and a tbsp or so of double dutch dark cocoa, which then turned into fudge. Warmed it again with a tbsp or so of heavy cream, still not right....added MORE cocoa and the last few bittersweet chips in my cupboard. Almost. More heat and a bit more cream...and FINALLY got it right. Phew. Frosting's always give me trouble. I actually didn't care for either of the frosting's on their own, and was skeptical about these, but somehow with the cookie they are just right. The real test is to eat this cookie from either side, back and forth until you are left with a single, thick center bite with equal parts black and white frosting. This one passed the test in both consistency and flavor. I will certainly make these again, although will have to come up with a proper chocolate frosting recipe that works for me so I don't have the same trouble! The only other thing that I would change, which I realized after the fact, is that these should really be frosted on the flat side to be truly authentic, although I'm sure that varies depending on the bakery/deli. That's just how I remember them:) FYI-this recipe makes a big amount(I got 22) of huge cookies, which is perfect for sharing with neighbors or for a party.
after these baked i rechecked my ingredients. yes.. it was ONE TABLESPOON BAKING POWDER.. disappointed that these black n white are more biscuit than cake like.. and concerning the white icing.. do not omit but instead purchase CLEAR vanilla.... and for extra whiteness you can use wilton's white white and add it to the icing with the clear vanilla in it..
Yes - One tablespoon baking powder for 4 1/2 cups OR 19 ounces of flour! If your cookies were biscuit-like check your method of flour measurement so they'll be more cake like. Wishing you well in your quest for the perfect Black and White Cookie. Happy Baking - Irene@KAF
Perhaps I'm novice, but these were quite the effort. I doubled the lemon rind, which I recommend, as the cookies (pre-icing) taste similar to a pancake. I only used 2 cups of confectioners sugar for the icing, which is still VERY sweet. In fact, I don't know anyone who could eat more than one of these bad boys. I didn't have espresso powder handy, so the cookies came out brown & white. Though it seemed a good idea at the time, I don't see myself making these again. It's far too much effort for a lackluster result. I've also lost a day or two of life from all the sugar consumption.
Awesome recipe, great for making Black and Whites at home. One suggestion, decrease the confectioner sugar/water/corn syrup for the chocolate frosting. The chocolate side is softer than the white, which is hardened. Thank You!