A customized print-friendly version of this recipe is available by clicking the "Print Recipe" button on this page.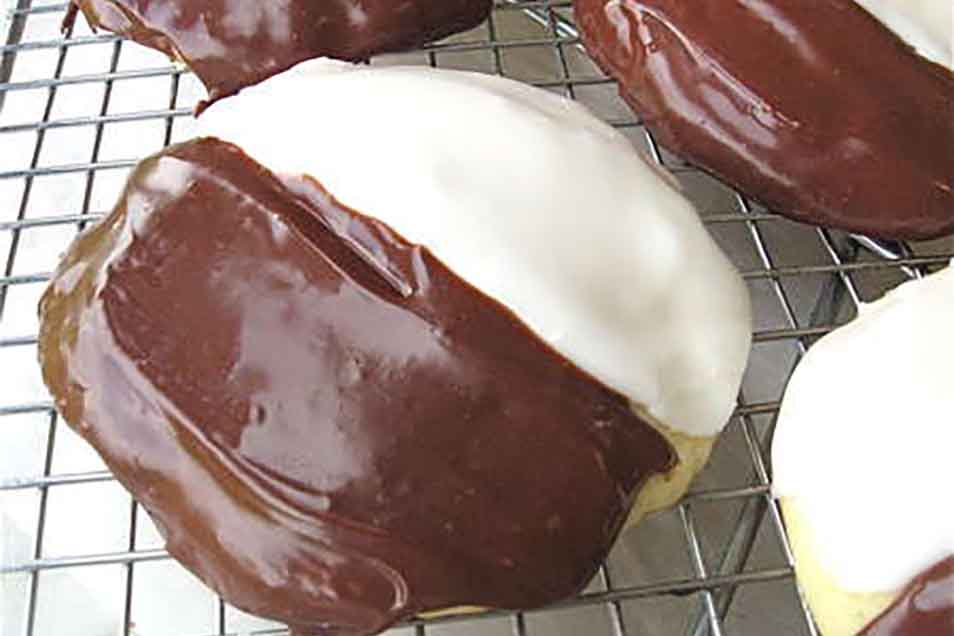 Also knows as Half-Moon Cookies, or just plain Black and Whites, these jumbo cookies are soft and cakelike, and would be quite plain save for their faint hint of lemon, and the vanilla and chocolate icings on top. Their distinctive taste (and look) seem to be the main attraction for kids... and truth be told, their parents as well.

Informal research tells us these cookies are New York City natives. In fact, we've seen a recipe titled New York Black and White Deli Cookies; and the corner deli is where you'll most likely find them in NYC, as the sweet counterpoint to a pastrami on rye and a half-sour.
Ingredients
Cookies
1 cup butter*
1 1/2 cups granulated sugar
1 1/2 teaspoons salt
1 tablespoon baking powder
1/8 teaspoon lemon oil, or 1 teaspoon grated lemon rind
2 teaspoons vanilla extract
3 large eggs
4 1/2 cups King Arthur Unbleached All-Purpose Flour
1 cup milk (regular or low-fat; not nonfat)
*If you use salted butter, reduce the salt in the recipe to 1 teaspoon
Vanilla icing
3 1/3 cups confectioners' sugar
3 tablespoons light corn syrup
3 tablespoons hot water
3/4 teaspoon vanilla extract*
*For the whitest icing (at the cost of reduced flavor), omit the vanilla
Chocolate icing*
2 2/3 cups confectioners' sugar
3 tablespoons light corn syrup
3/4 teaspoon vanilla extract
1/4 cup hot water
1/4 teaspoon espresso powder, optional
3/4 cup semisweet or bittersweet chocolate (chips, or chunks), melted
*See "tips," below.
Instructions
Preheat the oven to 400°F. Lightly grease (or line with parchment) two baking sheets.

To make the cookies: Beat together the butter, sugar, salt, baking powder, lemon, and vanilla till well combined.

Beat in the eggs one at a time, beating well after each addition.

Stir in the flour alternately with the milk, beginning and ending with the flour. Do this gently; there's no need to beat.

Using a muffin scoop or a 1/4-cup measure, drop the dough onto the prepared baking sheets. With wet fingers, or the wet bottom of a measuring cup, flatten/spread the dough to a 3"-diameter circle. Leave 2" to 2 1/2" between each cookie; they'll spread.

Bake the cookies for 10 to 12 minutes, until they're set, and are perhaps a very light golden brown around the edges. If there's no sign of brown, that's OK. Cookies baked for 10 minutes will be quite moist. Cookies baked for 12 minutes will be drier, and more "authentic." Bake for 11 minutes for an in-between cookie.

Remove the cookies from the oven, and cool them right on the pan. As they cool, prepare the icing.

To make the vanilla icing: Whisk together the confectioners' sugar, corn syrup, and hot water. For a nice vanilla flavor, add the vanilla; for the whitest icing, omit it.

Spread the icing over half of each cookie. Place them on a rack to set while you make the chocolate icing.

To make the chocolate icing: Combine the confectioners' sugar, corn syrup, vanilla, hot water, and espresso powder. stirring till smooth.

In the microwave, or in a pan set over very low heat, melt the chocolate.

Add the melted chocolate into the sugar mixture, stirring till well combined.

Spread the icing on the uncovered half of each cookie. You'll have a generous amount of icing, so don't be afraid to pile it on.

Set the cookies back on the rack, and allow them to rest for about 30 minutes, till the icing is set.

For best storage, wrap each cookie individually, in plastic wrap, and store at room temperature.

Yield: 2 dozen large (3 3/4" to 4") cookies.
Tips from our bakers
Note that the chocolate icing recipe as printed makes a generous amount; you could probably ice 2 or 3 additional (whole) cookies with what's left over. We figure too much icing is better than not enough; and to write the recipe to make just enough would have resulted in lots of odd-amount ingredients. So go ahead and spread it thickly; there should be plenty to go around.
Red and white cookies are a nice holiday variation on this recipe. Make red and white cookies simply by making a double batch of the white icing above, and adding red food coloring to half.
For a simpler chocolate icing, combine 1 1/4 cups semisweet chocolate chips, 1/4 teaspoon espresso powder (optional), 1/3 cup heavy cream, and 1 1/2 tablespoons corn syrup in a microwave-safe bowl, or in a saucepan. Heat until the cream is steaming; stir until the chips are melted and the mixture is smooth. Spread on cookies while warm.