A customized print-friendly version of this recipe is available by clicking the "Print Recipe" button on this page.
Pumpkin-Chocolate Chip Cake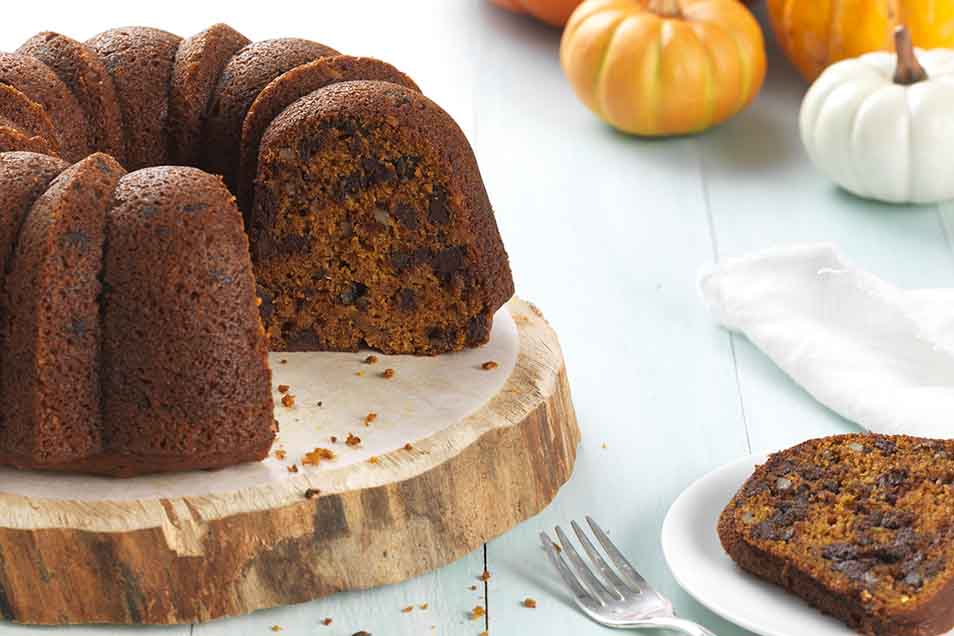 The pumpkin and pumpkin-friendly spices (cloves, cinnamon, allspice) meld surprisingly well with the bits of chocolate. This dark, moist tube (or Bundt) cake is rich enough to serve unfrosted, and it's just the ticket when you want to serve a dessert that's substantial, yet not too sweet.
Ingredients
4 large eggs
2 cups puréed pumpkin (1-pound can)
1 cup vegetable oil
1 cup bran cereal
1 teaspoon baking soda
2 teaspoons baking powder
1/2 teaspoon salt
2 cups granulated sugar
1/2 teaspoon EACH ground cloves and cinnamon
1/4 teaspoon EACH allspice and ginger (or substitute 1 1/2 teaspoons pumpkin pie spice for the preceding four spices)
1 cup chopped walnuts
2 2/3 cups chocolate chips
Instructions
Preheat the oven to 350°F. Grease and flour a 10" tube or Bundt pan.

In a large bowl, beat eggs until foamy.

Stir in pumpkin, vegetable oil and bran cereal; combine well.

In another bowl, sift together flour, baking soda, baking powder, salt, sugar, and spices.

Add to wet ingredients and mix gently, until just combined.

Stir in nuts and chocolate chips.

Spoon the batter into the prepared pan.

Bake in preheated 350°F oven for 70 minutes, or until a cake tester inserted in the center comes out clean.

Remove from the oven and cool the cake in the pan for 10 minutes, then remove from the pan and cool completely on a rack before slicing.

Store, loosely covered, at room temperature for 5 days, or freeze for up to 3 months.