A customized print-friendly version of this recipe is available by clicking the "Print Recipe" button on this page.
Pumpkin-Chocolate Chip Cake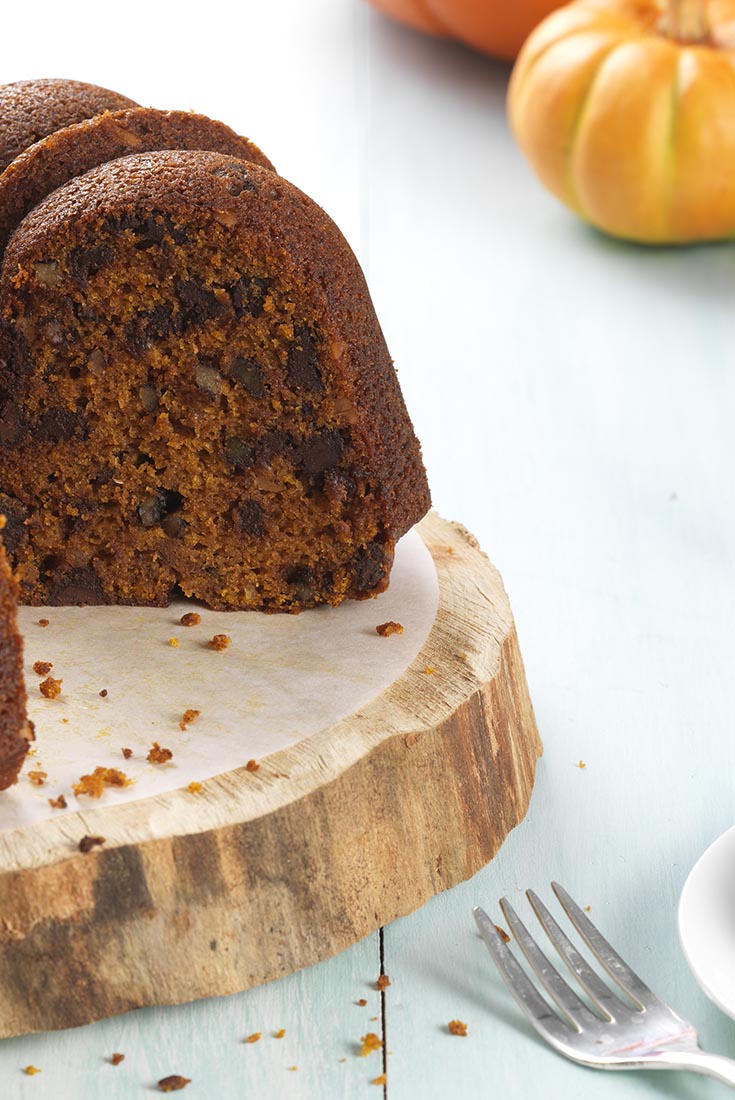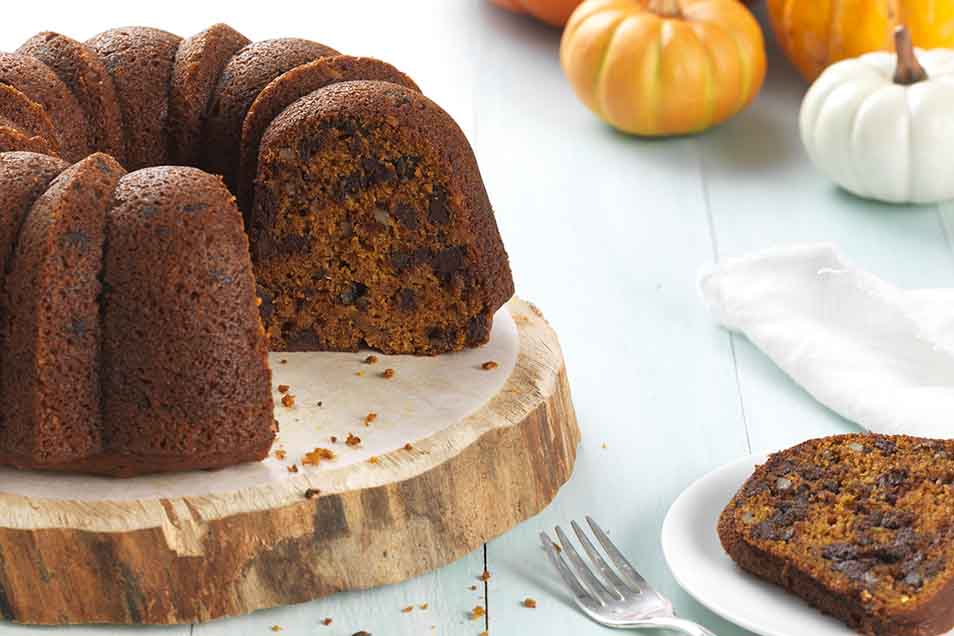 The pumpkin and pumpkin-friendly spices (cloves, cinnamon, allspice) meld surprisingly well with the bits of chocolate. This dark, moist tube (or Bundt) cake is rich enough to serve unfrosted, and it's just the ticket when you want to serve a dessert that's substantial, yet not too sweet.
Ingredients
4 large eggs
2 cups puréed pumpkin (1-pound can)
1 cup vegetable oil
1 cup bran cereal
1 teaspoon baking soda
2 teaspoons baking powder
1/2 teaspoon salt
2 cups granulated sugar
1/2 teaspoon EACH ground cloves and cinnamon
1/4 teaspoon EACH allspice and ginger (or substitute 1 1/2 teaspoons pumpkin pie spice for the preceding four spices)
1 cup chopped walnuts
2 2/3 cups chocolate chips
Instructions
Preheat the oven to 350°F. Grease and flour a 10" tube or Bundt pan.

In a large bowl, beat eggs until foamy.

Stir in pumpkin, vegetable oil and bran cereal; combine well.

In another bowl, sift together flour, baking soda, baking powder, salt, sugar, and spices.

Add to wet ingredients and mix gently, until just combined.

Stir in nuts and chocolate chips.

Spoon the batter into the prepared pan.

Bake in preheated 350°F oven for 70 minutes, or until a cake tester inserted in the center comes out clean.

Remove from the oven and cool the cake in the pan for 10 minutes, then remove from the pan and cool completely on a rack before slicing.

Store, loosely covered, at room temperature for 5 days, or freeze for up to 3 months.
Reviews
Very moist, delicious cake. I reduced the sugar by 50% and it was still plenty sweet! Baked it in a regular 13x9 inch pan as one of the other reviewers suggested, and started checking it around 30 minutes.
This pumpkin cake is so good. Everyone at our cookout raved about it. When they left for home, all that was left was an empty cake plate. This will be a favorite keeper recipe.
My husband doesn't care for pumpkin but he can't get enough of this cake! Here in Denver, the recipe produces a very flat cake top with an oily moist crumb. When I made it this morning, I reduced the oil by 2 tablespoons and it rose better and doesn't look as oily. I'll keep reducing the oil by 1 tablespoon until I get the texture I'm looking for. Has anyone converted this to gluten-free? What did you use for the GF cereal flakes?

This recipe should be just fine using the Gluten-Free Measure for Measure Flour, Mel. As for the cereal, look for any oat bran cereals, which are naturally gluten-free. Annabelle@KAF
This cake was delicious, but I thought the chocolate flavor kind of dominated the pumpkin. Was thinking of reducing the amount of chocolate chips in the recipe-what do you think KAF?

We say let your taste buds be your guide, Sandy! Feel free to reduce or omit the chocolate chips, or replace them with something else. Nuts, white chocolate, or cinnamon chips could all be tasty. Happy baking! Kye@KAF
The cereal - is it flakes or the bud-type?

The kind of bran that should be used in this recipe is the cereal that comes in flakes. It adds a pleasant texture and earthy flavor to this pumpkin cake that makes it delicious. Kye@KAF
I used a bundt loaf pan that makes 4 loaves and a star pan, baked for 45 minutes, they came out beautifully. So nice and moist and very tasty. Makes a wonderful gift. Freezes well too. I will make this again.
I have baked this cake now several times and absolutely love it! My guests also love this cake - it is very flavorful and moist. I have used both a Bundt pan as well as a 9x13 inch pan (same temp for about 40 minutes) and both work well. Be sure to grease your pan of choice well, and also let the cake cool completely before removing from the pan. I have tried using both chocolate chips (Ghirardelli baking chips - 60% cacao) and chopped (dark) chocolate, and I prefer the chopped chocolate as it melts better into the cake (the chips only partially melt). I often tweak a recipe but I don't find any tweaking necessary with this one. If you love pumpkin I highly recommend this cake - it's a winner!
Everybody loved it.. I added a bit of vanilla... Great recipe!!
This is a keeper! Rich, moist and delicious. It it so good and my guests love it. Thank you, KAF for your great recipes
I had been wanting this cake for years and years! My step mom made it when I was 10. I am now on my way to 50, next August. I can't believe I found this recipe. It is wonderful. It really doesn't need it but I made a powdered sugar glaze to drizzle over the top. Tastes great and makes it look pretty. Try this recipe you will love it!