A customized print-friendly version of this recipe is available by clicking the "Print Recipe" button on this page.
Roasted Strawberry Cream Cheese Rolls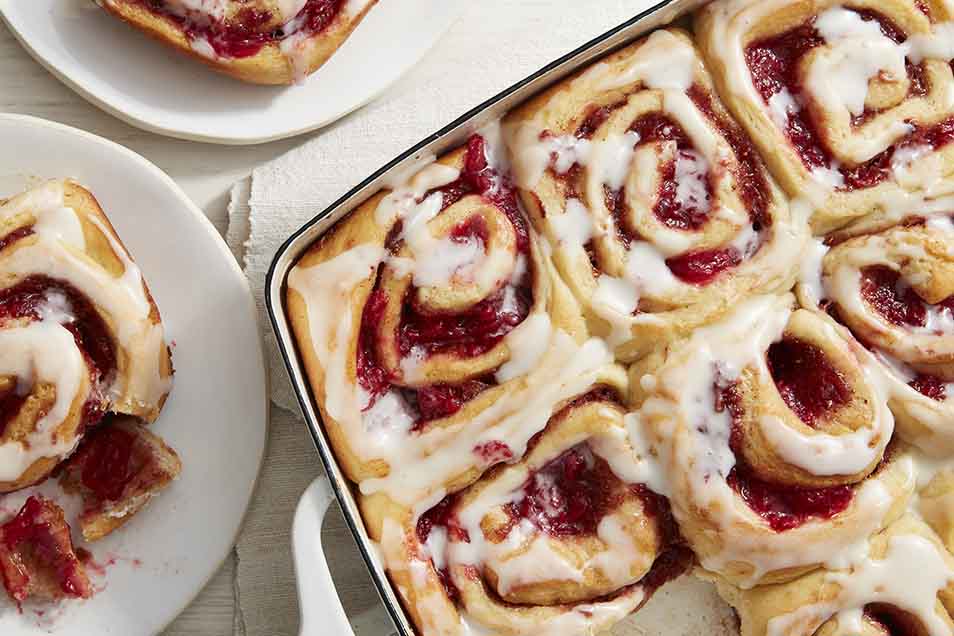 Roasting fresh strawberries intensifies their flavor, and makes a sticky-sweet filling in these rolls. In addition to lending great flavor to the dough, cream cheese makes them unbelievably tender and fluffy.
Ingredients
Filling
1 quart fresh or frozen strawberries
1/2 cup + 2 tablespoons granulated sugar, divided
4 teaspoons Instant ClearJel
1/2 teaspoon ground cinnamon
2 teaspoons grated orange peel (zest)
Frosting
1/4 cup cream cheese, at room temperature
1 cup confectioners' sugar
1/2 teaspoon vanilla extract
1 1/2 to 2 teaspoons milk or cream
Instructions
For the dough: Place the milk, cream cheese, and butter in a microwave-safe bowl and heat for 90 seconds, or until lukewarm. Transfer to a large mixing bowl and add the sugar, egg, yeast, salt, and flour. Mix and knead to make a soft dough that bounces back when you give it a poke.

Cover the dough and let rise for 45 minutes to 1 hour, until almost doubled and puffy-looking.

Preheat the oven to 350°F. Line a baking sheet with parchment.

To make the filling: Wash and hull the strawberries and toss them in a bowl with 2 tablespoons of the sugar. Spread the berries in a single layer on a baking sheet and bake for 25 to 30 minutes for fresh, or 40 to 45 minutes if baking from frozen. The berries will collapse somewhat and give up their juices. Remove from the oven and let cool for 10 minutes on the pan.

Scrape the berries and any liquid from the pan into a medium bowl. With a fork or potato masher, break up the berries until they're in 1/4" to 1/2" chunks. Mix together the remaining 1/2 cup sugar with the ClearJel and cinnamon and sprinkle over the roasted berries. Stir well. Add the orange zest and stir. Set aside.

To assemble: Turn the risen dough out and pat it into an 18" x 13" rectangle. Spread the strawberry filling over the dough, leaving a 1/2" strip along one long edge uncovered.

Starting with the filling-covered long edge, roll the dough into a log, pinching the seam to seal it. If you have time, refrigerate the log for 30 minutes; this will help set the filling, making the log easier to slice.

Slice the log into 12 equal pieces; a piece of dental floss, looped around the log and ends pulled in opposite directions, makes a nice clean cut. Place the rolls, cut side up, in a greased 9" x 13" pan.

Cover the pan with plastic and let rise for 45 to 60 minutes, until puffy-looking. While the rolls are rising, preheat the oven to 350°F.

Uncover the rolls and bake them for 28 to 30 minutes, until they're a light golden brown. Remove them from the oven and cool to lukewarm on a rack.

To make the frosting: Beat the cream cheese and confectioners' sugar together until smooth, with no lumps remaining. Add the vanilla, then the milk (or cream) 1/2 teaspoon at a time until the frosting is spreadable but still thick. Spread or pipe over the rolls while they're still slightly warm.

Store any leftover rolls, well wrapped, in the refrigerator for a couple of days. Freeze for longer storage.
Nutrition Information
Serving Size

1 roll, 249g

Servings Per Batch

12 servings
Amount Per Serving:
Calories

668

Calories from Fat

81

Total Fat

9g

Saturated Fat

5g

Trans Fat

0g

Cholesterol

36mg
Sodium

256mg

Total Carbohydrate

129g

Dietary Fiber

5g

Sugars

22g

Protein

19g
* The nutrition information provided for this recipe is determined by the ESHA Genesis R&D software program. Substituting any ingredients may change the posted nutrition information.
Reviews
My second batch is in the oven right now. The first time I made the recipe exactly as written and they turned out great. On this batch I've subbed fresh sweet cherries for the strawberries, but kept everything but the ClearJel the same. I added about 2 tsp more for the cherries. It's a nice variation on the classic cinnamon roll, and the filling has a nice complexity with the cinnamon and orange peel. I'm going to have to try it with peaches as one of the other reviewers suggested. I do think the nutrition information for this recipe is way off. Seems like it might be for 2 rolls instead of 1.
Amazing recipe! I loved the dough: it is stretchy, chewy, and fluffy! I used 2oz sugar and a rounded tsp of salt for the dough, per other comment recommendations. I used (20oz) frozen strawberries and did not have Clearjel (definitely buying some soon!). Instead of roasting the strawberries, I cooked them on the stove until they started to break down, then added sugar and brought to a strong simmer. I added a cornstarch slurry of 0.7oz cornstarch: 1.2oz water and cooked for a few minutes until it was no longer cloudy/starch had cooked off, and added some lemon juice for brightness. I cooled the filling completely before using, and chilled the rolled log. It was a little messy, as others indicated, but not really a big deal. Some of the filling oozed out, and I will save it for another project. I doubled the icing recipe and it was the perfect amount. Delicious flavor and texture, I will be making these many more times!
Second try I made with cherry kolache filling (I live in a Czech heritage area, so home made kolache fillings are thick on the ground.) Nice and thick, easy spread, no problems with leaking. I'm trying apricot, raspberry, etc.
My first try at this type of roll. The dough was easy to work with and gave me no trouble. I have a proofing box and that has been helping me a lot with getting a good rise. Read the tips and the bake-along information to help on the filling which is a huge pain and yes agree with others that you could use quite a bit less. They tasted great -my husband even ate them and he doesn't really eat much in the way of sweets. I added pistachios and would do that again. I plan to try a cinnamon version next.
These were amazing! They came out way better than I expected. I used lemon zest because I prefer lemon and pre-cooked and refrigerated my filling before using. I will definitely make each strawberry season. So glad I found a use for the last quart of berries that were getting mushy in the refrigerator!
Easy to make, and wonderfully delicious--I will bake these again. I roasted fresh strawberries and tweaked the filling just slightly, omitting the cinnamon, using a little orange extract instead of orange zest, and adding a bit more ClearJel to the filling. The sweet dough is fabulous--tender, well flavored, quick to throw together, and easy to handle (I adjusted the flour for the weather, using a little more to achieve the proper consistency because it was very humid). Yes, placing the cut sections in the baking pan is super-messy, and this is even after using chilled filling and chilling the rolled dough. But I just scraped up the filling that oozed out, pushed most of it back between the roll layers with my fingers, and spooned the rest on top. Iced some, left others un-iced--both are good.
This pastry was delicious. I had blueberries in the fridge when I read this recipe, so I decided to use them instead. They are a bit juicier than strawberries, so I compensated by cooking longer, and chilling them before (to gel ) before rolling up. They baked beautifully, and were delicious. I am going to make this recipe many times more, with various fruits.
The dough was so easy to work with, rich and soft. I added two tablespoons of easy roll dough improver to the dough (probably wasn't necessary), chilled the strawberry filling before spreading (used ClearJel), and used plain floss to cut the roll. It was a little messy, but just a bit more so than preparing regular cinnamon rolls. The filling was superb, so tangy and good orange flavor, it went very well with cream cheese frosting and wasn't cloyingly sweet as regular cinnamon rolls can be. I will definitely make these again!
Wonderful. I followed the recipe exactly, except I did not have clear jell, so the awesome bakers suggested I sub with the same amount of cornstarch and cook till clear. I stuck the mix in the freezer to cool. I loved the feel of the dough, spread the strawberry mix with offset spatula and rolled. It was a little messy, but what a result!! I brought this to work and everyone said it tasted like I bought it at a bakery. Thank you again for always coming through with outstanding recipes. What do you think of peaches as a substitute?

The idea of roasted peaches makes our mouths water! Peaches are usually a bit less juicy than strawberries, so you may not need to add quite as much thickener unless you want a stiffer filling. Otherwise, use about 10-20% less cornstarch than you did when making this first batch. Happy baking! Kye@KAF
I made this using three suggestions from previous reviews: 1) Substituting gelatin for the ClearJel, I used a package of gelatin with 1/4 cup cold water, added the roasted strawberries, cinnamon and vanilla, then microwaved for three minutes, stirring at one minute intervals. After two hours refrigeration, it was nicely thickened for spreading. It retained a good goo factor after baking, just enough for a great finger-licking experience. 2) I cut the 18" x 13" dough into 9" x 13" portions, then filled, rolled up from the 9" edge. This made it easier to keep the roll consistently thick. 3) I substituted buttermilk for the milk. A nice touch. My own substitution was to use half vanilla and half almond extract rather than all vanilla, and I sprinkled raw slivered almonds on top before baking, for a little extra flavor and a bit of contrasting crunch to the wonderfully soft rolls. The result was delicious. Rave reviews, including one from someone who doesn't typically care for strawberries.