A customized print-friendly version of this recipe is available by clicking the "Print Recipe" button on this page.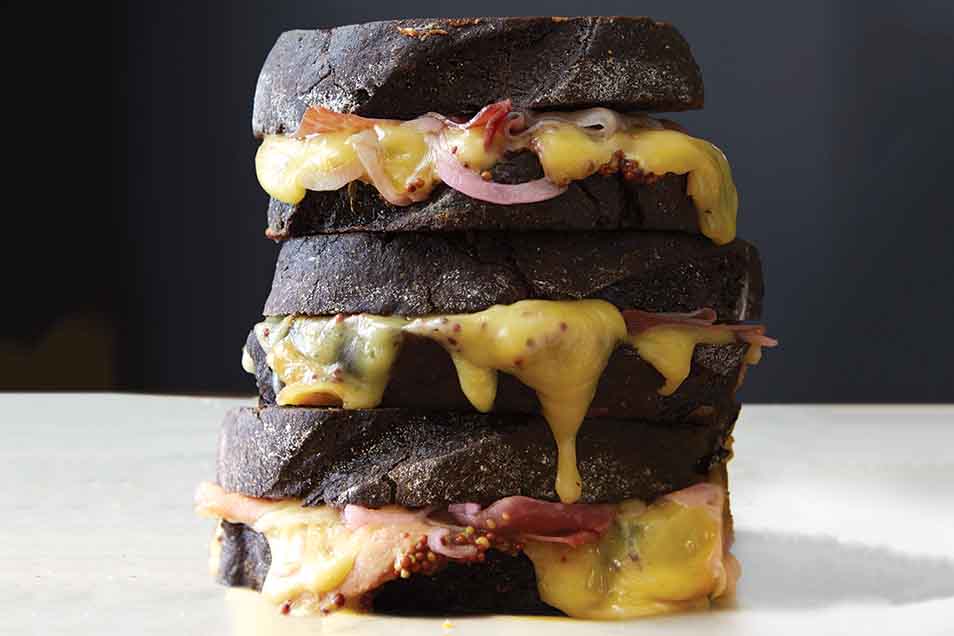 Fennel seeds give this tender Slavic bread a distinctive licorice flavor, and vinegar gives it slight tang.
Ingredients
1 1/8 cups lukewarm water
2 tablespoons apple cider vinegar
1 cup pumpernickel or rye flour, plus more for dusting
1 1/4 teaspoons salt
2 tablespoons unsalted butter
2 tablespoons dark corn syrup or molasses
1 tablespoon brown sugar
3 tablespoons black cocoa
1 teaspoon espresso powder or instant coffee powder
1/4 to 1 teaspoon fennel seeds, to taste
1 3/4 teaspoons instant yeast
2 1/2 cups King Arthur Unbleached Bread Flour, divided
Instructions
Place all of the ingredients in a large bowl, reserving 1 cup (4 1/4 ounces, 121g) of the bread flour. Mix to make a thick batter-like dough. Don't worry how wet the dough seems at this point; it'll become more dough-like when you add the remaining 1 cup of bread flour.

Mix in the remaining cup of flour and knead for 7 minutes, or until the dough becomes soft and elastic, but may still be somewhat sticky to the touch. Cover the bowl and let the dough rise until doubled, 45 minutes to 1 hour.

After the first rise, shape the dough into an oblong loaf. Place in a greased 9" x 5" or 10" x 5" bread pan, cover with greased plastic, and let rise until almost doubled, about 60 to 90 minutes.

While the dough is rising, preheat the oven to 375°F. When the dough has almost doubled, brush or spray the top with water, dust with pumpernickel or rye flour, and score (slash) the top.

Bake the bread for about 35 minutes, until it sounds hollow when you thump the bottom, or the inside measures 205°F on a digital thermometer. Remove the loaf from the oven and cool it on a rack before slicing.

Store bread well wrapped at room temperature for several days. Freeze for longer storage.
Nutrition Information
Serving Size

48g

Servings Per Batch

16 slices
Amount Per Serving:
Calories

112

Calories from Fat

18

Total Fat

2g

Saturated Fat

1g

Trans Fat

0g

Cholesterol

4mg
Sodium

6mg

Total Carbohydrate

21g

Dietary Fiber

2g

Sugars

2g

Protein

3g
* The nutrition information provided for this recipe is determined by the ESHA Genesis R&D software program. Substituting any ingredients may change the posted nutrition information.
Reviews
I've made this recipe three times this week. The first time I omitted cocoa powder, and it came out tasting ok, not as dark as I liked so I made it again and did something wrong. The third time it came out well, although KA clearly did some filter magic to make their bread "black". All three of mine came out about eight shades lighter than the photo used. It's not bad but not as substantial in flavor or color as a would like.

We're sorry this recipe didn't quite hit the mark for you, John! For a darker recipe, you might want to look up "Jeffrey Hamelman's Black Bread," which has a deeper color to it. You might also consider swapping pickle or sauerkraut juice for some of the water for a more complex flavor. Happy baking! Kat@KAF
Have made this many many times as written and it's amazing. (I have made this recipe and your sourdough starter recipe weekly) Have been reading the KA blog on autolysis and also reading some no knead recipes in this site, such as the easiest rye bread ever. Would it be possible to utilize autolysis and no knead method here? And, if I want to experiment further, could I substitute your recipe for sourdough starter for a cup of flour and 1/2 cup water as per your usual substitution recommendation? (I prefer higher hydration, so I weigh ingredients, but add water by recipe description (ie soft, sticky, etc). Thank you!

Hi there, Angela! We wouldn't suggest adding an autolyse to this recipe. Rye flour ferments very quickly, so you won't want to extend the fermentation process too much as the dough can begin to break down. We also wouldn't recommend the no-knead technique for this recipe for the same reason. No-knead recipes often require lengthy fermentation times to develop the dough strength so you'd also run into the issue of the dough breaking down here as well.
It should work out to experiment and substitute 1 cup (8 ounces) of ripe starter for 1 scant cup (4 ounces) flour and 1/2 cup (4 ounces) water. We would suggest only reducing the yeast to 1 1/2 teaspoons though so the basic timeline for the recipe remains the same and you don't develop too much of a sour flavor. We hope this helps! Happy baking! Morgan@KAF
So far it is one of my two favorite of the rye bread recipes that I have tried on KAF (the other being the sandwich rye bread). This one is moist with a great texture and scrumptious. I did add a little of KAF's Deli Rye Flavor to it.
A request for the recipe writers - please also include the metric measurement for the amount of flour to hold back, instead of just the volume measurement (1 C). It's easy enough to figure out the metric equivalent if you toggle between volume and metric, but it'd be nice to have it spelled out in the recipe.

Thanks for offering this suggestion, Kelsey. We also love baking by weight and have been doing it almost exclusively in the test kitchen, so we can see how this would be convenient. We've shared your request with the Recipe Team to consider. (In the meantime, the amount to hold back is (4 1/4 ounces or 120 grams). Kye@KAF
Have made this multiple times in boule form both as the exact recipe and with additions below. This can be doubled in a Kitchen Aid large mixer (7 quart bowl). I substituted white whole wheat and added KA rye improver for a softer texture. It can rise separately in two bowls and be baked into two medium height rounds in a preheated covered lodge cast iron round Dutch oven (lowered in via KA parchment paper for roughly the same time. I like a lot of add ins, so I use 2T each black nigella seeds and dehydrated minced onion flakes (bought in bulk from a nuts website) and whatever in the cupboard suits my fancy. Plus KA rye improver when I remember to use it. Note: I misspoke in the review below; I used Valhrona (I dutched) cocoa powder plus baking soda to approximate black cocoa. I think it makes a difference in color, but nothing was as wonderful as KA pumpernickel artisanal flavor. Sometimes I weigh, sometimes I do volume, but I think the key is to match your dough to the KA description in the recipe above: somewhat sticky, yet soft and elastic. I think possibly the white whole wheat is a bit less tall than the KA bread flour, but not really an issue. With the improver, this is a delicious, soft even textured bread. The higher amount of seasonings give it an everything bagel flavor. I did try a batch with pickle juice as per the suggestion of the KA rep below, and that was delicious thank you!
This pumpernickel recipe is darker and richer in flavor than the other pumpernickel recipes on this site. The first time I made this, I over proofed and the bread lacked oven spring, so I made sure to check the dough more frequently the second time. I didn't have black cocoa, so I used regular Dutch process cocoa with a pinch of baking soda for a darker color. I also had KA artisanal pumpernickel flavoring in my freezer so (substitututed 1/3 cup) for KA pumpernickel flour. I used the entire amount of bread flour and added a bit more water in the end to adjust the texture to match the description. Two days later, the second time, I omitted the fennel (as my family sadly doesn't like it as much as I do); added minced dehydrated onion flakes as per the comments below; and added a bit of KA vital wheat gluten and lecithin (mainly because I have these items); and slid it into a preheated cast iron Dutch oven (via KA parchment). The next time, probably tomorrow, I am planning to add bacon drippings instead of butter. So good! The hardest thing about this recipe is waiting for the bread to cool before cutting into it. Although, I am sad that the pumpernickel artisanal flavor seems to be out of stock on your site. . .

We're glad you were able to tweak this recipe to best suit your family's tastes, Angela! Yes, the Pumpernickel Artisan Bread Flavor has been discontinued, but one thing we enjoy doing to up the rye/sour flavor is to use pickle juice for 1/4 cup of the liquid. Something to experiment with! Annabelle@KAF
I'm reviewing this recipe again. I added a 1/4 teaspoon of deli rye flavor and a scant teaspoon of dried onion. I just wanted to see the resulting flavor. It was very nice, but I think I could have put the onion in my herb grinder to be able to more fully disperse its flavor. The added deli rye, at a pinch was a perfect flavor boost if you are looking for a livelier tasting bread as well. This is a real good recipe. We love it with Irish butter or as a deli sandwich. YUM OH YUM.
This is one of the best breads I've ever made.....I'd give it 10 stars if I could!
My husband and I love this bread. The use of fennel seed gave me pause but I used it and the result is delicious. The complexity of the flavors and lovely texture make this recipe a winner and a new favourite. (It's wonderful by itself and with cream cheese. I have a feeling it will be fabulous toasted with pimiento cheese or for deli-type sandwiches.)
I've made this bread several times with inconsistent results. Obviously, it is something I am doing. I am careful measuring, but the ingredients have varied slightly. When it is good, WOW, it is fantastic! That is why I will continue making it until results are consistent. Absolutely the best Russian Black Bread I have ever tasted!