A customized print-friendly version of this recipe is available by clicking the "Print Recipe" button on this page.
Russian Rye Bread: Rizhsky Khleb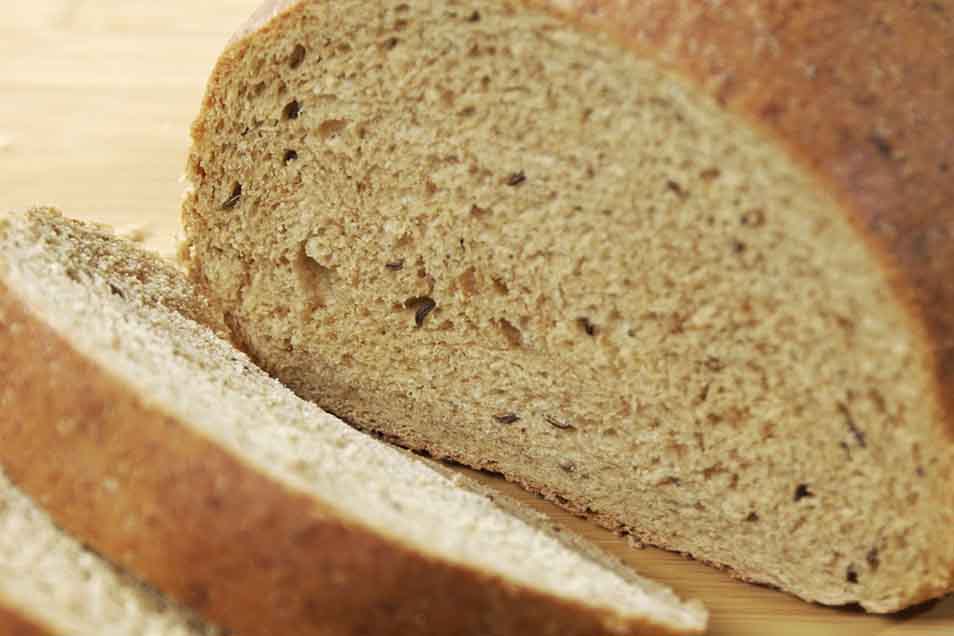 The following recipe marks King Arthur's very first venture onto the Internet — we obtained it from a Russian student at Moscow State University, via the web, back in late 1995. Since then, we've learned its inspiration came from a wonderful book on Russian cooking, "Please to the Table: the Russian Cookbook", by Anya Von Bremzen.
Ingredients
1 1/4 cups lukewarm water (105°F to 115°F)
2 tablespoons barley malt syrup or dark honey
2 teaspoons instant yeast
1 1/2 cups medium rye flour or pumpernickel
2 teaspoons salt
1 tablespoon caraway seeds
3 tablespoons unsalted butter, melted
Instructions
To make the dough manually, or with a mixer: Pour the warm water into a mixing bowl and add a teaspoon of the malt extract or honey.

Stir in the yeast and rye flour. Let this sponge work for at least 20 minutes, until it's expanded and bubbly.

Add the remaining barley malt extract or dark honey, the salt, caraway seeds, butter, and enough of the unbleached flour to create a dough that begins to pull away from the sides of the bowl. At this point, cover the dough with a towel or plastic wrap, and let it stand for about 5 minutes.

Turn the dough out onto a lightly floured or lightly oiled work surface, and knead until it's smooth and elastic, about 10 minutes. Halfway through, give the dough a rest while you clean out and butter your mixing bowl.

Shape the dough into a ball, place it in the buttered bowl, turning to coat, and cover the bowl with a towel or plastic wrap. Allow the dough to rise for about 1 1/2 hours, or until it's not quite doubled in bulk.

To make the dough using a bread machine: Place all of the dough ingredients into the bucket of your bread machine in the order recommended by the manufacturer, program the machine for manual or dough, and start the machine.

About 10 minutes before the end of the final kneading cycle, examine the dough; it should be smooth (though still sticky), not "gnarly." Adjust the dough's consistency with additional unbleached flour or water, as necessary. Allow the machine to complete its cycle, leaving it in the machine until it's just about doubled in bulk.

To complete the bread: Punch the dough down, and divide it in half. Shape each half into an oval, place them on a lightly greased or parchment-lined baking sheet, cover, and let rise for about 30 minutes.

Preheat the oven to 375°F.

Bake the bread for about 45 minutes, or until the crust is dark brown, and the interior temperature of the loaves measures 190°F to 200°F on an instant-read thermometer. Remove the bread from the oven, and cool it on a wire rack.

Store, well-wrapped, on the counter for 4 days, or freeze for up to 3 months.
Tips from our bakers
While working the dough, add only enough flour (or oil on your hands and the work surface) to keep the dough from sticking unbearably.
Rye doughs will always be a bit sticky, so resist the urge to keep adding flour to eliminate this inherent stickiness; adding too much flour will make a heavy, dense, dry loaf.
Reviews
Made this recipe and i turned out very good. The only issue that I had is that the crust seamed tough, I did double the recipe not sure that cause the crust to be bought? I also didn't spritz the top of the loafs with water. (Not sure what the water does.) I have made other ere bread receipes and they mostly turned out great, I really like this one so I will try again.

Hi there, James! We're glad to hear that you enjoyed this recipe but are sorry to that your crust was a bit too tough and thick. Spritzing the loaves adds steam to the oven, which in turn helps to create a thinner, crispier crust, so next time we'd suggest giving this technique a try. Also, a tough crust can be caused by too much flour in your dough, which is very common and something a lot of bakers run into. To ensure you're using the right amount, we recommend checking out the "Recipe Success Guide," link next to the ingredients header above. We hope this helps and happy baking! Morgan@KAF
Other than preparing the sponge the night before and making the bread first thing the next morning, I made no other alterations. It wasn't necessary to add even a smidgen of additional flour. The dough came together beautifully. I was happy with the results. I will definitely make it again. Rise times were fast particularly since the day was cold and snowy.
I live at 7000 feet, therefore halved the yeast. I find that breads are best put in the refrigerator over night for a first slow rise. It adds to the flavor immensely. This is an outstanding bread!!!
I tried this one yesterday. I could not get all three cups of all-purpose flour into the dough. I stopped at 2.5 cups - and probably should have stopped at 2 cups, because the final dough was not as elastic as it should have been. That being said, the final result was delicious. It made two small rustic looking loaves that just taste wonderful. Next time I am trying molasses instead of the honey.

Hi there, Jeff! We're so glad that you enjoyed this bread! It sounds like there might have been a tad too much flour in the dough. When using volume to measure out ingredients it is easy for too much flour to get compacted into the cup measure. We recommend checking out the "Recipe Success Guide," link next to the ingredients header above. You'll see that either measuring your flour by weight using a scale, or fluffing and sprinkling the flour into your measuring cup are the best ways to ensure your recipe turns out perfectly. Happy baking! Morgan@KAF
This was one of the best rye bread recipes I have ever baked. I did make a couple of changes. I substituted 50% of the hydration with strong black coffee, and I converted the recipe to grams, entered it in my baker's spreadsheet and increased it to make 2 1kg loaves. I also cut down the yeast to .5% and gave it a 4.5 hour fermentation and an almost 2 hour proof. This was just done to give the flour time to absorb all the flavours from the brewer's malt and coffee. The bread came out with a nice semi-thick crust, a beautiful crumb and amazing flavour. I would recommend this bread to anyone.
I'm still tweaking this wonderful recipe and my results are getting better each time. This week, I tried kneading in the food processor and this was the best batch yet - gorgeous crumb, crisp crust. I can't thank you enough for introducing me to this kind of bread. I had to split the ingredients in two (my food processor isn't very big), but with only 45 seconds of kneading, who cares.
I've been making bread at home for over 30 years, and I've always wanted to try seeded rye bread - not sure why I didn't, but I'm so glad I tried this one today. My tweaks: I let the rye/yeast/1tsp regular honey mixture sit at (cool - it's Maine in November) room temperature, covered, overnight. I used 1/2 regular honey, 1/2 molasses. I used King Arthur bread flour, and found that it only took about 1.5 cups flour, even with 1/3 cup of water addd. I kneaded in another cup or so, and in the middle of the kneading did a round with olive oil and no flour. The dough was sticky, but soft and workable. The 1st rise only took about an hour. I used butter and corn meal on a cookie sheet and made 1 oval free form loaf and went with the 30 minute 2nd rise. I made 4 cuts with a lame and got a lovely, plump loaf - it rose beautifully and the 45 minutes was spot on! The crust didn't darken a lot, which is not at all a concern, as it turned out to be a beautiful honey color. The crust is nice and chewy and the texture of the bread is magnificent. If Thanksgiving wasn't right around the corner, and if I had more days off (had the gift of a snow day, as a teacher, last Friday!), I'd be making more batches of this and sending it to everyone I know! Thank you...
I followed your baker's advice (in answer to my question) for leaving the starter overnight -- except I missed the part in the recipe about using only part of the malt syrup in it and I put in the two TB. This did not seem to affect the result as my loaves are beautiful and tasty and they rose extremely well. The recipe says nothing about slashing the top; perhaps it should as both my loaves "broke out" at the sides.
Brewers yeast isn't easy to find around here, first time I used honey, second time I used blackstrap molasses, I loved the result.
Easy recipe. Flavorful results. Only change I made was using light honey instead of dark because it was the honey I had on hand. Makes two small loaves. First loaf disappears before it is cool. Second loaf might last till the next day.