A customized print-friendly version of this recipe is available by clicking the "Print Recipe" button on this page.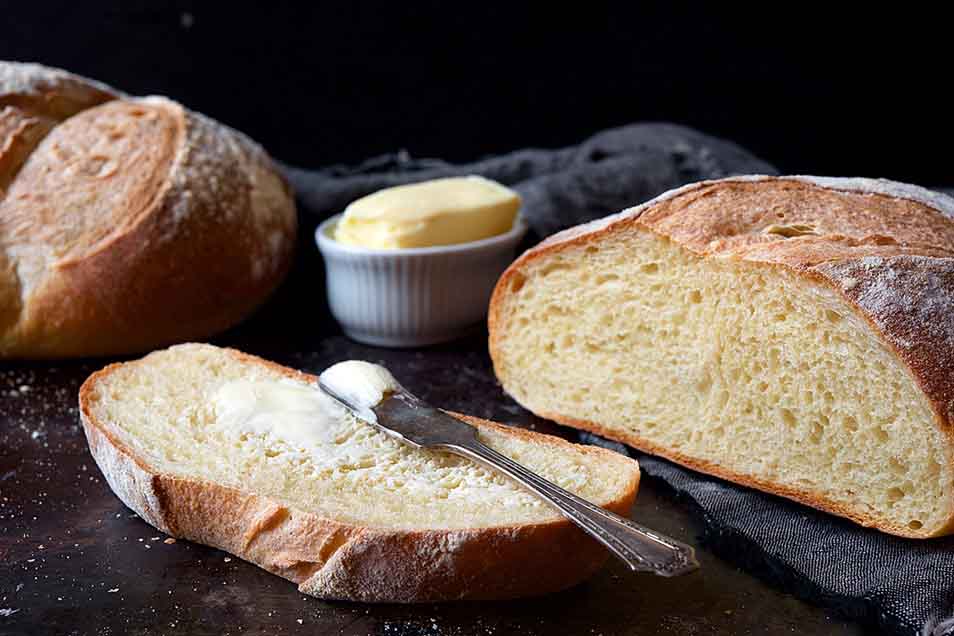 This chewy loaf, with its deep-brown crust, has rich, deep, flavor, and very mild tang. We love this bread for its chewiness and golden crust, ideal qualities for panini; try it with ham and cheese, for a new take on that favorite sandwich.

New to sourdough? Find the help you need for all of your sourdough baking at our Sourdough Essentials page.
Instructions
Combine all of the ingredients, kneading to form a smooth dough.

Allow the dough to rise, in a lightly greased, covered bowl, until it's doubled in size, about 90 minutes.

Gently divide the dough in half; it'll deflate somewhat.

Gently shape the dough into two oval loaves; or, for longer loaves, two 10" to 11" logs. Place the loaves on a lightly greased or parchment-lined baking sheet. Cover and let rise until very puffy, about 1 hour. Towards the end of the rising time, preheat the oven to 425°F.

Spray the loaves with lukewarm water.

Make two fairly deep diagonal slashes in each; a serrated bread knife, wielded firmly, works well here.

Bake the bread for 25 to 30 minutes, until it's a very deep golden brown. Remove it from the oven, and cool on a rack.
Nutrition Information
Serving Size

1 slice

Servings Per Batch

16 per loaf
Amount Per Serving:
Calories

80

Calories from Fat

5

Total Fat

0g

Saturated Fat

0g

Trans Fat

0g

Cholesterol

0mg
Sodium

180mg

Total Carbohydrate

17g

Dietary Fiber

1g

Sugars

1g

Protein

3g
* The nutrition information provided for this recipe is determined by the ESHA Genesis R&D software program. Substituting any ingredients may change the posted nutrition information.
Tips from our bakers
Why the range in yeast amount? If you're sure your starter is healthy and vigorous, and you don't mind potentially extending somewhat the rise times listed above, use 1 teaspoon yeast. If your starter seems a bit lethargic (or you want to keep your rise times on the shorter side), go with 2 teaspoons.
For an assertively sour loaf, read our recipe for Extra-Tangy Sourdough Bread.
Want a brick oven effect? Rather than dividing the dough into two separate loaves, shape it into one large ball, and place it in the base of a round covered stoneware baker, such as La Cloche. Put the lid on, and let the loaf rise for 1 hour. Make two slashes on top of the bread, and bake for 30 to 35 minutes, removing the lid of the baker for the final 5 minutes of baking.
Reviews
Great recipe. Using a friends starter ( its 5 years old)!
Just getting in to sour dough baking, and made this on the recommendation in the booklet that came with my starter. I've made it twice, and this is sooooo good. Tomorrow morning we are having sour dough waffles, and my next attempt will be pizza crust. I've had some questions, and I simply got on the online chat for good answers. Thanks.
I bought your sour dough several years ago and it came with a great little recipe book. Unfortunately, I continued to use the recipe for bread that I been using before with much frustration. Two weeks ago I looked at this recipe and decided to try it. I followed it almost exactly except substituted 3 cups of whole wheat bread flour and 2 cups of white instead of 5 cups of white. The recipe in the booklet called for 2tsp. of yeast. Even though I had my doubts at some of the instructions as that was not how I had been doing it. I am very pleased to say it has come out perfect 2 weekends in a row. The consistency is great and does not fall apart on the second or third day. Thank you!
I'm giving 3 stars because my loaves didn't rise basically at all in the oven. However, I did sub regualrar all purpose flour for einkorn flour. If there are any tips for einkorn flour in a sourdough bowl recipe, that'd be great.

Teresa, we hope you're able to find a recipe for an Einkorn sourdough bread! We don't have any on our website, but the internet is bound to come up with some results to experiment with. Annabelle@KAF
I made this recipe with a very active starter, 1 tsp fresh SAF yeast. Initial rise was great, volume about doubled after 90 minutes. Second rise after shaping into a large loaf wasn't as good, and after placing in the oven there was very little rise. I used the entire recipe, placed dough on parchment and baking stone. This has been a problem for me-initially the batter rises well but 2nd rise is less and very little "bounce" when in oven. Suggestions?

Chris, we can see how that would be frustrating! It might be that your first rise is actually a bit too long, leaving you with not enough yeast power left over for a good oven spring. It's also possible that your shaping is a bit loose, leaving your loaves growing out rather than up. If you try both of these and neither works, we'd encourage you to call our Baker's Hotline at 855-371-BAKE (2253) so that our team can help you troubleshoot further. Happy baking! Kat@KAF
This is my go-to recipe for sour dough if I am in a bit of a hurry for some home baked bread. Easy to make, a light tang, and delicious. It doesn't last very long in my home because hot out of the oven it's readily devoured. I bake it on stoneware and it comes out crusty on the outside and soft on the inside, excellent for toast and sandwiches.
I love this recipe, it comes together so easily and tastes great, but my bakes have been coming out very pale. I bake in the middle of the oven with a pizza stone underneath the pan. Any suggestions for a better crust?

Thanks for reaching out to us, Ashley! There are a few reasons why loaves can be pale. Sometimes it's the case that your dough been left to rise a bit too long, that you used a bit too much yeast, or that there was too little salt. In each of these cases, the yeast eats up all the available sugars, leaving you with none lest to give your crust that lovely brown crust. Adding more steam can also help you get the crispy brown crust you're looking for. Baking in a Dutch oven with the lid on is one way to do this, or pouring a cup of water into a skillet in the bottom of the oven just before shutting the door. (Be careful not to burn yourself on the steam.) If you have more questions or want additional help troubleshooting your sourdough, feel free to call our Baker's Hotline at 855-371-BAKE (2253). Happy baking! Kat@KAF
I had great results with the flavor and crumb of this recipe. But, I'm wondering about a couple things. First, I've been trying to make batard shapes for quite a while and it seems they always spread out and never recover no matter how carefully I transfer them from a couche. Is this a rising problem? I tend to aim for 73-75% hydration. When I do a finger poke test, I'm not quite sure what I'm looking for. "Minimally springs back" doesn't seem to make sense I guess. I've considered a ceramic pan, to keep the shape-but they're a bit pricey. If it's a surefire way to keep form, maybe I should.
At what point in this recipe can I refrigerate the dough? Plan on making several loaves and don't want loaves to proof too long as I can only bake 2 at a time at home.

That's a fantastic question, Erika! You can replace the first rise with an overnight rise in the refrigerator, then take the dough out, divide and shape it, and let it do its second rise at room temperature. It may take slightly longer to rise, but that's okay! Putting them in a warm spot in the kitchen will help. This recipe makes two loaves, so you should be all set. Happy baking! Kat@KAF
Hi. This recipe was very good but when I sliced it the loaf crumbled. What did I do wrong?

Hi Kathy! One thing that our former head bread baker used to say was that "Sourdough isn't sourdough until the next day," meaning that sourdough bread will cut and taste much better after it's sat overnight on the counter — unwrapped or in paper. Give it a try and it should hold together better for you! Annabelle@KAF