A customized print-friendly version of this recipe is available by clicking the "Print Recipe" button on this page.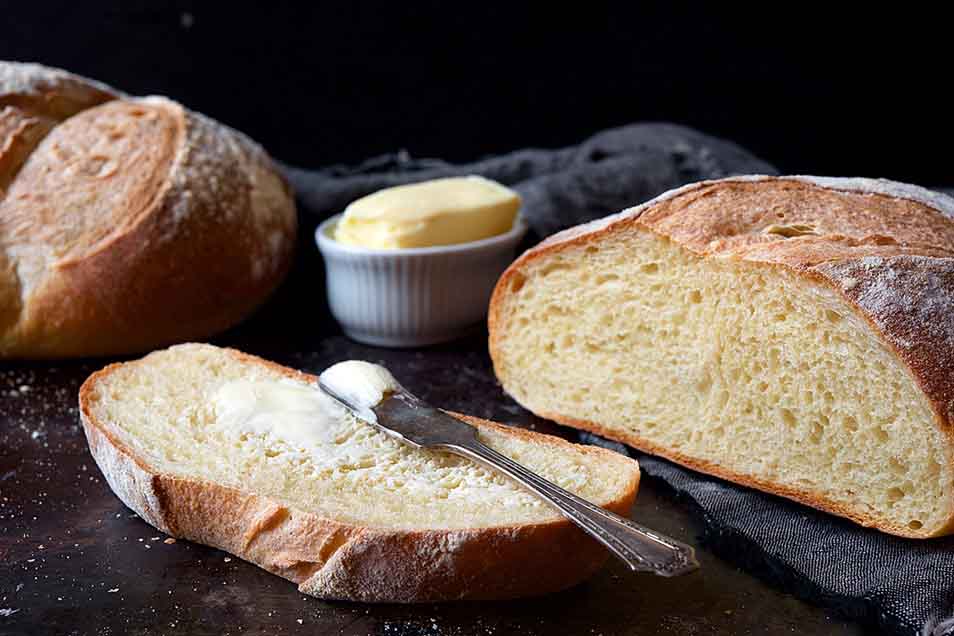 This chewy loaf, with its deep-brown crust, has rich, deep, flavor, and very mild tang. We love this bread for its chewiness and golden crust, ideal qualities for panini; try it with ham and cheese, for a new take on that favorite sandwich.

New to sourdough? Find the help you need for all of your sourdough baking at our Sourdough Essentials page.
Instructions
Combine all of the ingredients, kneading to form a smooth dough.

Allow the dough to rise, in a lightly greased, covered bowl, until it's doubled in size, about 90 minutes.

Gently divide the dough in half; it'll deflate somewhat.

Gently shape the dough into two oval loaves; or, for longer loaves, two 10" to 11" logs. Place the loaves on a lightly greased or parchment-lined baking sheet. Cover and let rise until very puffy, about 1 hour. Towards the end of the rising time, preheat the oven to 425°F.

Spray the loaves with lukewarm water.

Make two fairly deep diagonal slashes in each; a serrated bread knife, wielded firmly, works well here.

Bake the bread for 25 to 30 minutes, until it's a very deep golden brown. Remove it from the oven, and cool on a rack.
Nutrition Information
Serving Size

1 slice

Servings Per Batch

16 per loaf
Amount Per Serving:
Calories

80

Calories from Fat

5

Total Fat

0g

Saturated Fat

0g

Trans Fat

0g

Cholesterol

0mg
Sodium

180mg

Total Carbohydrate

17g

Dietary Fiber

1g

Sugars

1g

Protein

3g
* The nutrition information provided for this recipe is determined by the ESHA Genesis R&D software program. Substituting any ingredients may change the posted nutrition information.
Tips from our bakers
Why the range in yeast amount? If you're sure your starter is healthy and vigorous, and you don't mind potentially extending somewhat the rise times listed above, use 1 teaspoon yeast. If your starter seems a bit lethargic (or you want to keep your rise times on the shorter side), go with 2 teaspoons.
For an assertively sour loaf, read our recipe for Extra-Tangy Sourdough Bread.
Want a brick oven effect? Rather than dividing the dough into two separate loaves, shape it into one large ball, and place it in the base of a round covered stoneware baker, such as La Cloche. Put the lid on, and let the loaf rise for 1 hour. Make two slashes on top of the bread, and bake for 30 to 35 minutes, removing the lid of the baker for the final 5 minutes of baking.
Reviews
I made a 1/2 portion of this recipe in my 2Qt Lodge dutch oven and it turned out great! After 80 minutes into the final rise I placed the covered dutch oven in a cold oven. When oven reached 425°F, I started my timer and baked for 25 min (195°F internal temp). Came out nice and airy with a perfect crust. Next time I will bake 2 loaves because it went so fast. Keeper recipe for sure.
I just made this bread and it is so good. I did half the recipe. And I baked it in a Dutch oven pot. If I could give this recipe more stars I would. I will be making this bread again.
I just made this bread and it is so good. I did half the recipe. And I baked it in a Dutch oven pot. If I could give this recipe more stars I would.
Made this in a dutch oven as a single loaf and it turned out fantastic! Great, easy recipe, nice airy bread, and a nice crunchy/chewy crust. What's not to like?
Love this recipe! However I was wondering what method would be the best to flavor one of the loaves. Should I divide it before letting it rise and mix in my roasted garlic and rosemary then let it rise? Thanks!

Taylor, that would definitely work for the rosemary! We're more hesitant about the garlic, though, because garlic inhibits yeast and can prevent your dough from rising properly. We'd suggest following the instructions from the our Semolina Garlic Swirl Bread recipe to add the garlic to the dough without incorporating it too fully. Alternatively, you could try adding garlic as a topping rather than a filling. It may take some experimentation, but you should be able to get a delicious, garlicky loaf. Happy baking! Kat@KAF
Thanks for your response. Before I got your answer I tried the "kneading wet dough" method in your blog without altering the water or flour quantities. It worked much better than the total hand kneading I'd been trying. The dough was only very slightly sticky and quite manageable. I ended up with an open crumb and a nicely raised loaf! Thanks!
My bread turned out delicious and it was the first time I used my new sourdough starter. My problem is that I live at just over 7000ft and I can't get my breads to raise at all in the oven. So my slashes look silly. I used the recommendations for baking at high altitude that I found on your website but it just doesn't turn out like the pictures. I turned up the heat but it never got dark either. Should I try putting it in during the preheat?

Hi there, fellow baker! We're glad that you've been enjoying this recipe! It sounds like your loaf is slightly over-proofed. Most often when bread doesn't get any oven spring and doesn't brown well, it is because the yeast has lost some of its oomph and eaten up too many of the sugars not leaving much to brown during the baking process. We'd suggest shortening up your second rise by about 15 to 20 minutes — when you gently press on the loaf with a lightly floured finger your fingerprint should spring back very slowly. We hope this helps and happy baking! Morgan@KAF
I love this recipe! Amazing slightly sour bread in just about 3 hrs. We simply do not buy bread at the store anymore. My family will go through a loaf in the blink of an eye...I bake in a preheated (500 F) cast iron dutch oven for 20 min with lid on and then 10 minutes with lid off. Does anyone have any advice about par baking and freezing? I recently tried par-baking 20 minutes with lid on at 500 F. I then froze it and a week later baked at 500 F for 20 min. Middle was still frozen but crust was starting to over-brown, so I just took it out of oven, put lid on dutch oven and let it steam itself for a bit. It was perfectly fine but I am sure my method was crude and that it could have been better. Would be grateful for any thoughts/instructions!

Hi JL! If you let the parbaked loaf fully thaw on the counter for a few hours before finishing off in the oven, it should bake more evenly without developing a too-dark crust. Annabelle@KAF
I'm a beginner bread maker. I've made this bread several times. I think the bread tastes wonderful--it's only mildly sour and has a chewy crust but a soft interior, especially if toasted. I tastes good even with the issues I've been having making the bread. I have problems with kneading. I have a very wet dough that sticks to my hands horribly. I try not to add any additional flour, above what is recommended in the recipe. I cannot knead as instructed in your video on bread kneading---the dough is stuck to the board and needs to be scraped off with a scraper. I know my technique needs work. It does take me quite a while (an hour plus) to get the dough kneaded. I don't think it passes the pane test when I finally give up.The stickiness seems worse in the last 2 weeks than it was initially. I made the recipe last week and used my Kitchen Aide to knead but it was no less sticky---if anything, it was more sticky and difficult to handle. I'm wondering if the humidity where I am would mean I need more flour or less water?

Hi there, Fran! We're glad that you're enjoying the flavor of this bread but are sorry to hear that you're having trouble with your dough. If you're in a humid climate you'll want to decrease the amount of water used because there is a lot of ambient moisture in the air. We'd suggest holding back a 1/2 cup (112 grams) of the water and adding that slowly as needed. It is totally fine to add a little bit of additional flour when needed, just don't go crazy. We might suggest setting aside a 1/4 cup (30 grams) of flour to use to flour your work surface. We hope this helps and if we can talk through this recipe with you, feel free to give our friendly Baker's Hotline folks a call at 855-371-BAKE (2253). Kindly, Morgan@KAF
Just baked this with half AP/half WW flours (both KAF) and it turned out great! It doesn't have the open crumb typical to sourdough, and the sour taste is very low profile, but the texture and density is perfect, with a nice, crisp crust. I have a killer starter going, so I just added 1 tsp SAF yeast. I had to add more water, of course, and proofed the shaped loaf (one big one) in the fridge overnight. Took it out of the fridge & baked in my Lodge enamel Dutch oven (love that thing), at 440F for 20 minutes covered, and another 25 or so uncovered. Baked till internal temp was around 200F. I may try using the stretch & fold technique next time, instead of the long knead in my KA, to see if it develops more air pockets. This was easy and not terribly time consuming.