A customized print-friendly version of this recipe is available by clicking the "Print Recipe" button on this page.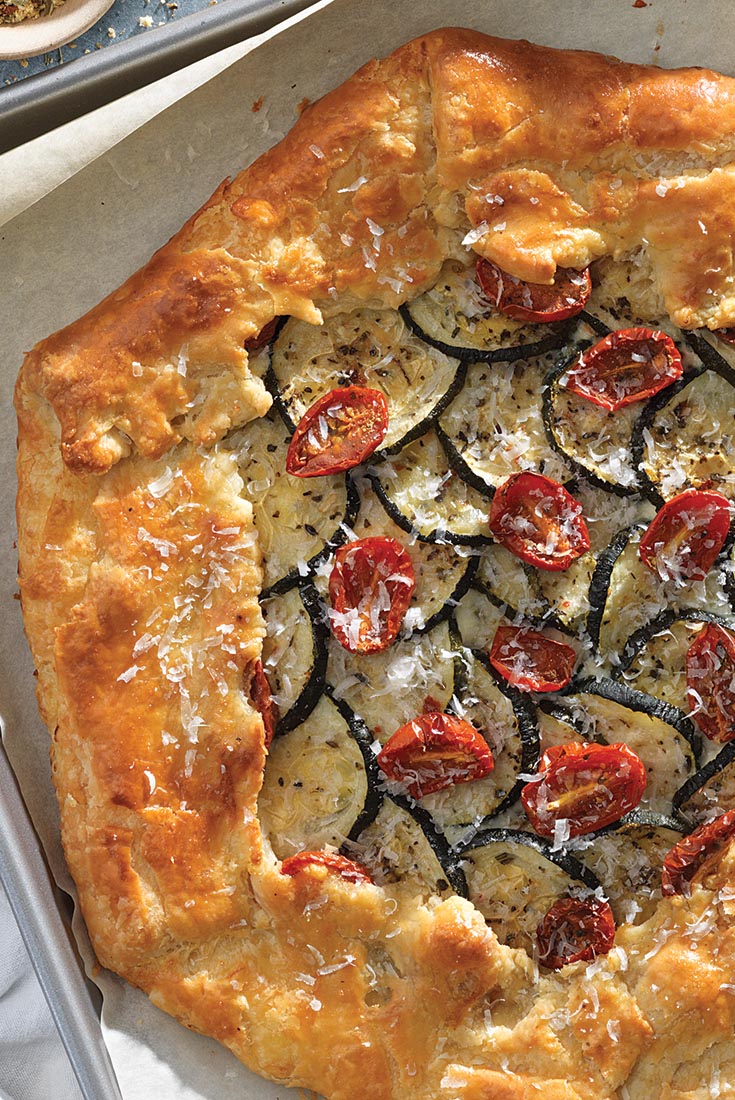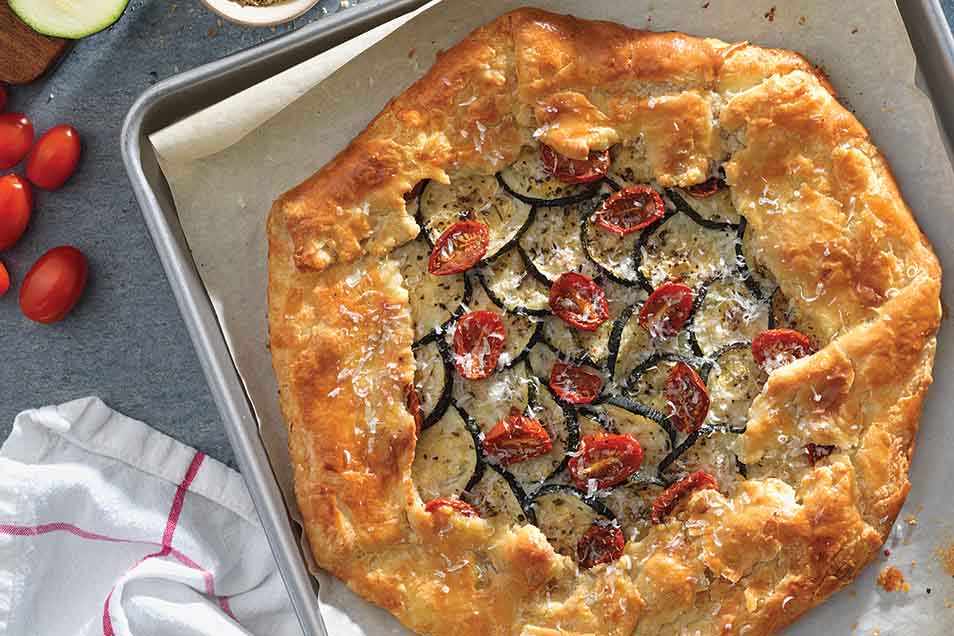 With its tender, flaky crust and savory, cheese and herb filling, this summery galette can be served in fat wedges as the main course for a warm-weather picnic; in smaller slices as a starter to a summer meal full of the season's best produce, or in thin slivers as hors d'oeuvres for a solstice cocktail party. However it's served, it's sure to be enjoyed by all.
Ingredients
Filling
1 large zucchini, sliced into 1/4"-thick disks
2 teaspoons Pizza Seasoning, or other dried herb and spice blend, divided
1/2 pint cherry or grape tomatoes, halved
3/4 cup ricotta cheese
1/4 teaspoon salt
freshly ground black pepper, to taste
1 teaspoon fresh lemon zest (grated lemon rind), optional
1 large egg
1/2 cup grated Parmesan cheese, divided
Egg wash
1 large egg beaten with 1 tablespoon water
Instructions
To make the crust: Whisk together the dry ingredients. Work in the butter until the mixture is crumbly. Drizzle in 5 tablespoons of water, stirring gently until everything is evenly moistened; add the final tablespoon of water if necessary to make a cohesive dough.

Pat the dough into a disk, wrap, and refrigerate for 30 minutes.

To make the filling: Preheat the oven to 425°F. Lightly grease (or line with parchment) two baking sheets.

Place the zucchini slices on one pan and sprinkle with 1 1/2 teaspoons pizza seasoning.

Place the tomato halves on the second pan and sprinkle with the remaining pizza seasoning.

Roast the zucchini and tomatoes until tender, about 15 to 20 minutes for the zucchini and 10 to 15 minutes for the tomatoes.

Remove the zucchini and tomatoes from the oven and allow to cool for 10 minutes.

Combine the ricotta, salt, pepper, lemon zest, and egg until evenly blended. Set aside.

To assemble the galette: On a lightly floured work surface, roll the dough into a 12" circle. Transfer the dough to a parchment-lined baking sheet.

Spread the ricotta mixture over the dough, leaving a 2"-wide bare strip along the perimeter.

Sprinkle half the Parmesan over the ricotta, then shingle the zucchini slices over the cheese and scatter the tomato halves on top.

Fold the bare edges of the dough into the center.

Brush the exposed edges of the crust with egg wash, and sprinkle the remaining Parmesan over the whole galette.

Bake the galette for 25 to 30 minutes, until the crust is golden brown and the filling is bubbling.

Remove the galette from the oven and allow it to cool for 5 to 10 minutes before serving.
Reviews
We love this recipe - even our picky 7 year old. It is great, as written or even with 1:1 whole wheat flour and all purpose, so we use whatever we have on hand. A wonderful way to help reduce your zucchini abundance during the summer AND it is also amazing with asparagus from the garden in springtime (just don't roast the asparagus for more than 8-10 minutes before assembling the galette). Definitely add the lemon zest for a wonderful hint of citrus. Highly recommend!
Thank god for ricotta. some people insist on using Cottage Cheese. Cottage Cheese is obnoxious and foul smelling and tasting, and the only thing worse then the taste/smell of Cottage Cheese is lactose free milk substitutes, gluten free bread and Canola Oil, which actually smells to some of us. If you can't do dairy I understand stop whining and move on. Same for Gluten Dodgers. I feel for you really, but please keep that stuff in your kitchen. Don't send it to school don't tell people it tastes like whatever.
I used the crust only for a greens and potato galette since I didn't have zucchini. Loved the crust and received many compliments on the flaky texture. Easy to put together and great with the veggies inside. I will try the zucchini tomato combination when I have more zucchini.
This was absolutely delicious!!!
Excellent, and very worth the time. I made one change; since I find ricotta rather bland I used 4% small-curd cottage cheese instead. Delicious, and with cherry tomatoes and zucchini available all year this will be a keeper.
So much more delicious than I expected. Used fresh orange cherry tomatoes from the farmer's market and the combination of the savory flavors and the sweet tomatoes was just so satisfying. I will definitely be making this one again.
My galette turned out delicious! I made homemade ricotta cheese the day before and it really made the flavors much better! I also thin sliced white onion and sprinkled it with pizza seasoning and cooked it in the oven just like the zucchini and grape tomatoes! My friend said it was great! I will be making this one again and again!
I thought this galette was delicious and really elevated zucchini to a higher level. Since I made this for lunch with a friend who is gluten-intolerant, I substituted KAF Gluten Free Multi-Purpose Flour, which made a lovely, tender crust.
This is a wonderful, flexible recipe. Unfortunately I didn't have ricotta, lemons, or cheese powder, but the recipe didn't suffer for it. Instead of 3/4 cup ricotta, I used 1/4 cup mozzarella and 1/2 cup parmesan. Added some garlic powder and herbs to season the crust. Result was beautifully crisp, savory galette. Can't imagine a better way to use up the pounds of summer squash in my fridge.