A customized print-friendly version of this recipe is available by clicking the "Print Recipe" button on this page.
Secret Ingredient Apple Pie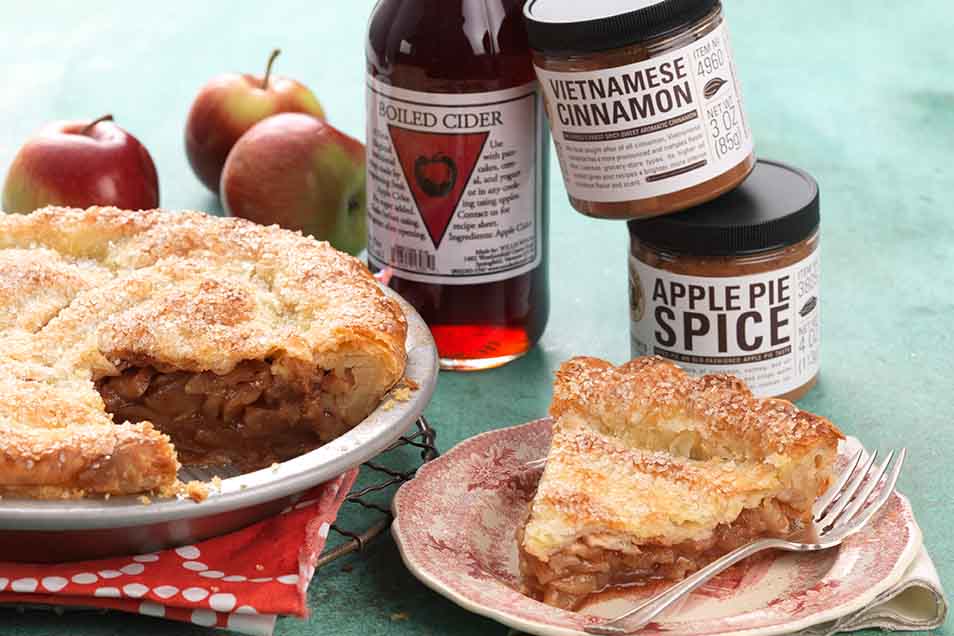 And the secret is...? Boiled cider, which gives this pie over-the-top flavor. In addition, an extra-long 2-hour bake yields a rich gold, nearly caramelized filling, and spectacular crust, both top and bottom.
Ingredients
Crust
1 1/4 cups King Arthur Unbleached All-Purpose Flour
2 tablespoons buttermilk powder, optional
1 teaspoon salt
3 tablespoons confectioners' sugar
1/2 teaspoon baking powder
1 cup (16 tablespoons) cold unsalted butter
about 1/2 cup ice water*
*Add just enough water to bring the dough together into a cohesive mass, with no dry chunks flaking off.
Filling
7 to 8 cups cored, peeled, and sliced Ginger Gold or Granny Smith apples; see "tips," below
1 cup confectioners' sugar
1/3 cup King Arthur Pie Filling Enhancer*
1/4 cup boiled cider**
1 1/2 teaspoons Apple Pie Spice, or spice mix of your choice
1/4 teaspoon salt
1 tablespoon vanilla extract
2 tablespoons butter, melted
*See "tips," below
**Substitute frozen apple juice concentrate, if you choose; the flavor won't be quite as good.
Instructions
To make the crust: Whisk together the dry ingredients, then work in the cold butter until the dough is unevenly crumbly. Sprinkle in the ice water, enough to make a cohesive, pliable (not crumbly) dough.

Divide the dough into two pieces, one 1/3 of the dough, and the other 2/3 of the dough. Wrap in plastic or waxed paper, and refrigerate for 1 hour, or for up to 3 days.

Remove the dough from the refrigerator about 30 minutes before you want to roll it. While the dough is warming, prepare the filling.

Preheat the oven to 350°F with a rack in the center position.

To make the filling: Microwave the apple slices, uncovered, for 5 to 6 minutes, until they've softened but still retain a bit of "bite." Drain, transfer to a bowl, and stir in the remaining filling ingredients.

Use 2/3 of the dough to make the bottom crust. Roll the dough into a 12" circle, and place it in a 9" to 10" pie plate (at least 1 1/4" deep). Spoon the filling into the crust.

Roll out the top crust, place it over the filling, trim any excess, and seal and crimp the edges. Use crust trimmings to roll out and cut leaf shapes, if desired, and place them on the crust. Cut a slit in the center, for steam to escape.

Brush the crust with milk, and sprinkle with sparkling white sugar.

To bake the pie: Place the pie on a parchment-lined baking sheet (to catch any spills), and bake for 30 minutes. Gently place a sheet of aluminum foil atop the pie, covering its entire surface, and continue to bake for an additional 90 minutes, for a total of 2 hours, until the top crust is golden brown and the filling is bubbly.

Remove the pie from the oven, and allow it to cool for 1 1/2 to 2 hours before cutting (to avoid a lava-flow of filling).

Store the pie for a day or so at room temperature. Cover and refrigerate for up to 5 days; or wrap well and freeze for longer storage.
Nutrition Information
Serving Size

196g

Servings Per Batch

10
Amount Per Serving:
Calories

460

Calories from Fat

190

Total Fat

22g

Saturated Fat

13g

Trans Fat

1g

Cholesterol

55mg
Sodium

340mg

Total Carbohydrate

65g

Dietary Fiber

4g

Sugars

36g

Protein

5g
* The nutrition information provided for this recipe is determined by the ESHA Genesis R&D software program. Substituting any ingredients may change the posted nutrition information.
Tips from our bakers
If you don't have Pie Filling Enhancer, use 1/4 cup King Arthur Unbleached All-Purpose Flour mixed with 1 1/4 cups confectioners' sugar. Omit the 1 cup confectioners' sugar called for in the recipe.
Farmer's markets and farmstands offer a plethora of marvelous local apples for pies; ask your vendor or shopkeeper for specific baking apple recommendations.
There are many different thickening options available for fruit pies, from flour to cornstarch to Instant ClearJel and more. For an easy guide to thickener substitutions, see our Pie Filling Thickeners Guide.
Reviews
My pie resulted in smiles. Great flavor and texture in a delightful crust. Changes I made: * Instead of the crust recipe, KAF boxed pie crust mix, making it with all butter, no shortening. * Instead of King Arthur Pie Filling Enhancer, I used the suggested substitution of flour and confectioners' sugar. * I chose to make a lattice-style top crust and no sparkling sugar decoration. My pie used only Granny Smith apples. We like tart fruit pies, so I wanted to reduce the amount of sugar. But since I was unsure how that might affect the flour/sugar substitution for pie filling enhancer, I did not reduce the sugar. The instruction to microwave the apples and pour off the juice created a small concern. After I poured off the juice and stirred in the other ingredients, then rolled out the crust, the significant amount of liquid in the apple mixture made me wonder if juice had continued to seep from the hot apples. Unsure what to do, I did pour off some of the liquid, which meant losing some of the boiled cider and spices. I added a little extra Apple Pie Spice. Next time, I'll wait longer for the apples to cool before pouring off the juice and adding spices.
I'd never heard of baking an apple pie for 2 hours, and was afraid the pie would turn to mush, but after reading some of the other reviews I thought I'd give it a try. It turned out really good! I cut the apples in pretty thick slices and only precooked them for about 4 minutes. They were for sure on the tender side but still had some bite to them. I used instant clear jel as the thickener so put in 1T+1 heaping teas. and it was perfect! We like a sweet/tart pie so I only used half a cup of sugar in the filling and it was perfect for our taste. I will be making this pie again for sure. The one thing that I was a little disappointed in was the flavor. It wasn't as bright and appley as I thought it would be, especially with having the boiled cider in it. I used honeycrisp apples, which have always been a fairly strong flavored one, but maybe that's one downside to the long cooking time. All you bakers on the east coast talk about apple varieties I've never heard of, so maybe you have better apples over there?

We're so happy that you gave this recipe a go! We've found that Honey Crisp apples have a high water content so they are great for eating but often times aren't the best for baking with. You might enjoy trying out Empire apples in your pie, which through a quick search online it looks like you might be able to find them in your area. Happy baking!
Good crust - - liked the fact that it browned nicely on the sides and bottom. I found that the long bake time overcooked the apples almost to the point of applesauce (and I did not pre-cooked the fruit as instructed) but of course that did not stop the pie from being eaten by all who saw it on the counter :)

If you're a baker who prefer a bit of crunch in the apples in the filling, consider slicing them a bit thicker next time and also use a combination or Granny Smith and Empire apples. They're firm and hold their shape nicely. Kye@KAF
Great taste, bad texture. My Granny Smiths turned to mush. One flaw in the recipe is that it doesn't tell you how thick or thin to cut your apple slices. I tried a variety of thicknesses and microwaved as the recipe said. My first couple apples were mush. I tried cutting a whole apple into eighths, and they kept their shape after 6 minutes in the 'wave. However, though they were shriveled, there was no liquid to drain off of those after microwaving. Knowing that now, I would cut my Granny Smiths all into eighths and skip the microwaving step totally. After 2 hours of baking, there should be some shape retention, so it's not just an applesauce pie.

Hi Jane, thanks for sharing your feedback with us. We don't typically include a measurement for the apple slices because the ideal thickness varies so drastically based on what variety of apples are used and what consistency the baker is looking for in the filling. If you know you prefer a thicker filling with chunks of apples that hold their shape, consider slicing the apples about 1/2" thick or larger. You might consider using some Empire apples along with your Granny Smiths to help provide additional crunch and flavor. Kye@KAF
I made this yesterday and it was delicious. I am using the past tense because it did not last through the end of the day. The filling is wonderful and we all enjoyed the special touch of the boiled cider. I did not use the crust recipe included in this recipe. Instead I used the Classic Double Crust recipe from the KAF site. It always works. In addition, I followed your suggestion and used the cookie cutters, acorn and leaf, instead of a top crust. In addition to being totally delicious it was beautiful.
My family loved this apple pie. The crust is amazing and was well browned on top and bottom. The apple flavor of the filling was delightful as well. I made 2 of them and it's good I did. The texture is still nice on day 2. I used Zestar apples and they held up very nicely. I had also purchased the leaf and acorn cut outs when I visited the King Arthur store last fall and they finished off my pie beautifully.
I used Gravensteins. Normally for non sweetened applesauce. I didn't need any sugar in the pie at all. The boiled cider was just the right level of a little added sweetness and enhanced the apples. Good tip! Sorry KA. I made my own after I saw the recipe in the catalog and I had quite a few apples. Not a fan of too sweet, too much sugar in pies. Taste the fruit and add sugar accordingly. I also add Alton Brown's "secret" ingredient in apple pies: Grains of paradise pepper. Pie was fabulous.
A different kind of apple than Granny Smoth would probably work better. I used to get winesaps when I lived on the East Coast and they made the best apple pie, but they're hard to find these days. Braeburn or Johnagold might work.
Very nice, but not exceptional, apple pie.
The filling had an excellent flavor, and was not runny/watery (my chief complaint with many pies - I don't like soggy crust). However, my apples (Granny Smith) turned to mush in the pie. I would be interested to hear how the pie turned out for someone who used thicker slices of apple and/or did not microwave them. I might try making this again... I'm not entirely sure what else to use the boiled cider for.

If you like a filling with more crunch, feel free to skip the microwaving step but know that the apples will release more moisture as the pie bakes and may make the bottom crust more soggy. Try using thicker slices of apples next time and microwaving them for only about 2-3 minutes. As for how to use your boiled cider, we have dozens of recipes on our website that call for it or feel free to enjoy it drizzled on top of ice cream, yogurt, pancakes, oatmeal and more! Kye@KAF