A customized print-friendly version of this recipe is available by clicking the "Print Recipe" button on this page.
Self-Rising Garlic Sticks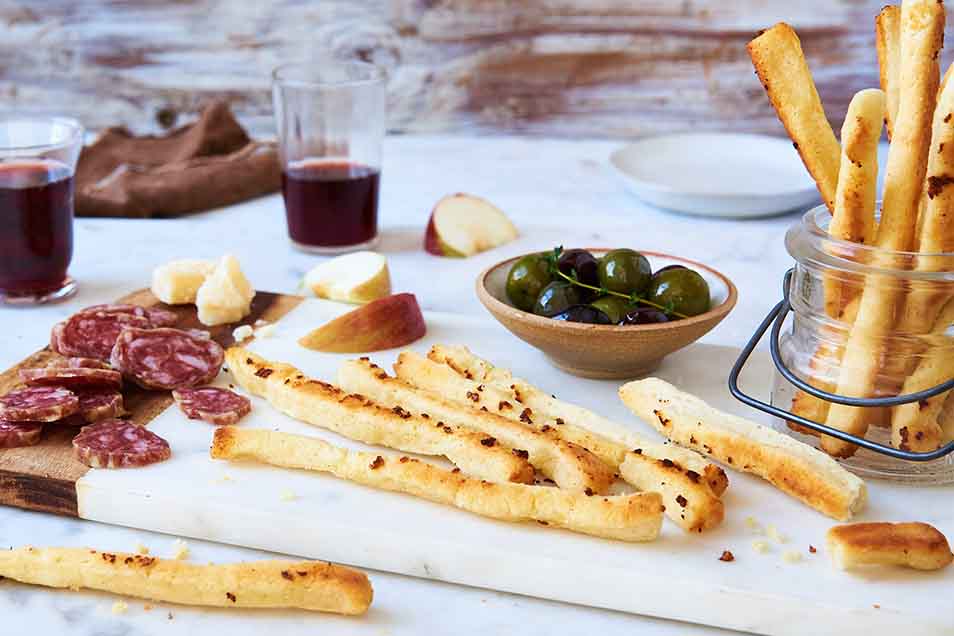 This new take on the typical yeast bread stick takes biscuit dough, shapes it into sticks, bathes the sticks in garlic butter, then bakes garlicky, pull-apart biscuit sticks. Their soft sides and crisp tops make them a favorite of both kids and adults.
Instructions
Preheat your oven to 450°F. As the oven is preheating, place the 8 tablespoons butter in a 9" x 13" pan, and put the pan in the oven to melt the butter. When the butter is melted, remove the pan, and sprinkle in the minced garlic, stirring gently to distribute.

Stir together the flour and milk to make a soft dough. Gather the dough into a ball, and gently fold it over three or four times.

Place the dough on a well-floured surface, and roll/pat it into a 10" x 8" rectangle; it'll be fairly thin.

Cut the dough in half crosswise, into two 8" x 5" rectangles. Cut each rectangle into 16 sticks, about 5" x 1/2" each.

Lay the sticks close together in the pan, turning them to coat with the butter; you'll need to snug them right up against one another.

Bake the sticks for 15 to 20 minutes, until they're a light golden brown. Remove them from the oven, and as soon as you can handle them, gently pull them apart and place on a plate or in a basket. Serve warm.

Yield: about 32 sticks.
Tips from our bakers
For an even quicker and easier treat, simply use a tablespoon cookie scoop to drop the biscuit dough into the garlic-butter in the pan, flattening them to (mostly) cover the bottom surface. Bake as directed.
Reviews
We loved these! My garlic did burn a bit, but my sheet pan was too big. Thanks for a great recipe!
WOW ! So yummy. I made them as an appetizer. Quick , easy and tasty. Displayed in Mason jars . Looks cute too. Baked 15 minutes and I added Parmesan cheese to the top. Try it.
I must have done something wrong because I made this recipe for dinner last night and they did not turn out good at all. The flavor was not enough and they didn't rise at all so the texture wasn't right either. I was after a breadstick that is golden and lightly crisp outside with a bread like inside. I think the recipe should use more salt and garlic for flavor as well, but that's my preference. I don't think I will make this again.

We are sorry to hear these garlic sticks did not meet your expectations. Feel free to use salted butter in this recipe to kick up the salty flavor and/or sprinkle the top with sea salt to really accentuate the flavor. The key to getting these sticks to rise is using self-rising flour that is fresh. In general, this recipe does produce a stick that is more cracker-like than bready. It sounds like you may enjoy our recipe for Soft Bread Sticks, so we hope you consider giving it a try. Thank you for sharing your thoughts with us and best of luck. Kye@KAF
These turned out great for me! But instead of putting in the garlic after melting the butter I threw it in the pan and melted the butter with the garlic already in it. It gave the butter the garlic taste that might've been missing.
I love this recipe! I used a combination of butter and coconut oil. I rolled the dough out in white corn four for some added crunch, and added Italian seasoning to the butter and garlic, and the last few minutes I sprinkled on some aged parmesan. Yummy!
The fine folks at a popular chain restaurant that offers unlimited bread sticks aren't going to be losing any sleep over the fear that their recipe got out, but this recipe is exactly what it claims - simple ingredients that come together in a flash and raise a simple meal of soup or salad up a notch. I sprinkled in a little Parmesan, and would add a bit more garlic next time - but overall, it's a keeper.
Short and sweet recipe that is tasty and is a great addition to a spaghetti meal. I also added a little more milk to the flour and lowered the oven temp to 415 degrees. Worked out nicely!
These were delicious- I think my husband would have eaten the whole batch by himself! I added a little more milk to make the dough come together, and also sprinkled the tops with coarse salt before baking. Yum!
I've made this recipe twice and both times I've needed to add a few more tablespoons of milk to get it to come together. I can't say this dough is particularly easy or enjoyable to work with. I find it a little heavy and dense, but the end result has been worth it. I consider this recipe to be a cross between a breadstick and a biscuit. Either way, they are very tasty and really good with soup or stew. I love the buttery garlicky flavor to them. They are not as quick as throwing together some quick biscuits, but they are faster than making a yeast dough. The first time I made it, I threw the whole stick of butter in my glass baking dish, and it ended up browning and almost burning in the oven before it was all melted down. The second time, I sliced it into pats and it melted nicely. I took it out when it was just melted and threw in four cubes of frozen garlic from Trader Joe's and let them melt into the butter while I rolled out the dough. I like using the frozen garlic because it is a smooth paste and it incorporates really nicely into the butter. My breadsticks took only about 12 minutes to bake. I think if you overbake them, they will become dry and possibly break. At 12-13 minutes, they were nicely browned but still soft and held together.
I too found the dough, and resulting sticks, dry. Disappointing.
I am sorry to hear that the recipe did not work for you! It sounds like there may have been a measurement issue with your recipe. Please call our Baker's Hotline so we can troubleshoot the recipe with you!-Jon 855 371 2253