A customized print-friendly version of this recipe is available by clicking the "Print Recipe" button on this page.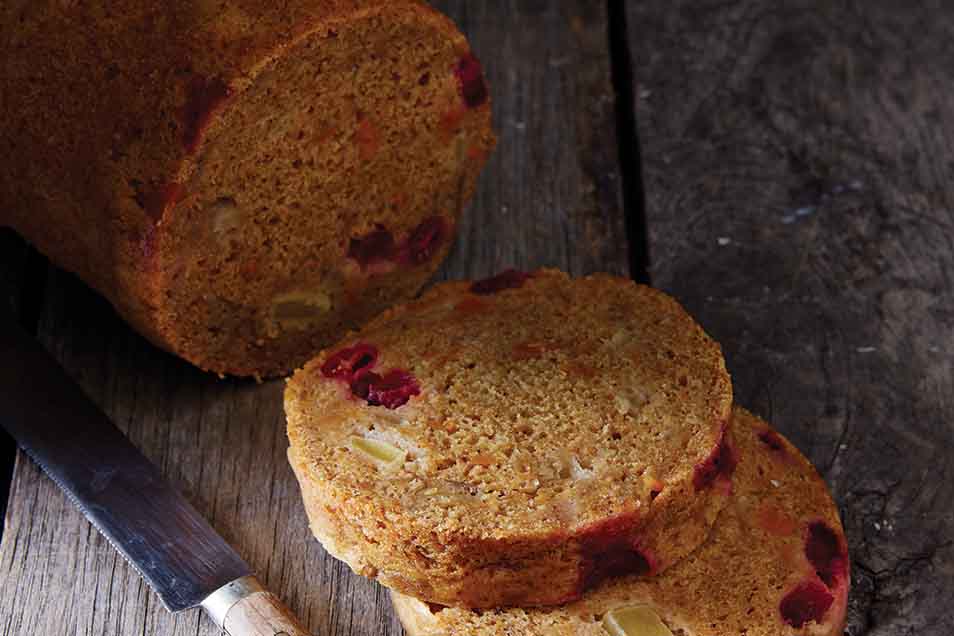 Steaming is a method of cooking that was used for centuries before ovens were found in every home. Although it takes longer to cook breads by steaming, the cooking time is quite flexible. A steamed bread can cook long past its finishing time without substantially changing, unlike an oven-baked bread which will pass from done to scorched in a matter of minutes. This is because steamed breads cook at the temperature at which water boils (212°F) rather than the 350°F at which quick breads are commonly baked.

Here's a formula for a steamed bread that will make use of apples, pumpkins, squash and other autumn abundance. Eggs aside, it includes no fat, so if you are looking for a filling, high-energy, vitamin-rich snack with a minimum of calories, give this a try. Steamed bread makes a great, quick breakfast, an afternoon pick-me-up or a tasty accompaniment for supper. The spices can be varied to enhance the flavor of the vegetable or fruit used. Cinnamon, allspice and nutmeg are always good and, strangely enough, so is a bit of white or black pepper.
Ingredients
1 1/2 cups King Arthur Unbleached All-Purpose Flour
1 1/2 cups King Arthur Premium 100% Whole Wheat Flour
2 teaspoons baking powder
1 teaspoon baking soda
1 teaspoon salt
1 tablespoon (in total) spice (choose and mix from cinnamon, ginger, nutmeg, cloves, allspice, etc.)
1 cup non-fat yogurt, buttermilk or sour milk
3 eggs
1 to 1 1/2 cups brown sugar
1 1/2 cups cooked mashed apple, pumpkin, carrots, squash, cranberries, or cranberry sauce, etc. or 2 or more cups grated raw carrot, chopped apple, etc.
Instructions
Grease a 2-quart pudding mold. Bring a teakettle of water to a boil.

Mix together the flours, baking powder, soda, salt and spices.

In another bowl, beat together the yogurt, eggs, sugar and vegetable or fruit. Blend this mixture into the dry ingredients.

Place the batter in the mold. Fill about two-thirds full. Place the lid on the pudding mold.

Place the mold in a kettle or saucepan on top of something (a vegetable steamer or crinkled tin foil will do) to keep them off the bottom of the pan. The pan should be deep enough so its lid can cover the pudding mold.

Fill the pan with boiling water two-thirds of the way up the mold.

Cover, bring the water back to a boil and lower the heat to a simmer. Steam the pudding mold for about 2 hours, adding water if necessary. (See "tips," below.)

Store, well-wrapped, for 3 days in the fridge, or freeze for up to 3 months.
Tips from our bakers
If the batter seems too much for the mold, grease a custard cup and bake the remainder in the oven, or preview the finished product as a pancake!
Reviews
Question: If I made this all whole wheat, should I sub white whole wheat or whole wheat pastry flour for the AP white flour ??

We'd recommend using the White Whole Wheat Flour, Lee. You'll find you need to drizzle in extra water to get your dough to be a smooth, tacky consistency, as whole wheat flour absorbs a lot more liquid than all-purpose does. Annabelle@KAF
I made a simple pumpkin version of this recipe. I was making it for my finicky grandson who loves pumpkin but none of the add-ins. I didn't have whole wheat flour, so I used whole wheat white flour. I did not have a pudding mold, so I looked at the slow cooker brown bread recipe ( on the KAF web site) and followed the directions for steaming the bread in the crockpot. Before I did any of that I called the baker's caller line for a consult. They were great and thought I was on to something. It all worked out and the bread was a BIG hit. I love that it is so moist, but fat free. I used the KAF pumpkin spice which is a nice combo. I like cooking it in the pint jars! The loaves are a nice size and will be good to give as gifts. Next time I will add some chopped apples and dried cranberries. Perfect for Thanksgiving!
I made this with pumpkin as the vegetable and added chunks of apple and dried cranberries to the batter. I also reduced the spice to 2 teaspoons, using 1 tsp of cinnamon and 1 tsp of KAF's gingerbread spice blend. I used 1 cup of brown sugar. The result was wonderful - earthy tasting from the whole wheat and pumpkin, spicy, moist and not too sweet. I think three teaspoons of spice might have been overwhelming. The recipe fit perfectly into my 2 quart steamed pudding mold, and turned out a lovely loaf. I think I might reduce the spice a little further next time so that the apple and cranberry flavors are more noticeable.
Wow KAF! Time to showcase this recipe. I was looking for healthy, low fat but moist and delicious dessert type bread and I've found it. Easy to make in the crock pot--a friendly KAF chat line Baket helped me with that. The only fat is in the egg yolks, but steaming keeps it so moist. Frosted each slice with your cream cheese frosting or with a cashew, dairy free frosting for the lactose intolerant, and it was a huge hit. Made with carrots, it's a healthier version of carrot cake. It's also great with nut butters. I've made it with various veggies, but always use apple for sweetness and texture. I've made it with the flours listed, and also with measure for measure GF and sprouted wheat. Delicious. A guilt free, healthy pleasure just on its own as well.
I simply love this recipe! I use pumpkin and dried cherries, butternut and dried apricots, bananas and walnuts; you get the idea. Yum! I have hardly made a bad one. My only wish is that there were tube pans to make smaller loaves like brown bread. I don't use cans anymore since I cut my hand so I use my pudding steamer, but I miss those smaller loaves.
We made it with carnival squash and carrots, and it is delicious! I did not have the pudding mold so we used a loaf pan and tented it with foil, as was suggested by the baker's hotline. We also steamed it in the crock pot on high, which made things super simple. Cooked it for about 30-45 minutes longer than suggested, and finished it in the oven just to give it a bit of a crispier outside. We will certainly be making this again!
Wonderful bread!!! It is nutritious and tasty. The first one I made was with fresh apples and carrots. I used cinnamon, ginger and nutmeg. My husband loved that combination so much he keeps requesting it, while I'm wanting to try other flavor combinations. So yesterday I made 2, one carrot apple walnut, and one pumpkin walnut. Both are moist and delicious. I have given some to family and coworkers to try and everyone exclaims over how good it is-then ask for the recipe! Easy to put together and easy to cook if you have the pudding mold. W/o the pudding mold it is slightly more difficult to get the vessel used out of the steaming water, but easy enough if you criss cross string on the bottom of the larger pot before adding the pot with the dough. Another great thing about steamed bread is it's very forgiving when it comes to overcooking. Since it cooks slowly there is a lot of leeway in how long it cooks. I have let mine go 2 1/2 to 3 hours before when I forgot to start a timer and it came out perfectly!