A customized print-friendly version of this recipe is available by clicking the "Print Recipe" button on this page.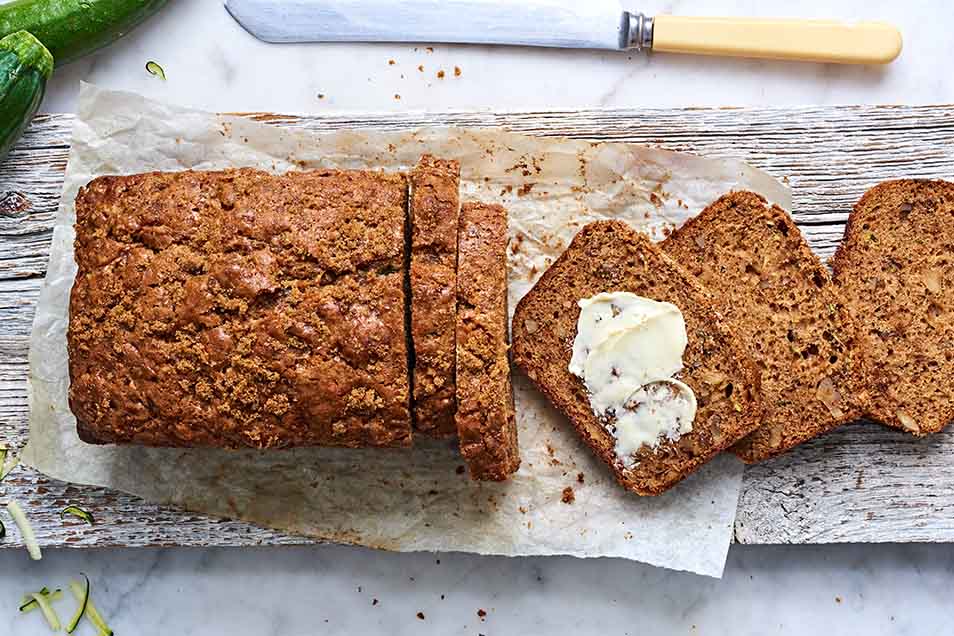 Plain and simple never tasted so good! This basic zucchini bread recipe — moist, flavorful, and easy to slice — is perfectly good as written. Add chips, chopped apple, dried cranberries, or the extra ingredients of your choice to take it a step beyond.
Ingredients
3/4 cup brown sugar
2 tablespoons boiled cider, apple juice, orange juice, milk, water, or the liquid of your choice
1/2 cup vegetable oil
2 large eggs
1 teaspoon vanilla extract
1/4 teaspoon baking powder
1/2 teaspoon baking soda
1 teaspoon salt
1 1/2 teaspoons ground cinnamon, optional
1 3/4 cups King Arthur Unbleached All-Purpose Flour
2 cups grated or shredded zucchini, somewhere between firmly and lightly packed
3/4 cup chopped walnuts, toasted until golden
3/4 cup raisins or currants, golden raisins preferred
2 tablespoons brown sugar for sprinkling on top, optional
Instructions
Preheat the oven to 350°F. Lightly grease an 8 1/2" x 4 1/2" loaf pan.

In a medium-sized bowl, beat together the brown sugar, boiled cider or other liquid, vegetable oil, eggs, and vanilla until smooth.

Whisk the baking powder, baking soda, salt, and cinnamon into the flour, then add the dry ingredients to the liquid ingredients in the bowl, stirring or beating gently until smooth.

Stir in the zucchini, walnuts, and raisins or currants.

Scoop the batter into the prepared pan, smoothing it if necessary. Sprinkle with brown sugar, if desired.

Bake the bread for 55 to 65 minutes, until a toothpick inserted into the center comes out clean. The top (just under the crust) may seem a bit sticky; but so long as the toothpick doesn't reveal wet batter, it's done.

Remove the bread from the oven, and cool it in the pan for 10 minutes. Turn it out of the pan onto a rack to cool completely. For best results, don't slice until it's cool.

Store the bread at cool room temperature, well wrapped, for several days; freeze for longer storage.
Tips from our bakers
Shredded zucchini varies a lot in weight, depending on the season, the freshness of the vegetable, the fineness of the shred, and how firmly you pack it into the cup. Measure your zucchini by volume in this recipe, not weight; don't fret if your weight doesn't match the weight in the recipe.
To toast chopped walnuts, spread them in a single layer in a baking pan, and toast in a preheated 350°F oven for about 6 minutes, or until they're golden brown and smell "toasty."
Reviews
Came across this recipe a few days ago and I baked 2 loaves earlier this evening. I love this recipe! Mine look almost exactly like the photo :-) I used a tiny bit less sugar, pecans and dried cranberries. I feel this is such a good base recipe to add any favourite combo you want. I like that it uses 2 full cups of zucchini. Moist inside, crispy outside - my hubby was super happy!! I will make this all the time. I am so glad I found your site. Oh and now I will check out all your recipes. Thanks.
Worst zucchini bread recipe I've tried yet. I think it was the brown sugar. I've never used that before; always been white sugar. It just had a nasty flavor. Also, even though I cooked it for 65 min I don't think it was totally cooked through the center and it never rose as high as other zucchini bread recipes I've tried. Don't recommend.

We're sorry to hear that this well-loved recipe didn't do the trick for you, Susanna. If we can help pick out a recipe that better fits your tastes or help troubleshoot this one, please give our Baker's Hotline a call at 855-371-BAKE (2253). Kindly, Annabelle@KAF
I think I used too much zucchini. It was a little too soft and I think it could use more spices besides cinnamon. I've made zucchini bread before so I was a little disappointed. I also made them as muffins.

Hi Karen, if you want to be sure you're using exactly the right amount of zucchini in your bread, we recommend measuring it by weight using a scale. You should use about 7 ounces (198g) of zucchini for best results, which is about 2 cups of lightly packed zucchini. We hope your next batch of zucchini bread turns out perfectly! Kye@KAF
This is the first King Arthur recipe that I haven't liked. I found it a little dry and rather tasteless. I would add more cinnamon which might help the flavor.

Hi Janet, one of the most common reasons why baked goods turn out dry and heavy is because too much flour is used. To ensure you're using the right amount, we recommend checking out the "Measuring Standards," link next to the ingredients header above. You'll see that either measuring your flour by weight using a scale, or fluffing and sprinkling the flour into your measuring cup are the best ways to ensure your recipe turns out perfectly. We also encourage you to boost the amount of spices if you're looking for something more spiced and flavorful. Adding cinnamon chips to the batter is also a good idea. Happy baking! Kye@KAF
I tried this recipe tonight and was very pleased with the outcome!! I used golden raisins and soaked them in warm water for 30 min and did not roast my walnut pieces. Thanks for the recipe it is a keeper in my books!!
This is an awesome recipe. Comes out perfect every time. And so delicious.
Hello, I loved this recipe! It came out perfect! I like that it's not overly sweet. I did modify the recipe a little. For the liquid I added 2T. of buttermilk. It's very important that you don't add more then 2T., because the zucchini will release liquor while it's cooking. I also added semi sweet chocolate chips. Because I love....chocolate! I did have to cook it about 20 minutes longer then the recipe suggested. That's probably because were I live the altitude is high. Thank you for sharing this recipe.
I just baked this bread and it turned out great! I used Craisins instead of currants. I also doubled the recipe and as suggested, half the leavening as I'm at 7K ft. Yum!
I have found many great recipes on King Arthur's website before, and have enjoyed King Arthur's products, however, something was not right with this recipe and the end result was a zucchini bread that was glistening wet inside no matter how long or hot I baked it. I made sure to follow the recipe exactly. I triple checked. After a total baking time at 350 degrees F of 1 hr 20 min I put it back in at 375 degrees F for another 20 minutes and finally gave up because it was soggy inside the immediate crust. I even pressed the water from the grated zucchini out into the sink beforehand to be sure it wasn't too wet. I saw a couple of other customers who had the same trouble with this recipe and the best answer they got was humidity?? No reason this should have been uncookable and inedible.

We're both surprised and sorry to hear about your less than ideal results with this recipe, Kelly. We haven't experienced a wet/raw final result when following this recipe, so we're not quite sure what may have gone awry. If there were any ingredient substitutions made, measuring errors, or even a thick ceramic/stoneware pan used, it may have affected the final result. In order for us to troubleshoot further, we'll need to collect a bit more information. Consider giving our Baker's Hotline a call at 855-371-BAKE (2253) so we can dive into this quandary over the phone. We look forward to assisting you further. Kindly, Kye@KAF
Great taste and texture. I used Bob's Red Mill gluten free flour mix and added half a grated carrot, just because. I also used 3 T. Heavy cream from another recipe that needed a home. I can't taste the coconut oil and the texture is very delicate and tender. I'll make this again!