A customized print-friendly version of this recipe is available by clicking the "Print Recipe" button on this page.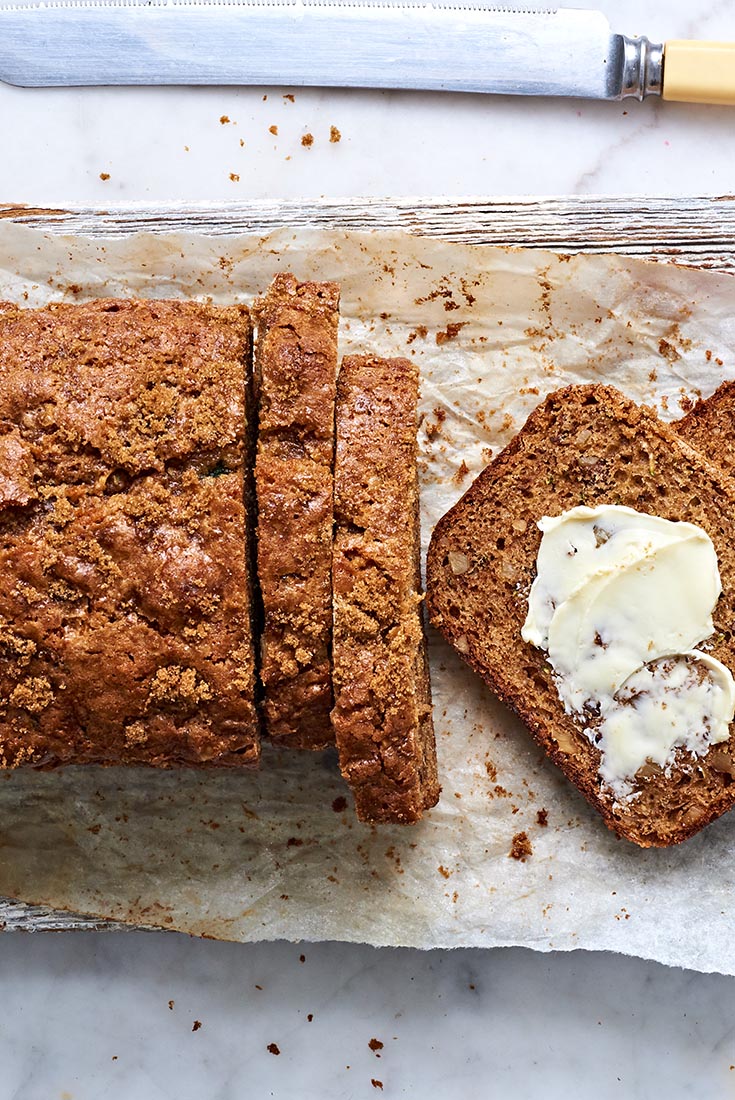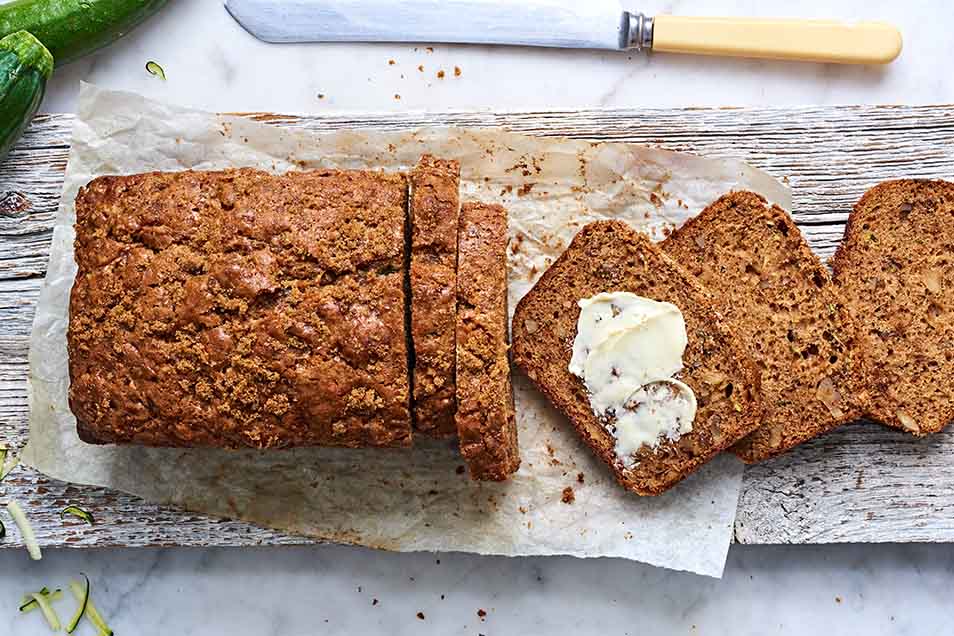 Plain and simple never tasted so good! This basic zucchini bread recipe — moist, flavorful, and easy to slice — is perfectly good as written. Add chips, chopped apple, dried cranberries, or the extra ingredients of your choice to take it a step beyond.
Ingredients
3/4 cup brown sugar
2 tablespoons boiled cider, apple juice, orange juice, milk, water, or the liquid of your choice
1/2 cup vegetable oil
2 large eggs
1 teaspoon vanilla extract
1/4 teaspoon baking powder
1/2 teaspoon baking soda
1 teaspoon salt
1 1/2 teaspoons ground cinnamon, optional
1 3/4 cups King Arthur Unbleached All-Purpose Flour
2 cups grated or shredded zucchini, somewhere between firmly and lightly packed
3/4 cup chopped walnuts, toasted until golden
3/4 cup raisins or currants, golden raisins preferred
2 tablespoons brown sugar for sprinkling on top, optional
Instructions
Preheat the oven to 350°F. Lightly grease an 8 1/2" x 4 1/2" loaf pan.

In a medium-sized bowl, beat together the brown sugar, boiled cider or other liquid, vegetable oil, eggs, and vanilla until smooth.

Whisk the baking powder, baking soda, salt, and cinnamon into the flour, then add the dry ingredients to the liquid ingredients in the bowl, stirring or beating gently until smooth.

Stir in the zucchini, walnuts, and raisins or currants.

Scoop the batter into the prepared pan, smoothing it if necessary. Sprinkle with brown sugar, if desired.

Bake the bread for 55 to 65 minutes, until a toothpick inserted into the center comes out clean. The top (just under the crust) may seem a bit sticky; but so long as the toothpick doesn't reveal wet batter, it's done.

Remove the bread from the oven, and cool it in the pan for 10 minutes. Turn it out of the pan onto a rack to cool completely. For best results, don't slice until it's cool.

Store the bread at cool room temperature, well wrapped, for several days; freeze for longer storage.
Tips from our bakers
Shredded zucchini varies a lot in weight, depending on the season, the freshness of the vegetable, the fineness of the shred, and how firmly you pack it into the cup. Measure your zucchini by volume in this recipe, not weight; don't fret if your weight doesn't match the weight in the recipe.
To toast chopped walnuts, spread them in a single layer in a baking pan, and toast in a preheated 350°F oven for about 6 minutes, or until they're golden brown and smell "toasty."
Reviews
The best zucchini bread i have ever made. Super moist perfect.
Excellent! Turned out perfect. Going to make again right now but cut down the sugar. My toddler loves it and doesn't know all the veges he is eating. I didn't toast the walnuts and it still turned out good, maybe not quite as good with roasted nuts but if you're in a hurry don't stress about toasting nuts.
Simple and easy recipe! Lovely bread, added 1 cup each of grated carrot n Zucchini.
I squeezed the liquid out of the zucchini and used it to plump the raisins while I chopped and toasted the walnuts. Squeezed some tangerines for the 2T of juice and it turned out fine. I wished that I'd sprinkled the brown sugar on the top as recommended for adequate sweetness. This recipe makes about 4 dozen mini muffins, baked at 350 for 15-16 minutes. I baked them for a party. I might freeze some of them as they'll make a nice breakfast addition.
My first time baking a loaf of any kind ! Very easy to make and delicious. And a joy to make! Thank you :)
This is a great recipe, it's very moist! It's also very adaptable: I used greek yogurt for the 2 Tbsps liquid and Cardamom (since that's what I had on hand). The only suggestion I have is to fold the dry ingredients by hand instead of using a stand mixer...I found that gave it a less dense texture.
Very good with boiled cider and just a few drops of Fiori di Sicilia. I used up small amounts of several different kinds of dried fruit (golden raisins, currants, a few figs, and cherries.) Nice rise, good texture and flavor.
I have a question, I can use olive oil instead of Vegetable oil

Christina, you're welcome to use any kind of vegetable oil that you like: olive, safflower, corn, avacado, etc. We've found that some olive oils can have a strong taste, so try to choose a neutral-flavored one so that the other ingredients in this recipe comes through. Happy baking! Kye@KAF
Fantastic recipe!!! I needed one that didn't call for butter as I was all out but HAD to make bread from the zucchini from the garden before leaving for a trip so they did not go to waste...this recipe was sent to me from the Gods!!!! Perfect in every way!
This recipe was great! I made into muffins and baked at 425 for 18 minutes (as recommended by the chat feature which was very helpful!). Made some with chocolate chips which my husband was crazy for, and some with the raisins and walnuts which I was crazy for :)