A customized print-friendly version of this recipe is available by clicking the "Print Recipe" button on this page.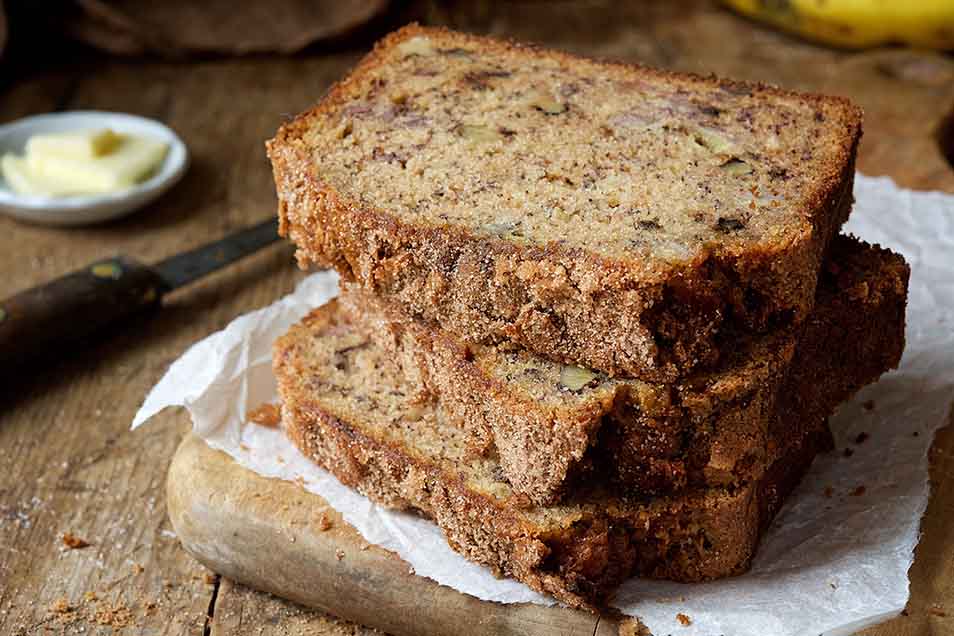 This one-bowl banana bread — our 2018 Recipe of the Year — uses the simplest ingredients, but is incredibly moist and flavorful. While the recipe calls for a 50/50 mix of flours (all-purpose and whole wheat), we often make the bread 100% whole wheat, and honestly? No one can tell, it's that good! And not only is this bread delicious — it's versatile. Check out our interactive recipe generator, Build Your Own Banana Bread, and discover how to personalize this bread to YOUR taste.

This recipe is featured in our Bake the Bag challenge: a series of nine recipes that, when baked, take you through an entire 5-pound bag of white whole wheat flour. Want to see the rest of the challenge recipes? Sign up to Bake the Bag!

Baking gluten-free? For great results, substitute King Arthur Gluten-Free Measure for Measure Flour for both the the all-purpose and whole wheat flours in this recipe; no other changes needed.
Ingredients
Batter
2 cups thoroughly mashed banana; about 4 or 5 medium bananas
1/2 cup vegetable oil
1 cup brown sugar
2 large eggs
1 teaspoon vanilla extract
1 cup King Arthur White Whole Wheat Flour or Premium Whole Wheat Flour
1 teaspoon baking soda
1/2 teaspoon baking powder
3/4 teaspoon salt
1 teaspoon ground cinnamon
1/2 cup chopped walnuts, toasted if desired; optional*
*Leave the nuts out, if desired; or substitute up to 1 cup chopped dried fruit, chocolate or butterscotch chips, sunflower or pumpkin seeds, or other mix-ins of your choice.
Topping
1 tablespoon sugar
1/2 teaspoon ground cinnamon
Instructions
Preheat the oven to 350°F with a rack in the center position. Lightly grease a 9" x 5" loaf pan; if your pan is glass or stoneware, reduce the oven temperature to 325°F.

In a large bowl, stir together the mashed banana, oil, sugar, eggs, and vanilla.

Weigh your flours; you'll find their weight by toggling to "ounces" at the top of the ingredient section above. Or measure them by gently spooning them into a cup, then sweeping off any excess. Mix the flours, baking soda, baking powder, salt, cinnamon, and chopped walnuts into the banana mixture. Scrape the bottom and sides of the bowl and mix again to thoroughly combine the ingredients.

Scoop the batter into the prepared pan. Mix together the sugar and cinnamon, and sprinkle over the batter.

Bake the bread for about 60 to 75 minutes, until the bread feels set on the top, and a paring knife (or other thin knife) inserted into the center comes out clean, or with just a few moist crumbs (but no wet batter). If you have a digital thermometer, the bread's temperature at the center should register about 205°F. If the bread appears to be browning too quickly, tent it with aluminum foil for the final 15 to 20 minutes of baking. Note: If baking in a glass or stoneware pan, increase the baking time by 10 to 15 minutes.

Remove the bread from the oven. Cool it in the pan for 15 minutes, then loosen the edges, and turn it out of the pan onto a rack to cool completely.

Store leftover bread, tightly wrapped, at room temperature for several days. Freeze for longer storage.
Nutrition Information
Serving Size

102g

Servings Per Batch

12
Amount Per Serving:
Calories

290

Calories from Fat

110

Total Fat

13g

Saturated Fat

1.5g

Trans Fat

0g

Cholesterol

30mg
Sodium

240mg

Total Carbohydrate

42g

Dietary Fiber

3g

Sugars

24g

Protein

5g
* The nutrition information provided for this recipe is determined by the ESHA Genesis R&D software program. Substituting any ingredients may change the posted nutrition information.
Tips from our bakers
If you enjoy this bread and want to try a 100% whole wheat loaf, go for it! Simply substitute 1 cup (4 ounces) whole wheat flour for the all-purpose flour listed, no further changes necessary. Want to go the other way? Substitute all-purpose flour for the whole wheat flour for a 100% all-purpose flour loaf.
Prefer butter to vegetable oil? Substitute 2/3 cup (5 3/8 ounces) melted butter for the 1/2 cup (3 1/2 ounces) vegetable oil.
If you'd like to reduce the fat in this recipe, try any of these substitutions, which will yield a loaf very similar in texture and moistness to the original:
• 1/4 cup (2 ounces) applesauce for 1/4 cup (1 3/4 ounces) of the vegetable oil
• 1/4 cup (2 ounces) yogurt (full-fat, reduced-fat, or nonfat) for 1/4 cup (1 3/4 ounces) of the vegetable oil
• 1/2 cup (4 ounces) full-fat yogurt for all of the vegetable oil (3 1/2 ounces)
Want to lower the fat even further? Substitute applesauce or yogurt (full-fat, reduced-fat, or nonfat) for all of the vegetable oil. Understand that the resulting loaf's texture will be notably less tender.
Want to reduce the sugar in this recipe? Start by lowering it by 25%, from 1 cup (7 ounces) to 3/4 cup (5 1/4 ounces); the bread will (obviously) be less sweet, and also a bit less tender.
We love the slightly caramelized flavor brown sugar lends this loaf, but if all you have on hand is white granulated sugar — use it: 1 cup (7 ounces), same volume amount as the brown sugar. Or use 1/3 cup (4 ounces) liquid sweetener (honey, agave, or maple syrup) + 1/2 cup (3 3/4 ounces) brown sugar; increase the amount of all-purpose flour by 2 tablespoons (1/2 ounce) if you make this substitution.
Transition this recipe to gluten-free the easy way: substitute King Arthur Gluten-Free Measure for Measure Flour for both the the all-purpose and whole wheat flours in this recipe; no other changes needed. And yes, you can make this banana bread vegan as well as gluten-free; see our blog post, Gluten-free and vegan banana bread.
Want to bake and share? This recipe will make 15 standard-size muffins. Bake muffins in a preheated 350°F oven for 20 to 23 minutes, or until a thin paring knife inserted into the center of a muffin comes out clean.
Reviews
Delicious! This one is a keeper!! I used: 1/4 cup oil and 1/4 cup whole milk yogurt, 1/4 cup pecans and 1/4 cup dark chocolate chips and 3/4 cup brown sugar.
I love my grandma dearly but this banana bread kicks hers to the curb! I did it as muffins (thanks for the adaptation KAF!) and they are light and fluffy with a delicious crunchy top. Made it as written, just left out the nuts, but next time I'll start experimenting with mix ins!
And my quest for a delicious banana bread has finally come to an end! thank you KA! it will always be my go-to recipe.
Today I used all white whole wheat. added 1/2 cup of raisins and I cup of toasted chopped walnuts. I already made the recipe three times. I used discounted older bananas. I would like to add dried prunes or dates in along with walnuts in another iteration. Any suggestions along that line?

We're so glad you've been enjoying this recipe, Mary! You can add up to 1 cup of mix-ins to this recipe. Maybe start by using 1/2 cup walnuts, 1/4 cup chopped prunes, and 1/4 cup chopped dates. See if that gives you enough fruity flavor and adjust from there. Happy baking! Annabelle@KAF
I took a walk on the wild side and revised this recipe using the handy KAF online recipe generator. My customization included half white/half whole wheat bread flour, applesauce/oil for the fat, walnuts, and mix-ins coconut and candied ginger. I made this for the family and all agreed, including two small boys, that this was a magical treat. I will make this for years to come, our treasured family delight. Thank you King Arthur!
Everyone I have served this too has loved it from older to the younger!
This banana bread was so easy and delicious. My family loved it. It tasted more flavorful the day after baking.
I love this recipe. So easy and always a success! Tastes great, fabulous texture and the only Banana Bread recipe that I use anymore.
I have made this recipe several times and never had a problem. This past week I decided to make it and bake it in four 4x6 pans instead of the recommended loaf pan. I read in one of the reviews that to use the small pans bake time would be 25 minutes. So I set the timer for 25 minutes but the loaves were not done. I set it for another 10 minutes, tested again, and then baked another 5 minutes until the loaves tested done. They looked beautiful but the bread was dry, or should I say not as moist as the bread baked in a regular loaf pan. So my question is, what did I do wrong?

Hi there Judy, it sounds like your mini loaf pans were a bit larger than ours which is why the bake time was longer than expected. Your pan size is closer to that of our paper loaf pans, which in that case we would recommend a baking time closer to 40 minutes. We suggest checking the bread at about 30 minutes and look for an internal temperature of 205°F to be on the safe side. Happy baking! Morgan@KAF
Finally made this recipe today. I used your GF flour and made muffins vice bread. Baked them for 23 mins and they are wonderful! I've made the blueberry muffins a couple of times and they turned out wonderful as well. I will be using only your GF flour from now on. I've tried several brands and yours is the closest to real wheat flour!