A customized print-friendly version of this recipe is available by clicking the "Print Recipe" button on this page.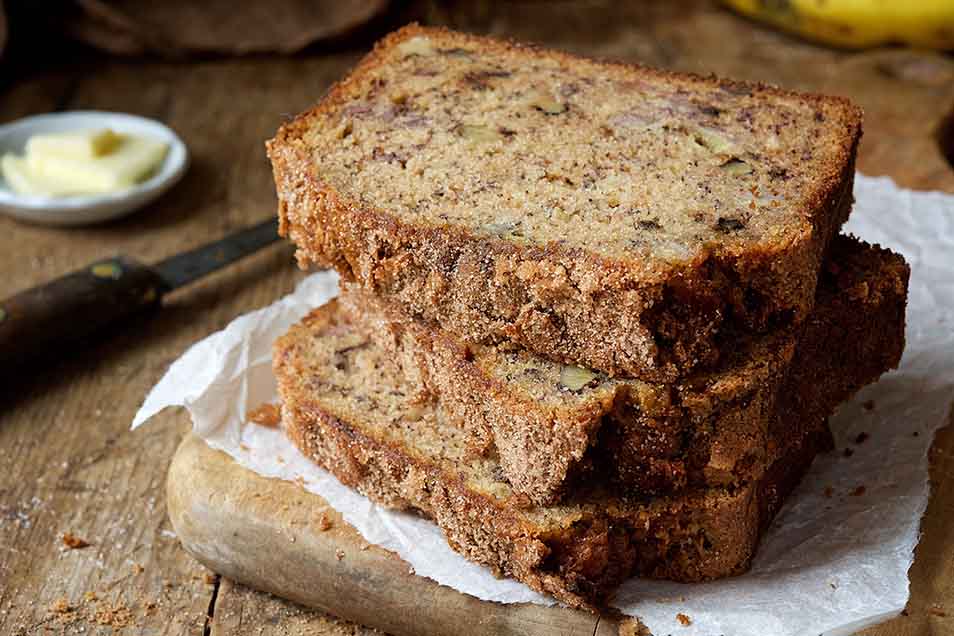 This one-bowl banana bread — our 2018 Recipe of the Year — uses the simplest ingredients, but is incredibly moist and flavorful. While the recipe calls for a 50/50 mix of flours (all-purpose and whole wheat), we often make the bread 100% whole wheat, and honestly? No one can tell, it's that good! And not only is this bread delicious — it's versatile. Check out our interactive recipe generator, Build Your Own Banana Bread, and discover how to personalize this bread to YOUR taste.

This recipe is featured in our Bake the Bag challenge: a series of nine recipes that, when baked, take you through an entire 5-pound bag of white whole wheat flour. Want to see the rest of the challenge recipes? Sign up to Bake the Bag!

Baking gluten-free? For great results, substitute King Arthur Gluten-Free Measure for Measure Flour for both the the all-purpose and whole wheat flours in this recipe; no other changes needed.
Ingredients
Batter
2 cups thoroughly mashed banana; about 4 or 5 medium bananas
1/2 cup vegetable oil
1 cup brown sugar
2 large eggs
1 teaspoon vanilla extract
1 cup King Arthur White Whole Wheat Flour or Premium Whole Wheat Flour
1 teaspoon baking soda
1/2 teaspoon baking powder
3/4 teaspoon salt
1 teaspoon ground cinnamon
1/2 cup chopped walnuts, toasted if desired; optional*
*Leave the nuts out, if desired; or substitute up to 1 cup chopped dried fruit, chocolate or butterscotch chips, sunflower or pumpkin seeds, or other mix-ins of your choice.
Topping
1 tablespoon sugar
1/2 teaspoon ground cinnamon
Instructions
Preheat the oven to 350°F with a rack in the center position. Lightly grease a 9" x 5" loaf pan; if your pan is glass or stoneware, reduce the oven temperature to 325°F.

In a large bowl, stir together the mashed banana, oil, sugar, eggs, and vanilla.

Weigh your flours; you'll find their weight by toggling to "ounces" at the top of the ingredient section above. Or measure them by gently spooning them into a cup, then sweeping off any excess. Mix the flours, baking soda, baking powder, salt, cinnamon, and chopped walnuts into the banana mixture. Scrape the bottom and sides of the bowl and mix again to thoroughly combine the ingredients.

Scoop the batter into the prepared pan. Mix together the sugar and cinnamon, and sprinkle over the batter.

Bake the bread for about 60 to 75 minutes, until the bread feels set on the top, and a paring knife (or other thin knife) inserted into the center comes out clean, or with just a few moist crumbs (but no wet batter). If you have a digital thermometer, the bread's temperature at the center should register about 205°F. If the bread appears to be browning too quickly, tent it with aluminum foil for the final 15 to 20 minutes of baking. Note: If baking in a glass or stoneware pan, increase the baking time by 10 to 15 minutes.

Remove the bread from the oven. Cool it in the pan for 15 minutes, then loosen the edges, and turn it out of the pan onto a rack to cool completely.

Store leftover bread, tightly wrapped, at room temperature for several days. Freeze for longer storage.
Nutrition Information
Serving Size

102g

Servings Per Batch

12
Amount Per Serving:
Calories

290

Calories from Fat

110

Total Fat

13g

Saturated Fat

1.5g

Trans Fat

0g

Cholesterol

30mg
Sodium

240mg

Total Carbohydrate

42g

Dietary Fiber

3g

Sugars

24g

Protein

5g
* The nutrition information provided for this recipe is determined by the ESHA Genesis R&D software program. Substituting any ingredients may change the posted nutrition information.
Tips from our bakers
If you enjoy this bread and want to try a 100% whole wheat loaf, go for it! Simply substitute 1 cup (4 ounces) whole wheat flour for the all-purpose flour listed, no further changes necessary. Want to go the other way? Substitute all-purpose flour for the whole wheat flour for a 100% all-purpose flour loaf.
Prefer butter to vegetable oil? Substitute 2/3 cup (5 3/8 ounces) melted butter for the 1/2 cup (3 1/2 ounces) vegetable oil.
If you'd like to reduce the fat in this recipe, try any of these substitutions, which will yield a loaf very similar in texture and moistness to the original:
• 1/4 cup (2 ounces) applesauce for 1/4 cup (1 3/4 ounces) of the vegetable oil
• 1/4 cup (2 ounces) yogurt (full-fat, reduced-fat, or nonfat) for 1/4 cup (1 3/4 ounces) of the vegetable oil
• 1/2 cup (4 ounces) full-fat yogurt for all of the vegetable oil (3 1/2 ounces)
Want to lower the fat even further? Substitute applesauce or yogurt (full-fat, reduced-fat, or nonfat) for all of the vegetable oil. Understand that the resulting loaf's texture will be notably less tender.
Want to reduce the sugar in this recipe? Start by lowering it by 25%, from 1 cup (7 ounces) to 3/4 cup (5 1/4 ounces); the bread will (obviously) be less sweet, and also a bit less tender.
We love the slightly caramelized flavor brown sugar lends this loaf, but if all you have on hand is white granulated sugar — use it: 1 cup (7 ounces), same volume amount as the brown sugar. Or use 1/3 cup (4 ounces) liquid sweetener (honey, agave, or maple syrup) + 1/2 cup (3 3/4 ounces) brown sugar; increase the amount of all-purpose flour by 2 tablespoons (1/2 ounce) if you make this substitution.
Transition this recipe to gluten-free the easy way: substitute King Arthur Gluten-Free Measure for Measure Flour for both the the all-purpose and whole wheat flours in this recipe; no other changes needed. And yes, you can make this banana bread vegan as well as gluten-free; see our blog post, Gluten-free and vegan banana bread.
Want to bake and share? This recipe will make 15 standard-size muffins. Bake muffins in a preheated 350°F oven for 20 to 23 minutes, or until a thin paring knife inserted into the center of a muffin comes out clean.
Reviews
I was rather disappointed; I got a rather ho-hum loaf, not as moist as most banana breads. I can think of two possible reasons. 1: My bananas were VERY ripe; there was liquid sitting in the bottom of the baggie. Maybe they were too far gone? 2: I substituted Splenda brown sugar blend for the brown sugar. I also went with half applesauce, half oil. If KAF can help me troubleshoot this, I'm sure my husband won't mind if I give this recipe a second chance.

Hi there, fellow baker! Very ripe bananas shouldn't have been what made the bread a little on the dry side. Though if you're ever questioning the state of your bananas just give them a quick sniff and if there are any notes of alcohol you might want to toss them out or compost them. We don't test our recipes with sugar alternatives, so we can't say if swapping out the sugars might have played a factor or not. One of the most common reasons why baked goods turn out dry though is because too much flour is used. To ensure you're using the right amount, we recommend checking out the "Recipe Success Guide," link next to the ingredients header above. You'll see that either measuring your flour by weight using a scale, or fluffing and sprinkling the flour into your measuring cup are the best ways to ensure your recipe turns out perfectly. Happy baking! Morgan@KAF
A moist and tender bread even with half of the flour being whole wheat; full of banana flavor. I added mini dried blueberries to great success.
I used a 9x13 glass pan with this recipe because inevitably (for me) there are always sections that don't cook thoroughly - it came out absolutely perfect! This is by far the most delicious banana bread recipes I've had! A keeper for sure! Thank you!
I have had a ton of Banana Bread recipes but I threw them all away for this one. Love this recipe. I like walnuts but they cause mouth sores, so I use pecans. I have also added to this recipe chocolate chips, dried cranberries, dates, dried cherries, blueberries, and pineapple. My latest thing to do is the next day slice this bread, brown on a griddle, and serve up for breakfast like a french toast, with cinnamon/pecan butter and maple syrup. Outstanding. Let you baker's imagination roam free with this recipe. You will be pleased.
Easy to follow recipe. I sub out chocolate chips for the walnuts. It is gone within an hour after it comes out of the oven. We buy extra bananas often so we have an excuse to make this recipe.
This is my family's favorite banana bread and I make it often using a reduced amount of brown sugar and 100% white whole wheat. I'd like to try substituting maple syrup for some of the sugar per your "tips". You recommend adding some all purpose flour to the recipe if a liquid sweetener is used. Would the additional amount white whole wheat be the same?

Linda, that's an excellent question! In this case, we'd reduce the amount of added flour to one tablespoon, as white whole wheat flour will absorb more moisture than all-purpose will. Happy baking! Kat@KAF
Quickly became a family favorite!
Over the years, I had collected 8-10 different banana bread recipes - always looking for THE one. That turned out to be this one. Finally! Threw out all the others; the hunt is over :) So today I went to my freezer for some bananas, when I noticed 2 cups of white pumpkin puree from last fall. I went with that, and no bananas to experiment. I almost always reduce the sugar in recipes by at least 25% but not this time, since pumpkin is not near as sweet as bananas. It almost could've used a bit more. I had thought about the tip to use maple syrup for some of the sugar, but ended up forgetting. If I make it again, I'd try maybe 1/4 cup maple--without reducing the brown sugar. I did use a rounded cup of toasted walnut pieces, approx. 1/8 t. each nutmeg and cloves, a handful of golden raisins (just cuz they were there) and a generous cup of chopped fresh cranberries. Otherwise followed recipe as written. Of course the additions made too much batter for the 1 lb. pan already greased; but a mini-pan was perfect for the extra volume. Probably would've fit all in my 1.5 lb pan though. Bottom line: I think this recipe could serve as the base for nearly any quick bread. Many, many thanks for this. Just remembered--I did make zucchini bread last fall with this recipe (no bananas.) Absolutely the best ever!
My husband and I love banana bread. I've tried a lot of banana bread recipes, in my day, and now my search for the perfect banana bread is over! I follow the recipe exactly, using KAF Organic All-Purpose and White Whole-Wheat Flour, adding only the walnuts (toasted, of course). This Whole-Grain Banana Bread has become one of my favorite bake-and-share recipes. Everyone seems to love it, and I've been asked for the recipe many times. Thankfully, I kept all the "2018 Recipe of the Year" cards I received with my orders and still have some to hand out. People love those cards! Great idea, KAF! And congratulations on such a great recipe! Yum! Happy New Year to all of you at King Arthur Flour!
I love this bread! I made it as is except I didn't have enough brown sugar so I used half regular sugar. If I wanted to double this recipe and make two loaves at the same time, would the cooking time be the same?

We're happy to hear that you enjoyed this recipe! Yes, if you doubled this recipe to end up with two loaves the baking time would remain the same. Happy baking! Morgan@KAF