A customized print-friendly version of this recipe is available by clicking the "Print Recipe" button on this page.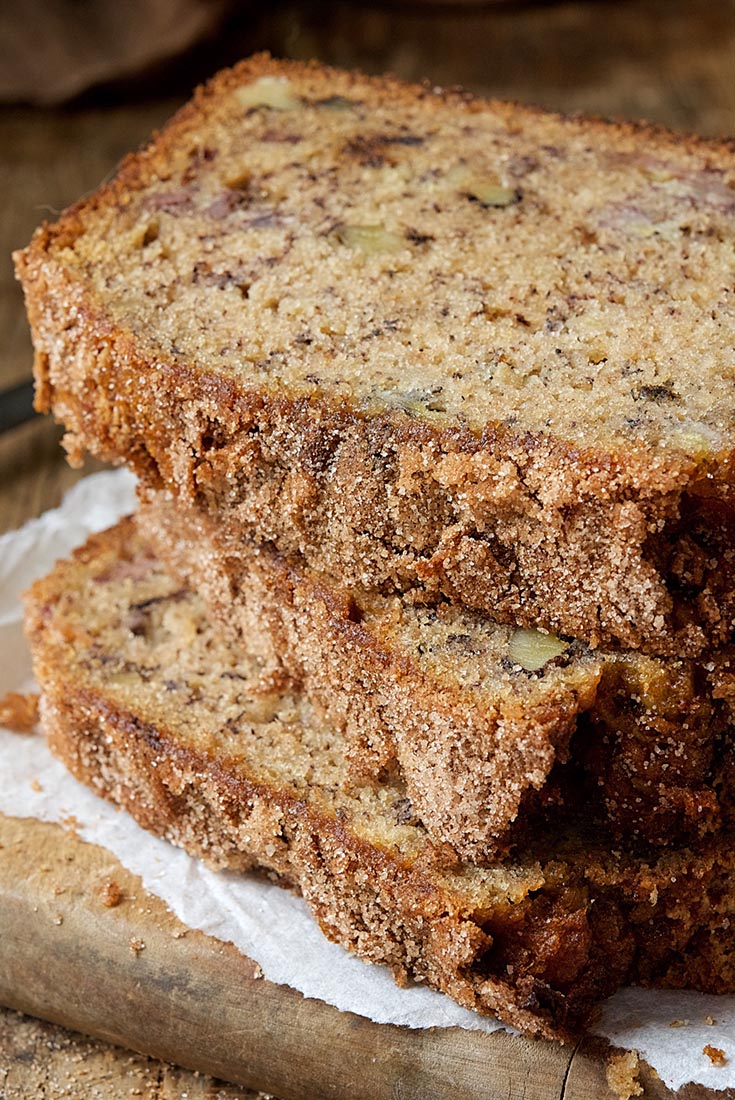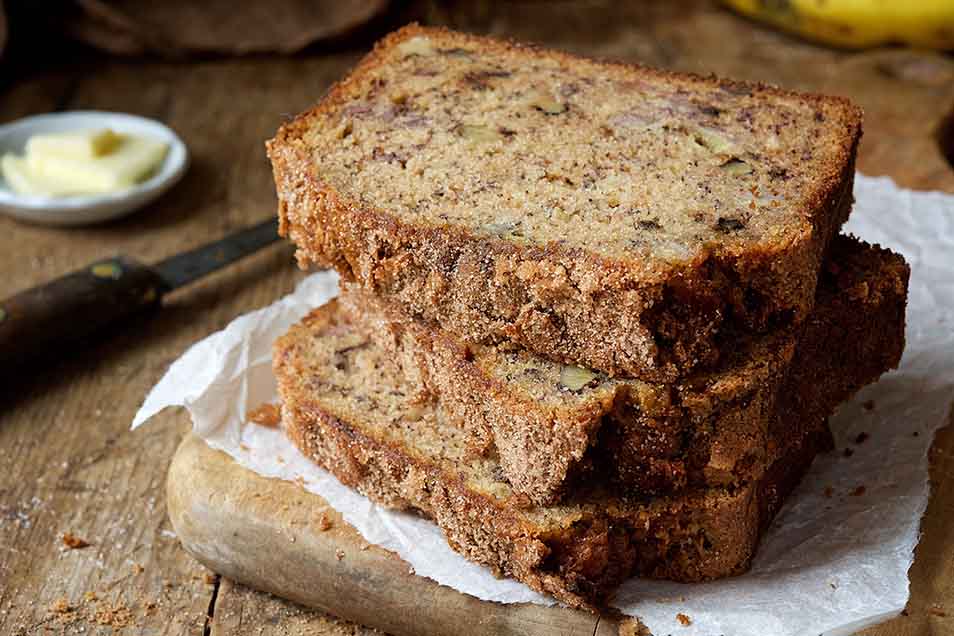 This one-bowl banana bread — our 2018 Recipe of the Year — uses the simplest ingredients, but is incredibly moist and flavorful. While the recipe calls for a 50/50 mix of flours (all-purpose and whole wheat), we often make the bread 100% whole wheat, and honestly? No one can tell, it's that good!

Baking gluten-free? For great results, substitute King Arthur Gluten-Free Measure for Measure Flour for both the the all-purpose and whole wheat flours in this recipe; no other changes needed.
Ingredients
Batter
2 cups thoroughly mashed banana; about 4 or 5 medium bananas
1/2 cup vegetable oil
1 cup brown sugar
2 large eggs
1 teaspoon vanilla extract
1 cup King Arthur White Whole Wheat Flour or Premium Whole Wheat Flour
1 teaspoon baking soda
1/2 teaspoon baking powder
3/4 teaspoon salt
1 teaspoon ground cinnamon, optional
1/2 cup chopped walnuts, toasted if desired; optional*
*Leave the nuts out, if desired; or substitute up to 1 cup chopped dried fruit, chocolate or butterscotch chips, sunflower or pumpkin seeds, or other mix-ins of your choice.
Topping
1 tablespoon sugar
1/2 teaspoon ground cinnamon
Instructions
Preheat the oven to 350°F with a rack in the center position. Lightly grease a 9" x 5" loaf pan; if your pan is glass or stoneware, reduce the oven temperature to 325°F.

In a large bowl, stir together the mashed banana, oil, sugar, eggs, and vanilla.

Weigh your flours; you'll find their weight by toggling to "ounces" at the top of the ingredient section above. Or measure them by gently spooning them into a cup, then sweeping off any excess. Mix the flours, baking soda, baking powder, salt, cinnamon, and chopped walnuts into the banana mixture. Scrape the bottom and sides of the bowl and mix again to thoroughly combine the ingredients.

Scoop the batter into the prepared pan. Mix together the sugar and cinnamon, and sprinkle over the batter.

Bake the bread for about 60 to 75 minutes, until the bread feels set on the top, and a paring knife (or other thin knife) inserted into the center comes out clean, or with just a few moist crumbs (but no wet batter). If the bread appears to be browning too quickly, tent it with aluminum foil for the final 15 to 20 minutes of baking. Note: If baking in a glass or stoneware pan, increase the baking time by 10 to 15 minutes.

Remove the bread from the oven. Cool it in the pan for 15 minutes, then loosen the edges, and turn it out of the pan onto a rack to cool completely.

Store leftover bread, tightly wrapped, at room temperature for several days. Freeze for longer storage.
Nutrition Information
Serving Size

102g

Servings Per Batch

12
Amount Per Serving:
Calories

290

Calories from Fat

110

Total Fat

13g

Saturated Fat

1.5g

Trans Fat

0g

Cholesterol

30mg
Sodium

240mg

Total Carbohydrate

42g

Dietary Fiber

3g

Sugars

24g

Protein

5g
* The nutrition information provided for this recipe is determined by the ESHA Genesis R&D software program. Substituting any ingredients may change the posted nutrition information.
Tips from our bakers
If you enjoy this bread and want to try a 100% whole wheat loaf, go for it! Simply substitute 1 cup whole wheat flour for the all-purpose flour listed, no further changes necessary. Want to go the other way? Substitute all-purpose flour for the whole wheat flour for a 100% all-purpose flour loaf.
Prefer butter to vegetable oil? Substitute 2/3 cup melted butter for the 1/2 cup vegetable oil.
If you'd like to reduce the fat in this recipe, try any of these substitutions, which will yield a loaf very similar in texture and moistness to the original:
• 1/4 cup applesauce for 1/4 cup of the vegetable oil
• 1/4 cup yogurt (full-fat, reduced-fat, or nonfat) for 1/4 cup of the vegetable oil
• 1/2 cup full-fat yogurt for all of the vegetable oil
Want to lower the fat even further? Substitute applesauce or yogurt (full-fat, reduced-fat, or nonfat) for all of the vegetable oil. Understand that the resulting loaf's texture will be notably less tender.
Want to reduce the sugar in this recipe? Start by lowering it by 25% (from 1 cup to 3/4 cup); the bread will (obviously) be less sweet, and also a bit less tender.
We love the slightly caramelized flavor brown sugar lends this loaf, but if all you have on hand is white granulated sugar — use it: 1 cup, same amount as the brown sugar. Or use 1/3 cup liquid sweetener (honey, agave, or maple syrup) + 1/2 cup brown sugar; increase the amount of all-purpose flour by 2 tablespoons if you make this substitution.
Transition this recipe to gluten-free the easy way: substitute King Arthur Gluten-Free Measure for Measure Flour for both the the all-purpose and whole wheat flours in this recipe; no other changes needed.
Want to bake and share? This recipe will make 15 standard-size muffins. Bake muffins in a preheated 350°F oven for 20 to 23 minutes, or until a thin paring knife inserted into the center of a muffin comes out clean.
Reviews
Very good recipe. Family loved it and coworkers did also. Made it exactly to specs, but added a scoop of red mill wheat germ, and an extra tablespoon or so of vanilla extract. Moist , but had good body. Was better after a night in the fridge. Sliced beautifully.
Last night I made this recipe, I weighed ingredients. I have always used the volume method. If the results I achieved were improved by weighing I am a convert. I was made aware of your site was this week and am thrilled to join this community. I immediately made "Beautiful Hamburger buns". Despite interruptions and some over rising they turned out fabulous. Back to the banana bread. I baked it in the correct pan. I lightly greased but I went a step further and used Parchment. Next baking, and there will be a next time. Next time I will use 1/2 of the topping mix to dust the pan (after I use a little grease on the parchment.) Baking time in my stove, it was done at 50 minutes because of my fear of underdoness I left it in the oven with the temp off for another 8 minutes. This resulted in a loaf that was nice and moist, without being heavy and on the wet side. Next time I will make it in two mini loaf pans for a more tea bread type slice. BTW..It is surprising how high a rise was obtained with the limited rising agents. This bread is deserving of its recipe of the year award.
This recipe made a fantastic bread. The kids loved it and it smelled amazing! But I will say that it is a lot of dough and really wet. I have a new oven and it wasn't that great of a test to see how the convection worked. It took a lot longer to bake than I expected. I finally looked up what temperature to cook a loaf of bread to see if it was done.
Came out perfect! I only had regular sugar so i just added a tbs of molasses. Everything else was according to recipe. Best banana bread ever.
I made a double batch of this super yummy bread. My grocery store was out of the white whole wheat flour so I used what I had on hand......King Arthur Unbleached All-Purpose Flour. It was perfect. One loaf I added the pecans and the second loaf I added the pecans and a cup of butterscotch chips. Both loaves were delicious but the loaf with the chips was outstanding! This recipe is now my go to for when we want banana bread! You will not be disappointed.
My new go to recipe for banana bread. I followed the instructions since this was my first time baking this recipe and KAF another winner! It took the full 70 minutes to completely bake and I covered with foil the last 10 minutes. I only had Saigon Cinnamon and was concerned at first it may be too intense but it only enhanced the flavor of the bread. I will be baking this again.
This recipe rocks! I made it with a combo of K A white whole wheat flour and gluten free flour. It is infinitely better with the cinnamon sugar on top and mini chocolate chips mixed in. Excellent work KAF staff. Thank you!
Loved this recipe. I used brown sugar, 1 cup chopped walnuts and decreased it to 3/4 cup. I also used KAF 100% whole grain whole wheat flour for a delightful whole wheat version. It was light and delicious.
Just made this today.. left off the topping, and used a half tsp of Fiori Di Sicilia in place of half the vanilla. I also added a half tsp of the buttery dough flavoring. While I'll probably use only half as much Fiori Di Siciia in the future it is lovely, delicious, and with a wonderful aroma just the way I made it.
I just made this this morning and it is fantastic! I only had 3 very black medium sized bananas and used them. I added the walnuts and one cup of mini chocolate chips. I did use the cinnamon and sugar on top. I baked it for 70 minutes and it came out perfectly cooked (I have a gas oven). I would highly recommend this recipe! I did use half whole wheat and half white flour. The bread was moist and delicious! Both my husband and I were very impressed with the results. Thanks for sharing this recipe!