A customized print-friendly version of this recipe is available by clicking the "Print Recipe" button on this page.
Gluten-Free Cinnamon Rolls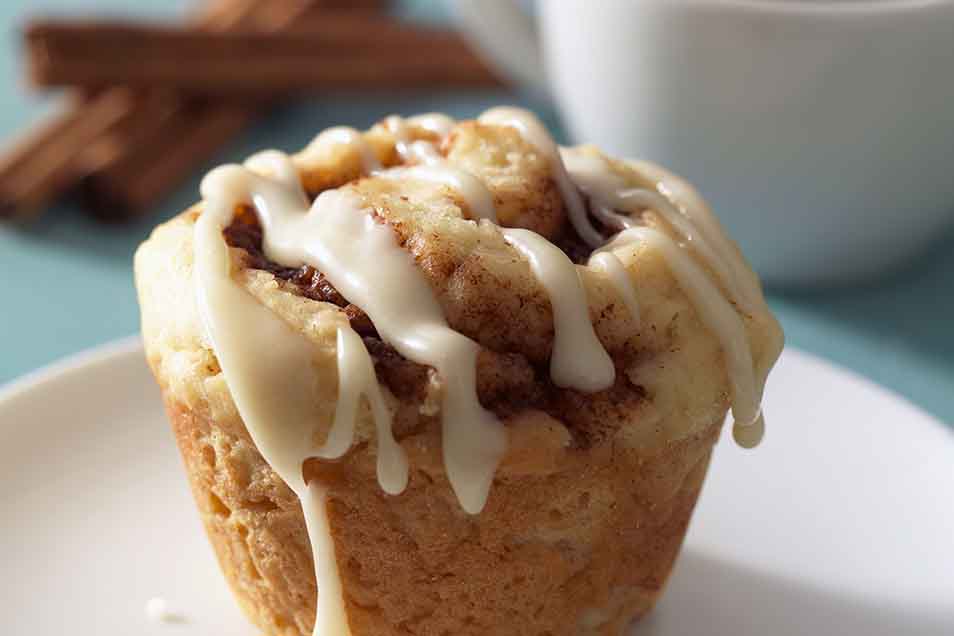 There's nothing quite like the aroma of fresh cinnamon rolls baking in the oven — surely a must-have on everyone's breakfast treat list. Here's a gluten-free version of cinnamon rolls that's sure to warm your home on Sunday morning.
Ingredients
Filling
1 cup brown sugar, packed
4 teaspoons cinnamon
3/8 cup (6 tablespoons) soft butter
Icing*
6 tablespoons soft cream cheese
1 1/2 cups glazing sugar or confectioners' sugar
1/4 cup (4 tablespoons) soft butter
1/2 teaspoon vanilla
*See "tips," below.
Instructions
To make the dough: Combine all the dry ingredients in your mixer bowl. Add the soft butter, blending on low speed until you have coarse crumbs.

Add the oil, milk, egg, and flavorings, beating until incorporated. Scrape down the sides of the bowl. Beat on medium-high speed for 3 minutes; don't take a shortcut here, beat for the full 3 minutes. Scrape the bowl down again; the dough will be the consistency of very thick cake batter. Cover the dough and let it rise for about 1 to 1 1/2 hours, or until visibly puffy.

While the dough is rising, make the cinnamon filling. Combine the brown sugar, cinnamon, and soft butter to make a paste.

When the dough has risen, turn it out onto a lightly greased piece of parchment paper or waxed paper and press it gently into an 8" x 16" rectangle. Make sure to grease the parchment or waxed paper; you'll be glad you did once you start rolling the dough into a log.

Brush milk over the surface of the dough; this will help keep the rolls and filling from separating as they bake. Crumble the filling into small pieces and sprinkle it across the dough, leaving a 1/2" to 1" border of filling-free dough around the edges.

With the long edge of the parchment closest to you, roll the dough forward, allowing the paper to do the work for you. The dough should release from the paper as you roll. Cut the log into 8 slices, using a sharp serrated knife or dental floss. To use floss, draw it under the dough and pull each end simultaneously across the top to cut the rolls.

For best results, place each roll into the well of a well-greased muffin pan; they'll rise higher with the support of the pan. Allow the rolls to rise for 45 minutes to 1 hour, until puffy. Toward the end of the rising time, preheat the oven to 350°F.

Bake the rolls for 20 to 25 minutes, until they're golden brown.

While the rolls are baking, make the icing. Mix the cream cheese, sugar, butter, and vanilla with an electric mixer until smooth.

Remove the rolls from the oven. Ice them immediately.
Nutrition Information
Serving Size

200g

Servings Per Batch

8
Amount Per Serving:
Calories

740

Calories from Fat

250

Total Fat

29g

Saturated Fat

16g

Trans Fat

1g

Cholesterol

90mg
Sodium

370mg

Total Carbohydrate

115g

Dietary Fiber

2g

Sugars

70g

Protein

6g
* The nutrition information provided for this recipe is determined by the ESHA Genesis R&D software program. Substituting any ingredients may change the posted nutrition information.
Tips from our bakers
If you like a heavily iced cinnamon bun, this recipe is for you. If you're more partial to a drizzle of sweet icing across the top of your bun, we recommend cutting the ingredient amounts for the icing in half.
Want to make a savory version of these rolls? Prepare the dough as directed above, using just 1 tablespoon sugar, and omitting the vanilla and sweet dough flavor. Make the filling from our Butterflake Herb Loaf recipe. Pat out the gluten-free dough as directed above. Melt the butter/herb filling, and spread half of it over the dough (reserve the rest for later). Add a sprinkle of Parmesan cheese too, if desired. Roll the dough up the long way, and cut into 12 slices. Bake in a muffin tin, according to the instructions above. Remove the baked rolls from the oven, and dip the top of each into the remaining melted butter/herb filling. Serve warm.
Reviews
Made this recipe and rolled it out this on a silicone mat topped with another mat, then used wooden rolling pin. It was uniform and easy to roll. I cut it into 12 pcs and used a muffin tin. Delish!
I wasn't expecting this recipe to be as good as it is, I'm very happy with the result of it. I used my own icing recipe, almond milk instead of dairy and pizza dough yeast (I didn't have regular instant yeast and didn't want to go out). The dough was a bit too soft and sticky after it rose to roll it out, so I put it in a 8" cake pan and made a 1cm deep indent in the shape of a spiral and piped the filling into it. I had to bake it for about 45 minutes. It turned out super soft and doughy, the dough could probably also be used for a sicilian pizza dough. That's what it reminded me of the most. Thank you for the recipe <3
I followed the direction and they turned out perfectly. They are as good as I remember non-gluten free. I would cut the roll in 10 pcs. I fit 8 into the muffin pan and they rose so much that it over flowed out of my pan. The taste was great.
I baked this yesterday after reading the comments in the review section. I wasn't sure that the recipe would work considering the problems some of the bakers had. I am no stranger to gluten-free baking, but this was my first attempt at making yeast bread. I also made this dairy free by using dairy free spread and dairy free cream cheese. I do not recommend using soy-based dairy free spread. As others have said, the dough was extremely soft and difficult to work with. I used some of the tips that successful bakers had, and would like to add some of my own. The rolls turned out great. They aren't pretty ( I could not roll the dough evenly), but they taste amazing! Here are some of my tips: I suggest weighing the flour, instead of using a measuring cup Give the dough ample time to rise ( at least 1 hour, 15 minutes). Make sure it is in a warm place. Gluten-free dough needs more time to absorb liquid. Measure out the 8x16 rectangle size of the spread out dough ahead of time, and mark them on the parchment. Grease the parchment liberally. This will ease the dough off when you roll it. Use a greased spatula to spread the dough. I found this to be the easiest method to deal with sticky, gluten-freedough. I found the risen dough to be soft and a little foamy, almost like beaten egg whites. It was an odd texture... Sprinkle filling the filling over the dough. DO NOT try to spread it. The actual recipe does say to crumble it. Cut the dough with a liberally greased, serrated knife Cut at least 10 rolls. The recipe calls for 8. They were still really large and amply filled the muffin wells. I could not get roll even. It was thinner on the ends and thicker in the middle. It was too hard to work with to fix this. I did not brush dough with milk as directed. I actually forgot in my haste to roll the dough up. I doubt it made a difference, according to reviews. Use a spatula to transfer cut rolls to muffin tin and invert them into the well-greased wells. I found that the dough didn't need the 2nd rise. The doughfilled the muffin wells to the top as they were. Put the muffin tin on a foil-lined cookie sheet as filling tends to run out. Some bakers said that the filling overflowed into their oven element. You definitely want to avoid this. Remove the baked rolls to the lined cookie sheet to ice them. Make half of theicing recipe. A lot of bakers advise this, but I didn't listen. I made the whole batch and ended up throwing half of it out. Believe me, you will have plenty of icing. This is a time consuming and difficult recipe, but I am so proud of myself for accomplishing this! Thanks, King Arthur for taking me out of my comfort zone.
Followed this recipe exactly and, I too, got a soupy dough. King Arthur please fix this recipe.

We're sorry to hear this well-loved recipe gave you some trouble, Al. Gluten-free yeast doughs can be more batter-like than dough-like. We'd love the chance to talk through the recipe with you, so we encourage you to reach out to our free and friendly Baker's Hotline staff to help troubleshoot at 855-371-BAKE (2253). Kindly, Annabelle@KAF
This recipe should probably be taken off of the site. It is probably true that active yeast should be used instead of instant yeast. The dough takes such a long time to rise that the perishable ingredients would go bad long before the dough has proved fully. After hours of waiting for the dough to rise in a dry environment, it was still soupy. There was no way to roll this into a long or shape it in any way. I ended up putting all of the dough into a glass pan and cooked it like it was a cake. Save your time and skip this recipe unless you are looking to make a cinnamon roll cake.

We're sorry to hear this recipe gave you such trouble, Clay, and thank you for letting us know. We'd love the chance to talk through the recipe with you, so we encourage you to reach out to our free and friendly Baker's Hotline staff to help troubleshoot at 855-371-BAKE (2253). Kindly, Annabelle@KAF
Not as difficult to bake as expected and delicious
After reading the reviews of concerns about the dough I used the soft pretzel recipie from KAF for the dough. I did use the filling and the frosting recipie however. There are two very glaring errors in the frosting recipie. I converted the recipe to grams using the button in the web site. This told me to use 87 grams cream cheese (1/4 cup) and 340 grams powdered sugar (1 1/2 cup). Both of these are wrong. According The the KAF common ingredients list cream cheese should be 170 grams and the powdered sugar should be 180 grams. The soft pretzel dough worked wonderfully for the dough.

Thanks for pointing out the conversion error Ann! We double checked the math, and you're definitely correct that there was a mis-print in the confectioner's sugar weight. We've taken care of that now. When it comes to the cream cheese, though, the weight is correct. We think you ran into confusion because there are six tablespoons of cream cheese in the filling, not 1/4 cup as you stated. (That's the butter volume.) Thanks again for your keen eye, and happy baking! Kat@KAF
I'm no stranger to GF baking and have had great success making both toasted and non-toasted cinnamon rolls from one of my favorite GF bloggers. I tried this recipe because I found out at the last minute I was missing an ingredient to make my flour blend and KA flour was all my grocery store had. The best description for this recipe is glop. It's far too wet even after a 90-minute rise and it slid right off the parchment when I was trying to roll it up. All I could do was scoop the dough into my muffin tins with a spoon because it doesn't hold its shape at all. I followed the recipe exactly but I'll never use it again. I'll stick with recipes that I know for sure work.

We're sorry to hear that this well-loved recipe didn't do the trick for you, Meghan. It sounds like there was a little to much liquid in your dough, in an environment that is a little on the humid side it can be helpful to hold back about a 1/4 cup of the liquid called for and add it slowly if needed. If we can help troubleshoot or pick out a recipe that better fits your tastes, please give our Baker's Hotline a call at 855-371-BAKE (2253). Kindly, Morgan@KAF
I have been so hungry for good cinnamon rolls since I can no longer eat gluten. It's Christmas eve and I have always made cinnamon rolls for Christmas morning. I have had really good success with other King Arthur gluten free recipes so I decided to try the cinnamon rolls. They turned out delicious. I have learned to adapt to a different type of yeast dough using gluten free flour. Yes this was more of a thick batter that you spread on oiled parchment, I spread the cinnamon sugar and butter and carefully rolled. I put in the refrigerator to cool which made easier to slice. I have always used dental floss, it also worked great. I may add a little more flour next time so dough is easier to handle.