A customized print-friendly version of this recipe is available by clicking the "Print Recipe" button on this page.
Gluten-Free Cinnamon Rolls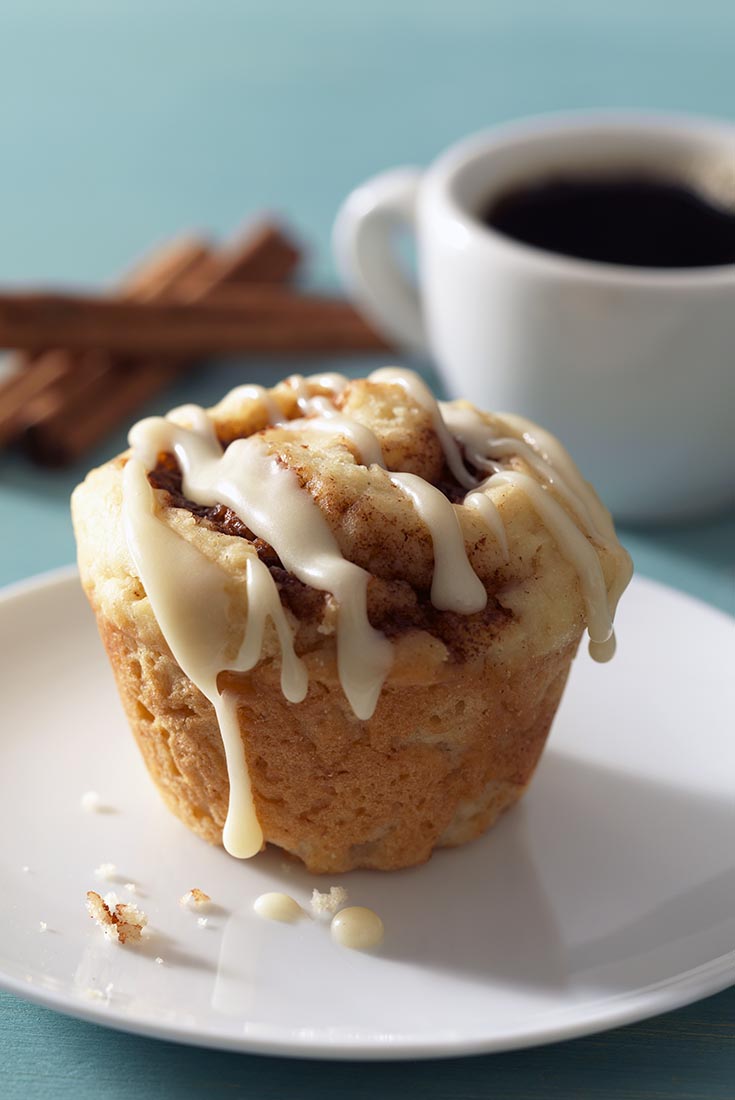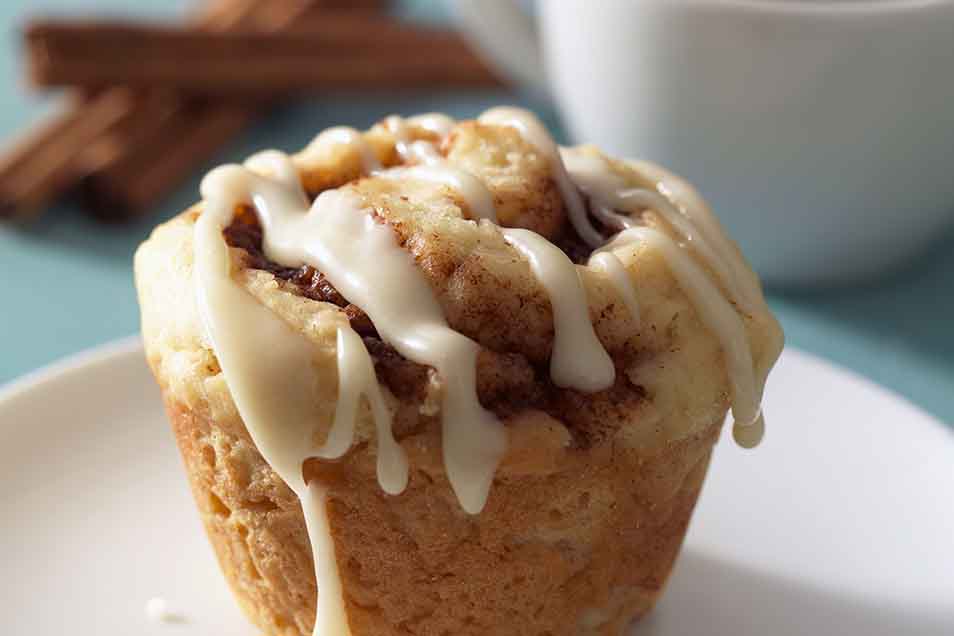 There's nothing quite like the aroma of fresh cinnamon rolls baking in the oven — surely a must-have on everyone's breakfast treat list. Here's a gluten-free version of cinnamon rolls that's sure to warm your home on Sunday morning.
Ingredients
Filling
1 cup brown sugar, packed
4 teaspoons cinnamon
3/8 cup (6 tablespoons) soft butter
Icing*
6 tablespoons soft cream cheese
1 1/2 cups glazing sugar or confectioners' sugar
1/4 cup (4 tablespoons) soft butter
1/2 teaspoon vanilla
*See "tips," below.
Instructions
To make the dough: Combine all the dry ingredients in your mixer bowl. Add the soft butter, blending on low speed until you have coarse crumbs.

Add the oil, milk, egg, and flavorings, beating until incorporated. Scrape down the sides of the bowl. Beat on medium-high speed for 3 minutes; don't take a shortcut here, beat for the full 3 minutes. Scrape the bowl down again; the dough will be the consistency of very thick cake batter. Cover the dough and let it rise for about 1 to 1 1/2 hours, or until visibly puffy.

While the dough is rising, make the cinnamon filling. Combine the brown sugar, cinnamon, and soft butter to make a paste.

When the dough has risen, turn it out onto a lightly greased piece of parchment paper or waxed paper and press it gently into an 8" x 16" rectangle. Make sure to grease the parchment or waxed paper; you'll be glad you did once you start rolling the dough into a log.

Brush milk over the surface of the dough; this will help keep the rolls and filling from separating as they bake. Crumble the filling into small pieces and sprinkle it across the dough, leaving a 1/2" to 1" border of filling-free dough around the edges.

With the long edge of the parchment closest to you, roll the dough forward, allowing the paper to do the work for you. The dough should release from the paper as you roll. Cut the log into 8 slices, using a sharp serrated knife or dental floss. To use floss, draw it under the dough and pull each end simultaneously across the top to cut the rolls.

For best results, place each roll into the well of a well-greased muffin pan; they'll rise higher with the support of the pan. Allow the rolls to rise for 45 minutes to 1 hour, until puffy. Toward the end of the rising time, preheat the oven to 350°F.

Bake the rolls for 20 to 25 minutes, until they're golden brown.

While the rolls are baking, make the icing. Mix the cream cheese, sugar, butter, and vanilla with an electric mixer until smooth.

Remove the rolls from the oven. Ice them immediately.
Nutrition Information
Serving Size

200g

Servings Per Batch

8
Amount Per Serving:
Calories

740

Calories from Fat

250

Total Fat

29g

Saturated Fat

16g

Trans Fat

1g

Cholesterol

90mg
Sodium

370mg

Total Carbohydrate

115g

Dietary Fiber

2g

Sugars

70g

Protein

6g
* The nutrition information provided for this recipe is determined by the ESHA Genesis R&D software program. Substituting any ingredients may change the posted nutrition information.
Tips from our bakers
If you like a heavily iced cinnamon bun, this recipe is for you. If you're more partial to a drizzle of sweet icing across the top of your bun, we recommend cutting the ingredient amounts for the icing in half.
Want to make a savory version of these rolls? Prepare the dough as directed above, using just 1 tablespoon sugar, and omitting the vanilla and sweet dough flavor. Make the filling from our Butterflake Herb Loaf recipe. Pat out the gluten-free dough as directed above. Melt the butter/herb filling, and spread half of it over the dough (reserve the rest for later). Add a sprinkle of Parmesan cheese too, if desired. Roll the dough up the long way, and cut into 12 slices. Bake in a muffin tin, according to the instructions above. Remove the baked rolls from the oven, and dip the top of each into the remaining melted butter/herb filling. Serve warm.
Reviews
Super yummy! We modified recipe to be dairy free with Earth Balance soy free butter sticks, hemp milk and So Delicious dairy free vanilla yogurt in place of cream cheese. My family, who arent gluten and dairy free think these are bomb-diggidy!!
pretty good dough for gluten free.
I made these because I had part of a batch of lemon buttercream frosting left over, and I wanted something to put it on. These worked very well for that. The batter was difficult to work with (but workable, especially if you're used to the fragility of GF dough), and the end product was definitely a bit on the cakey side (not bad, just a slight let down if you are craving bready cinnamon rolls), but with yeast-bread flavor. While I continue to search for a breadier cinnamon roll recipe, these were still really good. [substitution note: I had no xanthan gum, but I used King Arthur Measure for Measure flour (which does have xanthan gum in it); I also had no dough flavoring.]
I made this recipe a few times, once in its original version the rest with some changes. The changes I made: I used 1 package of rapid rise instant yeast and bloomed it in the warm milk with 1 TBLS sugar. My other change is I use unflavored gelatin in pace of xantham gum. In this recipe I used 1 envelope in place of gum. I have added it to the milk and yeast mixture and also right to the flour with equal success. I have used unflavored gelatin in place of xantham um for a few years for all my yeast products; bread, pizza crust, cinn.rolls. Makes a better product without the awful taste.
I printed the recipe for Gluten-Free Cinnamon rolls directly from the website and competed steps 1-7, following the recipe exactly. I used the products exactly called for in the recipe. Also, I am an experienced gluten free baker, so I was not expecting what happened. The "dough" was anything but. It was the consistency of a muffin mix when I put it up to proof. It rose well, but after the rise, had to be poured out onto the greased parchment. I spread it into the 8" x 16" rectangle, as directed. It was so soft that there was no way to spread the filling on top. I carefully dropped teaspoonfuls of the filling all over the "dough" and then used the parchment to carefully roll the glop over onto itself. It was awful. The only way to get it into the recommended muffin tin was to scoop it off the parchment and plop it into the pan. The filling was all over the place. Not a swirled roll, believe me! My husband enjoyed the taste, but after that experience, I will not use King Arthur gluten free recipes in the future. Also, I agree, the frosting/icing made twice what is needed. I could see that before I even made it, so I halved the amounts and still had a bit left over after icing the baked blobs :(

Nancy, we're sorry to hear you had such trouble working with this recipe, and we appreciate you sharing your experience with us. It's true that the amount of frosting in this recipe makes a generous amount, so we've asked our Recipe Team to add a note about making a half batch for those bakers who prefer a less heavily-topped roll.

As for the soft consistency of the dough, as we've mentioned to other reviewers the dough/batter is certainly softer than traditional yeast dough but it should still be workable. We've recently come up with a gluten-free yeast dough for our Cinnamon Star Bread recipe that's surprisingly easy to work with, so we're going to compare the two dough formulas to see if we can help ensure you and other bakers can make perfect gluten-free cinnamon rolls with this recipe. Kye@KAF
It's WAY easier to cut the dough into strips and roll each one up separately.
This recipe turned out wonderful! This is the first cinnamon bun that I have had in over 5 years since I found out that I had a wheat allergy. My rolls came out looking just like the recipe picture and they taste just as delicious as they looked. I followed the recipe exactly and had no problems at all. I have been trying gluten free recipes for the past 5 years and gluten free baking is nothing like wheat baking. Gluten free dough is completely different texture but this gluten free dough was very easy to work with. This is another success story for me in this new baking adventure. Thank you King Arthur for helping to make delicious recipes for those of us who need to bake gluten free.
working with the dough between oiled parchment paper worked great for me, as did using dental floss for cutting. however, as I have found before with gluten free flour, the baked product tastes rubbery. wonder what I am doing wrong?

Since gluten plays such an important role in the development of yeast dough, treats like this one are especially challenging to make gluten-free, Josephine. A little crumbliness or rubberiness isn't completely abnormal, though different gf blends produce perform differently. Without more information about the ingredients and techniques you're using, it's difficult to say what might have gone wrong, so we'd encourage you to give our free Baker's Hotline a call to chat directly with one of our experienced bakers: 855-371-BAKE. Mollie@KAF
Pretty much had the same results as Nicole in Jan 2017-- challenging to work with, even though I followed the recipe to a T- Muffins would be a better description as the dough was way to liquid/soft (and not really what I would term "bread dough") The filling was way to stiff to spread on the "dough" and ended up piecing it into bits and sticking it on -- I think in the future it would be easier to roll it out on another piece of parchment and lay it on top. I'm sure my daughter will be thrilled in the morning that I made her something gluten free that she can eat, but I was disappointed in the "presentation". I split the roll in half and stuck it in the refridgerater in hopes that it will set up a bit to make slicing it easier to actually get them in the tin in a recognizable cinnamon roll design.... I'll keep you posted :)

We hope your daughter loved the final result, Susan, and appreciated your attempt to work with this dough. Shaping gluten-free dough is challenging by nature because it's quite soft (with less liquid, the dough becomes very dry). We have come up with a recipe using our Gluten-Free Measure for Measure Flour that produces a dough that's easier to shape and work with; consider checking out the recipe called Gluten-Free Cinnamon Star Bread to see if you'd like to give it a try. Kye@KAF
After checking via email with King Arthur bakers - thanks, MaryJane - that it wouldn't be a problem to turn this recipe into caramel rolls with my usual caramel recipe, I baked these for a family reunion. This recipe + my caramel + a mini-loaf pan = one very happy cousin who could share in the same breakfast as the rest of us. She packaged the leftovers to take home and freeze, but she also did not think they would ever make into her freezer. The dough is very soft. The filling makes a bit much, but the extra did make it easier to spread over the dough. I used a greased silicon mat to shape the dough and roll it up with the filling. The rolls turned out a bit sloppy looking because they oozed a bit in transferring from the silicon mat to the pan. The recipe made 9 mini-loaf-shaped rolls for me.