A customized print-friendly version of this recipe is available by clicking the "Print Recipe" button on this page.
Soft Molasses-Raisin Cookies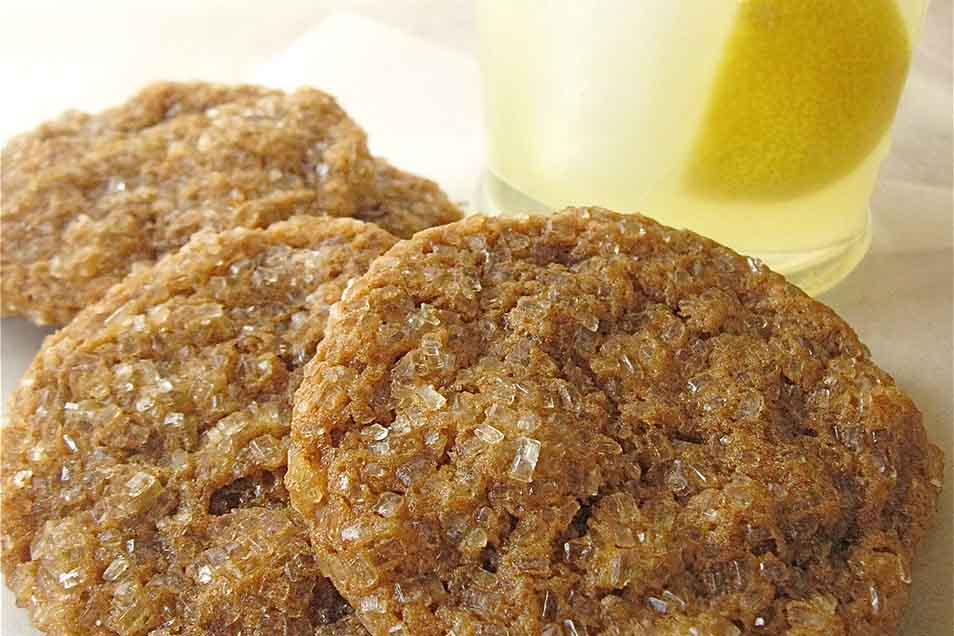 These moist, "bendy" molasses cookies are studded with chopped golden raisins. A crunchy coating of coarse sugar is a nice complement to their soft interior. While we usually think of molasses cookies as winter/holiday fare, these are delicious with a glass of cold lemonade — perfect for summer.
Instructions
Preheat the oven to 350°F. Lightly grease (or line with parchment) two baking sheets.

In a large mixing bowl, beat together the butter and sugar until they're well-combined. Beat in the molasses and the egg.

Combine the flour, raisins, baking soda, salt, and spices in the bowl of a food processor. Process till the raisins are coarsely chopped. Note: If you don't have a food processor and don't mind your raisins remaining whole, skip this step.

Add the flour/raisin mixture to the wet ingredients, beating just till thoroughly combined.

Scoop the sticky dough into 1" balls; a teaspoon cookie scoop works well here.

Roll the balls in coarse white sugar, if desired. This is easily done by sprinkling the sugar into an 8" cake pan, and dropping the sticky dough into the pan. Shake the pan to coat the dough balls with sugar.

Space the cookies on the prepared baking sheets, leaving about 2" between them.

Bake the cookies for 7 to 9 minutes. The centers will look soft and puffy; that's OK. Cookies baked for 7 minutes will be VERY soft; bake them for 9 minutes, they'll be firmer.

Remove them from the oven, and cool right on the pan; or transfer to a rack to cool. To maintain soft texture, store at room temperature once cookies are completely cool.

Yield: 52 cookies.
Reviews
First off, great cookie. I will make this again. I used a cookie scoop so slightly bigger. Needless to say I got maybe 25 cookies baked for 11 minutes.
As others have stated these do not flatten as the lucite shows. They're a very dense cook that do not spread so the 2inch spacing isn't needed if scoooing them as directed. Come out very doughy even at the 9 minute mark. If I try this again I may roll out the dough or try flattening. It's an okay recipe but didn't have the molasses spice taste I was hoping for; did like the addition of raisins.

We're sorry to hear that this recipe didn't give you the results you'd been hoping for, Rose. We've shared your feedback with the Recipe Team and would be happy to suggest another recipe that better suits your tastes at 855-371-BAKE (2253). Looking forward to hearing from you, Annabelle@KAF
I made two batches of these for Christmas 2018. For some reason, my cookies didn't flatten and came rounded. No worries, though. Hubs loved them the way they were plus the rounded shaped allowed me to squeeze in a few more cookies in the tins I mailed to friends. :) Definitely will make these again next Christmas. Thank you!
This is the 3rd time that I've baked these in a month . Instead of the heaping 1/2 tsp of cinnamon, I used 1 tsp because we love cinnamon. The first time I rolled them in sparkling sugar. They were pretty and looked like the photo BUT that extra bit of sugar made them way too sweet for me. The 2nd time I cut the sugar in half and did not roll them in sugar. That worked out great . It's not as pretty without the sugar but that doesn't bother me. I intended to add orange zest this 3rd round but forgot. Oops.
Style AND substance matters in baking. A baked good must look AND taste good. With that said, I made these cookies this morning and, while they taste good, they didn't flatten as much as the picture would lead one to believe. The dough is very soft and sticky. Therefore, I refrigerated the dough for 30 minutes prior to handling the dough AND it was STILL soft and sticky. This recipe yielded 24 2-2.5' cookies. What made this recipe appealing to me, as compared to Martha Stewart's superior chewy molasses-spice cookies, was the addition of raisins to the dough. For my money and time, I'll simply add raisins to her recipe in the future.
These are very good. I didn't have cloves so I used allspice and they came out great. I coarsley chopped the raisins which worked fine. Only made 36 cookies. I also rolled them in regular sugar since I didn't have the other and they came out great.
Very tasty. I did a rough chop on the raisins but it really wasn't necessary and won't bother to do next time. I baked for the 9 minutes recommended for a 'slightly firmer cookie' but they are very very soft. Taste just like gingersnaps. No dunking needed with these cookies.
These are delicious. I did not chop up the raisins. I left them whole and the cookies were great! Soft. Great flavor. I used unsulphured molasses because I love that flavor. I rolled in regular sugar because that is all I had but coarse sugar will be used next time because that will take it to the next level. Rave reviews from the whole family.even the kids who ' hate' raisins...lol...these are honestly my favorite go to cookies instead of my usual oatmeal raisin and a way lot faster and easier.
These cookies got rave reviews from everyone! Really easy to make. I left the raisins whole and didn't use the sugar coating. They stayed soft and chewy in the Arizona climate. I'm making them again today.
Made these at 4500' elevation so decreased the leavening a bit, and baked them 15 min at least without their becoming browner. Very nice bendy but not too chewey cookie. Next time I will skip the raisins as I didn't find they added much - but I do plan to add 1 cup of candied ginger that I cut into 1/4 inch cubes and have soaked in water in the fridge for the past week. I'm hoping the cookies will be close to Trader Joe's Gingeroos.