A customized print-friendly version of this recipe is available by clicking the "Print Recipe" button on this page.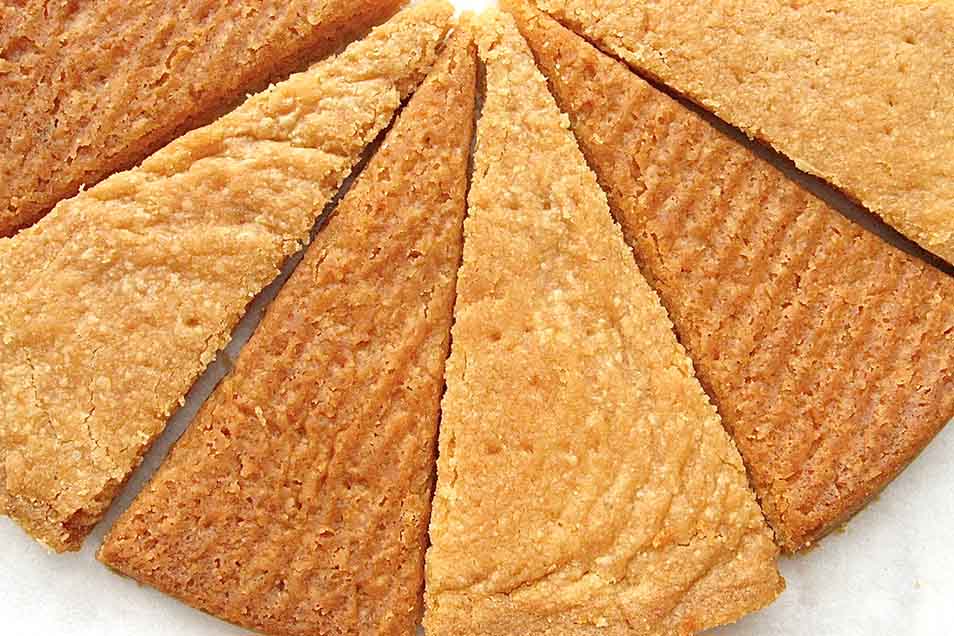 In ancient times, Scotsmen marked the winter solstice — the first day of winter — with bonfires, entreating the sun to return over the course of the year's longest night. From this tradition was born first a round cake, notched on the side to represent the sun's rays; and then today's familiar wedge-shaped shortbread. This version of classic shortbread incorporates crystallized ginger, which adds a spicy kick.
Instructions
Preheat the oven to 325°F. Lightly grease two 9" round cake pans, or two 8" or 9" stoneware shortbread pans, or a combination.

Combine the butter, salt, sugar, and vanilla in a mixing bowl, and beat till smooth.

Place 1 cup of the flour in a food processor with the crystallized ginger. Process until the ginger is finely minced; this may take up to 1 minute.

Add this mixture, with the remaining 1 1/3 cups flour, to the butter-sugar mixture. Beat until well combined.

Divide the dough in half, and press half into each pan, smoothing the surface with your fingers or a pastry roller.

Prick the dough all over with a fork; this will prevent it from ballooning up or developing air bubbles as it bakes.

Bake the shortbread till it's golden brown all over, and a bit browner around the edges, about 35 minutes. Remove it from the oven.

Loosen the edges of the shortbread from the pan, using a table knife or heatproof nylon spatula. Wait just a minute or two, then turn the shortbread out of the pan onto a piece of parchment or a clean work surface.

Use a bench knife, a knife, or (easiest) a rolling pizza cutter to cut each round into 12 wedges. Do this immediately, while the shortbread is still warm. If you wait, it'll be difficult to cut.

Transfer the wedges to a rack to cool.