A customized print-friendly version of this recipe is available by clicking the "Print Recipe" button on this page.
Sourdough Carrot Cake with Cream Cheese Frosting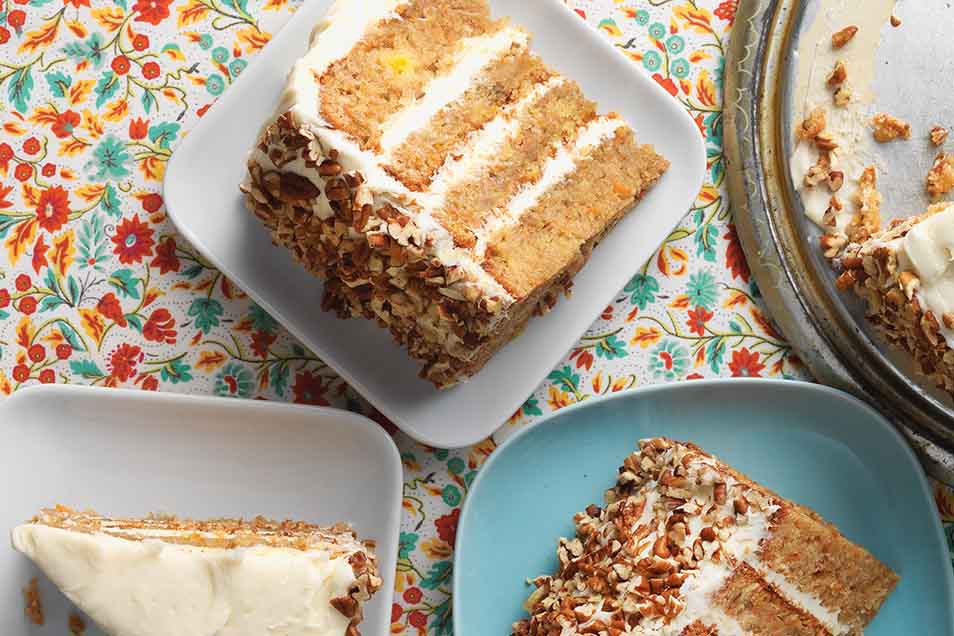 This recipe comes from Michael Jubinsky, a long-time King Arthur Flour spokesman, now retired. Says Michael, "It's "worth its weight in gold!" See other wonderful sourdough cake recipes in our King Arthur Flour 200th Anniversary Cookbook.
Ingredients
Cake
1 1/2 cups vegetable oil
2 cups granulated sugar
1 cup sourdough starter, unfed/discard
3 large eggs
1 cup crushed pineapple, drained
2 cups grated carrots
1/2 cup chopped walnuts
1/2 cup shredded unsweetened coconut
2 teaspoons vanilla extract
2 1/2 cups King Arthur Unbleached All-Purpose Flour
2 teaspoons cinnamon
1/2 teaspoon salt
1 teaspoon baking soda
Frosting
6 tablespoons butter, at room temperature
1 cup cream cheese, softened
1 teaspoon vanilla extract
3 1/2 cups confectioners' sugar
1 cup chopped pecans or walnuts, optional
1/2 cup mini diced ginger (candied ginger) or 1 teaspoon ground ginger, optional
2 to 4 tablespoons milk
Instructions
Preheat the oven to 350°F. Grease and flour a 9" x 13" pan or two 8" x 2" round pans.

To make the cake: Combine the oil and sugar, and stir in the starter. Add the eggs one at a time, beating well after each.

Fold in the pineapple, carrots, walnuts, coconut, and vanilla.

In a separate bowl, combine the flour, cinnamon, salt, and baking soda.

Add the dry ingredients to the wet ingredients, stirring just to combine. Pour the batter into the prepared pan.

Bake the cake for 45 minutes, or until a toothpick inserted into the center comes out clean, and the sides are just beginning to pull away from the edge of the pan.

Remove the cake from the oven and cool it completely on a rack before frosting.

To make the frosting: Combine the butter, cream cheese, and vanilla; beat until light and fluffy.

Add the sugar gradually, beating to combine.

Stir in the nuts and/or ginger. Add the milk, a little at a time, until the frosting is a spreadable consistency.

Serve the cake at room temperature. Store it in the refrigerator for up to 5 days. Unfrosted, the cake can be frozen, well wrapped, for up to 3 months. Frost just before serving.
Tips from our bakers
To make the 4 layer cake shown, cut each 8" round in half horizontally. Spread approx. 1/3 cup icing between layers and frost the outside of the cake with the remaining 2 cups of icing.
Reviews
This is a very tasty, dense cake. I couldn't really detect the sourdough. I baked it in 2 bread pans, so it took a little more than an hour to bake.
Absolutely the best carrot cake ever! I got rave reviews from everyone who tried it. It's extremely moist, but holds together beautifully. The sourdough is not obvious, but I think it gives it a good body and a subtle tang. I was hesitant about the pineapple, but it blends in perfectly. I can't wait to make this one again.
I have a recipe with the exact same ingredients except for the soughdough starter. I've recently welcomed a starter into our home and am currently looking for ways to use it. What does the starter add to this already delicious cake?

Hi Amy. Adding sourdough starter discard to carrot cake adds a slight tang to the cake. It's also a great way to use an ingredient that would otherwise be thrown away. Happy baking! Morgan@KAF
This is a great recipe. My son is allergic to nuts (but can handle coconut). I started making this cake without the nuts and the frosting without the ginger, and he loves it. Other than those two modifications, I make it precisely to the recipe and it turns out perfectly every time. We have his college senior recital coming up and I would love to serve these and the chocolate sourdough recipes as cupcakes. Has anyone tried this and do you know what baking time adjustments to make?

Go for it, Annette! Most cupcakes bake in about 20 minutes. You want them to bounce back when you poke them, for a toothpick to come out clean, and for the internal temperature to reach about 210°F. Happy baking! Annabelle@KAF
AMAZING cake recipe. Good even without frosting. I have made some substitutions: replaced 100g of all purpose flour with whole-wheat flour, instead of crushed pineapples I used pineapple chunks, and for nuts I used almonds. Also, my sourdough starter is kept in the fridge, so I kept the discard at room temp for a few hours before using it.
THE best carrot cake I've ever had. Light, moist, perfect carrier for cream cheese frosting. This is my go to carrot cake recipe now.
Very moist cake with lots of flavour. Lots of work but it is really worth it in the long run!
This is, hands down, my husband's favorite recipe. I use pecans instead of walnuts and when making the frosting I use half the amount of sugar and replace the vanilla with Fiori di Sicilia. I used to bake for a farmers market, sold out of this every week.
this is my go-to recipe for carrot cake. great cake
Followed directions and used the correct amounts. I was 1/4 c. short of all purpose flour so I substituted 1/4c,of KA white whole wheat fl. Don't know if that caused the cakes to turn out gummy. Toothpick came out clean and cake was beginning to shrink away from the sides--A waste of a lot of expensive ingredients.

We're sorry to hear that cake came out gummy, Lee. That is most often the result of over beating the batter (which is a very common cake crime.) If you're interested in some tips, check out our blog post called "How to prevent dense, gluey streaks in your cake" or give our free Baker's Hotline a call at 855-371-BAKE (2253). Kindly, Annabelle@KAF