A customized print-friendly version of this recipe is available by clicking the "Print Recipe" button on this page.
Sourdough Carrot Cake with Cream Cheese Frosting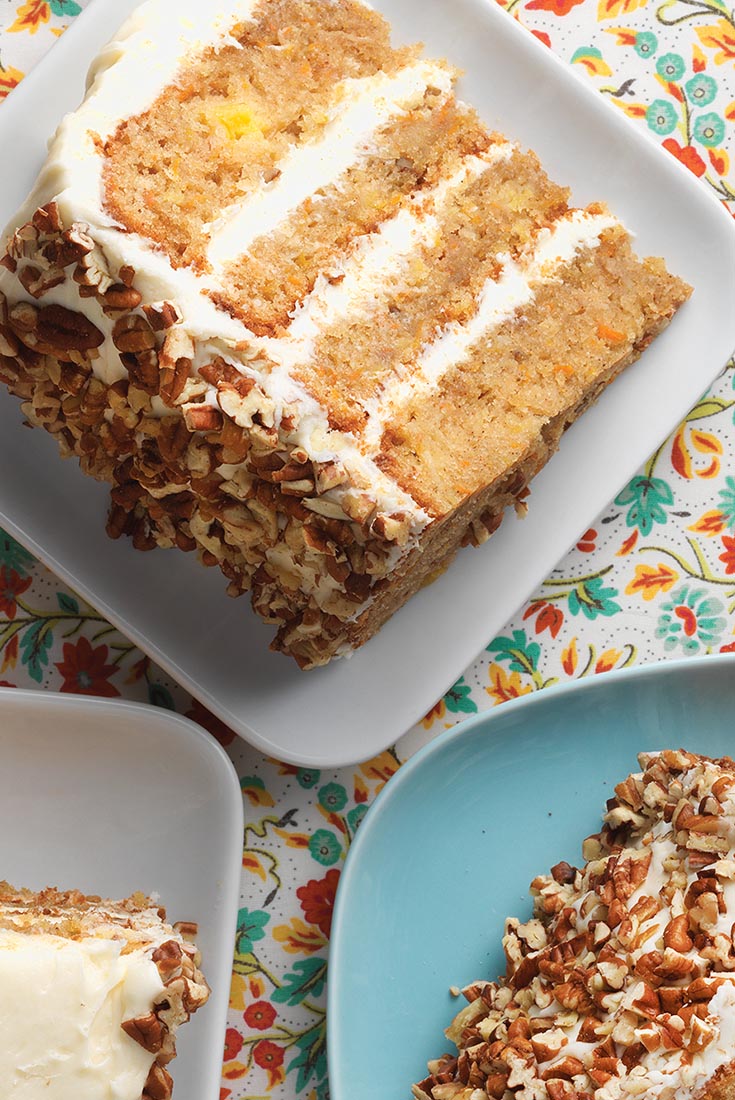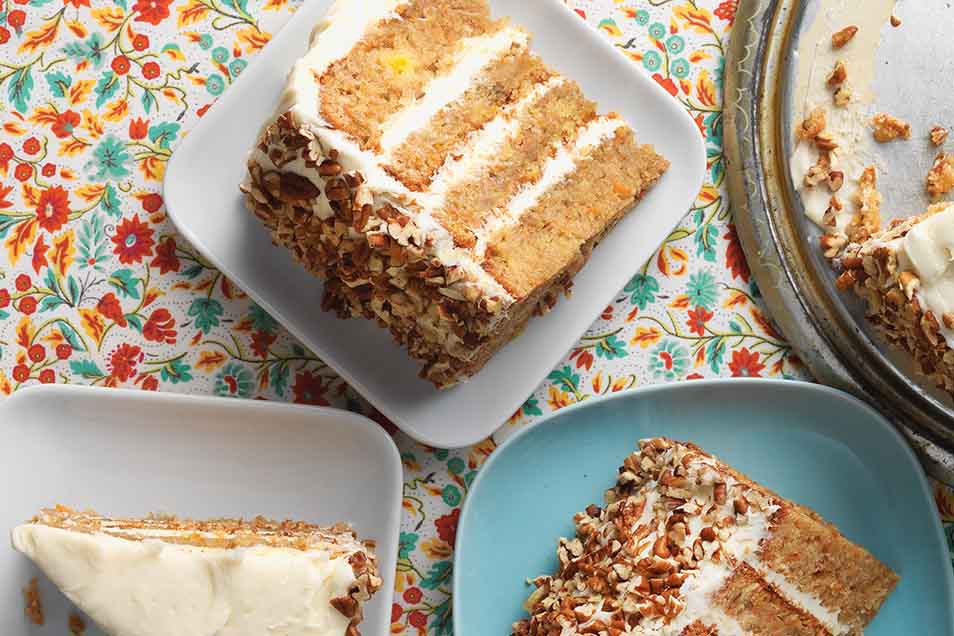 This recipe comes from Michael Jubinsky, a long-time King Arthur Flour spokesman, now retired. Says Michael, "It's "worth its weight in gold!" See other wonderful sourdough cake recipes in our King Arthur Flour 200th Anniversary Cookbook.
Ingredients
Frosting
6 tablespoons butter, at room temperature
1 cup cream cheese, softened
1 teaspoon vanilla extract
3 1/2 cups confectioners' sugar
1 cup chopped pecans or walnuts, optional
1/2 cup mini diced ginger (candied ginger) or 1 teaspoon ground ginger, optional
2 to 4 tablespoons milk
Instructions
Preheat the oven to 350°F. Grease and flour a 9" x 13" pan or two 8" x 2" round pans.

To make the cake: Combine the oil and sugar, and stir in the sourdough starter. Add the eggs one at a time, beating well after each.

Fold in the pineapple, carrots, walnuts, coconut, and vanilla.

In a separate bowl, combine the flour, cinnamon, salt, and baking soda.

Add the dry ingredients to the wet ingredients, stirring just to combine. Pour the batter into the prepared pan.

Bake the cake for 45 minutes, or until a toothpick inserted into the center comes out clean, and the sides are just beginning to pull away from the edge of the pan.

Remove the cake from the oven and cool it completely on a rack before frosting.

To make the frosting: Combine the butter, cream cheese, and vanilla; beat until light and fluffy.

Add the sugar gradually, beating to combine.

Stir in the nuts and/or ginger. Add the milk, a little at a time, until the frosting is a spreadable consistency.

Serve the cake at room temperature. Store it in the refrigerator for up to 5 days. Unfrosted, the cake can be frozen, well wrapped, for up to 3 months. Frost just before serving.
Tips from our bakers
To make the 4 layer cake shown, cut each 8" round in half horizontally. Spread approx. 1/3 cup icing between layers and frost the outside of the cake with the remaining 2 cups of icing.
Reviews
I made this recipe over the summer and brought it to our cabin to celebrate many birthdays (my kids and Grandkids) Everyone raved about the flavor. No one left without having a second piece. My question is can you reduce the amount of fat in the recipe by substituting unsweetened apple sauce for the oil? I've done that before in other cake recipes and it worked out fine and no one could tell that it was a lower fat cake recipe.

Michael, you can successfully reduce the oil by half and use half applesauce if you like. We recommend using at least some oil in the cake to ensure the texture stays moist, tender, and fresh. Kye@KAF
This is the final carrot cake recipe I will ever need. It is really that good. Moist, tender, not too sweet, spicy but not bitter. Only change I made was to add 1/2 cup of golden raisins because we like raisins in our carrot cake. Filled cupcakes tins 3/4 full, and baked for 25-27 minutes (one pan took a couple more minutes because it was a heavier gauge. It made 30 cupcakes. The frosting with the candied ginger and chopped walnuts had everyone raving. It was memorable. Thanks, King Arthur, for knocking it out of the park once again.
I took other reviewers's advice and cut down amount of sugar and oil. I used almond oil and freshly chopped pineapple. I squished the pineapple to get the juice out. My cake cracked while cooling and was very dense. Could it be that I was usng liquid starter instead of stiff starter? Otherwise the flavour of the cake is yuumy.

Pauline, sugar and fat both do more than just flavor your cake, they also make it more moist and tender. Rather than pointing the finger at the liquid starter (we always assume one that is 100% hydration), it's fairly safe to assume that the reductions in both sugar and fat are to blame for the density and cracking. We hope you'll consider giving the recipe another bake with the full amount of fat and no more than a 50% reduction in sugar. We think you'll be much happier with the texture and look this way. Mollie@KAF
My cake turned out gummy although the taste was good. I oil to 200g and sugar to 300g. I als used fresh pineapple instead of canned pineapple. I squished some juice put after chopping them to small pieces. I guess there is too much liquid causing it to be gummy? Would it have helped if I had baked it longer? The surface of the cake was turning dard and so I did not dare to risk burning the cake plus the tester came out clean. I think the other contributing factor could be that I use liquid sourdough and not stiff sourdough. KAF. any advice? Meanwhile I have to think of ways to use up the two 8" gummy carrot cakes ;0(

Hi Paulinewan, we'd love to help. It sounds like the measurements you used were slightly different than what the recipe specifies. If you'd like to see the ingredients displayed by weight, you can click on the "grams" button below the ingredients header. (The recipe calls for 298g of vegetable oil and 397g of sugar.) While the sugar can be reduced, you may want to consider increasing the amount of oil to ensure you end up with the right texture in your cake. Also try draining the pineapple more completely next time and baking for longer. If the top of the cakes were getting dark but a toothpick inserted into the center doesn't come out clean, you can cover the cakes with foil. This will allow them to finish baking without turning too dark.

You can try cubing your cake layers and toasting them on a baking sheet to help make them less gummy. Layer them in a large bowl with custard, mousse, or cream to make a delightful trifle! Kye@KAF
I used this recipe today, with a few changes (because of reviews). Reduced the oil and sugar, each by 1/2 cup. Added more spice, 2 1/2 tsp cinnamon, 1/2 tsp fresh grated nutmeg, 1/4 tsp ground cloves. The cake was done in 35 minutes (toothpick test), but maybe that is my high altitude bake. The taste was perfect. Not too sweet, and the spices were that of a good spice cake. I also added 1/2 cup golden raisins, which added to the chewy texture with the coconut. Made my own lighter version of cream cheese frosting, and added chopped toasted pecans around the outside. Impressive looking cake for my quilt group tomorrow! Thanks
Awesome carrot cake recipe - no frosting needed! I made bread this morning and didn't need all of the starter that I had fed last night, so made a half batch of this recipe using half KAF AP flour and half KAF white whole wheat. The cake has an amazing texture that is firm and moist, but not too moist. It is amazing without the frosting, and I think that I will make it in cupcake form next time so that I can freeze some. I am trying not to eat the rest of the cake before the rest of the family comes home.
Amazing recipe! Love how it stays so moist (not soggy) and flavorful. If you plan to remove it from the pan, I suggest a parchment lining to prevent the occasional sticky/crumbly mess during unmolding. The only "problem" is that I always have extra batter. Most of the time, I end up with a three layer round and six cupcakes. Today's batch consists of a dozen muffins, a sheet cake to share, and a loaf to freeze. I added a bit of fresh ground nutmeg for extra flavor and a fourth egg to improve performance at 6500 feet. As usual, the extra egg did its job, but I highly doubt that's the source of the cake's copious nature.
Easy to make and so delicious! It is good with or without the frosting and does freeze very nicely.
Excellent! Made this twice and both times were a smash!!
Delicious and simple recipe. The cake is really moist and flavorful. I skipped the frosting.