A customized print-friendly version of this recipe is available by clicking the "Print Recipe" button on this page.
Sourdough Carrot Cake with Cream Cheese Frosting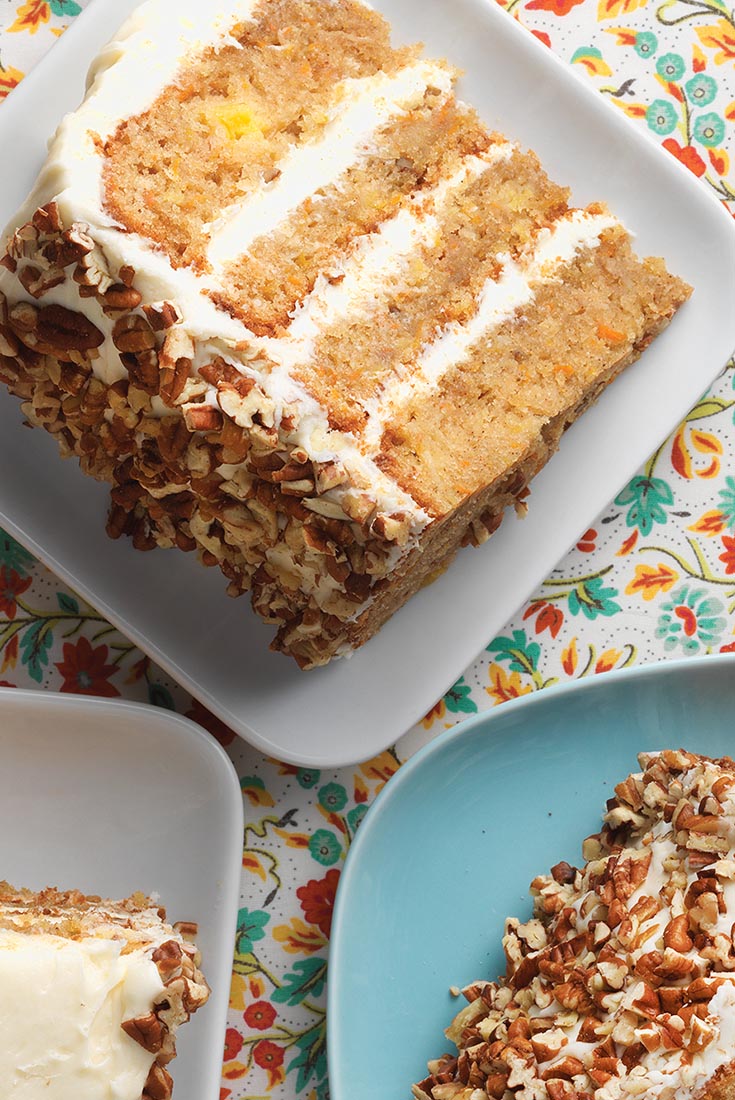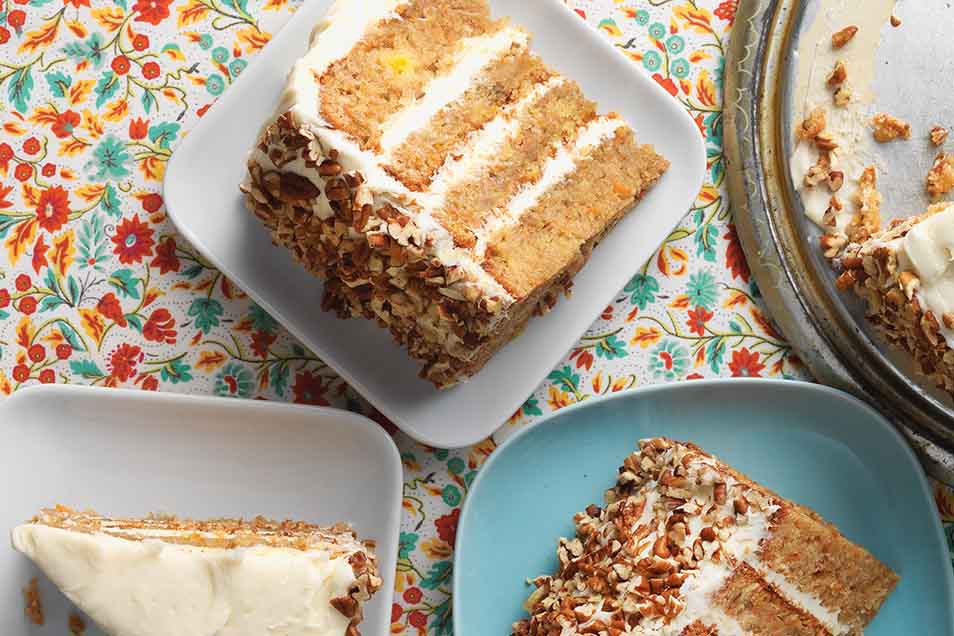 This recipe comes from Michael Jubinsky, a long-time King Arthur Flour spokesman, now retired. Says Michael, "It's "worth its weight in gold!" See other wonderful sourdough cake recipes in our King Arthur Flour 200th Anniversary Cookbook.
Ingredients
Frosting
6 tablespoons butter, at room temperature
1 cup cream cheese, softened
1 teaspoon vanilla extract
3 1/2 cups confectioners' sugar
1 cup chopped pecans or walnuts, optional
1/2 cup mini diced ginger (candied ginger) or 1 teaspoon ground ginger, optional
2 to 4 tablespoons milk
Instructions
Preheat the oven to 350°F. Grease and flour a 9" x 13" pan or two 8" x 2" round pans.

To make the cake: Combine the oil and sugar, and stir in the starter. Add the eggs one at a time, beating well after each.

Fold in the pineapple, carrots, walnuts, coconut, and vanilla.

In a separate bowl, combine the flour, cinnamon, salt, and baking soda.

Add the dry ingredients to the wet ingredients, stirring just to combine. Pour the batter into the prepared pan.

Bake the cake for 45 minutes, or until a toothpick inserted into the center comes out clean, and the sides are just beginning to pull away from the edge of the pan.

Remove the cake from the oven and cool it completely on a rack before frosting.

To make the frosting: Combine the butter, cream cheese, and vanilla; beat until light and fluffy.

Add the sugar gradually, beating to combine.

Stir in the nuts and/or ginger. Add the milk, a little at a time, until the frosting is a spreadable consistency.

Serve the cake at room temperature. Store it in the refrigerator for up to 5 days. Unfrosted, the cake can be frozen, well wrapped, for up to 3 months. Frost just before serving.
Tips from our bakers
To make the 4 layer cake shown, cut each 8" round in half horizontally. Spread approx. 1/3 cup icing between layers and frost the outside of the cake with the remaining 2 cups of icing.
Reviews
this is my go-to recipe for carrot cake. great cake
Followed directions and used the correct amounts. I was 1/4 c. short of all purpose flour so I substituted 1/4c,of KA white whole wheat fl. Don't know if that caused the cakes to turn out gummy. Toothpick came out clean and cake was beginning to shrink away from the sides--A waste of a lot of expensive ingredients.

We're sorry to hear that cake came out gummy, Lee. That is most often the result of over beating the batter (which is a very common cake crime.) If you're interested in some tips, check out our blog post called "How to prevent dense, gluey streaks in your cake" or give our free Baker's Hotline a call at 855-371-BAKE (2253). Kindly, Annabelle@KAF
I made this recipe because it had unfed sourdough starter and I love finding recipes that use the pour off plus I love carrot cake so it was a win win for me. The cake and frosting turned out great! It was a hit at the family Easter dinner..(I was a bit nervous since I had never made it before) One person said she loved it and she said she's pretty picky about her carrot cakes. I will definitely use this recipe again and share it as well.
I didn't bake the recipe because I have a question about the instructions. I don't understand what the 'unfed/discard' regarding the sourdough starter is referring to. What does that mean?

Maureen, unfed or "discard" sourdough is the portion of starter that's removed before a feeding occurs (fresh flour and water is added). It means the starter isn't very active, as the starter has been resting for at least 12-16 hours. If you're not familiar with the standard sourdough feeding process, you might find our Sourdough Baking Guide (found within the "Learn" section of our website) helpful. Kye@KAF
I made this in a bundt pan to use for school snacks, without frosting. It made a very nice moist cake - the best carrot cake recipe ever, my daughter said. I made it without the raisins or coconut. Raisins are unpopular here, and I didn't have the coconut on hand. I think it would be a nice addition, but it wasn't missed. It's a great way to use up sourdough discard.
Excellent cakevery moist and very light. I used the full oil and sugar amts recommended. The only reason I did not give it 5 stars is the frosting. First off, there simply wasn't enough. I split my layers and used 1/3 c as recommended, but it ended up looking like a crumb coat barely sufficient to hold nuts in the sides. It needs to be 1.5x as written minimum. Secondly, the frosting was just too sweet. Will I will definitely make the cake again, I'll use a different cream cheese frosting recipe.
If you enjoy a lighter textured carrot cake then this one is for you, but I like a heavy dense cake so this is not a favorite for me. It was good just not how I personally like a carrot cake to be. One reason my cake could have baked up lighter though is because I use a fairly stiff sourdough starter rather than a wet one.
I love the carrot cake. It was extremely moist and yummy. I made the frosting with only 1/2 cup of sugar and it was enough sugar for sure.
I made this recipe over the summer and brought it to our cabin to celebrate many birthdays (my kids and Grandkids) Everyone raved about the flavor. No one left without having a second piece. My question is can you reduce the amount of fat in the recipe by substituting unsweetened apple sauce for the oil? I've done that before in other cake recipes and it worked out fine and no one could tell that it was a lower fat cake recipe.

Michael, you can successfully reduce the oil by half and use half applesauce if you like. We recommend using at least some oil in the cake to ensure the texture stays moist, tender, and fresh. Kye@KAF
This is the final carrot cake recipe I will ever need. It is really that good. Moist, tender, not too sweet, spicy but not bitter. Only change I made was to add 1/2 cup of golden raisins because we like raisins in our carrot cake. Filled cupcakes tins 3/4 full, and baked for 25-27 minutes (one pan took a couple more minutes because it was a heavier gauge. It made 30 cupcakes. The frosting with the candied ginger and chopped walnuts had everyone raving. It was memorable. Thanks, King Arthur, for knocking it out of the park once again.