A customized print-friendly version of this recipe is available by clicking the "Print Recipe" button on this page.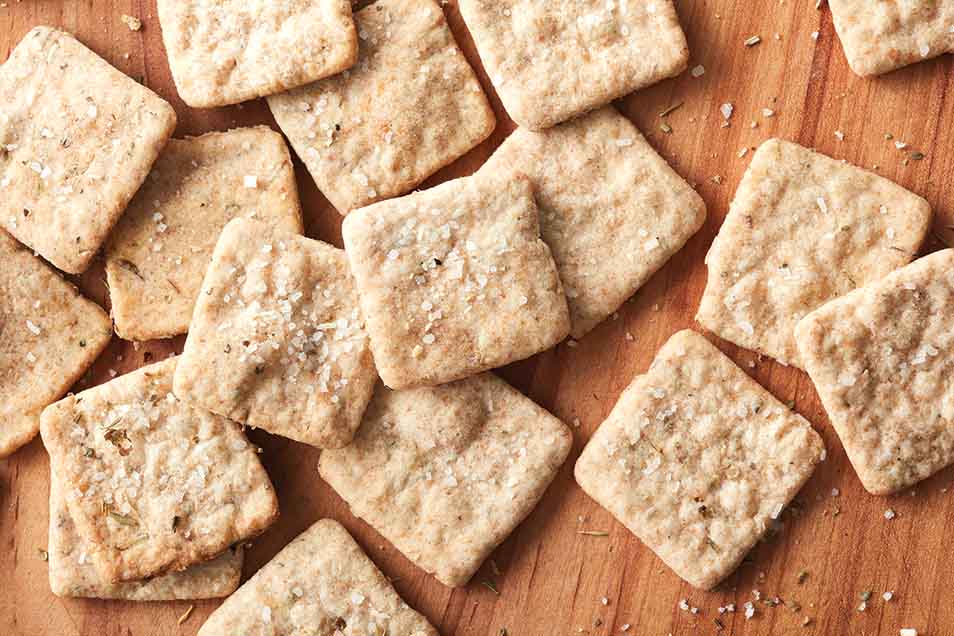 Here's the perfect solution to your discarded sourdough dilemma. The rosemary, while optional, complements the tang of the sourdough perfectly. We're addicted to these crackers, dipped into some healthy hummus.
Ingredients
1 cup King Arthur Premium Whole Wheat Flour or White Whole Wheat Flour
1/2 teaspoon sea salt
1 cup sourdough starter, unfed/discard
1/4 cup (4 tablespoons) unsalted butter, room temperature
2 tablespoons dried herbs of your choice, optional
oil for brushing
coarse salt (such as kosher or sea salt) for sprinkling on top
Instructions
Mix together the flour, salt, sourdough starter, butter, and optional herbs to make a smooth(not sticky), cohesive dough.

Divide the dough in half, and shape each half into a small rectangular slab. Cover with plastic wrap, and refrigerate for 30 minutes, or up to a couple of hours, until the dough is firm.

Preheat the oven to 350°F.

Very lightly flour a piece of parchment, your rolling pin, and the top of the dough.

Working with one piece at a time, roll the dough to about 1/16" thick. The dough will have ragged, uneven edges; that's OK. Just try to make it as even as possible.

Transfer the dough and parchment together onto a baking sheet. Lightly brush with oil and then sprinkle the salt over the top of the crackers.

Cut the dough into 1 1/4" squares; a rolling pizza wheel works well here.

Prick each square with the tines of a fork.

Bake the crackers for 20 to 25 minutes, until the squares are starting to brown around the edges. Midway through, reverse the baking sheets: both top to bottom, and front to back; this will help the crackers brown evenly.

When fully browned, remove the crackers from the oven, and transfer them to a cooling rack. Store airtight at room temperature for up to a week; freeze for longer storage.
Nutrition Information
Serving Size

5 crackers, 22g

Servings Per Batch

20 servings
Amount Per Serving:
Calories

57

Calories from Fat

22

Total Fat

2g

Saturated Fat

1g

Trans Fat

0g

Cholesterol

6mg
Sodium

298mg

Total Carbohydrate

7g

Dietary Fiber

1g

Sugars

0g

Protein

2g
* The nutrition information provided for this recipe is determined by the ESHA Genesis R&D software program. Substituting any ingredients may change the posted nutrition information.
Tips from our bakers
Note: Thanks to reader feedback, as of 9/20/17 we've reduced the baking temperature to 350°F. This should avoid any burnt crackers!
Reviews
Like many others, I've played with the recipe. I found they taste best with old starter discard (I keep it in the fridge and cut it once a week). The two-week old discard is just fine for these. You can make them with any amount if discard, just use the same ratio of ingredients (for instance, if you have 20 g starter, take 113g flour/248g starter and multiply by 20). Do the same for butter (57g/248g*20g) etc. My favorite flavor is whole wheat (sometimes I also add some buckwheat flour), rosemary and minced green onion with creole seasoning on top. I roll it to 3 in the pasta machine and bake for 20 mins. Also I've replaced the herbs and butter with pesto for a cracker that only needs a little salt on top. Yum and thanks for the recipe!
These are the best crackers I have ever had in my life. And really easy to make! I make a batch every weekend to get me through the week. I reduce the dried herbs from 2 tablespoons to 1 tablespoon and I use dried Italian seasoning. I also use Kosher salt instead of sea salt. Perfect!
The cheese version was a huge hit with my family. I added about 3/4 cups finely grated cheddar. I have also noticed the herb crackers getting better as they age. While I wont make the herb version again my kids won't let me skip making the cheese version. To top it off a friend tried them and asked me for the recipe! Guess it was just me not the recipe all along! KAF thanks for responding to my first post!
I was so excited to bake these after reading all the glowing reviews. My first batch tasted like salty cardboard. I'm going to try a cheesy batch. I may just go back to feeding the chickens my sourdough discard. :(

Hi there, fellow baker. We're sorry to hear that this recipe left you feeling a little disappointed. Most often when baked goods lack flavor, its because too much flour is used. To ensure you're using the right amount, we recommend checking out the "Recipe Success Guide," link next to the ingredients header above. You can also try adding things like dried herbs, brushing the tops of the crackers with an infused oil before baking or topping them with a blend of seeds if you're looking for a bit more flavor. If we can help troubleshoot or pick out a recipe that better fits your tastes, please give our Baker's Hotline a call at 855-371-BAKE (2253). Kindly, Morgan@KAF
These taste so delicious and with a few tweaks they now come out perfectly every time! I found that dividing the dough into 2 pieces meant that it didn't get thin enough and thereby crispy enough. So now I divide the dough in 4 parts and then roll those super thin and put each one on a full cookie sheet. I also upped the baking temp a bit to 375 or 400 and baked them for a little less time. Strangely similar to cheez-its (in such a good way)!
This is a great recipe. I started doing it as my sourdough starter was getting going and I am really pleased with the results. I have made this a half dozen times and there is a regular demand for these crackers! I have made some tweaks along the way to get something even more interesting. I am adding only 2 oz of whole wheat and making up the difference with an ounce of corn meal and an ounce of flax meal which yields a more interesting mouth feel. As for the herbs I have gone to a tablespoon of dried rosemary and a teaspoons of minced fresh rosemary. I brush the top of the crackers with a high quality olive oil and then sprinkle a liberal amount of KAF artisan bread topping along with a sprinkle of coarse sea salt and roll that in. I tend to bake my crackers darker than what appears in the photograph but no complaints.
What a great find! I can't stop making these. I even make more starter so I can have lots of discard. After making the recipe exactly as stated, I've made variations. My favorite is using lard (less amount than the butter) and half white/half whole wheat. Sooo good. I also liked using olive oil. Usually, I need to bake them slightly longer and I'm using convection. I also don't cut them up into crackers, but bake as one sheet, then break apart after they have cooled. I like the irregular shapes. My next experiment is along the sweet lines. My only problem with the recipe is that I eat them all. Batch in the oven now and they are headed out to a friend's for dinner. I'm saving myself.
This is one of the best things I've baked in my whole life! I added dried rosemary to the dough and fresh grated Parmesan and cracked pepper to the top before baking. My husband said they taste like a mix of cheese its and sausage cheese balls. And currently my 18 month old is trying to wrestle the box out of my hand, so I'd say they're a hit all around!
This is now the go-to recipe for my discard sourdough starter. I've tried it three times with Italian seasoning, cheddar cheese/dried chives, and the everything bagel TJ's seasoning suggested from other reviews, and they are all delightful. Crisp and airy texture, easy to mix while feeding my starter, easy to roll out and bake, and easier to eat.
We have made these crackers on numerous occasions and I love that you can change up the flour you use as well as the spices. Like Adventurous Baker from Alaska, we use our KitchenAid Pasta Roller to roll the dough, although we go to level 5 to make a thinner, crispier cracker. We bake the crackers on the Convection setting in our Wolfe oven, resulting in a very uniform bake. Our favorite flavor combination to date: 1 tsp. garlic powder, 1 tsp. onion powder, 1 tsp. smoked paprika, 1 TB. KA Pizza Dough Flavor and 50 grams of cheddar or parmesan. So delicious! Guests are always amazed that we baked our own crackers and that they are so delicious. Absolutely addictive in the very best way!