A customized print-friendly version of this recipe is available by clicking the "Print Recipe" button on this page.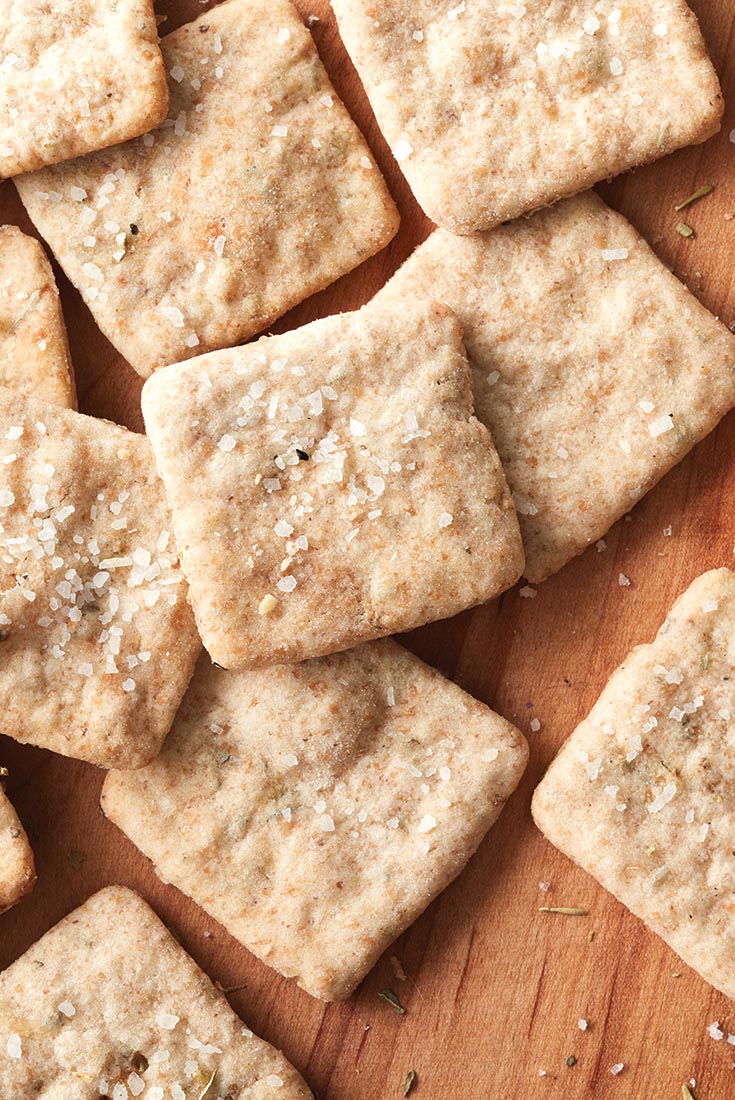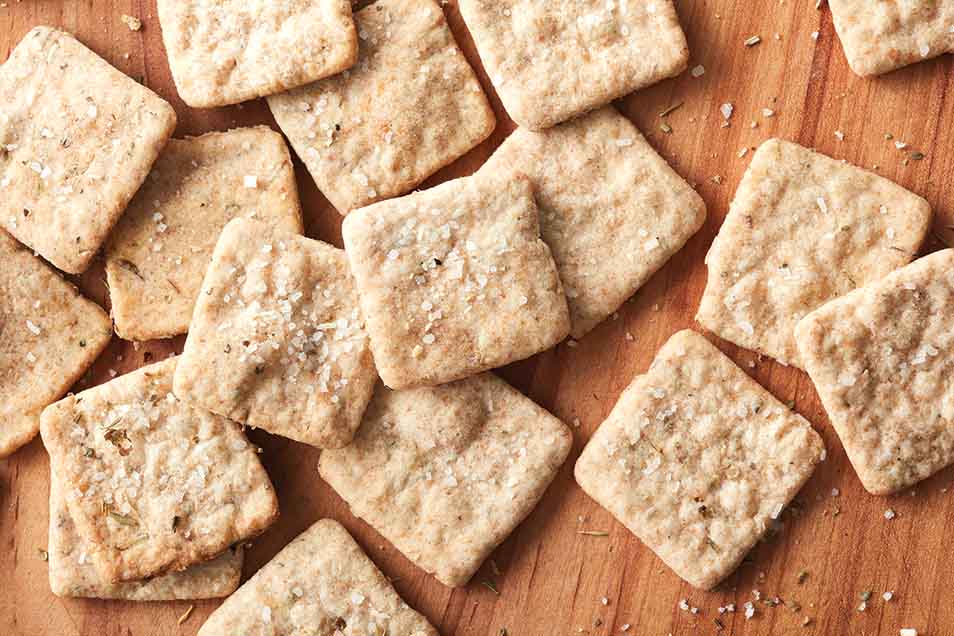 Here's the perfect solution to your discarded sourdough dilemma. The rosemary, while optional, complements the tang of the sourdough perfectly. We're addicted to these crackers, dipped into some healthy hummus.
Ingredients
1 cup King Arthur Premium Whole Wheat Flour or White Whole Wheat Flour
1/2 teaspoon sea salt
1 cup sourdough starter, unfed/discard
1/4 cup (4 tablespoons) unsalted butter, room temperature
2 tablespoons dried herbs of your choice, optional
oil for brushing
coarse salt (such as kosher or sea salt) for sprinkling on top
Instructions
Mix together the flour, salt, sourdough starter, butter, and optional herbs to make a smooth(not sticky), cohesive dough.

Divide the dough in half, and shape each half into a small rectangular slab. Cover with plastic wrap, and refrigerate for 30 minutes, or up to a couple of hours, until the dough is firm.

Preheat the oven to 350°F.

Very lightly flour a piece of parchment, your rolling pin, and the top of the dough.

Working with one piece at a time, roll the dough to about 1/16" thick. The dough will have ragged, uneven edges; that's OK. Just try to make it as even as possible.

Transfer the dough and parchment together onto a baking sheet. Lightly brush with oil and then sprinkle the salt over the top of the crackers.

Cut the dough into 1 1/4" squares; a rolling pizza wheel works well here.

Prick each square with the tines of a fork.

Bake the crackers for 20 to 25 minutes, until the squares are starting to brown around the edges. Midway through, reverse the baking sheets: both top to bottom, and front to back; this will help the crackers brown evenly.

When fully browned, remove the crackers from the oven, and transfer them to a cooling rack. Store airtight at room temperature for up to a week; freeze for longer storage.
Nutrition Information
Serving Size

5 crackers, 22g

Servings Per Batch

20 servings
Amount Per Serving:
Calories

57

Calories from Fat

22

Total Fat

2g

Saturated Fat

1g

Trans Fat

0g

Cholesterol

6mg
Sodium

298mg

Total Carbohydrate

7g

Dietary Fiber

1g

Sugars

0g

Protein

2g
* The nutrition information provided for this recipe is determined by the ESHA Genesis R&D software program. Substituting any ingredients may change the posted nutrition information.
Tips from our bakers
Note: Thanks to reader feedback, as of 9/20/17 we've reduced the baking temperature to 350°F. This should avoid any burnt crackers!
Reviews
very tasty. I had to add flour as I was kneading but my starter was quite wet. I am curious if these could be turned into bread sticks. they are very crisp and flaky (mine may have been a bit too thin). much better than store bought. I used 1/2 of the asked for amount of herbs and that was perfect.

Bread sticks are a great idea, Renee. you could still roll the dough out and then use a pizza cutter to cut long strips in the dough. If you wanted them to be rounded rather than flat, cut wider strips, 1" or so, and roll them into a long, thin spiral. Experiment! Annabelle@KAF
This is a great recipe. Everyone raves about these crackers!
I make these regularly with my discard soughdough starter. I double the recipe, divide the dough into 4 pieces (about 7.25 oz each), wrap them in plastic, then put them into a freezer bag and into the freezer. When I'm ready to make the crackers I thaw 2 dough balls in the refrigerator. After rolling them out on a piece of parchment paper I sprinkle toasted seasame seeds and kosher salt then lightly roll the toppings into the dough so they don't just all fall off the crackers immediately. I then brush with olive oil and dock with a fork. I bake mine on a baking stone - have to watch them carefully to avoid burning. I usually take the outer crackers out earlier and bake the inner ones a little longer. Hopefully I get a pasta machine for my birthday or Christmas this year so I can make more even crackers.
I've been using this recipe for several months now...really beats buying store bought crackers. I find it easier to prick the dough with a fork after rolling out the dough but before cutting the individual crackers out with a pizza roller...If you prick the dough after cutting out the crackers, the crackers will lift off the baking sheet many times. I've successfully stockpiled many of the mini-rectangle slabs in the fridge for up to two weeks prior to rolling out and baking...the key here is to store them well wrapped (air-tight) in plastic film. Also have found that using 1.5 Tablespoons of Mrs. Dash's Table Blend seasoning gives these crackers a wonderful flavor...
This recipe was super good. I put the dough in the fridge over night and it turned out perfect! Thank you
We seem to eat these crackers as fast as I can make them. They're fantastic! I follow the recipe, using KAF Organic White Whole Wheat flour, sometimes mixing it with a little KAF Organic Wheat Flour for extra flavor. We vary the herbs and spices according to our mood. Without added herbs and spices, we think these crackers taste like Wheat Thins used to, before they added so much sugar to their recipe. We love these crackers so much that I splurged and ordered a KitchenAid pasta roller attachment, because I couldn't seem to roll the dough to a consistent 1/16". That sure makes the rolling a breeze! Thanks, KAF, for such a delicious (and healthy) way to use up my "discard" sourdough starter!
LOVE this recipe. I've made it a few times now with different seasonings each time. It's very forgiving. Forget to dock the crackers? It's ok. Not roll them thin enough? Still tasty. I've done them plain with just salt, with a wonderful herb mixture, and the latest version is cheese (KAF Vermont Cheese Powder) and a spicy seasoning. I don't know how well they keep because they don't last that long.
Made these today with the discard of my very first ever Sourdough starter! I am in the UK and came across this website whilst doing a bit of research into SD starter. Very happy I found you and even better that you offer different measures. IE. Cups/oz/gram. These crackers sadly didn't last very long. My lot demolished them after 'just having a taste'!!!! Great way to use up some of the discard SD. It feels a bit wasteful to throw it out. I will be making these crackers a lot I think. Great for snacking on and above all I know what went into them.
can I freeze the dough or leave in the fridge to bake in the day after?

Hi there, Cristiane. We wouldn't recommend that, as this dough really does need to be baked shortly after it's mixed up. Thankfully, it only needs about 30 minutes to set up in the fridge before baking, so there aren't any necessary long rises to slow down the process. Annabelle@KAF
I love the use of sour dough starter, the ease of the recipe, and the flakiness of the cracker. I was not 100% happy with the taste of my white flour cracker with white flour starter (I thought it was OK but a bit bland) so I remade the recipe using rye starter with 1c white flour and 1.5 tsp caraway seeds, then salted the top before baking. Delicious.