A customized print-friendly version of this recipe is available by clicking the "Print Recipe" button on this page.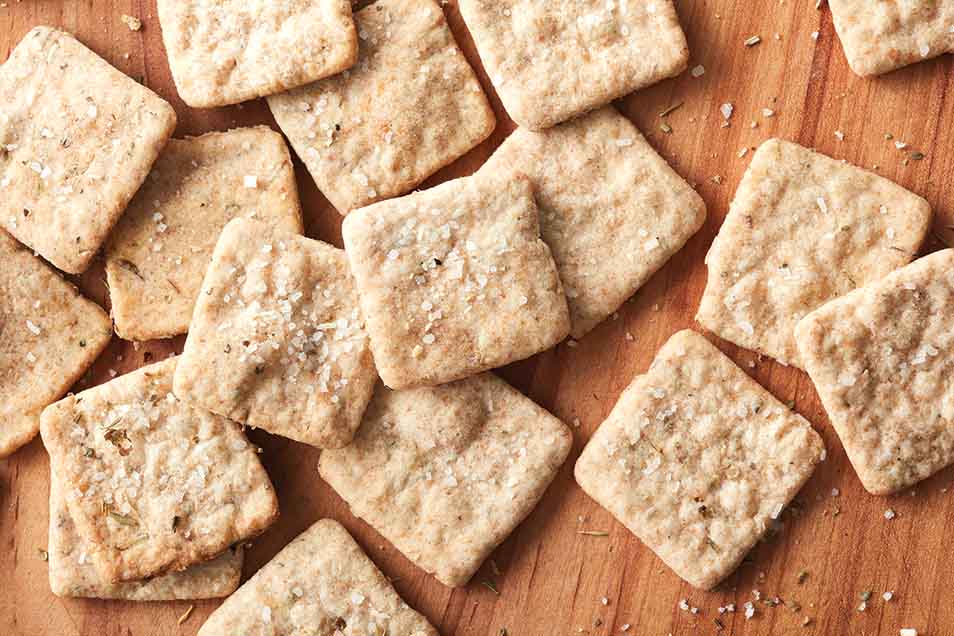 Here's the perfect solution to your discarded sourdough dilemma. The rosemary, while optional, complements the tang of the sourdough perfectly. We're addicted to these crackers, dipped into some healthy hummus.
Ingredients
1 cup King Arthur Premium Whole Wheat Flour or White Whole Wheat Flour
1/2 teaspoon sea salt
1 cup sourdough starter, unfed/discard
1/4 cup (4 tablespoons) unsalted butter, room temperature
2 tablespoons dried herbs of your choice, optional
oil for brushing
coarse salt (such as kosher or sea salt) for sprinkling on top
Instructions
Mix together the flour, salt, sourdough starter, butter, and optional herbs to make a smooth(not sticky), cohesive dough.

Divide the dough in half, and shape each half into a small rectangular slab. Cover with plastic wrap, and refrigerate for 30 minutes, or up to a couple of hours, until the dough is firm.

Preheat the oven to 350°F.

Very lightly flour a piece of parchment, your rolling pin, and the top of the dough.

Working with one piece at a time, roll the dough to about 1/16" thick. The dough will have ragged, uneven edges; that's OK. Just try to make it as even as possible.

Transfer the dough and parchment together onto a baking sheet. Lightly brush with oil and then sprinkle the salt over the top of the crackers.

Cut the dough into 1 1/4" squares; a rolling pizza wheel works well here.

Prick each square with the tines of a fork.

Bake the crackers for 20 to 25 minutes, until the squares are starting to brown around the edges. Midway through, reverse the baking sheets: both top to bottom, and front to back; this will help the crackers brown evenly.

When fully browned, remove the crackers from the oven, and transfer them to a cooling rack. Store airtight at room temperature for up to a week; freeze for longer storage.
Nutrition Information
Serving Size

5 crackers, 22g

Servings Per Batch

20 servings
Amount Per Serving:
Calories

57

Calories from Fat

22

Total Fat

2g

Saturated Fat

1g

Trans Fat

0g

Cholesterol

6mg
Sodium

298mg

Total Carbohydrate

7g

Dietary Fiber

1g

Sugars

0g

Protein

2g
* The nutrition information provided for this recipe is determined by the ESHA Genesis R&D software program. Substituting any ingredients may change the posted nutrition information.
Tips from our bakers
Note: Thanks to reader feedback, as of 9/20/17 we've reduced the baking temperature to 350°F. This should avoid any burnt crackers!
Reviews
Really excellent recipe - I had no butter, I used coconut oil and a bit of olive, added black cumin seeds and sumac instead of herbs. I was worried they wouldn't be as good without the buttery taste but the flavour from the starter is wonderful for crackers and they're delicious. They didn't crisp up quite the way I would have liked - but part of me thinks with butter they would have browned a bit more nicely.
I don't think I will have to worry about leftovers! These are great. The dough was a little dry with just my starter and butter, added water by the 1/2 tbs until the dough reached a nice consistency. Baked in a convection oven set to 325, 10 mins, swapped pans from top to bottom and put in for another 10.
Forgive me...I'm new to baking...I had trouble incorporating the flour into the discard starter. I tried the Dough Whisk, which didn't work at all. I ended up mixing by hand, but never did get all of the flour completely incorporated. I put the rectangles of dough on plates to chill, then I had trouble removing them from the plates. Why not just put the dough on parchment before it goes in the fridge? Then I had trouble rolling out the dough on the parchment...how do you keep the parchment from sliding all over while you roll the dough??? I never did get the dough rolled out thin enough, so I have small squares of bread rather than crackers. But, the small squares of bread taste great! I used Herbs de Provence, brushed the dough with Garlic Oil, and added course salt. They taste fantastic; if I make them again I will roll the dough out thinner...it apparently needs to be really, super thin. Someone please tell me how to keep the parchment from sliding when you roll the dough on it.

It sounds like there might be too much flour added to your starter and the cracker dough if it's difficult to combine. To ensure you're using the right amount, we recommend checking out the "Measuring Standards," link next to the ingredients header above. You'll see that either measuring your flour by weight using a scale, or fluffing and sprinkling the flour into your measuring cup are the best ways to ensure your recipe turns out perfectly.

When the dough goes into the fridge, it should be in a thick rectangle (about 1" thick), wrapped in plastic. This helps the gluten relax and gives the flour a chance to hydrate. Once you start rolling the dough out, that's when it's helpful to use parchment paper so you can transfer to the baking sheet with ease. We hope this helps, and happy baking! Kye@KAF
I baked my first batch about a week ago. Someone mentioned that the crackers weren't crisp after standing a bit. Well, I live in very dry San Diego, but I left them on the counter stored in an empty large yogurt container. They remained crispy and the flavor even mellowed to make them better with age! I think using part cornmeal adds to the crunchiness. Just a great buttery flavor and what a great way to use excess starter. Now I'm making just half a batch, because ever since I whittled down my standard starter to 60ml, seems it takes a little longer to get most active, actually better a couple days after feeding it. I just leave it on the counter.
Yum, good flavor! I added rosemary and dried caramelized onions. Would definitely recommend and make again! Will be great with a cheese plate
This recipe is fantastic for using up the excess starter. Time-consuming to cut the squares out, recommend using a press or a pizza cutter. Bake longer and roll out very thin. Storing in a paper bag helps the crispiness of the crackers but for best quality, consume on the first day.
I am thrilled with this recipe. I tried it this morning using a mix of dried herbs and some rosemary and thyme from the garden. Added some freshly ground black pepper and brushed with olive oil. Quick, easy and so good. Has a massive thumbs up from my Hubble too.
Awesome crackers I made them yesterday but I noticed today that they are A bit softer not as crispy as they were day one. what is the best way to store them. I used a mason jar once cooled.

If you've tried storing your crackers in an airtight container and didn't like the way they turned out, then you might want to try storing them in a paper bag next time. (This is what we recommend for crusty bread.) Curl the top of the bag so it's closed; some air exchange may occur but the crackers should stay crisp. We hope this helps and happy baking! Kye@KAF
Oh, and I learned this from experimenting both ways: don't bother with brushing them with oil, it makes hardly any difference and is a pain in the patootie! :)
Excellent crackers! Crispy and can't-stop-munching delicious. My tips: Use spelt flour. It makes them light and nutty (I'm not a 'weird-flour' fan, but this rocked.) Dock them before you cut them. Roll them as thin as you can if you like the kind of light-crisp that disappears in your mouth. They're perfect with just kosher salt on top, but experiment with add-ins. I've tried, with great success: sesame seeds (scatter generously on thin dough, then roll them in), finely chopped nuts of your choice (same technique), coarsely cracked pepper, and lemon zest with pepper (sandwich the zest in the dough when you've half-finished rolling it out). Next I'm going to try a sweet version. Try these. If you like crackers, you will love them, I promise!