A customized print-friendly version of this recipe is available by clicking the "Print Recipe" button on this page.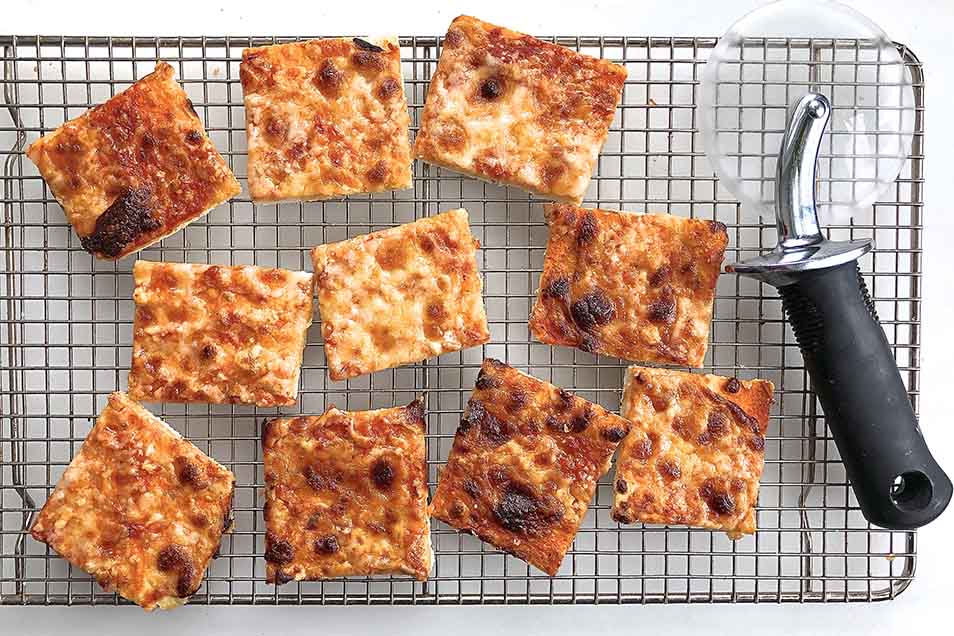 With its cracker-thin baking powder crust and square slices, there are those who'd claim this dish isn't in fact a pizza. But to residents of St. Louis, it's one of their city's culinary icons. And before you dismiss it out of hand — try it. Any pizza that can go from "Hmmm, I need a snack" to hot on your plate in 20 minutes is worth trying at least once! And we guarantee that once you do, you'll be making this simple treat, with its signature smoky cheese topping, over and over again.
Ingredients
Crust
2 tablespoons olive oil
6 to 7 tablespoons water
*No self-rising flour? Substitute 2 cups King Arthur Unbleached All-Purpose Flour; add 1 teaspoon baking powder and 1/2 teaspoon salt, and increase the water to 1/2 cup.
Topping
2/3 cup pizza sauce
1 cup grated or shredded sharp white cheddar cheese
1/2 cup grated or shredded smoked provolone cheese
1/2 cup grated or shredded Swiss cheese
Pizza Seasoning or dried Italian herbs
*To add smoky flavor without using smoked provolone, add 1 teaspoon Liquid Smoke flavoring.
Instructions
Preheat the oven to 425°F. Lightly grease two 12" round pizza pans, or a couple of baking sheets.

To make the crust: Combine the flour, oil, and 6 tablespoons of the water, mixing until cohesive. Add the remaining 1 tablespoon water if necessary to bring the dough together. Gather the dough into a ball, divide it in half, and shape each half into a flat disk, the rounder the better.

If you have time, let the dough rest, covered, for 10 to 15 minutes; it'll be easier to roll out once it's rested.

Grease a piece of parchment paper about 12" square; or a piece of waxed paper, or plastic wrap. Place one of the dough pieces on the paper, and top with another piece of lightly greased parchment, waxed paper, or plastic wrap.

Roll the dough very thin, 1/8" thick or less. Place the pizzas on the prepared pans.

Top each pizza with 1/3 cup of the sauce. Mix the cheeses together, and spread half over each pizza. Sprinkle lightly with Pizza Seasoning or dried Italian herbs.

Bake the pizzas for 9 to 11 minutes, until the cheese is melted and beginning to brown, and the edges and bottom of the crust are golden brown.

Remove the pizzas from the oven, transfer to a rack to cool very briefly, cut in squares, and serve hot.

Yield: two pizzas, about 4 servings total.
Tips from our bakers
Feel free to increase the water in the dough a bit — especially in winter, when it's cold out and your flour will tend to be dry. Your goal is dough that's firm (not sticky), but wet enough to hold together when you squeeze it.
There are many "authentic" St. Louis Pizza recipes online, but all seem to stem from one particular St. Louis chain: Imo's, a "mom and pop" business with over 90 stores in and around St. Louis. Our thanks to Imo's for the recipe that inspired this one.