A customized print-friendly version of this recipe is available by clicking the "Print Recipe" button on this page.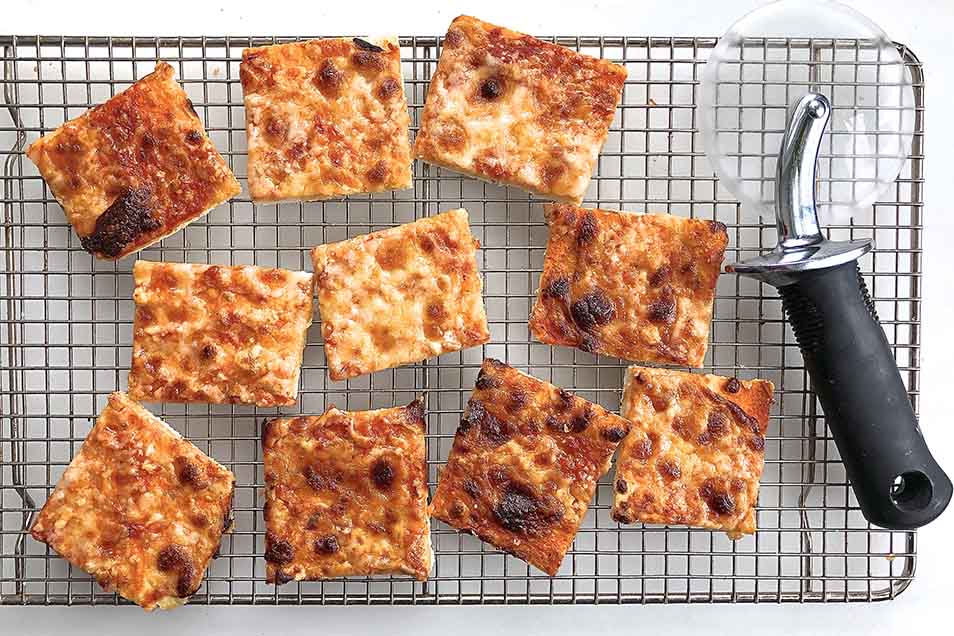 With its cracker-thin baking powder crust and square slices, there are those who'd claim this dish isn't in fact a pizza. But to residents of St. Louis, it's one of their city's culinary icons. And before you dismiss it out of hand — try it. Any pizza that can go from "Hmmm, I need a snack" to hot on your plate in 20 minutes is worth trying at least once! And we guarantee that once you do, you'll be making this simple treat, with its signature smoky cheese topping, over and over again.
Ingredients
Crust
2 tablespoons olive oil
6 tablespoons water
*No self-rising flour? Substitute 2 cups King Arthur Unbleached All-Purpose Flour; add 1 teaspoon baking powder and 1/2 teaspoon salt, and increase the water to 1/2 cup.
Topping
2/3 cup pizza sauce
1 cup grated or shredded sharp white cheddar cheese
1/2 cup grated or shredded smoked provolone cheese
1/2 cup grated or shredded Swiss cheese
Pizza Seasoning or dried Italian herbs
*To add smoky flavor without using smoked provolone, add 1 teaspoon Liquid Smoke flavoring.
Instructions
Preheat the oven to 425°F. Lightly grease two 12" round pizza pans, or a couple of baking sheets.

To make the crust: Combine the flour, oil, and water, mixing until cohesive. Gather the dough into a ball, divide it in half, and shape each half into a flat disk, the rounder the better.

If you have time, let the dough rest, covered, for 10 to 15 minutes; it'll be easier to roll out once it's rested.

Grease a piece of parchment paper about 12" square; or a piece of waxed paper, or plastic wrap. Place one of the dough pieces on the paper, and top with another piece of lightly greased parchment, waxed paper, or plastic wrap.

Roll the dough very thin, 1/8" thick or less. Place the pizzas on the prepared pans.

Top each pizza with 1/3 cup of the sauce. Mix the cheeses together, and spread half over each pizza. Sprinkle lightly with Pizza Seasoning or dried Italian herbs.

Bake the pizzas for 9 to 11 minutes, until the cheese is melted and beginning to brown, and the edges and bottom of the crust are golden brown.

Remove the pizzas from the oven, transfer to a rack to cool very briefly, cut in squares, and serve hot.

Yield: two pizzas, about 4 servings total.
Tips from our bakers
Feel free to increase the water in the dough a bit — especially in winter, when it's cold out and your flour will tend to be dry. Your goal is dough that's firm (not sticky), but wet enough to hold together when you squeeze it.
There are many "authentic" St. Louis Pizza recipes online, but all seem to stem from one particular St. Louis chain: Imo's, a "mom and pop" business with over 90 stores in and around St. Louis. Our thanks to Imo's for the recipe that inspired this one.
Reviews
This is THE recipe for cracker-like crust. I did have to use extra water (5 ounces instead of 3 ounces) to get a good, workable dough. As always, I had to make it my own and used "Butter Infused Olive Oil" and added a tsp of my own Italian seasoning. Rolling it out between two lightly greased pieces of parchment paper was not easy at first, but the suggestion to rest the dough for 15 minutes made it easier. I parbaked the crust at 475 for 3 minutes on a mesh pizza crisper, which I highly recommend. I also recommend piercing the rolled out dough with a fork prior to parbaking. This should help with any bubbles that can form. I used Sargento 6-cheese Italian, but I just found some Imo's Provel at a local Wal-Mart. I will definitely use this soon.
I've never been to St. Louis, so I cannot comment on how spot to style this is, but I do like this crust. I choose to make this crust more often then not and find it very adaptable (i.e. pizza sauce vs no pizza sauce) and lets the ingredients it is topped with shine through. A big big big hit for me when I do this recipe to spec is the addition of provolone. MMMMM. I have not tried this recipe with self-rising flour and (for now) use the substitution provided, and it works for me (now, once I try self-rising flour, I may retract that comment but that is where I stand now). All the best everyone!
It's a Vegan Crust; a cracker type. Baked crust 5 min before making a veggie pizza. Veggies; broccoli, slivered red onion, slivered green pepper, slivered garlic and squeezable sauce, then cooked additional 5 minutes just to warm the veggies. Did followed recipe for the non vegans in the house. Enjoyed by all!
Exactly what I was looking for! I baked 7 min w/out toppings then 7 more with toppings. It was a big hit! I made a bbq chicken pizza this time but this recipe is my new go to!
This recipe is the best, and an extremely easy way to make a cheap stl style pizza in any state. Much thanks
This recipe is the best, and an extremely easy way to make a cheap stl style pizza in any state. Much thanks
I can't speak to the cheese combination, because they actually sell Provel in my local supermarket and I just used it, but the crust is spot on. Better than Imo's in my opinion and super easy. I ended up parbaking it before putting the toppings on for about 5 minutes, and would probably do the same next time but for a bit longer unless I used a pizza steel.
Tastes like a cracker with pizza sauce an cheese on it.

It sounds like this style of pizza crust wasn't quite right for your taste buds. We'll admit that it is a bit unique; it's almost more like a biscuit than a traditional pizza crust. We're sorry it didn't please your palate, but we hope find the right recipe for you. Kye@KAF
this is inferior to Chicago style in every way.
St. Louisan here...my husband and I made this crust tonight. Despite having all the great St. Louis pizza nearby, my husband is on a quest to become an expert at baking all the types of pizza. Sorry to say that this crust did not work out for us. It was not crispy and just flopped over in the center. We cooked it on a baking steal, which I would imagine would give us the opposite result. Also, we couldn't find self-rising flour, so we used the baking powder version. Where did we go wrong here?? Also... I'm kind of annoyed at all the StL style pizza condescension! The crispy-crust pizza is great here, and provel cheese is flavorful and awesome. St. Louis style pizza is real pizza and it is delicious; those of you who think otherwise are seriously missing out.

Holly, we're impressed with your husband's determination to make the perfect pizza, despite the fact that you must have a plethora of delicious pizza shops at your fingertips! Pizza can be tricky to master, as everyone has a specific idea of what the best pizza should be. We'd love to hear more about what you're looking for (crispy? thin? chewy?), and help come up with some adjustments for you. If you want to give this recipe another shot, we recommend using the Self-Rising Flour and rolling the dough quite thinly if you'd like to make it crispier. Additionally, consider par-baking the crust without any toppings on it for about 5-10 minutes to help it set up. This is especially important if using heavy toppings. We hope to hear from you soon: 855-371-BAKE(2253). Kye@KAF