A customized print-friendly version of this recipe is available by clicking the "Print Recipe" button on this page.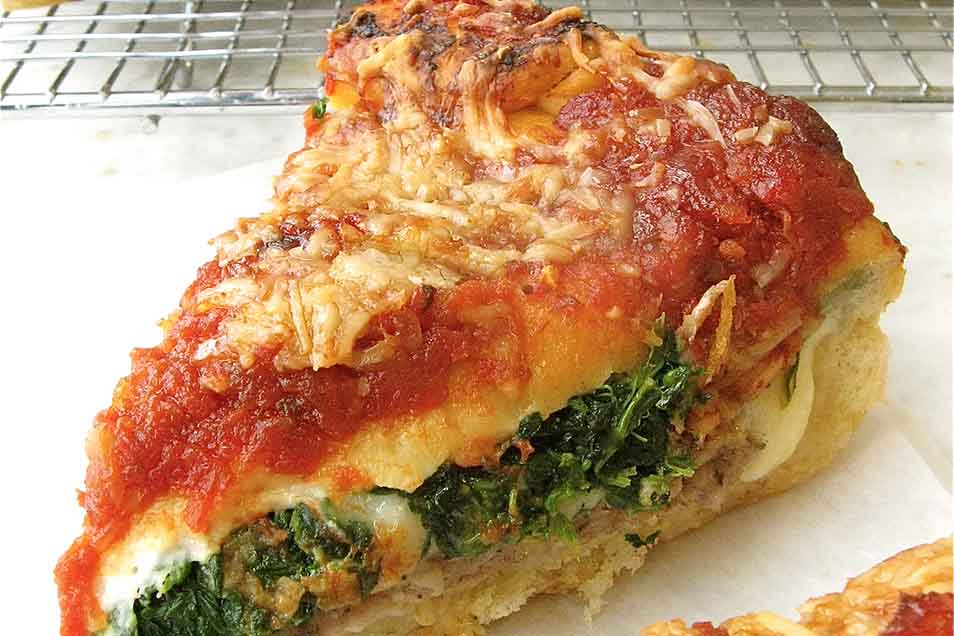 This recipe is a project, no doubt about it. Homemade crust, slowly simmered sauce, even homemade sausage — all contribute to the pizza's wonderful marriage of flavors and textures. When time is a challenge, substitute store-bought bulk sausage, and 2 cups of your favorite pizza or spaghetti sauce from a jar. But please don't substitute a ready-made crust for this delightfully different homemade crust, featuring many of the same elements as Chicago deep-dish crust — with the addition of golden semolina.

Our thanks to Jess, a frequent visitor to our blog, for passing this recipe along.
Ingredients
Crust
6 cups King Arthur Unbleached All-Purpose Flour
3/4 cup semolina
1 3/4 teaspoons instant yeast
2 1/2 teaspoons salt
2 tablespoons olive oil
1/2 cup vegetable oil
2 tablespoons melted butter
1 1/2 to 1 3/4 cups lukewarm water*
*Use enough to make a smooth dough. You'll use less in the summer, or if you substitute all-purpose flour for the semolina; and more in the winter, or if you're in a dry climate.
Sausage
1 pound ground pork
1 1/2 teaspoons salt
1/2 teaspoon sweet or hot paprika
1/2 teaspoon garlic powder
3/4 teaspoon fennel seed, lightly crushed
1 teaspoon finely ground black pepper
1/4 teaspoon red chili pepper flakes (more for spicier sausage)
1/2 teaspoon oregano
1/2 teaspoon ground sage
1/2 teaspoon dried basil
1/2 teaspoon dried thyme
Sauce
1 tablespoon butter
1 small onion, coarsely grated; about 1/2 cup
2 cloves garlic, peeled and crushed
28-ounce can or 26-ounce aseptic box crushed tomatoes
1 teaspoon dried oregano; or 1 teaspoon Pizza Seasoning
4 teaspoons sugar, or to taste
1/4 to 1/2 teaspoon salt, to taste*
*The amount will depend on the saltiness of the canned tomatoes. Under-salt a bit, as the sauce will cook down and the flavor intensify
Filling
1 pound mozzarella cheese, sliced
2 boxes frozen chopped spinach, thawed and squeezed dry, optional
Topping
1 1/4 cups freshly grated Parmesan, Romano, aged Asiago, or your favorite hard cheese
sliced pepperoni or anchovies, optional
Instructions
To make the crust: Combine the dry ingredients and the oils and butter, mixing till crumbs form. Then add the water, and mix and knead — by hand, stand mixer, or bread machine set on the dough cycle — to make an elastic, fairly stiff dough.

Place in a large, greased bowl; cover, and let rise at room temperature for 1 hour. For best flavor, after its initial 1-hour rise, refrigerate the dough for several hours, or for up to 24 hours. You can use the crust after its first 1-hour rise, but its flavor will improve with the longer, slower rise offered by refrigeration.

To make the sausage, combine all the ingredients. Refrigerate overnight, for best flavor.

To make the sauce: sauté the coarsely grated onion in the butter till it's beginning to color.

Add the crushed garlic, and sauté for about 30 seconds.

Stir in the tomatoes, oregano, sugar, and salt, and simmer gently for up to 1 hour, to concentrate the flavors.

To assemble the pizza: Divide the dough into two pieces. One should be about three-quarters of the dough; the other, one-quarter. If you have a scale, one piece should weigh about 36 ounces; the other, about 13 ounces.

Divide each piece of dough in half again. Butter the bottom and sides of two 9" x 2"-deep round cake pans, then drizzle olive oil in the bottom of each.

Stretch, then roll one of the larger pieces of dough into a round large enough (about 15" to 16") to line the bottom and sides of one pan, with some overhang. Do the same with one of the smaller pieces of dough, rolling it to about 9" to 10". Cover the pieces of dough, and go away for 15 minutes. This will relax the dough's gluten, allowing you to handle it without it shrinking.

Once the first two pieces of dough are rolled and resting, repeat with the other two pieces, covering them till you're ready to use them.

After 15 minutes, place one of the larger pieces of dough in the pan, pressing it gently into the corners; you'll have some overhang.

Spread half the uncooked sausage over the crust, gently patting it flat.

Top with half the sliced mozzarella. Spread with half the spinach, or any additional filling of your choice.

Place the smaller piece of dough atop the filling. Fold over the overhanging edges of dough, and squeeze/crimp to seal. Poke holes all over the top crust, to allow steam to escape.

Repeat with the remaining dough and ingredients, making another 9" round pizza.

Preheat the oven to 425°F (with your pizza stone on a lower shelf, if you're using a stone). While the oven preheats, allow the pizza(s) to rest/rise, covered, for about 30 minutes.

Just before baking, top the pizzas with the sauce, and sprinkle with the grated cheese.

Bake the pizzas till the crust is golden brown and the filling is bubbly, 20 to 25 minutes.

Remove the pizzas from the oven, and allow them to set for about 15 minutes. Loosen their edges, and gently turn them out of the pan onto a rack to cool. To do this, place a round cooling rack atop one pan, and turn the whole thing over. Lift off the pan, place a rack on the bottom of the pizza, and turn the whole thing over again, so the pizza is now right side up.

Serve warm, with a fork. Use a pair of scissors or baker's bench knife to cut wedges.

Yield: two 9" deep-dish pizzas, about 16 servings.
Nutrition Information
Serving Size

1 slice (244g)

Servings Per Batch

16
Amount Per Serving:
Calories

510

Calories from Fat

220

Total Fat

25g

Saturated Fat

9g

Trans Fat

0g

Cholesterol

50mg
Sodium

1030mg

Total Carbohydrate

50g

Dietary Fiber

4g

Sugars

4g

Protein

24g
* The nutrition information provided for this recipe is determined by the ESHA Genesis R&D software program. Substituting any ingredients may change the posted nutrition information.
Tips from our bakers
Want to substitute all-purpose flour for semolina? Go for it; reduce the water by a tablespoon or two.
Don't care for sausage or spinach? Stuff the pizza with whatever you like. Just make sure the ingredients are cooked, so that they don't exude juice into the crust. Four cups of sliced white button mushrooms, sautéed and cooled, are a nice addition; as is a combination of canned artichoke hearts and sliced black olives, both well-drained.
Reviews
It was a process, but it was worth it. We thought it was fabulous. This recipe serves at a minimum 8 people. So if you are a small family, get ready for leftovers.
Sorry, I just don't think it was worth the time and effort. The dough was very hard to roll out, maybe let it warm up first. The flavor was ok but not wonderful. There was too much bread for me. I guess I prefer thin crust pizza. Fun to try but I don't think I will make it again.
So I made this pizza but I veganized it. It was soooo good. I followed everything in the amounts but used only vegan ingredients. I do not believe that anyone noticed. My hubby and my well traveled son did not either. Will make it again
This pizza was, as everyone else has said, Amazing. Perfect Chicago style stuffed pizza. Used sausage, pre-sauteed mushrooms and onions, and pepperoni. Semolina gave the crust a great texture. At 5,280" altitude, the baking time on the recipe was way off for me though. I baked at 425 for 25 minutes, in a KAF USA pan 9" round with an accurate oven thermometer, and it wasn't even close to done. Covered loosely with foil and baked another 20 minutes at 400 to cook it all the way through.

Hi there pizza baker, we're glad this recipe was a knockout! You mention having to cook the pizza longer than expected; it's true that baking times may vary based on what fillings you stuff the pizza with and how much you use. Larger quantities of moist ingredients will necessitate longer bake times. We encourage you and other bakers to do just as you did and bake until the pizza seems done, tenting with foil if necessary. Bake on! Kye@KAF
This is the best pizza crust I've ever made and I'm a excellent pizza maker. The taste is wonderful and texture is spot on, and the crust came out crispy. I did add abouI a tsp or so of sugar. didn't realize just how easy it is to make Italian sausage. It's better than store bought Italian sausage. Thank you for this excellent recipe.
This is the best pizza dough recipe I have ever had. First I did a pizza pie with sweet Italian sausage that my wonderful husband uncased. Then added fresh mozzarella cheese, mushrooms and onions. The next evening, with the remaining dough, I decided to make just a regular flat pizza but I pinched the sides, like you would on an apple pie, brushed the sides with EVOO and shook some garlic salt on top of the olive oil. That made the edges nice a crispy like a flat bread. The men at my house , both over 6ft, LOVED, this pizza. This recipe is a KEEPER!!!
Very good recipe. The dough definitely benefits from an overnight slow rise in the fridge. It is important to allow dough to return to room temp before continuing with the shaping of the pizza. I baked mine in a well oiled cast iron skillet (12 inch) and a 8 inch springform cake pan. I added pepperoni, mushrooms, olives, and subbed some of the mozzarella with provolone, as well adding some ricotta (on top). No need to precook the sausage.
I'm from Chicago and a fan of Giordano's pizza. This is very close to it! I love the sausage. I added it once cooked and once uncooked, and think that the uncooked baked up fine in the oven and even tasted a little better. I have the Kitchaid Artisan mixer and the dough is too much for the machine. To knead properly in my opinion. So I use the mixer to combine the ingredients then get a good workout kneading by hand. This is a lot of work, but we love this pizza!
I tried this last night and it came out great! I did precook the sausage, so I could get rid of some of the fat. I topped it with a thin layer of asiago. The only problem was too much oil in the pan- the pizza naturally displaced some of the oil which then burned in the oven. Lots of smoke until I put a cookie sheet on the lower shelf. So, we had good food and a show.
I have never written a review for a recipe before, but after making this pizza yesterday, I felt compelled to share my experience. I am a pizza fanatic, and am always looking for that special pizza. I have eaten at both Gino's East and Giordano's in Chicago, and my favorite is Gino's. This pizza comes as close to Gino's as can be made at home. I mostly followed the recipe as written, only I pre-cooked the sausage, thinking raw may make the bottom crust soggy. Worked out great, however I may try raw next time. I made the sausage from scratch, and thought it was great. I also made the sauce, using petite diced tomatoes and the oregano. Also great. I used standard cake pans and they released beautifully. I don't see a need for springform pans. I used a 24 hour refrigerated rise on the dough, that gave the crust a great yeasty flavor. Used fresh spinach leaves, sliced ripe olives, and topped with pepperoni. Absolutely no soggyness in the crust. All in all, a fabulous recipe. Yes, a project, but a fun project, especially on a cold and snowy week-end. Now my "go to" pizza recipe.