A customized print-friendly version of this recipe is available by clicking the "Print Recipe" button on this page.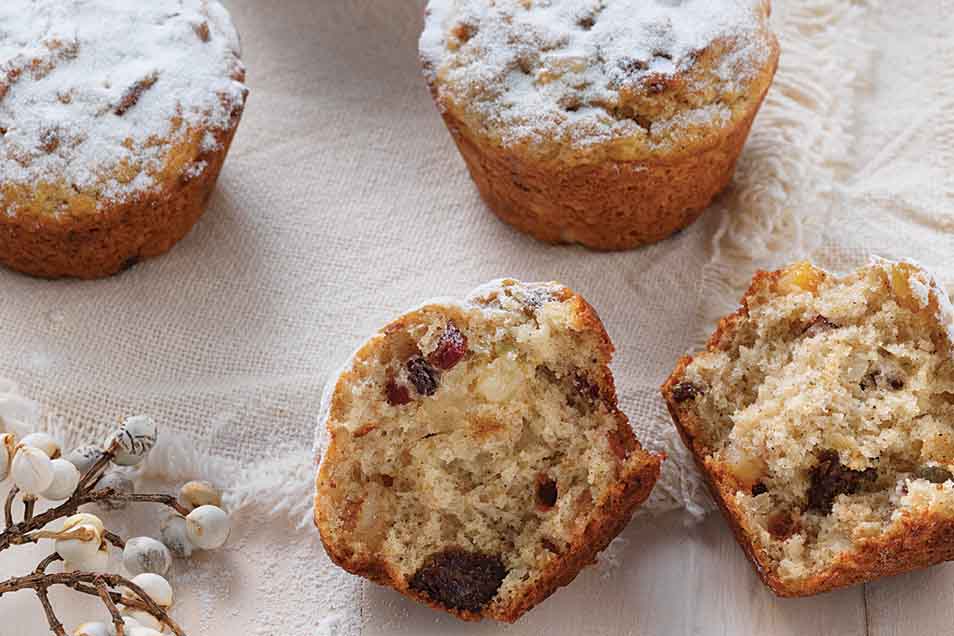 We love traditional stollen for the rich, fruit-studded, sugar-coated bread that it is. Sometimes, though, we want the flavor without the wait — which is just what these muffins provide. They're quick and easy to stir together, and thanks to our stollen spice blend, they mimic that distinct flavor we long for around the holidays.
Ingredients
Muffins
2 1/4 cups King Arthur Unbleached All-Purpose Flour
2 teaspoons baking powder
1/4 teaspoon baking soda
1/2 teaspoon salt
2 tablespoons Yuletide Cheer Spice; or 2 teaspoons orange zest, 1 teaspoon cardamom, 3/4 teaspoon coriander, 1/2 teaspoon mace, 1/4 teaspoon allspice, and 1/4 teaspoon nutmeg
1/3 cup granulated sugar
1 cup Fruitcake Fruit Blend (or fruit blend of your choice)
1/2 cup candied mixed peel
1 large egg
1 cup buttermilk or plain (not Greek-style) unflavored yogurt
6 tablespoons melted butter
Instructions
Preheat the oven to 400°F. Lightly grease a standard muffin pan; or line it with papers, and grease the papers.

In a medium-sized mixing bowl, whisk together the flour, baking powder, baking soda, salt, stollen spice, sugar, and the fruits and candied peel.

In a separate bowl, whisk together the egg, buttermilk or yogurt, and melted butter.

Quickly and gently combine the dry and wet ingredients; this should only take a few stirs with a bowl scraper or large spoon. The batter will be stiff.

Spoon the batter into the prepared pan, filling the cups about 3/4 full.

Bake the muffins for 20 minutes, until a cake tester or toothpick inserted into the center of one muffin comes out clean.

Remove the pan from the oven, wait 5 minutes, then transfer the muffins to a rack.

Brush the tops of the muffins with the melted butter, then dust with sugar.

Serve warm or at room temperature.

Yield: 12 muffins.
Reviews
Yummy! I made the mix of spices recommended to substitute for the Yuletide Cheer, and really liked it. I only had coriander seeds, so since I was grinding them up fresh, I only used 1/2 t. It turned out to be a light holiday flavor. Smelled great while it was baking. A great change of pace from cinnamon, and I'm not much of a ginger fan. For the fruit, I used 5 oz of fancy fruit mix which was equal parts of 5 candied fruits and peels. So, that gave me the 3 oz of peel. Then I added 3.5 oz of dried cranberries and golden raisins to reach the quantity of other fruit in the recipe. The 1 oz of melted butter for the topping was much more than needed. I'll probably use only half that next time. I used regular powdered sugar, and as expected, it melted. Some commenters have not liked the non-melting variety, but I think it might be worth a try next time. I have a USA muffin pan, and I could only fill it about 2/3 full to get 12 muffins. Because of that, I started testing at 15 minutes and the tester was clean at that point. The texture of the muffins was light and perfectly done. This is a keeper.
Stollen is one off my favorite Christmas breads and this muffin and very satisfying. I like the marzipan usually found in Stollen and wanted it in the muffin. I put some mix in the muffin cup and cut (using kitchen shears) a piece of marzipan into the center then topped it with the mix. The dough is stiff and a bit tricky to handle so I'll try a different technique next time (push into the muffin and top with a teaspoon more). While this is not a yeast bread, it's one I'll add to my Stollen recipe collection.
Absolutely the worst Stollen Recipe version, I have ever tried! I love King Arthur products and have used them faithful for years but this recipe should be put through your shredder. You definitely missed the mark for a good Stollen recipe. What a waste of time and ingredients!

We apologize for your poor baking experience, CB, as it sounds like something went truly awry with this recipe. If you'd like to troubleshoot with one of our bakers to see if we can figure out how to make this more like the Stollen Muffins you were hoping for, consider giving our Baker's Hotline a call at 855-371-BAKE(2253) so we can help with this. Kye@KAF
Wow. If you have the ingredients (some are exotic) this is an easy and impressive muffin with complicated but relaxed flavors. I substituted raisins for the fruit mix and had to leave out the orange zest. I used the buttermilk version. Someone's muffin pan is larger than ours, I got twelve regular sized muffins and six half sized muffins out of this recipe. Wow, I will definitely be making these again. This recipe is going to make us keep mixed candied peel around all the time. Luckily that's not too hard to make...
I didn't have KA stollen spice or fruitcake blend, so I made the following substitutions: 2 tsp orange zest, 1 tsp cardamom, 3/4 tsp coriander, 1/2 tsp mace, 1/4 allspice, and 1/4 tsp nutmeg for the spice, and a mixture of raisins, dates, currants, and apricots for the fruit. The end result was a very aromatic, moist muffin. I thought the texture was fabulous and though I would probably reduce the coriander the next time, I really enjoyed them - as did everyone I shared them with. The apricots were quite nice in them as well.
Like a previous post, we also soaked the fruit and peel overnight (in brandy), and added a 'nugget' of almond paste to each muffin. We used a #16 portion scoop to make the size muffins we like, which increased the yield to 16 muffins.
I actually converted this recipe to gluten free. I made half a batch. Changes were that I baked them at 375 for 24 mins, used one whole egg rather than trying to do half an egg, added 1/2 t. xanthan gum. I cut the butter in, instead of melting it. Mixed it with a mixer for a couple of minutes then added in the fruit. Let the batter sit in the sprayed muffin tin for 10 mins before sticking it in the oven. Pretty good for gluten free! I will make them as written for others and am sure they will be great!
The perfect seasonal muffin! So easy to mix together. I inserted a small chunk of almond paste in the middle of the muffin, and that added even more to the stollen flavor!
These are so good! I used dry fruit I plumped in rum and homemade candied citrus peel. So good and easy! I've made Stollen before and it takes some time! These have all those flavors but so much faster! I'm going to make these to give out for Christmas!
These were so easy to make came out perfect . A lot easier then traditional swollen and very yummy