A customized print-friendly version of this recipe is available by clicking the "Print Recipe" button on this page.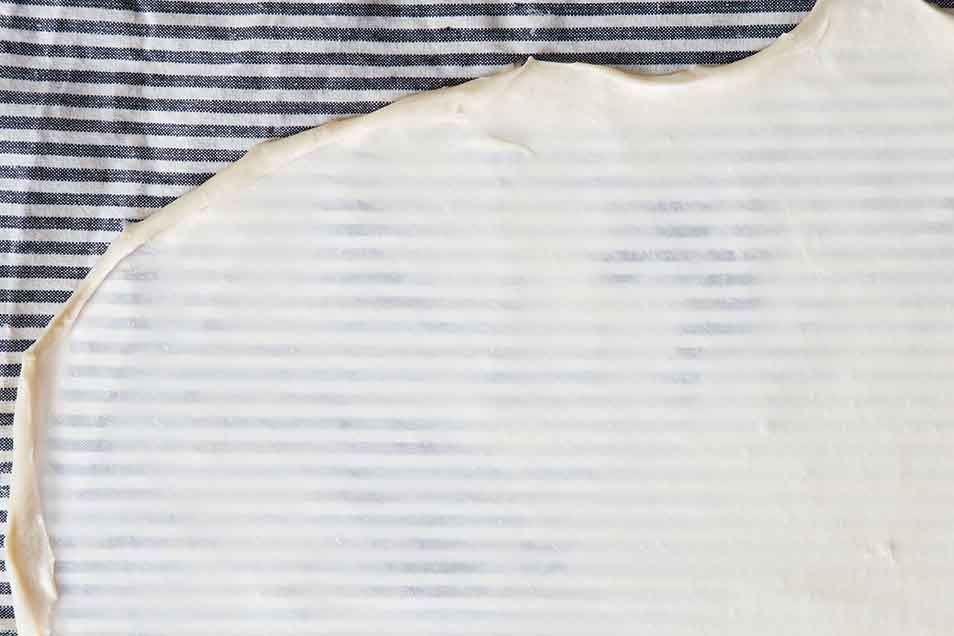 This recipe is a cherished recreation of Erin Jeanne McDowell's grandmother's traditional pastry dough. Strudel can be savory or sweet, depending on the meal or occasion. Erin says, "The dough is much easier to manipulate if you let it rest overnight and work with it cold, but you can also let it rest in the refrigerator for as little as 1 hour. If you find it difficult to stretch, let it sit at room temperature for 15 minutes before beginning to work with it."
Instructions
In the bowl of an electric mixer fitted with a dough hook, mix the flour and salt on low speed to combine.

In a container with a spout, whisk the water, egg yolks, oil, and vinegar to combine. With the mixer running, add the liquid to the mixer in a slow, steady stream.

Mix on low speed for 10 minutes. At this point, the dough should have formed a ball around the dough hook, and should appear relatively smooth. It should be slightly tacky (not sticky) but not dry — if it seems dry, add more water 1 tablespoon at a time, mixing for a full minute before checking the texture.

Raise the mixer speed to medium and continue to mix for 10 minutes more. Transfer the dough to a medium-sized oiled bowl and turn the dough over a few times to coat it lightly with oil. Cover with plastic wrap and refrigerate overnight. The finished, rested dough is now ready to be stretched and filled.

Line a tabletop with a tablecloth; oilcloth or linen work especially well. A folding card table, kitchen table, or any surface you can walk all the way around will work; it will make the stretching easier.

Remove the strudel dough from the refrigerator. Lightly oil your hands. The dough should feel lightly tacky but not sticky, and it should stretch easily. Start by stretching the dough a little like a pizza, trying to keep it rectangular as you work. Once the dough is no longer easy to manage with your hands, lay it down on the covered table.

Use closed fists to stretch the dough. Put your hands under the dough at one corner, and gently work your fists outwards, working toward the edge of the table. Continue to do this, bit by bit, working around the dough to slowly stretch it out. The goal is to get it so thin you can see through it (if your tablecloth has a pattern, this can be a good guideline). Don't be alarmed if the dough tears (you'll be rolling it up, and the tears will get rolled up and hidden inside). The dough is very strong, and you should be able to stretch it without major tearing.

Once the dough is stretched to the edge of the table, use your fingers to pull gently around the edges to make sure they aren't too thick.

To assemble the strudel: Drizzle the strudel with butter (don't brush it on; you may tear the dough) and top with bread crumbs, as directed in your choice of the recipes listed in "tips," below. Spread with filling.

Working with one of the shorter sides, gently grab the dough and roll it up into a tight spiral. Use the tablecloth to help you — the less you handle the dough, the less likely you are to rip it.

Use scissors to cut any excess dough away from the ends of the strudel, and discard.

Lift up the rolled strudel, seam side down, and place it diagonally onto a 13" x 18" half-sheet pan. If it's too long to fit, you can form it into a horseshoe shape instead. Finish and bake according to each recipe's specific directions.
Reviews
The dough tasted very good, was stretchy like it should be (more than I expected!), And is deceptively simple to make. My only recommendation would be to MAKE SURE you seal the dough in plastic in the oiled bowl so it doesn't dry out. Mine dried a little and it still worked okay, but it made things a little crustier. :) Thank you, KAF!
Catch up with the rest of the world and use metric. So 1850's

It sounds like you're a baker who appreciates baking by weights, as do we. If you'd like to see the ingredients displayed either in ounces or grams, click on these buttons below the ingredients header above to change the units. We hope this helps, and happy baking! Kye@KAF
Looks easy enough and reviews are all good. Even though I haven't made it, I rated it 4 stars because of the ease and short list of ingredients. I was wondering if this would work just the same with King Arthur's Gluten Free flour? I have yet to try any pastry recipes due to the lack of stretch in gluten free baking. When I bake gluten free bread I don't knead it because gluten free doesn't get that stretch. Any feedback would be greatly appreciated!

Theresa, while our Gluten-Free Measure for Measure Flour can replace the all-purpose flour in most recipes, strudel is a unique exception. Gluten is responsible for letting this dough stretch in the way that's characteristic of strudel, which simply isn't possible when baking with gluten-free flour. Not to worry, however. We have a number of delicious gluten-free recipes that make beautiful, delicious treats. We encourage you to use one of these designed-to-be-gluten-free recipes for best results, like our Gluten-Free Cinnamon Star Bread, for example. It has a beautiful presentation and is packed with flavor. We hope this helps, and happy GF baking! Kye@KAF
I haven't made this strudel dough but it looks yummy. However I noticed it takes a total of 9 hours to prepare the dough. Is most of the time spent in the stretching? How log does it take to stretch it? Just limited for time...

Bunny, if you take a look at step 4, you'll see that the dough has to rest in the fridge overnight, which accounts for the majority of the amount of time. The hands on time for making this recipe ranges from 40 minutes to 1 hour, depending on how practiced you are at making strudel. We recommend checking out the linked blog for details on how to make perfect strudel. Happy baking! Kye@KAF
I'd like to make this recipe. What are the dimensions for the dough? I don't know the dimensions of a card table, for example.

We recommend stretching the dough as thin as you can without it tearing; a good guideline is a 3' by 2' rectangle. Check out the linked blog article to see a more depth explanation of this process. Happy strudel-making! Kye@KAF
I found it a little difficult to understand the directions for the texture of the dough. It seemed to turn out OK, but I ended up adding almost a 4th cup of extra water. Also, I wasn't sure how long the sides of the dough should be in proportion to the width. I ended with a quite long and thin strudel. Next time, to make it fatter, I will try for a proportion of 2:1. The dough tastes fine but would be enhanced with a light frosting/glaze of some sort drizzled on top .
My mother and I have baked this when I was a child. This recipe is just like mom's!. I love it!!!