A customized print-friendly version of this recipe is available by clicking the "Print Recipe" button on this page.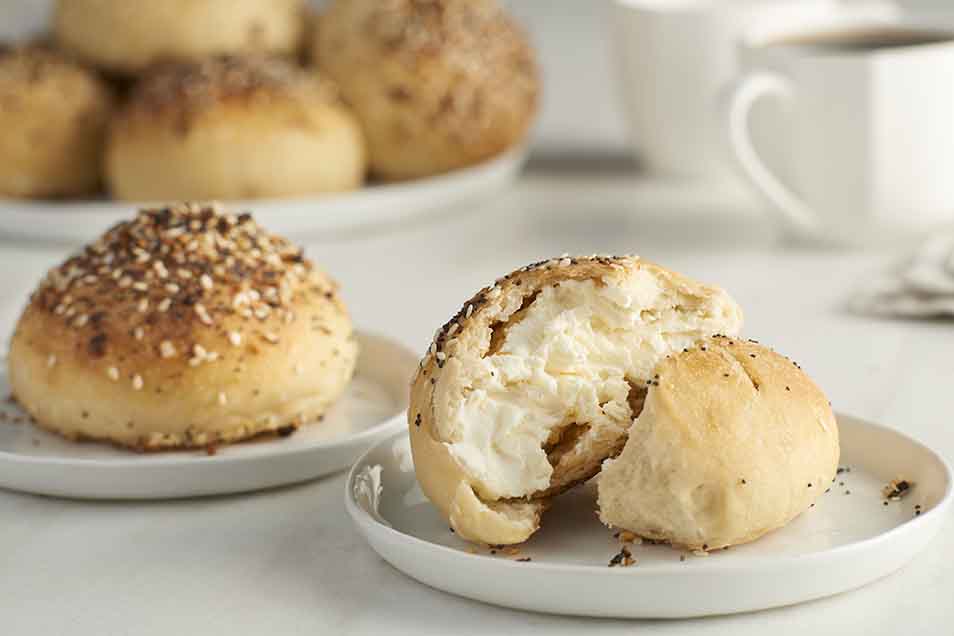 Ever popular, the bagel and cream cheese combination represents everyday breakfast at its finest. Inspired by Milk Bar's visionary Christina Tosi and her "Bagel Bomb," we bring you our version of a bagel roll stuffed with cheddar and cream cheese filling and showered with our everything bagel topping.
Instructions
Weigh your flour; you'll find its weight by toggling to ounces or grams at the top of the ingredient section above. Or measure it by gently spooning it into a cup, then sweeping off any excess.

Combine all the dough ingredients, and mix and knead them together — by hand, mixer or bread machine — until a very soft, smooth dough forms, adding more flour or water if necessary.

Allow the dough to rise, covered, until puffy, about 1 1/2 hours.

Meanwhile, prepare the filling by mixing together - by hand or mixer - the cream cheese, cheese powder, and shredded cheddar cheese.

Scoop the filling by the heaping tablespoonful – a tablespoon cookie scoop works well here - into 12 balls, and place them on a parchment-lined sheet pan.

Freeze the cream cheese balls until the buns are ready to be stuffed.

Turn the dough out onto a lightly greased work surface. Divide it into 12 equal pieces, and round each piece into a ball.

Cover the balls lightly and let them rest for 10 to 15 minutes.

Meanwhile, prepare the water bath by heating the water, malt, and sugar to a very gentle boil in a large, wide-diameter pan. Preheat the oven to 425°F.

Gently flatten the dough balls slightly and place a frozen ball of filling in the center of each one.

Wrap the edges up around the filling, pinching them together as tightly as you can, and round the parcel into a ball again. Place the buns onto a parchment-lined sheet pan.

Transfer the bagel buns, three or four at a time if possible, to the simmering water. Cook the buns for 30 seconds, flip them over and cook 30 seconds longer.

Using a skimmer or strainer, remove the buns from the water and place them back on the sheet pan. Repeat with the remaining buns.

Top all the buns with Everything Bagel Topping, if desired, or leave them plain.

Bake the buns for 20 to 25 minutes, until they're golden brown (some of the filling may have seeped out, which will leave you with wonderfully crispy melted cheese to enjoy).

Remove the buns from the oven and allow them to cool for at least 30 minutes before enjoying.

Store buns at room temperature for 1 to 2 days or in the freezer for longer storage.
Reviews
I made these and was delighted with the results. I did use the special flour mentioned in the recipe and the rolls had a nice light texture. Everyone enjoyed them and this is one I will add to my recipe file.
Despite having such fun making these, the end product was such a disappointment. All but 4 of mine leaked out the cheese mixture, although I had pinched the dough together very carefully and very thoroughly. Or so I thought. Well, if it leaks out, then there really is nothing spectacular about these buns. I checked one bun that had not leaked and was disappointed as how little filling was in the center. I had divided my cheese mixture into 12 equal portions and froze it, as recommended. So it was easy to work with. The first fun part was forming the dough around the frozen cheese. The second fun part was boiling it. The third was dipping in Everything Bagel Topping and baking. And then came the eating. That was totally deflating. I think I'll stick with regular bagel. I rather expected the center of the bun to have a filling of cream cheese/cheddar cheese. Instead, when there was anything, it was just a smidgin on part of the hollow interior. They looked great. They just weren't worth all the calories. I'm in Weight Watchers and these things total 7-8 points depending on whether your cream cheese in low fat. There's no way I'll devote that many points to one small bun.

Clare, we're so sorry to hear this recipe was disappointing to you! It sounds like your dough might have been a bit dry, which drew all the moisture of your filling into the body of the buns rather than leaving it in the middle as a nice filling. Making sure that you measure your flour carefully and adding a bit more liquid to your dough if needed may help. We hope your next baking experience is a more satisfying one! Kat@KAF
I made this pretty much along the lines Karen describedmade the dough, formed the balls and put them in the fridge overnight. I also made the filling and put that in the freezer overnight. This morning I filled the buns, did the water bath and baked. They were great as bagels, but my filling vanished! What the trick for preventing the filling from melting into the dough?

Gosh, this sounds like a Nancy Drew novel: The Case of the Vanishing Cream Cheese! We can think of a few things that might have happened (Did the filling thaw before the buns were assembled? Was the dough dry?), but it's hard to tell without being able to talk through your process with you. We'd love it if you would call our Baker's Hotline at 855-371-BAKE (2253) so we could chat with you to get this mystery solved! Kat@KAF
I made these for the first time tonight. I've never made any kind of bagel before, and I followed the recipe exactly. They were seriously amazing. My family loved them, and my husband loved them so much he immediately took them to our neighbor to try. The texture, the flavor, they were perfect!i'm so glad I tried these, thanks for a great recipe.
I really enjoyed this recipe. I did some with and some without the everything bagel stuff on top. The dough was tasty, had a nice crumb/texture, and the filling was luxurious. I will make again. I did a 30 minute autolyse just because I usually do that with any bread. I also bloomed the yeast a bit with the brown sugar and water before adding the flour and salt. Next time I'm going to make two changes: 1- I'm going to go with just plain good old fashioned cream cheese. 2- I'm going to flatten them a bit before I freeze those things. My final bagel bite had a circular area in the middle where the cheese used to live before it baked. It look a little sad :( 3- I may try lye instead of (or in addition to) the water bath with brown sugar. No malt on hand. Kudos to KAF for another wicked awesome recipe that my fussy family likes. This review comes from a picky New Yorker who won't eat bad bagels. This one passes the test.
Great recipe, first time I have attempted any bagel recipe, so this was a learning experience. The result was less dense than commercial bagels, but more chewy than an ordinary biscuit or roll. Sprinkled toasted sesame seeds on some, and a combination of other spices & herbs on the rest before baking, so these can be made to taste. Good to know the dough can be made the night before and refrigerated, this will make them a frequent treat.
I made these to have for breakfast the next day. I reheated them in the oven the next morning but I think they would have been better fresh out of the oven. That's the reason I only gave them 4 stars, though they were very good and a nice change. I was going to ask if there was a way to bake them that morning and just saw Karen's review below. Thank you, Karen! I will try that next time.
I've made this recipe several times now and these buns turn out perfect each time. I even substituted 25% of the flour with AP the first time I made them (I ran out of bread flour) and they turned out great! The only troubles I have are that the dough can be really sticky after the first proof and the filling leaks out quite a bit, but I think that is more my technique in wrapping the dough around the cheese. These make a great grab and go breakfast- I just pop 2 from the freezer into the toaster oven for a few minutes. This recipe is a regular in my baking rotation!
I made these on the recommendation of the instructor from a KA class at the Bread Lab in Washington. To me they were ok, not great, but my husband and daughter loved them. They both thought the KA bagel topping was great. I tried to modify the recipe for "pizza bagel bites", by adding mozzarella powder to the dough instead of cheddar and halving the cream cheese and adding pizza sauce, again using mozzarella powder instead of cheddar, I also added fresh mozzarella and parmesan and diced pepperoni and topped with KA pizza seasoning. They turned out fine as well. A few things to note, the dough is super sticky. I used a greased sheet pan to shape the dough balls, instead of oiling my wooden dough board. It is helpful to have someone man the timer for the 30 seconds per side dip I n the water bath. If you use cookie dough scoops for the filling, the purple one is the tablespoon size. (I had to check)