A customized print-friendly version of this recipe is available by clicking the "Print Recipe" button on this page.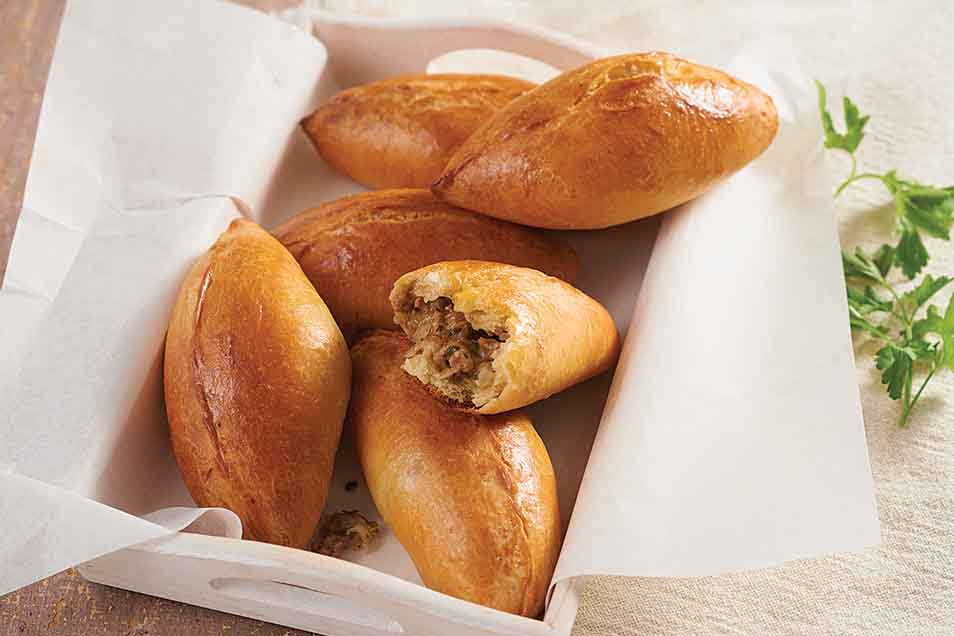 Inspired by Russian pirozhki, these "small pies" envelop a savory cheese and beef filling in a pocket of pillowy soft dough enriched with sour cream, butter, and eggs. We love them served hot from the oven as an appetizer, or alongside soup or salad for a more substantial meal. They can also be enjoyed at room temperature for an easy on-the-go snack or quick meal.
Ingredients
Dough
1/4 cup Vermont cheese powder
1/2 cup sour cream
1/4 cup (4 tablespoons) soft unsalted butter
1/2 cup warm water
2 large eggs
2 tablespoons sugar
1 1/2 teaspoons salt
2 teaspoons instant yeast
Filling
1 tablespoon vegetable or olive oil
1 small peeled onion or shallot, finely diced; about 3/4 cup
1 clove garlic, finely chopped
8 ounces ground beef
salt and pepper, to taste
chopped parsley, fresh or dried, to taste
1 1/2 cups shredded cheddar cheese
1 large egg beaten with 1 tablespoon water, to brush on dough
Instructions
To make the dough: Combine all the dough ingredients and mix and knead — by hand, mixer, or bread machine — until a soft, smooth dough forms.

Transfer the dough to a lightly greased bowl, cover, and allow to rest for about 90 minutes, until puffy but not necessarily doubled in bulk.

To make the filling: Heat the oil in a sauté pan set over medium heat.

Add the onion and cook until translucent.

Add the garlic and ground beef and cook for 5 to 10 minutes, breaking the meat up as it browns, until it's cooked through.

Season the filling with salt, pepper, and parsley, remove it from the heat, and cool to room temperature.

Stir in the cheese. The filling can be made ahead of time, then wrapped and stored in the refrigerator until ready to use.

Divide the dough into 16 equal pieces; if you have a scale they'll weigh about 2 ounces each.

Shape the pieces into balls, and place them on lightly greased or parchment-lined baking sheets, leaving about an inch between them.

Cover the dough balls, and allow them to rest for about 15 minutes.

Shape each ball into a flattened round about 5" in diameter, brush the surface with some of the egg/water wash, and place 2 tablespoons of filling onto the center of each round; our tablespoon cookie scoop works well here.

Pull the dough over the filling, pinching two opposite edges together tightly, to seal in the filling; it should look like a dumpling.

Place the buns on two lightly greased or parchment-lined baking sheets. Cover the buns, and allow them to rise for 1 hour, or until puffy.

Towards the end of the rising time preheat the oven to 400°F.

Brush the buns with the remaining egg wash. Bake the buns for 15 to 20 minutes, until golden brown. It's OK if some of the seams have come undone and the filling is visible; they can be prettier that way!

Remove the buns from the oven and allow them to cool for 5 to 10 minutes before serving.

Store any leftover buns in the refrigerator.
Tips from our bakers
Although we've opted for a hearty meat filling here, a vegetarian option can be made with sautéed onions and cabbage, chopped hard-boiled eggs, and/or ricotta.
Salting "to taste" can be tricky, since you never know where to start. We've found that a scant 1 teaspoon salt per pound of ground beef adds enough salt to enhance flavor, but not enough to taste salty.
Reviews
Next time, I will make them smaller, yielding 32 pirozhki. I woud appreciate the recipe's havning a n ounce amount of grated cheeseather than 1 1/2 cup

Ann, you're in luck! All of our recipes toggle from volume to ounces to grams. Just select your preferred measurement at the top of the recipe. In this case, the recipe calls for six ounces or 170 grams of grated cheese. Happy baking! Kat@KAF
Just made this recipe. A keeper. The dough is so soft and delicious. I think next time out I'll use more spices. The assembly was a little fussy, But it worked out well. Keep these great recipes coming.
Tried this recipe for the first time for Super Bowl yesterday. Had several friends over that were very experienced with making Pirozhki over the years. Everyone really enjoyed them; the recipe is great, easy to make, and tastes great! Light, pillowy dough after baking. A couple of friends asked what was in the dough because it didn't taste like what they expected, but they really liked it. After pointing out the Vermont cheese powder, it all clicked... that was the secret. Great touch in that recipe. Next time I will try adding a bit more seasonings or other ingredients to the filling for variety.
Like others, I didn't have the cheese powder and substituted Parmesan cheese which worked just fine. I did have to add a few extra tablespoons of water to get the dough to not crumble -- maybe that was due to the use of the Parmesan, maybe it was due to dry winter air. I also doctored up the filling a bit based on the comments that suggested it was a bit bland. I added a bit of tomato paste, a bit of Dijon mustard, and some "Quebec Beef Seasoning." I topped half of the buns with the "Everything Bagel" topping available from King Arthur (in my opinion, that is the way to go with these!). The buns were a bit hit at home. I bake nearly every weekend and give away a portion of whatever I bake to the neighbors and colleagues at work. For the first time that I remember, my husband objected to giving any of these away.
The ease of making these was great. They are in my oven now. My only comment would be that the recipe says 2 T of the filling or your T cookie scoop. I noticed right away that if I kept going with just using the T scoop that I would not have had enough so I switched to the jumbo scoop and it worked out fine. Can't wait to taste them. It made the 16 buns. I had a handful of bacon left from something else so threw that in as well. I made the dough in my bread machine and took it out as soon as it finished kneading. Thanks for the great recipe. I will be trying it again and changing up some.
I baked this roll recipe and used steak instead of hamburger. I added a little more water as I was mixing the dough to get a great feel to the dough. Really easy to roll and form, did not stick at all. I loved the taste, feel and look of the buns. Would be excellent for dipping in Chile or other hearty soup. The buns are not spicy or over flavored so I would not expect them to knock your socks off, but a nice filling bun for those that need less spice in foods. I added homemade refried beans and cheese to the shredded steak for the stuffing so it would not be too dry. Will make again, thank you!
Just out of the oven and slightly cooled and could not wait until dinner, just had to try it and they are good. I'm glad I doubled the meat as others recommenced. Added some Italian herbs mix to bump up flavor. Takes a bit of time but no step is difficult and finished product well worth the time involved. Next time chicken.
p.s. Thanks for the tip, whoever suggested parmesan instead of the cheese powder. Worked fab!
These tasted fabulous! Even considering I whoopsed on the sour cream ingredient, and ended up using a combination of sour cream (small amount), buttermilk, water, and a smidge more fat to cover the error. Also, since I had recently purchased lard to make Cubanos, but had no other use for it, I used lard instead of butter. Some caveats: It took 5 hours of clock time to make these. The dough has to rest/rise 3 times. And it took me almost an hour to actually fill them all, what with the rolling out. Don't know how the other writer here can make them early in the morning... without skipping sleep altogether. Also noted elsewhere, there is a high bread-to-filling ratio. Go ahead and use the whole pound of ground meat, a medium onion, and 2 cloves of garlic - just roll your circles larger and use 3-4T filling per, instead of 2. If you are weighing out your portions, weigh all of your dough (or filling, for that matter), then divide by 16. I ended up with 17 (2oz) rolls, and 1 (1oz) roll... and not enough filling using 2T each. I made up for it by adding some cheese to those light on prepared filling, and on the 1oz roll, used a sliced baby bella and cheese instead of meat filling (yum). Whew! All that said, even though these tasted wonderful, they took way too much time for a crowd watching the TV (not necessarily watching or caring what they put in their mouths).
I substituted dry parmsesan for the cheese powder and light sour cream for the regular sour cream. For the filling, I used ground beef /sausage mix that was leftover from making lasagna, along with some leftover roasted potatoes mixed with the amount of cheddar in the recipe. Despite all the substitutions, it turned out great. My only issue is getting the buns to stay sealed. What's the trick to making them look as they do in the recipe photo?

Hi there, fellow baker! This dough should be sticky enough that they're easy to seal, but if you're having trouble can always use a bit of egg wash (one whole egg and a couple tablespoons of water) to help seal them nicely. We hope this helps and happy baking! Morgan@KAF