A customized print-friendly version of this recipe is available by clicking the "Print Recipe" button on this page.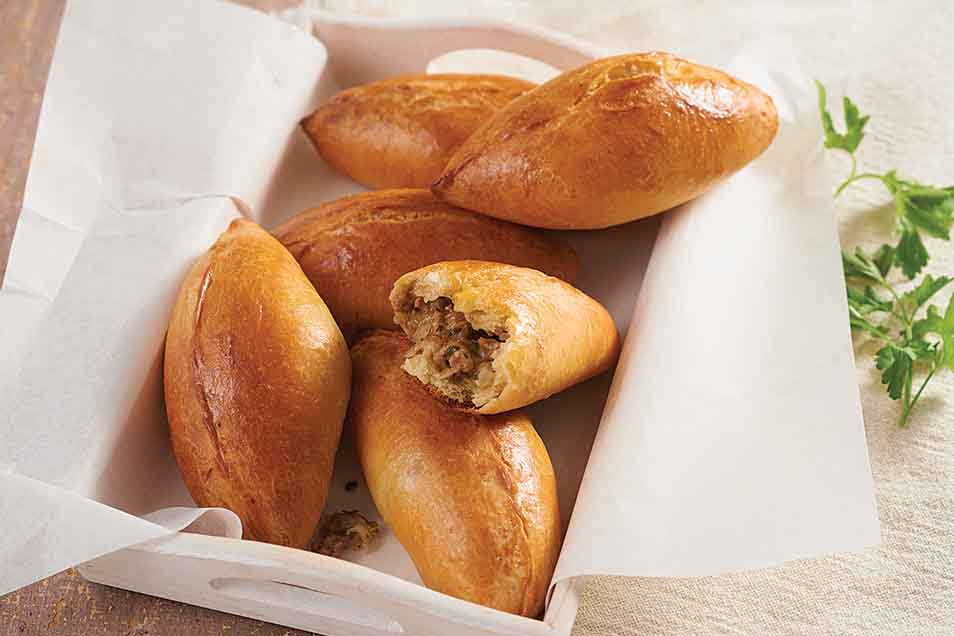 Inspired by Russian pirozhki, these "small pies" envelop a savory cheese and beef filling in a pocket of pillowy soft dough enriched with sour cream, butter, and eggs. We love them served hot from the oven as an appetizer, or alongside soup or salad for a more substantial meal. They can also be enjoyed at room temperature for an easy on-the-go snack or quick meal.
Ingredients
Dough
1/4 cup Vermont cheese powder
1/2 cup sour cream
1/4 cup (4 tablespoons) soft unsalted butter
1/2 cup warm water
2 large eggs
2 tablespoons sugar
1 1/2 teaspoons salt
2 teaspoons instant yeast
Filling
1 tablespoon vegetable or olive oil
1 small peeled onion or shallot, finely diced; about 3/4 cup
1 clove garlic, finely chopped
8 ounces ground beef
salt and pepper, to taste
chopped parsley, fresh or dried, to taste
1 1/2 cups shredded cheddar cheese
1 large egg beaten with 1 tablespoon water, to brush on dough
Instructions
To make the dough: Combine all the dough ingredients and mix and knead — by hand, mixer, or bread machine — until a soft, smooth dough forms.

Transfer the dough to a lightly greased bowl, cover, and allow to rest for about 90 minutes, until puffy but not necessarily doubled in bulk.

To make the filling: Heat the oil in a sauté pan set over medium heat.

Add the onion and cook until translucent.

Add the garlic and ground beef and cook for 5 to 10 minutes, breaking the meat up as it browns, until it's cooked through.

Season the filling with salt, pepper, and parsley, remove it from the heat, and cool to room temperature.

Stir in the cheese. The filling can be made ahead of time, then wrapped and stored in the refrigerator until ready to use.

Divide the dough into 16 equal pieces; if you have a scale they'll weigh about 2 ounces each.

Shape the pieces into balls, and place them on lightly greased or parchment-lined baking sheets, leaving about an inch between them.

Cover the dough balls, and allow them to rest for about 15 minutes.

Shape each ball into a flattened round about 5" in diameter, brush the surface with some of the egg/water wash, and place 2 tablespoons of filling onto the center of each round; our tablespoon cookie scoop works well here.

Pull the dough over the filling, pinching two opposite edges together tightly, to seal in the filling; it should look like a dumpling.

Place the buns on two lightly greased or parchment-lined baking sheets. Cover the buns, and allow them to rise for 1 hour, or until puffy.

Towards the end of the rising time preheat the oven to 400°F.

Brush the buns with the remaining egg wash. Bake the buns for 15 to 20 minutes, until golden brown. It's OK if some of the seams have come undone and the filling is visible; they can be prettier that way!

Remove the buns from the oven and allow them to cool for 5 to 10 minutes before serving.

Store any leftover buns in the refrigerator.
Tips from our bakers
Although we've opted for a hearty meat filling here, a vegetarian option can be made with sautéed onions and cabbage, chopped hard-boiled eggs, and/or ricotta.
Salting "to taste" can be tricky, since you never know where to start. We've found that a scant 1 teaspoon salt per pound of ground beef adds enough salt to enhance flavor, but not enough to taste salty.
Reviews
I make these on a regular basis they are great when my son has a duty weekend (National Guard) and they are traveling (Logistics Unit) I make them for every one in his unit because often they can't stop in the middle of the day. I bake them early in the morning about an hour before he leaves wrap them in heavy foil and put them in a cooler lined with More foil and they distribute them at a rest area They are still warm at noon and they all love them. If you find the dough is soft and crumbly add a little extra water, all flour is not created equally even among the same brand! If the dough becomes to wet you can knead it a bit longer but I prefer a wetter dough it makes a moister crumb, just not to wet as it won't hold up to the filling
The recipe came out great! I substituted the cheese powder with shredded parmesan cheese as I couldnt find the powder. I also mixed the sugar, warm water, and yeast in my mixing bowl first and let it stand for around 5-10 minutes activating the dry yeast before adding the remaining wet ingredients, then the dry. I like doing this because I don't trust the dry yeast, but it probably isn't necessary. :) The filling was totally different from the recipe (this was a chance to use up some leftover pot roast/potatoes and bacon) and was very pleased with the result. Even though I let the dough sit much longer than recommended (poor planning on my part) I was very impressed with how puffy and soft the bread was. I put a LOT of filling in them, and even so, there was a good half inch of soft puffy dough with lightly crunch golden outsides, and crisper little bits of cheese in them. It seems like this recipe is pretty foolproof honestly--as long as you go by weight and follow the King Arthur measurement guide. I think next time I'm going to omit the cheese in the dough and try adding some honey and rosemary instead so there's some sweet to balance the savory filling. Awesome recipe though, thank you!!
This bread dough is dry. It's really gross. And I used the recipe like it said. It came out crumbly and dry both times. I suggest you find a better bread receipt if your going to make this dish.

We're sorry to hear that this well-loved recipe didn't do the trick for you, fellow baker. If we can help pick out a recipe that better fits your tastes, or help troubleshoot the crumbliness of this one, please give our Baker's Hotline a call at 855-371-BAKE. Kindly, Annabelle@KAF
These are amazing. The only thing I changed is I used 1/4 cup of Parmesan cheese where it calls for cheese powder. If you follow the directions exactly, you cannot fail. What a great food to serve for parties or to keep on hand for a quick meal or snack.
I like this recipe - it was very easy to make but gave good results. I wasn't sure if I should drain the beef after cooking, so I did, and that seemed to work well.
This was the best stuffed buns I made EVER...Thanks KAF for yet another wonderful recipe .
These were very good - although I admit I modified the filling quite a bit to use up what I had in the fridge. To the filling I added two diced leftover baked potatoes, a couple chopped pieces of bacon, used swiss instead of cheddar, and added dill & celery salt. I omitted the cheese powder (just didn't have it), and made 12 instead of 16 so they'd be more like pocket sandwiches than snacks.
I felt the quantity of filling in the recipe should have been larger, maybe double the amounts listed. The dough when cooked was excellent and the filling OK, but the amount in each one was not even close to what was shown on the picture. I probably will do them again as dinner rolls, skipping the filling.

Sounds like you really wanted to stuff your Stuffed Buns, Pat, which we completely understand! (More delicious filling in each bite!) The beauty of a recipe like this is you can tweak the filling to meet your preferences, including adjusting the ratios of dough to filling if necessary. We hope you find a way to continue enjoying this recipe! Kye@KAF
Made the dough in the bread machine....it was lovely, soft and easy to work with. I used my tortilla press to flatten the dough balls....a teeny bit of extra rolling made the perfect size. I had some Indian keema fry in the freezer...used that to fill the dough. FANTASTIC......so many filling possibilities...can't wait to try more! BTW, I agree with another poster...this dough would be fabulous as rolls...it really is delicious!