A customized print-friendly version of this recipe is available by clicking the "Print Recipe" button on this page.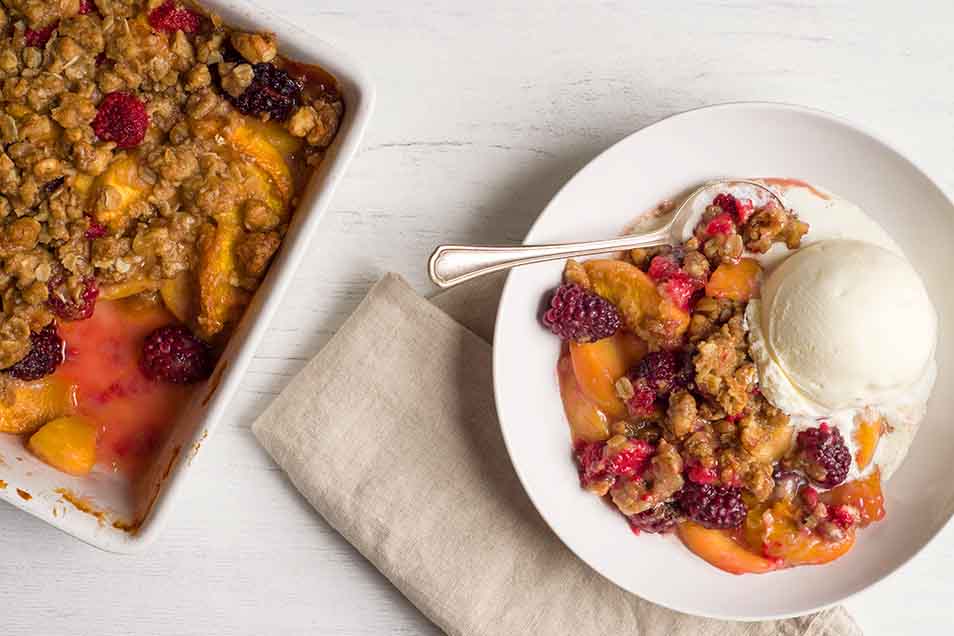 A bubbling fruit crisp, topped with soft-crunchy, cinnamon-scented streusel — what a great destination for summer's special fruits and berries! Add ice cream if you like, but it's delicious just as it comes out of the oven, in all its fruity simplicity.
Ingredients
Filling
4 to 5 cups sliced peaches, fresh or frozen
1 to 2 cups fresh or frozen berries: raspberries, blueberries, blackberries, or chopped strawberries
2 1/2 tablespoons Instant ClearJel or 1/3 cup King Arthur Unbleached All-Purpose Flour
1 1/4 cups granulated sugar
1/4 teaspoon salt
2 tablespoons freshly squeezed lemon juice
1/4 to 1/2 teaspoon almond extract, to taste
Topping
3/4 cup brown sugar
1/2 cup rolled oats
1/2 cup chopped pecans or walnuts
1/4 teaspoon salt
1 teaspoon ground cinnamon
1/4 teaspoon ground nutmeg
1/2 cup softened butter
Instructions
Preheat your oven to 350°F. Heavily grease or butter a 9" x 9" pan or similar-sized casserole dish.

Whisk the flour or ClearJel with the sugar and salt.

Toss the dry mixture with the peaches and lemon juice, and spoon into the prepared pan.

Sprinkle the berries on top.

Make the topping by combining the brown sugar, flour, oats, nuts, and spices, then mixing in the soft butter until the mixture is crumbly.

Sprinkle the topping over the fruit mixture, shaking the pan to distribute it evenly.

Bake the crisp for 40 to 50 minutes, until the topping is golden brown and the filling is bubbly. Remove from the oven, and cool briefly before serving.

Yield: 9 to 12 servings.
Reviews
I baked this for our summer block party and it was a hit. I too omitted the 1-1/4 sugar in the filling, fruit doesn't need sugar, especially stone fruit. I did however add all the other ingredients including the almond extract. I love the flavor but I'd lean towards the lesser amount. I doubled the peaches in the recipe and put it in a 9x13 pan and kept the topping portions the same, it made quite a bit. I also served with vanilla ice cream. The accompaniment paired well.
The topping is great but the peaches don't need 1 1/4 cups of sugar. Peaches are already sweet. The second time I made this recipe, I omitted the 1 1/4 cups of sugar and it was so much better. You could taste the peaches instead of the sugar.
Like another baker, I had issues getting the top crumb layer crispy. I baked it a bit longer, but that didn't help, so I put it under the broiler a bit. A bit too long! It got a bit burnt on the top , not bad, and nothing that vanilla ice cream couldn't cover! I used gluten-free flour in both the peaches (I only used peaches) and the topping, and you couldn't tell. Very rich, filling, and comforting!
This is a really great blueprint recipe. I didn't follow these instructions exactly but used this as a base inspiration for a gluten free crisp. I recently picked up 2 pounds of sour cherries at the farmers' market and I wanted to do a crisp rather than a pie. I have the Clear Jel and just needed a crisp recipe that would give me a good ratio of Clear Jel to fruit. Here are my substitutions: 2 lbs sour cherries for the fruit (I think you could do 2 lbs of pretty much any wet fruit), 2 T honey for the sugar. For the topping, I used 1 cup of other ground nuts in place of the flour and the oats (1/2 cup of blanched almond flour, 1/2 cup hazelnut flour), 1 T sucanat for the brown sugar, and reduced the butter to 2 T butter because nut flours are pretty oily. The top wasn't as crispy as I would have liked, so I'll probably try broiling for a few minutes at the end of cooking. The filling was very thick and smooth and well seasoned. I sifted the Clear Jel into the wet mix because I used honey instead of sugar. It clumped a little bit and got too thick, so I added some rum until it dissolved. The alcohol will largely evaporate during baking as the cherries start releasing their juices so it all works out. The recommended flavorings worked well even with my alterations, which is why I say this is a great blueprint recipe!
Made this for a picnic and it went over very well! Mine was a bit runny, but that tends to happen with fruit items and me. I don't think it was too sweet. It was perfect served with some vanilla ice cream. Loved the addition of the almond extract, I think that helps give the flavor a boost. I made it in a decorative pie plate for presentation purposes, and the ingredients were the perfect amount to fill the plate.
This is the best dessert!!!!! I also made a half batch and baked it in 6 silicone baking cups. For smaller servings. I have recommended it to several friends who do nothing but rave!!!
What a wonderful summer treat! The balance of fruits, peaches,raspberries,and blue berries for sweet and tart are perfect..but the almond flavoring along with lemon juice brings this up several notches. Loved the streusel topping. Added sliced almonds to my topping instead of pecans or walnuts. Also reduced the fruit sugar mix to 3/4 cup sugar. This is a true success. Congratulations to the KAF bakers who developed it. Every bite is wonderful
I've made this recipe a few times, a little different each time and it always turns out delicious and gets rave reviews! Super easy to make, and quick. Most recently I used 6 cups of frozen organic mixed berries, no peaches, and I forgot to add the almond extract. It was still wonderful and even better the next day as leftover. I plan to double this recipe sometime in a larger 13 x 9 pan for larger gatherings and will see how that works out.
This turned out great! The cinnamon and nutmeg added wonderful flavor to this recipe