A customized print-friendly version of this recipe is available by clicking the "Print Recipe" button on this page.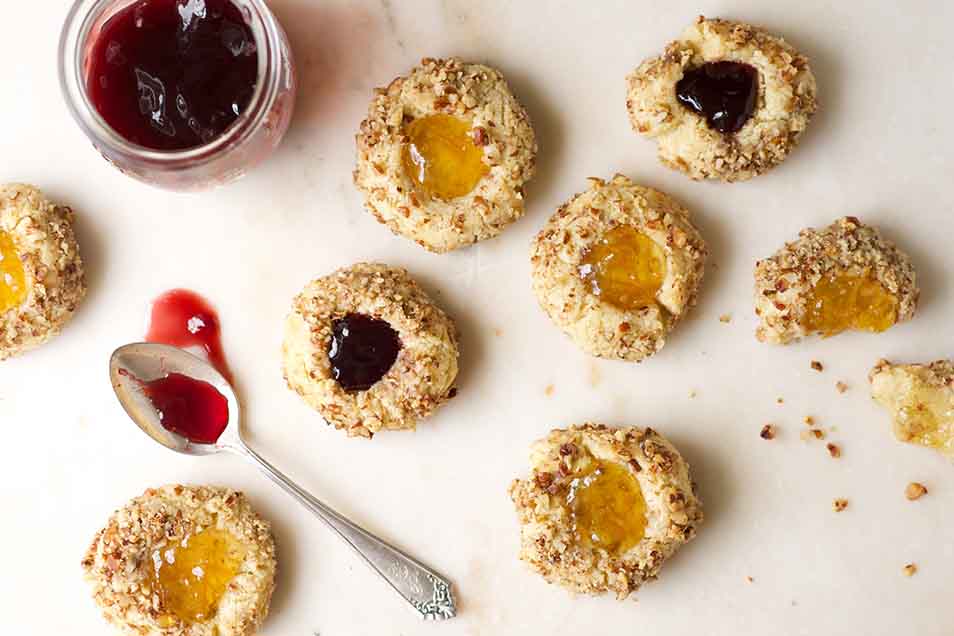 These cookies are crisp, buttery, nut-studded, and can cradle all kinds of imaginative fillings in the depression in their tops. You can fill them with festively colored icings for the Fourth of July, or reach for the jam at holiday time. Other delectable choices include soft caramel, or melted chocolate. Find all those three-quarters-empty jam jars on the refrigerator door, and put them to good use. Oh, and did we mention a simple dab of honey-sweetened peanut butter?

Baking gluten-free? For great results, substitute King Arthur Gluten-Free Measure for Measure Flour for the all-purpose flour in this recipe; no other changes needed.
Ingredients
1 cup (16 tablespoons) unsalted butter
1/2 cup granulated sugar
1/2 cup brown sugar, lightly packed
2 large eggs, separated
1 teaspoon vanilla extract
1/2 teaspoon salt
1/2 cup almond flour or pecan meal
2 1/2 to 3 cups King Arthur Unbleached All-Purpose Flour or Gluten-Free Measure for Measure Flour
3/4 to 1 cup finely diced chopped nuts
3/4 cup icing, jam, or the filling of your choice
Instructions
Line two baking sheets with parchment paper, or use a non-stick baking sheet; greasing the pans isn't sufficient to prevent sticking.

In a large bowl, beat the butter and sugars until very light.

Beat in the egg yolks, vanilla, and salt.

Add the nut flour and the lesser amount of all-purpose flour, stirring until well blended. If the dough seems too sticky, add just enough additional flour to make it workable.

Cover and chill the dough for an hour.

Preheat the oven to 350°F.

While the dough chills, cover the egg whites and leave them out of the refrigerator to warm up to room temperature.

In a small bowl, whip the egg whites until they're foamy.

Break off pieces of dough and roll them between your palms to form 1" balls.

Dip the balls into the egg whites, and roll them in the chopped nuts. Place the cookies about 2" apart on the prepared baking sheets.

Bake the cookies for 8 minutes, then remove them from the oven.

Make a deep thumbprint in the center of each cookie.

Return to the oven, and bake until they're a light, golden brown, about 4 to 6 minutes.

Remove them from the oven, and transfer them to a rack to cool.

Fill the thumbprint with the filling of your choice, using about 1/2 teaspoon for each. *See "tips," below.
Tips from our bakers
We love to flavor the icing to match its color. Add a drop or two of our extra-strong flavors for intense fruit taste: for red, white, and blue, use cherry, coconut, and blackberry flavors, but choose your own favorites. Remember, a little goes a long, long way, so add carefully, tasting as you go.