A customized print-friendly version of this recipe is available by clicking the "Print Recipe" button on this page.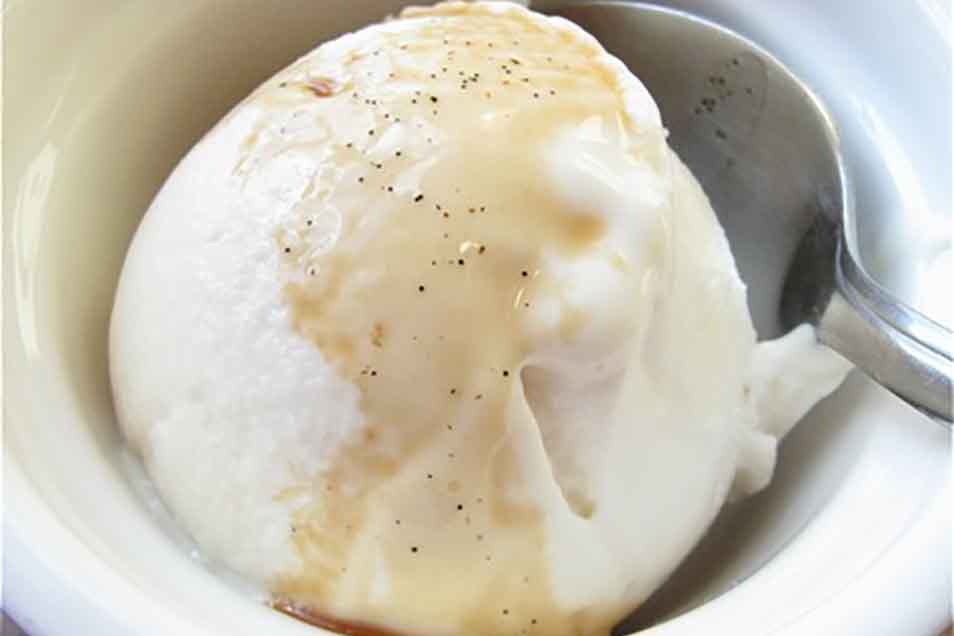 Get out your ice cream maker — it's time to make your own frozen yogurt, which is far removed from what you'd buy at the store. Tangy-sweet and super-creamy, it can be flavored to taste with vanilla (of course), other flavors (butter rum? maple?), or with your favorite fruits.

Despite appearances (and mouth-feel) to the contrary, this delectable treat is made with low-fat yogurt. The secret? Draining it to make thick, Greek-style yogurt before adding the sugar and flavors, and freezing. Sure, it won't be as low-fat as the original yogurt, since the fats have been concentrated into a smaller volume. But you can still feel virtuous about the high-quality dairy (and calcium) you're enjoying.
Ingredients
1 quart plain low-fat yogurt*
1/2 cup sugar, superfine Baker's Special sugar preferred
2 tablespoons light corn syrup or honey
2 to 3 teaspoons vanilla extract, Vanilla Crush preferred
*Why not start with fruit-flavored or vanilla yogurt? Because we've found these yogurts don't drain as well.
Instructions
Put the yogurt into a yogurt drainer (e.g., the Wave); or divide it among several paper coffee filters set into a strainer or attached to the top of cups with rubber bands.
Put the yogurt in the refrigerator, covered, and let it drain for 24 hours; you'll end up with about 2 cups of thick yogurt. Note: Don't feel like draining regular yogurt? Simply use 2 cups thick Greek-style yogurt; no need to drain it.

While the yogurt is draining, put the bucket of your electric ice cream maker into the freezer to chill.

Combine the drained yogurt with the remaining ingredients.

Freeze in your ice cream maker according to the manufacturer's directions.

Serve immediately, drizzled with a touch of vanilla extract, if desired. Or store in the freezer briefly before serving. This confection will freeze rock-hard within hours; if you need to make it ahead, be sure to leave time for it to soften before serving, about 15 minutes. Also, check out the tip at left for keeping frozen yogurt soft and scoopable in the freezer indefinitely.
Tips from our bakers
Here's a nice variation: Sweeten with honey instead of corn syrup, and add 2 tablespoons spiced rum. The rum keeps the yogurt a bit softer in the freezer.
Is your frozen yogurt rock hard? Simply take it out of the freezer and let it sit at room temperature for 10 to 15 minutes; it'll soften up nicely. To keep frozen yogurt soft/scoopable in the freezer indefinitely, add 3 tablespoons alcohol — spiced rum, brandy, vodka — to the yogurt during the last couple of minutes of freezing. Remove from the ice cream maker, stir thoroughly, pack into an airtight container, and place in the freezer comaprtment of your refrigerator.
Drizzling frozen yogurt with just a touch of vanilla extract is the perfect final touch — especially when the extract includes some of the seeds, as our Vanilla Bean Crush does.
Want to use nonfat yogurt instead of low-fat? Go right ahead. Your frozen yogurt will be a tiny bit less creamy, but still absolutely delightful.
For a special treat, pair frozen yogurt with homemade Faux-Reo cookies.