A customized print-friendly version of this recipe is available by clicking the "Print Recipe" button on this page.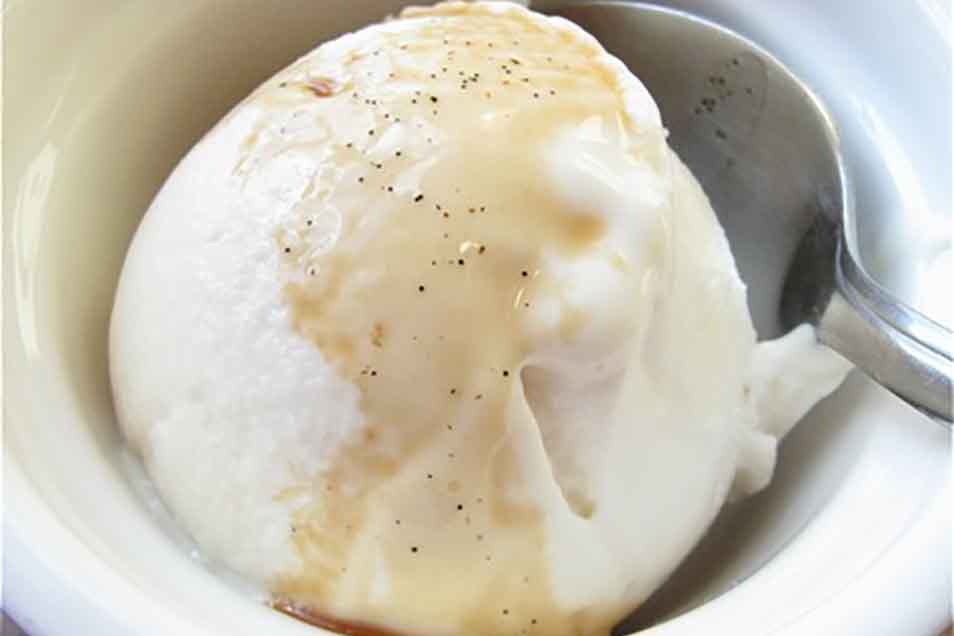 Get out your ice cream maker — it's time to make your own frozen yogurt, which is far removed from what you'd buy at the store. Tangy-sweet and super-creamy, it can be flavored to taste with vanilla (of course), other flavors (butter rum? maple?), or with your favorite fruits.

Despite appearances (and mouth-feel) to the contrary, this delectable treat is made with low-fat yogurt. The secret? Draining it to make thick, Greek-style yogurt before adding the sugar and flavors, and freezing. Sure, it won't be as low-fat as the original yogurt, since the fats have been concentrated into a smaller volume. But you can still feel virtuous about the high-quality dairy (and calcium) you're enjoying.
Ingredients
1 quart plain low-fat yogurt*
1/2 cup sugar, superfine Baker's Special sugar preferred
2 tablespoons light corn syrup or honey
2 to 3 teaspoons vanilla extract, Vanilla Crush preferred
*Why not start with fruit-flavored or vanilla yogurt? Because we've found these yogurts don't drain as well.
Instructions
Put the yogurt into a yogurt drainer (e.g., the Wave); or divide it among several paper coffee filters set into a strainer or attached to the top of cups with rubber bands.
Put the yogurt in the refrigerator, covered, and let it drain for 24 hours; you'll end up with about 2 cups of thick yogurt. Note: Don't feel like draining regular yogurt? Simply use 2 cups thick Greek-style yogurt; no need to drain it.

While the yogurt is draining, put the bucket of your electric ice cream maker into the freezer to chill.

Combine the drained yogurt with the remaining ingredients.

Freeze in your ice cream maker according to the manufacturer's directions.

Serve immediately, drizzled with a touch of vanilla extract, if desired. Or store in the freezer briefly before serving. This confection will freeze rock-hard within hours; if you need to make it ahead, be sure to leave time for it to soften before serving, about 15 minutes. Also, check out the tip at left for keeping frozen yogurt soft and scoopable in the freezer indefinitely.
Tips from our bakers
Here's a nice variation: Sweeten with honey instead of corn syrup, and add 2 tablespoons spiced rum. The rum keeps the yogurt a bit softer in the freezer.
Is your frozen yogurt rock hard? Simply take it out of the freezer and let it sit at room temperature for 10 to 15 minutes; it'll soften up nicely. To keep frozen yogurt soft/scoopable in the freezer indefinitely, add 3 tablespoons alcohol — spiced rum, brandy, vodka — to the yogurt during the last couple of minutes of freezing. Remove from the ice cream maker, stir thoroughly, pack into an airtight container, and place in the freezer comaprtment of your refrigerator.
Drizzling frozen yogurt with just a touch of vanilla extract is the perfect final touch — especially when the extract includes some of the seeds, as our Vanilla Bean Crush does.
Want to use nonfat yogurt instead of low-fat? Go right ahead. Your frozen yogurt will be a tiny bit less creamy, but still absolutely delightful.
For a special treat, pair frozen yogurt with homemade Faux-Reo cookies.
Reviews
I can't wait to try this - love that it isn't so sweet like most store-bought stuff. Another trick to keep any frozen treat from getting rock hard is to add a teaspoon of xanthan gum to the mixture. Works every time!
Tried it with Stevia. I don't know if it was that combined with vanilla or Stevia alone, but it was dreadful. It left a very bad aftertaste. Better with part Splenda, part sugar.
This is wonderful! I made two pints of it - one following the basic recipe and a pint with ginger which was awesome. I simply reduced the corn syrup to 1 tablespoon, the vanilla to 1 teaspoon, and added 1 tablespoon of gingerbread syrup (used in coffee beverages) and 1 heaping tablespoon of minced candied ginger. So delicious and the yogurt tang is perfect. Thanks, KAF!
This was a great recipe for frozen yogurt . Made a batch tonight using Whey Low ice cream sugar( 4 calories per teaspoon). I used fat free Greek yogurt, I put about 1/4 cup of half and half so it wouldn't freeze so hard. It was perfect. Added chopped strawberries and peaches at the end of the churning.
To call this a fiasco would be accurate. I made this according to the directions, using coffee filters to strain Dannon full fat plain yogurt. The straining process seemed to leave me with considerably less than two cups--a whole lot of water came out of there. But I pressed on. When I added to my (generally awesome) cuisinart ice cream maker, the contents immediately glommed onto the plastic "stirrer" in the middle. In otherwords, there was not enough contents to actually force the receipe to swirl around. Not going to stir and freeze at the same time, which is really the whole point. The mixture tasted great. Will try again with two containers of yogurt.
Delicious! Though don't do what I did, which is use vanilla flavored yogurt. It adds a weird flavor. I used low fat yogurt and didn't strain it and it came out beautifully, though I'm sure it would be much creamier if I had strained it. I just took the quick and easy route. :)
Used plain Greek yogurt instead, skipped the straining part because of the consistency of Greek yogurt being so much thicker. Since I didn't have extra fine sugar I used my bar blender and pulverized good old' fashioned granulated sugar. I then proceeded to add all the other ingredients including the rum and let it sit in my refrigerator during the day so it could get extra cold. After work I added it to my machine and presto. The consistency is great even frozen overnight in my freezer! Still pretty tart but it will go great with some sugary sweet pie.
I LOVE the flavor of this yogurt. It's delicious with an additional drizzle of honey and a dusting of cinnamon. I think the next time I make it, I'm going to experiment with adding a little gelatin to the mixture - maybe a teaspoon, softened and melted in a little milk. Gelatin helps keep the finished, frozen product softer and more scoop-able right out of the freezer (just don't serve it to vegetarians or vegans!).
I did indeed use Geek non fat to start. It drained about a cup and a half water. I combined with nielson Massey vanilla, honey and regular sugar. Very tasty, thanks for encouraging me to experiment. Will be eating with Vemont Maple Granola I made yesterday. I real keeper recipe too, my friends can't get enough!
If I start with Greek non fat yogurt do I still drain it?
We have not tried this with prepared Greek yogurt. Give it a try. Frank @ KAF.