A customized print-friendly version of this recipe is available by clicking the "Print Recipe" button on this page.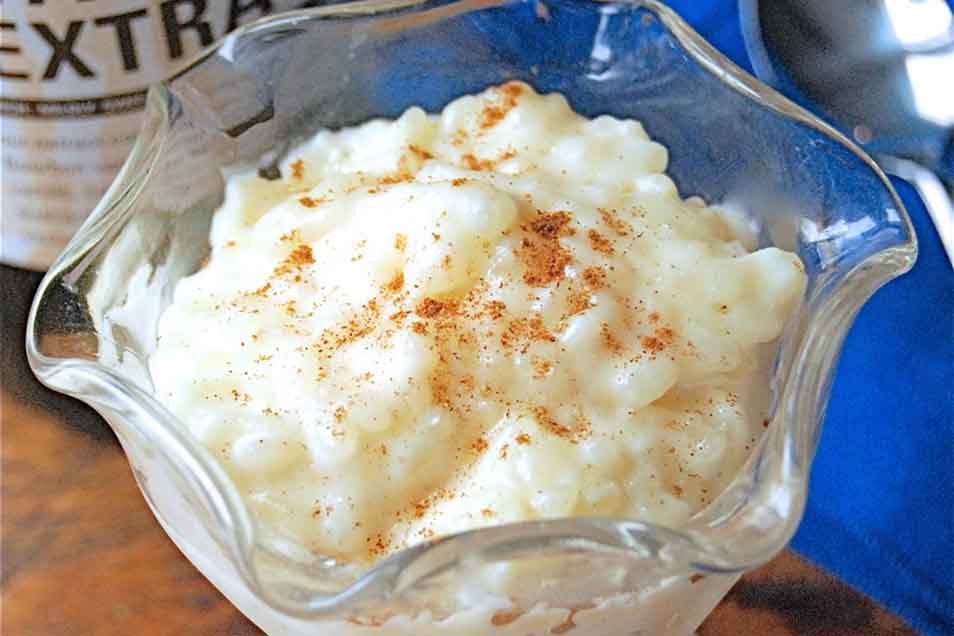 Rich, silky, creamy — rice pudding is comfort in a bowl. The pudding by itself is wonderful, but when the heavenly scent and flavor of two vanillas are added, you just can't ask for a better dessert.
Ingredients
2 cups whole milk
1 cup heavy cream, divided
1/4 cup sugar
1/2 cup sushi or Arborio rice
1/2 teaspoon vanilla extract, King Arthur Pure Vanilla Extract preferred
1/2 teaspoon Vanilla Bean Crush or King Arthur Pure Vanilla Plus
pinch of salt
Instructions
Place the milk, 3/4 cup cream, sugar, rice, and King Arthur Pure Vanilla Extract in a medium-sized saucepan over medium heat.

Bring to a simmer and cook, stirring frequently, for 30 to 35 minutes, until thickened and the milk is almost completely absorbed. This is very similar to cooking risotto.

Test the rice to ensure it's done. You want a firm bite, but no crunchy center to the kernel.

Remove the pudding from the heat, and stir in the remaining 1/4 cup cream and the Vanilla Bean Crush or Pure Vanilla Plus, along with a pinch of salt.

Serve warm; or refrigerate, well covered, and serve chilled. Sprinkle with a touch of ground cinnamon, if desired.

Yield: about 2 cups pudding.
Nutrition Information
Serving Size

1/2 cup, 215g

Servings Per Batch

4
Amount Per Serving:
Calories

393

Calories from Fat

234

Total Fat

26g

Saturated Fat

16g

Trans Fat

1g

Cholesterol

80mg
Sodium

141mg

Total Carbohydrate

35g

Dietary Fiber

1g

Sugars

17g

Protein

7g
* The nutrition information provided for this recipe is determined by the ESHA Genesis R&D software program. Substituting any ingredients may change the posted nutrition information.
Tips from our bakers
Why add more cream and vanilla at the end of cooking? Adding extra cream that does not get cooked helps keep the pudding smooth and cream, not clumpy. Adding the extra vanilla gives you a double layer of pure vanilla flavor.
If you don't have Vanilla Bean Crush or Pure Vanilla Plus, you can use 1/2 teaspoon of vanilla extract instead. You won't get the benefits of the vanilla bean, but the flavor will still be fine.
Sushi and/or Arborio rice have small grains and give off plenty of starch that makes for a creamier pudding. You can use regular long grain rice instead, just expect a less creamy final result.
Reviews
Rice pudding is one of my favourite foods, but not when the rice is as hard as a rock.. Cooking the rice with the other ingredients didn't work, even with letting it simmer an extra twenty minutes. But the cream cooked perfectly, the rice was my only issue so I rate this a two star. If you've found yourself with the same issue I've devised a fix up: Distill the mixture with milk and then let it boil until the rice is to your liking (I prefer it just a little bit undercooked because it gives a less mushy outcome). Then strain the rice, but leave enough of the sugary milk so that it's not completely dry, then put on the stove and let the simmer again. Add one fourth cream and an extra tablespoon of sugar and let it simmer until it thickens (Practically following the recipe above, just with cooked rice this time) Adding a teaspoon of potato starch (If you have it) allows for the pudding to congel just a bit giving it that more pudding-like taste. All in all it's not a bad recipe, just needs some touch ups here and there or clarifications if pre-cooked rice was the intent when it said put the rice and other ingredients together..

We're truly surprised to hear that your rice didn't cook through thoroughly in the given time, especially since you mention cooking it 20+ minutes beyond the given time. We're wondering if you were perhaps using a different kind of rice other than sushi rice or Arborio rice that required longer cooking. Regardless, we're glad to hear you were able to come up with an adjustment to cook the rice and end up with a tasty rice pudding in the end. We've passed your experience forward to our Recipe Team to note in future discussions about this recipe. Kindly, Kye@KAF
Very easy to make, if you don't mind keeping an eye on it and stirring frequently. I added raisins, so I should have reduced the sugar by 50%. It's tasty, but really more like porridge than pudding. I guess I prefer more of a custard texture.
I'm retired now (Yeah!) and like to bake. I live on a tight budget (Boo!) but find that, if I'm careful, I can live quite well and choose recipes, ingredients, etc., that are healthy for me. I followed this recipe to the letter a few weeks ago and Oh! how wonderful. Love it. Tonight, I'm substituting the heavy cream with half & half because it's less expensive. I also use Nido powdered whole milk because the rule in this house is that if there is whole milk in the refrigerator, it must be all drunk before nightfall. (My house, my rules). So, I don't always have whole milk around. Here's hoping half & half pulls through. Forgot Question: Should I rinse the starch off the Arborio rice?

Congrats on retirement, Paul! We're glad this recipe was a hit. No need to rinse the starches off, they add to the creamy texture of the finished pudding. Annabelle@KAF
Time consuming and too rich for my taste although others may not think so. Instead of the 1/4 C cream at the end I used milk. Also added a few Tblsp. exntra of sugar and another 1/2 t. Of vanilla. Liked it but will probably try a different recipe next time
Awesome, Awesome & Awesome. My family loved it so much that I hade to make a second batch the same day.
I was on a mission to satisfy a pregnancy craving of rice pudding with only sushi rice and no half and half in the house. I am beyond happy. I used a little over 1/3 cup sugar because I like things sweet, and at the end I added raisins and cinnamon. I only had low brow vanilla but added it at the end of the cooking with the last 1/4 cup heavy cream to maintain the vanilla flavor as other reviewers said it wasn't super vanilla-y. This is my go-to now. Delicious!!!
Excellent rice pudding recipe. Added an egg to make it richer and thicker and some raisins per my husbands request. May not have needed the egg though as it is thickening as it cools. Yummy tasting and hubby approved.
This is my go-to recipe for rice pudding. I love the arborio rice!! DO NOT use regular rice for this recipe. Use good vanilla! The only thing I miss is the egginess in other rice puddings, but sometimes I add an egg yolk or two to make up for that fact. Other than that it's the best!!
Is there anything I could substitute for the heavy cream? How about evaporated milk that is not reconstituted?

You are welcome to use a lower fat liquid like half and half in place of the heavy cream or evaporated milk (not reconstituted), but you should note that the pudding may not thicken up as much and will be less rich. If you are okay with these textural results, you can make the swap. Kye@KAF
Yes I agree with some of the review could use a bit more of vanilla flavoring not sure if it was due to the one I had on hand or what but at the I added vanilla sugar which also added a nice touch. Definitely a keeper.